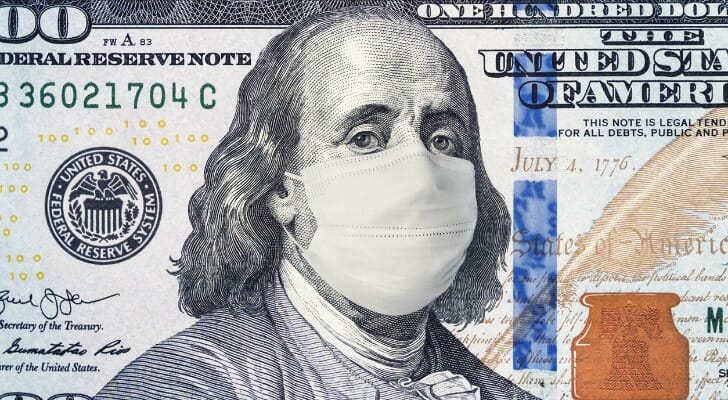 As the coronavirus pandemic wreaks havoc on the global economy, the White House, Federal Reserve and other governmental bodies are regularly announcing new policies and programs to help families and businesses weather the crisis. In fact, on March 27, 2020, President Donald Trump signed into law a new raft of emergency measures as part of a stimulus package called the Coronavirus Aid, Relief and Economic Security (CARES) Act. To keep you informed, SmartAsset will continually update this list of official actions that may relate to your finances.
Make sure your financial plan can handle these uncertain times. Talk to a financial advisor today.
Coronavirus Crisis Help: Direct Cash Payments
March 27, 2020 – The CARES Act provides for the government to send $1,200 in cash to each person ($2,400 to married couples) whose adjusted gross income is less than $75,000 ($150,000 for joint filers). People who earn more, up to $99,000 ($198,000 for married joint filers) would receive reduced amounts. Also, eligible families with children would receive $500 per child. Read our guide of how much you can expect receive from your coronavirus stimulus check to see whether you qualify to receive relief and how to receive your money. You can also use our coronavirus stimulus package calculator.
Coronavirus Crisis Help: Interest Rate Cuts
March 15, 2020 – Seeking to avert or at least shorten the coming recession, the Federal Reserve cut its benchmark interest rate to 0% to 0.25%. The idea is that with borrowing costs next to nothing, banks and financial institutions in turn will offer more loans to businesses and individuals – and keep the economy going. Credit cards typically follow the Fed rate down and fixed rate mortgages typically follow the 10-year treasury note yield. Many adjustable-rate mortgages also follow the Fed rate down.
Coronavirus Crisis Help: IRS Tax Return Extensions
March 27, 2020 – The new law makes official what Treasury Secretary Steven Mnuchin announced a week ago: 2020 Tax Day has been moved to July 15, 2020. This means that the deadline for filing tax returns and paying income taxes for 2019 is three months later than usual. The extension is automatic, so taxpayers who will be using the tax extension do not need to file extra paperwork. Additionally, people and businesses who make estimated tax payments have until July 15, too, to submit their first installment for tax year 2020.
Coronavirus Crisis Help: Mortgage Relief and Rent Relief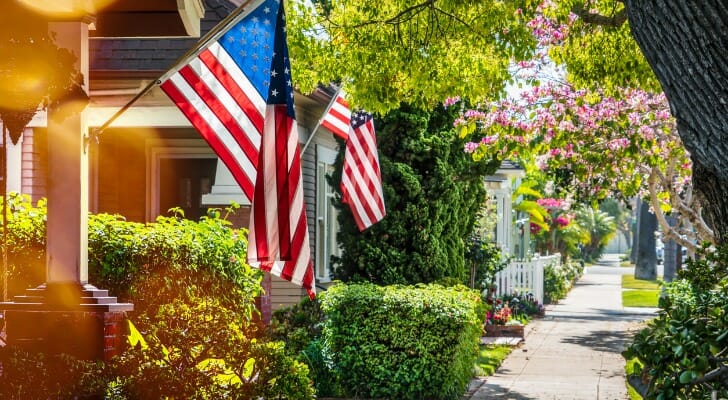 March 27, 2020 – If you've lost your job or income due to the coronavirus, you may be able to get coronavirus relief for mortgage and rent payments and delay your monthly housing payments without penalty. The CARES Act grants forbearance to borrowers who are experiencing hardship due to COVID-19 and have a federally backed loan (e.g.,FHA and USDA). The waiver is for up to 180 days, during which period, you will not incur interest or penalties or be reported as delinquent to credit agencies. Freddie Mac and Fannie Mae also set up their own relief programs which allow you to get forbearance for up to a year.
To defer your mortgage payments, you will need to contact your mortgage servicer. Contact them even if your loan is private. Your lender may be offering special forbearance during the national emergency.
Small Business Emergency Loans
March 27, 2020 – To provide coronavirus relief for small businesses, the $2 trillion stimulus package includes $377 billion in federally guaranteed small business loans. To qualify, businesses must have less than 500 employees and can have a capitalization of up to $10 million. Terms for the loans are very appealing: Borrowed funds can be used to pay rent, payroll and other bills that are usually prohibited. The interest rate is a relatively low 3.75%, and personal guarantees and collateral pledges are not required. Many states and cities also have developed individual relief programs.
Also, be sure to explore your business interruption insurance coverage.
Coronavirus Crisis Help: Student Loan Relief
March 27, 2020 – As part of coronavirus student loan debt relief efforts, payments for federally backed student loans are being waived until September 30, 2020. During this time, no interest will accrue. If you are able to make payments, though, the amount you send in will be applied entirely to your principal. (Unless you are in arrears, in which case, it will be applied first to the interest that is owed.) The Department of Education will inform borrowers within 15 days of the law's enactment that their payments have been temporarily suspended.
Note: coronavirus-driven forbearance does not apply to loans held by commercial lenders, though some are offering special terms. You'll need to contact your private loan provider if you are having trouble making your loan payments.
Coronavirus Enhanced Unemployment Benefits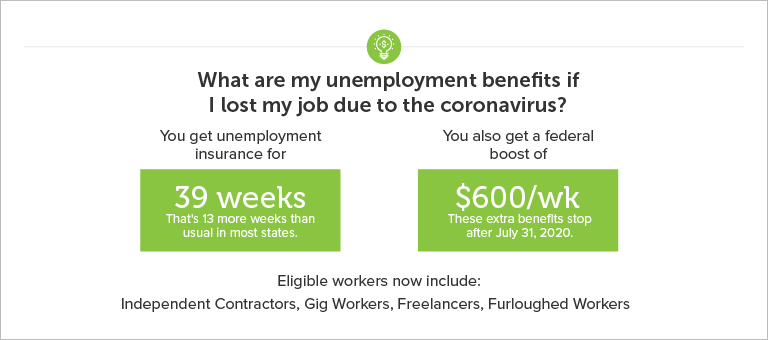 March 27, 2020 – Americans have access to Unemployment Compensation (UC), the Extended Benefit (EB) program, the Families First Act and various other unemployment insurance (UI) provisions. But there's added good news for workers and places most likely to be affected by a COVID-19 recession: As part of the coronavirus stimulus package for unemployed Americans, workers who lose their jobs because of coronavirus can receive unemployment for up to 39 weeks – that's 13 weeks more than usual in most states. Also, the government has expanded the types of workers who are eligible to include independent contractors, gig workers, freelancers and people who have been furloughed. What's more, the government is providing an extra $600 per week in benefits until July 31, 2020.
Coronavirus Paid Sick Leave

March 27, 2020 – While the Families First Coronavirus Response Act (FFCRA) mandates that employers provide paid sick or family leave benefits to employees affected by COVID-19, the CARES Act amends how much covered employers must pay. Specifically, they must pay employees their regular rate, up to $511 per day, for 10 days, if the worker either has COVID-19 or is under quarantine. If the employee can't work because a family member has been diagnosed with the disease, employers are required to pay no more than $200 per day, for 10 days. However, if your company employs fewer than 50 people and paying for sick leave would drive it out of business, the Labor Department may waive the requirement.
March 18, 2020 – Families First Coronavirus Response Act (FFCRA) mandates that employers provide paid sick or family leave benefits to employees affected by COVID-19. The Department of Labor (DOL) deems all employees under "covered employers" eligible to receive the FFCRA's paid leave benefits. The law's guidelines apply to certain public employers, as well as private employers with fewer than 500 employees. Many federal government employees aren't covered by the family leave and medical provisions of this act, but they're covered by Title II of the Family and Medical Leave Act. But the paid sick leave provision still applies to federal employees. All employees of covered employers qualify for the expanded paid sick leave provisions offered by the FFCRA. For instance, if you work for a private company with fewer than 200 employees, you will be eligible for paid sick leave if you meet any of the FFCRA's qualifying reasons for leave.
U.S. Treasury and Bond Market Support
March 23, 2020 – The Federal Reserve announced that it will buy U.S. Treasury securities and agency mortgage-backed securities in whatever amounts are needed for the markets to function. This is a change from a previous statement that had specified the amounts as $700 billion of Treasury securities and at least $200 billion of mortgage-backed securities.
Tips for Surviving the Recession
As long as you're receiving a paycheck, continue contributing to your retirement account. It may be tempting to stop, but investing when the market is low will help balance out the past years of investing when the market was high.
Don't go it alone. If you're especially worried about your portfolio, putting its management into a professional's hands can be a huge relief. To find a fiduciary financial advisor who's a good fit for your needs and concerns, use SmartAsset's pro matching tool. It is free, takes five minutes and will recommend up to three advisors vetted by us.
Photo credit: ©iStock.com/Diy13, ©iStock.com/Bill Chizek