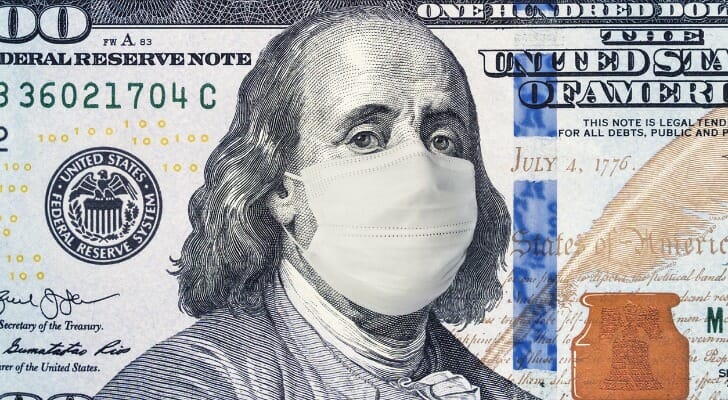 This article is about the $600 stimulus checks that are part of the new $900 billion economic relief package that was signed into law by President Trump on December 27. For more information about who qualifies and how soon you could get a stimulus payment, see our explainer on the second stimulus checks.
The IRS started sending out the second round of $600 stimulus checks to millions of Americans. But after Democrats won two Senate runoff elections in Georgia, they could push again to approve a stimulus payment increase up to $2,000.
President Trump signed the $900 billion economic relief and government funding bill, which includes a second stimulus check that pays up to $600 per person, and an additional $600 for qualifying dependents under the age of 17.
This follows an earlier relief package that was signed into law last March. The Coronavirus Aid, Relief, and Economic Security (CARES) Act provided stimulus checks (also called Economic Impact Payments, or EIPs) to Americans, in addition to other relief provisions for small businesses and mortgage and rent payments.
House Democrats voted to raise the second stimulus payment up to $2,000 on December 28, 2020, but the Republican-led Senate refused to vote on it, effectively killing the increase.
Now, the Senate will be divided 50-50 evenly between Democrats and Republicans, and Vice President-elect Harris could cast a tie-breaking vote in favor of a $2,000 stimulus check increase.
In the meantime, the IRS is sending the $600 stimulus checks via direct payment, paper checks, and EIP cards.
It is unclear how quickly Congress will be able to vote on another check increase, and whether they could do it as a stand-alone legislation. President-elect Joe Biden has said that he will present another COVID-19 relief package in 2021, and push for additional stimulus payments.
Use our calculator below to figure out how much you're in line to receive from the second stimulus check.
The size of your direct cash payment will depend entirely on your adjusted gross income (AGI) and tax filing status (2019 taxes were due by July 15, 2020). Here are the maximum amounts, though these limits are dependent on the AGI tier you fall within:
Single filers can receive up to $600.
Joint filers (married couples) can receive up to $1,200.
Families receive an additional payment of $600 per qualifying child under the age of 17. If you claimed your child as a dependent and they are over age 17, you will not be eligible to receive $600 extra on your stimulus check. Your child will not qualify for a stimulus check of their own either.
The tables below break down payments by AGI level and tax filing status:
Stimulus Check Amounts for Single Filers
AGI
Payment
$75,000
$600
$77,400
$480
$79,800
$360
$82,200
$240
$84,600
$120
$87,000 and up
$0
Stimulus Check Amounts for Joint Filers
AGI
Payment
$150,000
$1,200
$154,800
$960
$159,600
$720
$164,400
$480
$169,200
$240
$174,000 and up
$0
Here's a breakdown of what a stimulus check would look like for a head of household with one child:
Stimulus Check Amounts for Heads of Household & 1 Child
AGI
Payment
$112,500
$1,200
$116,500
$1,000
$120,500
$800
$124,500
$600
$128,500
$400
$132,500
$200
$136,500 and up
$0
Because of "phase-out" rules, wealthier earners would get smaller stimulus checks and the wealthiest won't get anything. To calculate these stimulus checks, the government plans to use your AGI based on your 2019 tax returns, which were due by July 15, 2020.
The stimulus check money that you receive from the federal government is not taxable, meaning it will not be included in your yearly taxable income in 2020. The IRS also does not view your stimulus check as an advance on your tax refund for 2020, as they are entirely distinct from one another. Stimulus checks are also not seen as a loan from the federal government, so the money won't need to be paid back.
Before Congress passed the new $900 billion coronavirus relief bill, House Speaker Nancy Pelosi had introduced another bill last May called the Health and Economic Recovery Omnibus Emergency Solutions (HEROES) Act. This included a second round of stimulus checks for households to get up to $1,200 per family member.
The total check amount that would have been allowed on a per household basis was $6,000. In addition, individuals with an income of up to $75,000 would have received $1,200, with reduced amounts for anyone who made more than that. Married couples with an income of $150,000 or less would have received $2,400, with the same stipulations applying to them.
Consider saving or investing the money in your stimulus check. Speak with a financial advisor today.
When Will My Stimulus Check Arrive?
The IRS announced that initial direct deposit payments will start arriving as early as December 29 and continue into the following week. Paper checks will start getting mailed on December 30.
When it comes to those who are eligible for a second stimulus check, they will go out as early as a few days after the bill has been signed into law. Treasury Secretary Steven Mnuchin has said that direct payments will go out first, while paper checks will take longer.
The first electronic stimulus check payments were sent out to Americans on April 11, with most of them arriving by April 15. Those that have their bank account on file with the IRS based on a tax return from 2018 or later were first in line for these payments. Here are the options available to you if your stimulus check hasn't arrived yet.
As of April 24, the first paper checks were mailed out by the IRS. First in line for these payments were those with an AGI of $10,000 or less. Each week after these dates, the IRS mailed another five million checks to everyone with an AGI up to $10,000 higher than the previous week's cap ($20,000, then $30,000 and so on). That meant that some Americans may not have gotten their check in the mail until late summer or early fall.
Anyone who has their bank account on-file with the IRS and receives Social Security retirement benefits, Social Security survivor benefits, Social Security disability benefits, Supplemental Security Income (SSI), Railroad Retirement benefits or VA benefits should have already gotten their check via direct deposit.
Within 15 days of your check's disbursement, you should have received a notification in the mail providing your method of payment and amount, along with a phone number to call if you didn't get your payment. Take a look at our guide on what to do if you still haven't received your check.
How Will I Receive My Stimulus Check?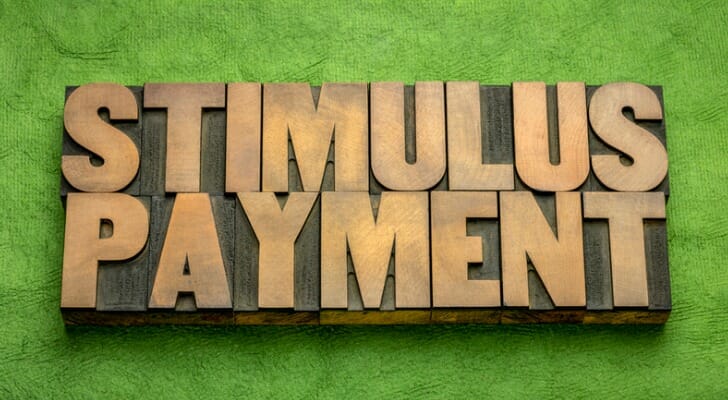 In general, most of the first stimulus checks have been paid to Americans via direct deposit. For the remainder of people that did not have direct deposit set up with the IRS, checks came by mail. On these paper checks, "President Donald J. Trump" was be printed on the memo line. Around 160 million stimulus checks worth a total of about $270 billion have been sent to Americans so far.
The IRS has a free online tool called "Get My Payment" that you can use to track the status of your stimulus check. Prior to the May 13 deadline, the tool could also be used to update your direct deposit information, but that feature is no longer available. Even if you missed the deadline, you're still eligible for a check, but you'll need to wait for it to arrive by mail. For those with a high AGI, that might not be until late summer or early fall.
Taxpayers who are required to file, will need to file their 2019 return to receive a check. If you did not have to file a tax return for 2019, the IRS has created an online tool that allows you to enter your personal and bank account information so you can receive your stimulus payment. The IRS explicitly states that you should not use this tool if you receive:
Social Security retirement benefits
Social Security Disability Insurance (SSDI)
Social Security Survivor benefits
Railroad Retirement and Survivor benefits
There's also a third method of payment for the stimulus checks: a prepaid debit card called "The Economic Impact Payment Card." The Treasury Department's Bureau of the Fiscal Service is sponsoring and backing these cards. Should you go this route, your card will come in a plain envelope sent by "Money Network Cardholder Services."
If you are receiving your stimulus check by mail in the coming weeks, keep an eye out for anything that appears to be fraudulent, including fake stimulus check websites and counterfeit checks. For example, the U.S. Department of Justice is reporting that it has found "a number of look-alike IRS stimulus payment domains."
What to Do If a Deceased Family Member Receives a Stimulus Check
As stimulus checks have continued to be sent to people across the U.S., there have been a number of reports stating that deceased relatives and spouses are receiving payments. If you or a family member are dealing with the fallout of this situation, there are some things you'll need to take care of.
First and foremost, if someone died before their stimulus check was received, then they are no longer eligible for that check. In fact, new guidance from the IRS states that the families of any decedents who received a check must pay that money back. However, if a payment went to joint filers and only one spouse is still alive, then they are entitled to keep their half of the money, with the rest needing to be paid back.
According to information from the IRS, here's what you need to do to return payment for your deceased family member:
Direct deposit payments & paper check payments where the check has been cashed:

Step 1: Mail a personal check or money order worth the same amount as the decedent's check to the IRS refund inquiry unit your state is assigned to.
Step 2: Address the check or money order to "U.S. Treasury" and write "2020EIP" and the decedent's individual taxpayer identification number (ITIN) or Social Security number.
Step 3: Include a note that describes why the check is being returned to the IRS.

Paper check payments that have not been cashed

Step 1: Write "Void" in the endorsement section on the back of the check.
Step 2: Avoid bending, stapling or paper clipping the check in any way.
Step 3: Leave a note that states why you're returning the check.
Step 4: Mail the voided check to the IRS refund inquiry unit for your state.
Each state has been assigned to a specific IRS refund inquiry unit for stimulus check paybacks. To find the mailing address for your state, go to the Economic Impact Payment Information Center on the IRS website and scroll down to Question 13.
Tips for Surviving the Recession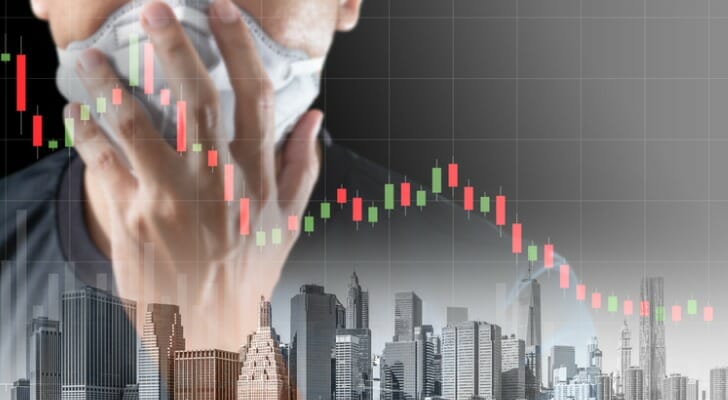 If you want to build a financial plan that can get you through a possible recession, get some professional help. Financial advisors specialize in these situations, as they typically have expertise in retirement planning, investing and more. SmartAsset's free tool can pair you with advisors in your area based on your needs. Get started now.
As long as you're receiving a paycheck, don't be afraid to continue contributing to your retirement account. It may be tempting to stop, but investing when the market is low will help balance out past years when the market was high.
Americans have access to Unemployment Compensation (UC), the Extended Benefit (EB) program, the Families First Act and various other unemployment insurance (UI) provisions. As part of the coronavirus stimulus package for unemployed Americans, workers who lose their jobs because of coronavirus can receive unemployment for 13 weeks longer than usual. Also, the government has expanded the types of workers who are eligible to include independent contractors, gig workers, freelancers and people who have been furloughed.
Photo credit: ©iStock.com/Diy13, ©iStock.com/marekuliasz, ©iStock.com/spyarm