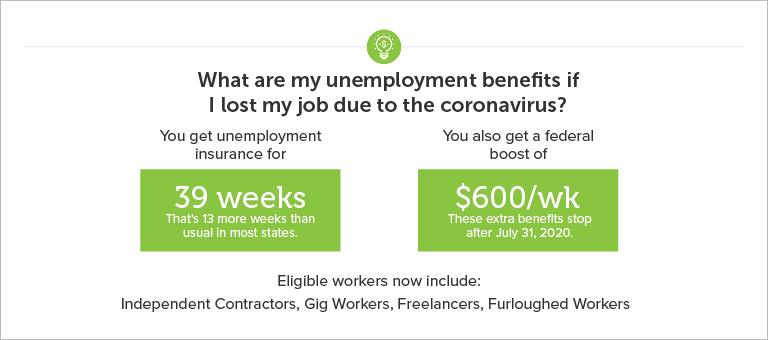 8/25 Update: On August 8, President Trump signed an executive measure calling for $300 in weekly federal unemployment assistance (and $100 to be provided by states). His action comes after the special pandemic unemployment assistance program, which provided $600 per week on top of state benefits (more below), ended by law on July 31. The House passed a bill in May to extend the extra $600 assistance until the end of the year, but the White House and Senate leadership object to the level of assistance — and a deal for a new stimulus bill has yet to be reached.
The legality of the executive action is questionable, since it reallocates the Federal Emergency Management Agency's (FEMA's) disaster relief funds that are intended for hurricanes, tornadoes, etc. That said, 30 states have applied to FEMA and been approved: Alabama, Alaska, Arizona, California, Colorado, Connecticut, Georgia, Idaho, Indiana, Iowa, Kentucky, Louisiana, Maryland, Massachusetts, Michigan, Mississippi, Missouri, Montana, New Hampshire, New Mexico, New York, North Carolina, Oklahoma, Pennsylvania, Rhode Island, Tennessee, Texas, Utah, Vermont and Washington. In fact, Arizona and Texas have already begun distributing $300 benefits.
Due to the coronavirus-caused business interruption and the layoffs that have ensued, millions of Americans are filing for unemployment claims — many for the first time in their lives. In fact, data from the U.S. Department of Labor (DOL) shows that in just five weeks (late March through April), the number of initial unemployment claims surged to more than 26 million – resulting in an estimated 23% unemployment rate, close on the heels of the Great Depression's 24.9% rate. In anticipation of these jaw-dropping numbers, the Coronavirus Aid, Relief, and Economic Security (CARES) Act includes new guidelines that allow for longer benefit periods, more benefit money and relaxed state-level eligibility requirements for Americans who lose work to COVID-19. Please note: these new guidelines expired on July 31.
A financial advisor can help you build a financial plan that keeps you on track during turbulent times. Find a financial advisor today.
How the CARES Act Affects Unemployment Benefits
There's a spot of good news for those most likely to be affected by a COVID-19 recession: the recently enacted Coronavirus Aid, Relief, and Economic Security (CARES) Act provides for extended unemployment benefits. In addition to individuals, the act offers aid to small and large businesses and healthcare providers.
Below, we break down the main provisions in the CARES Act that affect unemployment benefits.
Pandemic Unemployment Compensation (PUC)
Most notably, PUC provides an extra flat amount of $600 a week to regular unemployment insurance and Pandemic Unemployment Assistance (PUA) recipients. This provision, effective through July 31, 2020, also applies to those receiving partial unemployment benefit checks.
Eligible individuals may receive their payment in conjunction with their regular unemployment insurance benefit, or the government may provide PUC through a separate payment. However, the provision mandates that eligible recipients receive the compensation on a weekly basis.
Pandemic Emergency Unemployment Compensation (PEUC)
Under the PEUC program, individuals can receive an additional 13 weeks of unemployment benefits, though this is only available after they exhaust their state benefits. Most states offer 26 weeks of unemployment insurance (UI), so eligible employees will receive up to 39 weeks of unemployment benefits. States that provide less than 26 weeks of regular UI include Arkansas, Alabama, Florida, Idaho, Kansas, Missouri, North Carolina and South Carolina.
The federal program only grants PEUC benefits to individuals actively searching for work. The CARES Act also stipulates that states should be more flexible in regards to this requirement if the individual cannot search for work due to COVID-19-related restrictions or illness.
Pandemic Unemployment Assistance (PUA)
PUA offers emergency unemployment assistance to workers who've either exhausted their state unemployment benefits, or who don't have access to regular state UI benefits. Eligible individuals include self-employed workers, gig workers, independent contractors, freelancers, those looking for part-time work and workers who don't have the work history to qualify for state UI. The program provides up to 39 weeks of assistance for eligible workers, and it expires on Dec. 31, 2020, unless an extension is approved.
To gain eligibility for PUA, you'll need to prove you are partially or fully unemployed or you are unable or unavailable to work because:
You've been diagnosed with COVID-19.
You have the symptoms of COVID-19 and are seeking a diagnosis.
You are quarantined due to COVID-19.
Someone who lives with you has been diagnosed with COVID-19.
You're providing care for someone impacted by COVID-19.
You were scheduled to begin a job, but now cannot because of COVID-19.
You had to quit your job because of COVID-19.
Your employer has closed due to COVID-19.
You are now the financial provider for a household because of the COVID-19-related death of the head of household.
Those who qualify for state UI are not eligible to receive PUA.
What Unemployment Benefit Programs Are Available?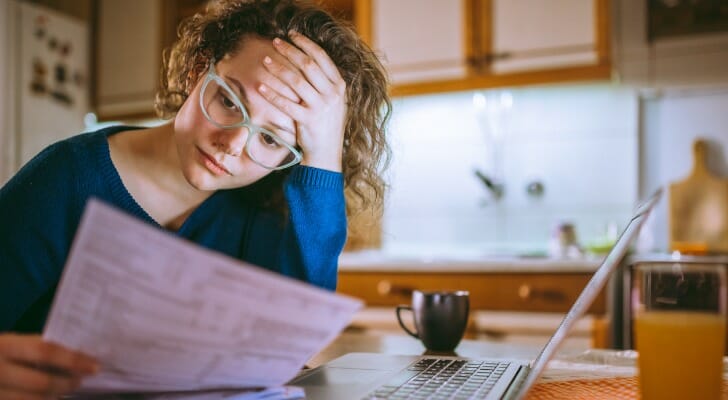 Americans have access to Unemployment Compensation (UC), the Extended Benefit (EB) program, the Families First Act and various other unemployment insurance programs. In most states, unemployment compensation provides up to 26 weeks of benefits for those who meet its eligibility requirements. Some states offer more than 26 weeks, while others offer less. For instance, Montana provides up to 28 weeks of UI, but Idaho, Arkansas, Kansas, Missouri, North Carolina, South Carolina, Alabama, Georgia and Florida offer fewer than 26 weeks. In fact, North Carolina and Florida only offer 12 weeks.
The U.S. DOL recently expanded its flexibility with unemployment insurance guidelines. According to the DOL website, there are three key scenarios under which states can modify their program's flexibility to aid those impacted by COVID-19:
An employer temporarily ceases operations due to COVID-19, preventing employees from coming to work.
An individual is quarantined with the expectation of returning to work after the quarantine is over.
An individual leaves employment due to a risk of exposure or infection or to care for a family member.
Am I Eligible for Unemployment Benefits?
Because unemployment programs are administered at the state level, eligibility requirements vary on a state-by-state basis. However, the DOL states that you'll typically qualify for benefits if you:
Are unemployed by "no fault of your own," meaning you no longer have your job because of a lack of available work
Meet your state's time worked and wages earned requirements over the course of a specific time frame called the "base period"
Meet any additional state requirements
If you'd like to know whether you qualify for unemployment benefits in your state, try researching your state's DOL website to learn more about eligibility requirements. The periods for which eligible residents can earn benefits vary throughout states. CareerOneStop.org, which is run by the U.S. DOL, is a great place to begin your research.
How to Apply for Unemployment Benefits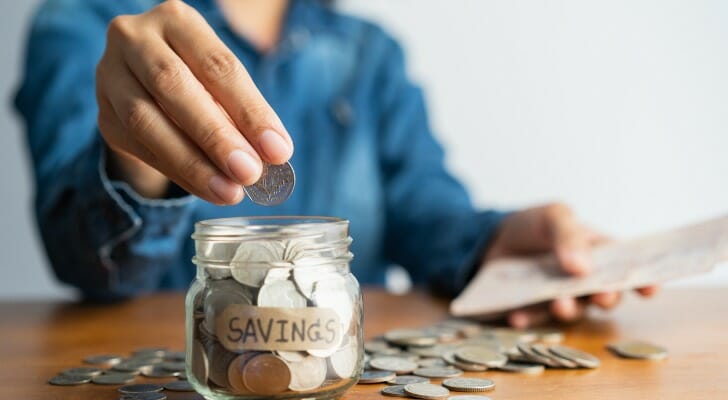 To apply, you'll need to get in touch with your state's unemployment insurance program. You can get your benefits by filing a claim in the state where you worked. If you worked in multiple states, or if you don't live in the state where you worked, your state's unemployment insurance agency can provide direction on how to apply with those other states.
Individuals can file their unemployment claims by phone, online or in person. The application avenues that are available to residents will vary by state. As for the time it takes to receive your first benefit, you'll have to wait about two to three weeks after filing.
Bottom Line
Whether you're working or currently unemployed because of the COVID-19 pandemic, it's important that you familiarize yourself with the changes to unemployment insurance programs. The CARES Act, which directs financial support to individuals and small businesses, offers additional unemployment insurance weekly benefits and extends unemployment compensation periods. As the economy slows, these programs offer a much-needed lifeline to the unemployed.
Financial Planning Tips
If you'd like professional assistance with investing, financial planning or wealth management during these uncertain times, a financial advisor may be right for you. SmartAsset's free matching tool connects you with up to three local advisors. Get started now.
Budgeting can be an extremely effective way to save money. This simple practice of managing fixed, variable or discretionary expenses can ensure you have solid savings for things like retirement, unexpected emergencies, student loans, rent, mortgages and other expenses. Our budget calculator can help you plan out your finances.
With the economic uncertainty we're facing, it's important that you take necessary steps to protect your finances. Check out our guide to navigating the recession.
Photo credit: ©iStock.com/urbazon, ©iStock.com/sorrapong