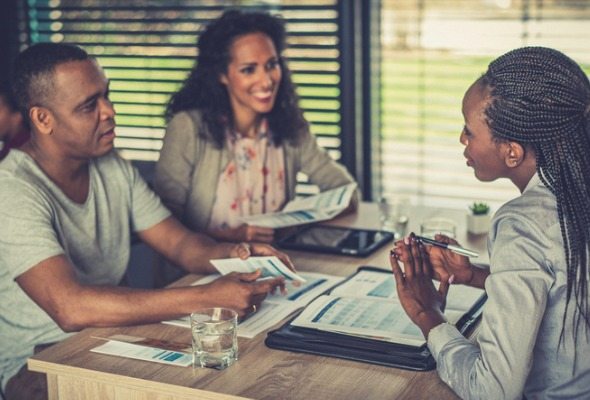 Managing your money isn't easy. There are a lot of decisions you must make, and you'll need to grapple with complicated issues like taxes, investing strategies and retirement income planning. Hiring a financial advisor can make things easier. The term "financial advisor" describes a broad group of professionals, though, so it can be tough to figure out exactly whom you want to hire. Before committing to paying someone to manage your money, you should know exactly what your options are, what services they provide and what kind of clientele they serve. If you're looking for a financial advisor, you can find one today using SmartAsset's free advisor matching service.
Financial Advisor Roles
Financial advisors provide a wide range of services, and there are both generalists and specialists in the field. Because of this, lumping all financial advisors together is like suggesting that an anesthesiologist and dermatologist perform the same work because they're both doctors.
Here are some examples of services that a financial advisor may offer:
Insurance planning
Risk management
Employee benefits planning
Investment selection and management
Real estate planning
Debt management
Emergency funds management
Small business planning
Almost all financial advisors meet with you at least once to discuss your financial goals, along with regular follow-up meetings. The scope of these conversations could cover investing only, or expand to topics like financial planning, taxes, insurance and more. An important duty of your financial advisor is education. Your money pro will help you understand investment options, returns and risks. Many advisors help you plan for specific life events, such as having a child, saving for retirement, college and more.
After you've selected your financial advisor, he or she will help you implement your plan, as well as suggest types of accounts and investments to best meet your future plans. Expect to receive regular updates on your financial situation. Your advisor will provide regular statements of account value and phone calls to discuss your goals and investment market conditions.
The Initial Interview With a Financial Advisor
Financial advisors typically begin by meeting with you, either in person or via video call. The advisor interviews you to determine your current financial situation and goals. The initial meeting might cover topics such as your salary, assets, insurance, expected inheritances, other income sources, your debts, liabilities, tax situation and more.
A good financial advisor gets to know you as a person along with your future goals. The advisor will learn more about your family situation before teasing out your goals with questions like "Are you seeking to save for a down payment for a home?" or "Do you want to fund your children's college educations or are you hoping to travel the world?"
Financial Advisors and Financial Plans
Creating a financial plan may be the most important step you and your financial advisor take. After the initial meeting, your advisor will likely come up with a series of steps to take to help you achieve your goals and put you on the path you want with your personal finances.
This may include investments, creating retirement accounts, shifting money between investments and accounts or drawing up various documents like wills and trusts. Note that some financial advisors don't do financial planning, focusing only in investment management. If a financial plan is one of the reasons you are considering working with a financial advisor, make sure you find one that does financial planning.
Financial Advisor Costs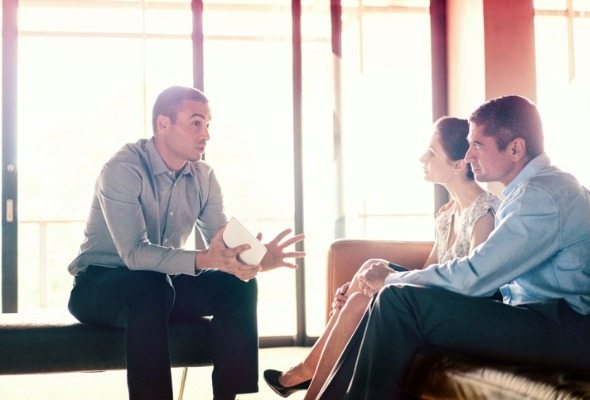 Financial advisors should explain their fee structure to you. This information should also be available on their website and their form ADV. Ask, if the advisor doesn't mention this important topic. When trying to understand how much a financial advisor costs, it's important to know there are a variety of compensation methods for financial advisors. Here's a breakdown:
Financial advisors can get paid a percent of your assets under management (AUM) for managing your money.
Financial advisors can get paid by commission. When an advisor sells you a financial product, he or she receives a specific percentage payout for the sale.
Financial advisors can get paid hourly. If you have a few questions and want to consult with a professional, you'll pay an hourly fee for answers.
Financial advisors get paid with a fee-for-service model. If you want a basic financial plan, you might pay a fee to have the financial advisor create that plan for you.
Some financial consultants who work for large brokerage firms, such as Charles Schwab, Fidelity and TD Ameritrade, offer basic financial advice and are paid by a salary by their employer. Typically, these financial pros handle more superficial financial concerns.
Generally there are two types of pay structures — fee-only and fee-based. Fee-only advisors only earn fees for investment activities. Fee-based advisors can also earn commissions for selling securities or insurance.
What Are Financial Advisors' Qualifications and Credentials?
This is where the financial advisory field gets complex. There aren't one or two credentials for a financial advisor. In fact, there are many financial advisory credentials. Here is a breakdown of the various financial advisor distinctions.
Securities Sales Licenses
Financial advisors who sell investment or insurance products need to be earn licenses. If personal financial advisors directly buy or sell stocks, bonds, insurance products or give financial advice, they'll need specific licenses related to the products. The Financial Industry Regulatory Authority (FINRA) oversees security sales requirements.
The most popular securities sales licenses include Series 6 and Series 7 designations. A Series 6 license allows a financial advisor to sell investment products such as mutual funds, variable annuities, unit investment trusts and some insurance products. The Series 7 license or General Securities license (GS) allows an advisor to sell most types of securities from common and preferred stocks, bonds, options, packaged investment products and more. Series 7 holders can't sell futures, real estate or life insurance.
CFP and CFA Designations
Beyond the securities sales licenses are two of the most popular financial advisory designations – CFP (certified financial planner) and CFA (chartered financial analyst). The CFP board licenses a CFP in a process that involves completing academic coursework, passing the certification examination, completing work experience and more. A CFA is a high-level investment management designation and includes three levels of study and examination. A CFA professional provides advanced investment analysis and portfolio management.
Miscellaneous Designations
Beyond these "gold standard" financial advisor certifications are titles such as certified fund specialist (CFS), chartered financial consultant (ChFC), chartered investment counselor (CIC), certified investment management analyst (CIMA), certified public accountant (CPA), personal financial specialist (PFS) and more.
Each of these designations requires varying levels of education and experience.
Where and How Does a Financial Advisor Work?
Your advisor might work in a solo office as part of a larger network, such as Ameriprise or Edward Jones. Vanguard, Morgan Stanley or another large brokerage house or bank might employ your advisor. Other financial advisors are individual practitioners without affiliation with an overriding network, or part of a small- or medium-sized local firm.
Typically, an independent agent takes custody of your money. For example, an individual financial advisor might use Schwab or Fidelity as custodians for your assets.
Your financial advisor might have specialized computer software that creates your investment portfolios. In fact, many advisors today use digital investment advisors or robo-advisors to set up and rebalance their client's assets.
Do You Need a Financial Advisor?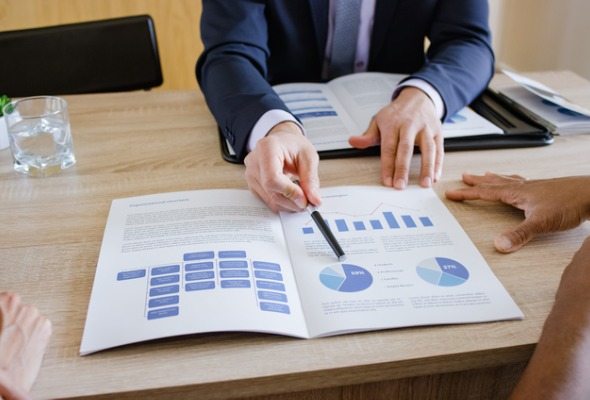 Whether you need a financial advisor depends upon how much you have in assets. You should also consider your comfort level with money management topics. If you have an inheritance or have recently come into a large sum of money, then a financial advisor could help answer your financial questions and organize your money management.
On the other end of the spectrum, if you're just starting out and desire basic money guidance, you might benefit from a conversation or two with a financial advisor. Before deciding whether to visit a financial planner or not, clarify your financial questions. Do note that many advisors won't manage your assets unless you've got a minimum of investable assets. This number can be as low as $25,000, or reach into the millions for the most exclusive advisors.
When choosing a financial advisor, find out if the individual is governed by the fiduciary or suitability standard. A fiduciary is required to put your interests first, when suggesting investments. The suitability standard simply means that there is a reasonable basis for the investment recommendation.
The SEC holds all advisors registered with the agency to a fiduciary standard. If you find an advisor through the SmartAsset advisor matching tool, you can rest assured that he or she is held to this standard.
Alternatives to Human Financial Advisors
If you're seeking financial advice you might consider employing one of the digital investment advisors. The broad field of robo-advisors spans platforms with access to financial advisors and investment management. Personal Capital and Betterment are two such examples.
If you're comfortable with an all-digital platform, Wealthfront is another robo-advisor option. Additionally, Fidelity, Wells Fargo, Schwab, Vanguard, TD Ameritrade and other large brokerage companies also offer varying combinations of digital and human financial advisors.
The Bottom Line
You can find a financial advisor to help with any aspect of your financial life. A financial advisor may run their own practice, be part of a larger office or even work for a giant bank like Charles Schwab. Regardless, an advisor can help you with everything from building a financial plan to investing your money to planning for taxes in retirement. Before you sign on to work with an advisor, it's your responsibility to understand the fees, background, services and experience of your money manager.
Tips for Finding a Financial Advisor
Finding the right financial advisor that fits your needs doesn't have to be hard. SmartAsset's free tool matches you with financial advisors in your area in 5 minutes. If you're ready to be matched with local advisors that will help you achieve your financial goals, get started now.
Make sure you ask the right questions of anyone you consider hiring as a financial advisor. Check that their qualifications and skills match the services you want out of your financial advisor.
Photo credits: ©iStock.com/vm, ©iStock.com/Portra, ©iStock.com/simonkr