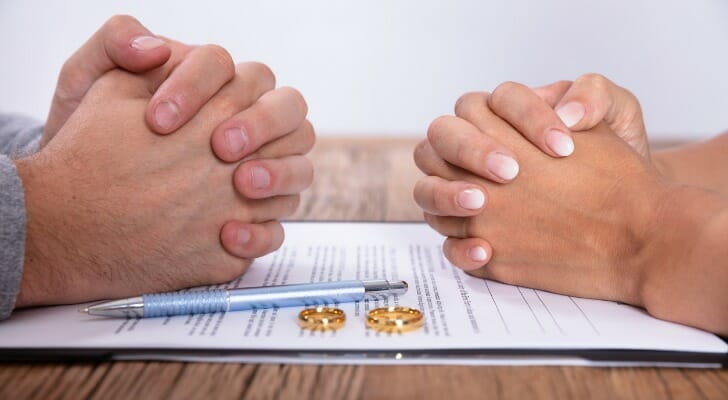 Let's start with some good news. It is not as bad as you've heard. The divorce rate is high, but it still requires a lot of variables for a couple to actually get divorced. Still, "probably won't happen" doesn't mean your marriage is on stable ground. If your marriage does end badly, chances are you'll need help. That's where a Certified Divorce Financial Analyst comes in.
Divorce in the U.S.
It's true that the divorce rate in America is somewhere around 50%. While that's not great, accurate statistics can both inform and mislead.
Yes, half of all marriages end in divorce. But that's not the same thing as saying half of all people get divorced. In fact, new couples today have closer to a 25% rate of actual divorce.
Several factors make a couple more or less likely to separate over time, and overwhelmingly the most important is how often the participants have been married before. The more often you get married, the more likely it is that each new marriage will end in divorce.
While the stats are rough, first marriages generally have a divorce rate of 20% to 30%. Second marriages end about 60% of the time. About 75% of people with three or more marriages get divorced. That high divorce rate is driven by people burning through multiple marriages and growing more likely to divorce their next partner with each one.
But multiple marriages aren't the only factor. Couples who marry earlier get divorced far more often than those who wait. (Turns out 19 year olds don't make the best major life choices. Who knew?) Couples with one or more college degree divorce less often than those without. Baby Boomers divorce more often than subsequent generations.
Big picture? The best way to avoid divorce may be to slow down a little bit, start becoming the adult you want to be, then try not to fret about a divorce rate far less scary than it appears.
What Is A Certified Divorce Financial Analyst (CDFA)?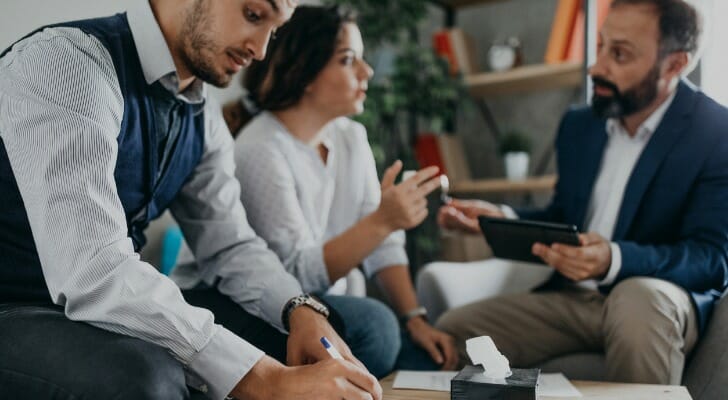 The CDFA is a credential for financial professionals who help people to plan their divorces. While divorce involves many different areas of life planning, one of the most significant issues that couples navigate is how to split their assets. A certified divorce financial analyst helps with that. Some common issues that a CDFA will help with include:
The CDFA certification is awarded to financial professionals, including financial planners and counselors. It shows that the holder has studied and shown a special expertise in the financial and accounting issues that frequently occur while negotiating a divorce. This certification does not license or authorize the holder to help couples negotiate their divorces. Any financial professional can perform this service. Instead, the CDFA simply indicates a higher degree or skill and specialty in that field.
It is also critical to understand that the CDFA is not a law degree or license. It does not authorize the holder to help couples with any of the legal issues that come up during a divorce. This is particularly important because of how often legal and accounting issues overlap during divorce proceedings (such as with child support calculations).
This certification was formerly known as a Certified Divorce Planner.
How Do You Become a Certified Divorce Financial Analyst?
The CDFA credential is issued by the Institute for Divorce Financial Analysts. To receive one, the applicant must meet the following requirements:
A bachelor's degree or higher.
At least three years of relevant experience.
Complete and pass the four certification exams.
Maintain 15 hours of continuing education every two years.
Maintain the $295 annual fee.
The CDFA exams cover the following four subjects:
1. The basic structure of divorce procedure and law, and the role of a CDFA in those proceedings.
2. The financial aspects of divorce, ranging from alimony and real estate to pre-marital assets and retirement accounts.
3. The tax issues raised by divorce.
4. Practical case studies, with a particular emphasis on building settlements and finding errors in example settlements.
The cost of all four exams and their study materials is $1,530 in the U.S. and $1,150 in Canada. Exam prep materials consist of four modules that require 20 to 25 hours of study apiece.
If you have to retake an exam, it costs $150 per retake. You can retake the exam as many times as you like, but there is a 30-day waiting period after you fail an exam. You're only allowed to take an exam three times in any 12-month period.
You can take all four exams within a year after purchase for no further cost. However, after a year, you'll have to pay $395 for a one-year extension.
Why Hire A CDFA?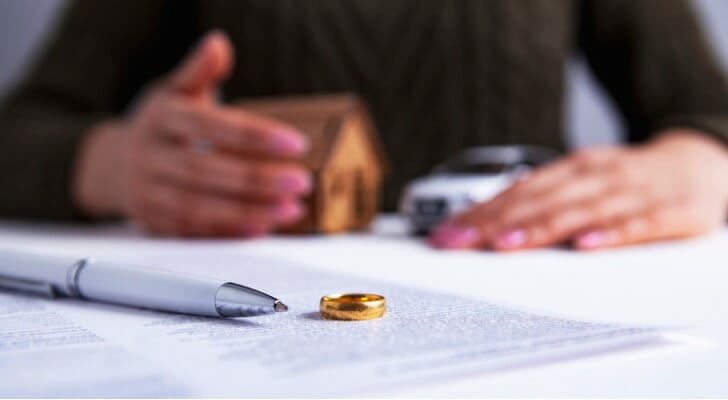 You should hire a CDFA for the same reason you'd hire a professional in any complicated matter: They know answers and questions that you don't.
Divorce is messy. It can touch almost every aspect of your legal, financial and personal life. It can be hard to manage this large, complicated problem.
A CDFA will know how to approach your taxes in a way that you might not consider. They will know obscure clauses in your retirement plan that you wouldn't know to look up, will think to research encumbrances on real estate, will consider familial vs. personal assets and much more. By nature of doing this professionally, a CDFA will simply know what issues to look for and what questions to as. You might not.
Bottom Line
A CDFA is a credential indicating that a financial professional knows how to navigate the financial and accounting issues associated with divorce. While other financial advisors can take on that role, a CDFA indicates a higher degree or skill and specialty in that field.
The CDFA is not a law degree or license and doesn't authorize an advisor to help couples with any of the legal issues of divorce. However, it does indicate that they might be the right advisor for you if you're going through a divorce.
Financial Tips
A divorce has serious financial implications that a CDFA and other financial advisors can help you sort out. Finding the right financial advisor that fits your needs doesn't have to be hard. SmartAsset's free tool matches you with financial advisors in your area in 5 minutes. If you're ready to be matched with local advisors that will help you achieve your financial goals, get started now.
If you're separating, make sure to protect your assets. Start by thinking about these five steps to secure your finances during a divorce.
Think of the bright side though! Most marriages actually do make it, and when yours thrives you'll need these four wealth management tips for married couples.
Photo credit: ©iStock.com/AndreyPopov, ©iStock.com/eclipse_images, ©iStock.com/Sargis Zubov