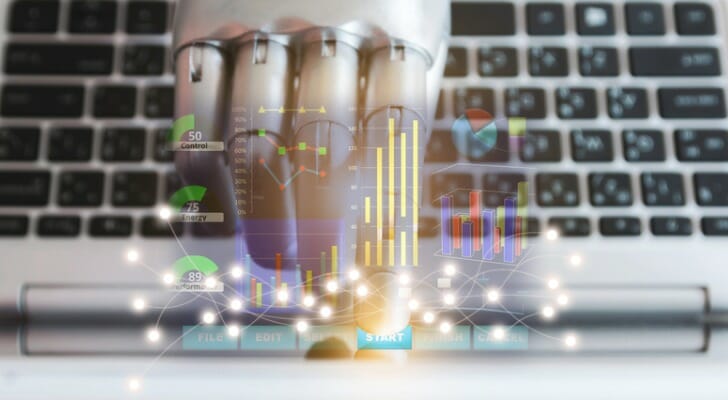 Robo-advisors are quite popular due to their low fees and simple, hands-off investment approach. But as more robo-advisors come about, the harder it becomes to figure out which one you should go with. To help you decide, SmartAsset created this list of the top robo-advisors for 2021. Look through each company's fees, minimum initial investments and other services to help you decide which is best suited to your needs.
Would you prefer more hands-on help with your investments? Talk to a local financial advisor today.
The Best Robo-Advisors of 2021
Like any financial service, robo-advisors use a plethora of different fee arrangements and investment philosophies, along with offering a variation of features like automatic rebalancing and tax-loss harvesting. As a result, some robo-advisors are better suited for certain types of investors than others. Below are SmartAsset's choices for the best robo-advisors of 2021.
Vanguard Personal Advisor Services
Annual Fees
0.30%
Minimum Investment
$50,000
Best For
Investors with a sizable balance
Vanguard is known for its low fees and popular index funds. In fact, many other robo-advisors and traditional financial advisors invest client assets in Vanguard funds. Vanguard also offers a robo-advisor of its own, called Vanguard Personal Advisor Services. With billions in assets, the robo-advisor is already an industry juggernaut.
As for particulars, its annual fee of 0.30% is about average for robo-advisors. The minimum required investment is a bit high though at $50,000. Unlike many robo-advisors, Vanguard's service also offers access to human advisors. That means you get the advantages of a digital service and the ability to talk to a real person when you have questions.
Full Review: Vanguard Personal Advisor Services
Betterment
Annual Fees
0.25% or 0.40% for Premium plan
Minimum Investment
$0 or $100,000 for Premium plan
Best For
Low maintenance, goal-based investors
Betterment has gained over 270,000 customers since bursting onto the robo-advisor scene in 2008. You'll find yourself drawn to the site's clean, user-friendly design. You'll also enjoy low fees and features like tax-loss harvesting. Once you sign up, you can track your progress toward retirement and other financial goals.
Annual management fees start at just 0.25% and there is no minimum balance for opening an account. Should you upgrade to Betterment's premium plan with a minimum of $100,000, your fee will jump to 0.40%, though you'll gain access to a number of other services. These include unlimited phone calls with a certified financial planner (CFP), advice on your 401(k) and other outside investment accounts and more. Unlike a number of other services on this list, Betterment also offers trust accounts.
Full Review: Betterment
Schwab Intelligent Portfolios
Annual Fees
Free
Minimum Investment
$5,000
Best For
Low-cost investors interested in ETFs
Schwab Intelligent Portfolios is the robo-advisor arm of Charles Schwab. This robo-advisor doesn't charge advisory fees, commissions or account service fees. You will have to pay fees for individual funds, but that is true for any robo-advisor.
As long as you have $5,000 to invest, you can become a Schwab client and take advantage of automatic rebalancing and tax-loss harvesting. So if you're on the prowl for a combination of low portfolio management fees and individual funds, then you should absolutely consider Schwab.
Full Review: Schwab Intelligent Portfolios
Personal Capital
Annual Fees
0.49% to 0.89%, depending on your account balance
Minimum Investment
$100,000
Best For
High-end investors who want access to human advisors
Personal Capital starts by aggregating all of your financial holdings and assessing the strengths and weaknesses of your current investing strategy. You'll get a report outlining Personal Capital's findings and a plan for improvement. This makes Personal Capital's services much more robust than a typical robo-advisor. In fact, many of its offerings are close to that of a true, human financial advisor.
The management fees and minimum balance are higher than average for a robo-advisor, but there is also free software available for DIY investors. Clients with $1 million or more get access to the lowest management fees and the most account features.
Full Review: Personal Capital
FutureAdvisor
Annual Fees
0.50%
Minimum Investment
$5,000
Best For
Fidelity and TD Ameritrade account holders who want automated portfolio management
As a FutureAdvisor client, your IRA, Roth IRA, rollover IRA or SEP-IRA will be held by either Fidelity or TD Ameritrade. The FutureAdvisor Recommendations Engine and a team of human advisors keep an eye on your investments, helping you rebalance and grow your money. If you don't want to start investing right away, you can create an account for free. That account is enough for you to get free portfolio analysis and recommendations.
Full Review: FutureAdvisor
Wealthfront
Annual Fees
0.25%
Minimum Investment
$500
Best For
DIY investors looking for cheap fees
Wealthfront offers robo-advising for many account types, including IRAs, 529 college savings plans and personal and joint savings accounts. The minimum balance requirement is $500, while clients with $100,000 or more get access to the company's tax-optimized direct indexing service. The management fee is a flat 0.25%, which is one of the lowest fees around.
Full Review: Wealthfront
Blooom
Annual Fees
$45 – $250, depending on your account package
Minimum Investment
$0
Best For
Investors that own a 401(k)
The focus of Blooom is on the 401(k), a retirement savings vehicle many Americans have without fully understanding how it works. There are three account tiers and fee structures at Bloom:
Essentials: $45 annual fee per account
Standard: $120 annual fee per account
Unlimited: $250 annual fee with unlimited accounts
Blooom's Standard and Unlimited packages come with access to human advisors, the ability to place trades on your behalf and account withdrawal alerts. The Unlimited package also comes with the added benefit of chatting directly with a financial advisor.
Full Review: Blooom
SigFig
Annual Fees
Free, then 0.25% annual fee on balances over $10,000
Minimum Investment
$2,000
Best For
Those in search of a simple account interface
SigFig charges a 0.25% annual fee on balances over $10,000. Accounts with a balance under $10,000 do not have a management fee, though there is a $2,000 account minimum. Other fees are embedded in the exchange-traded funds (ETFs) that form the cornerstone of the SigFig investing strategy.
SigFig uses a variety of funds from Fidelity, TD Ameritrade Institutional and Charles Schwab. This company complements its algorithms with the services of financial consultants who can chat with you about rebalancing and improving your existing investments.
Full Review: SigFig
Acorns
Monthly Fees
$1 – $5 per month
Minimum Investment
$0
Best For
Those new to investing & college students
Acorns takes the spare change from your everyday purchases and invests it according to your risk tolerance. It rounds up all your transactions to the nearest dollar and takes the difference, moving the money to a range of ETFs. You can connect a debit card, credit card or checking account to your Acorns account.
This service is not ideal for big retirement savings balances, but it is a pain-free way for people to start saving and investing. Opening an account is free, but management fees vary by account type:
Lite: $1 monthly fee
Personal: $3 monthly fee
Family: $5 monthly fee
The Lite package is the most basic, as it consists of just an investment account. But if you upgrade to the Personal package, you'll receive a retirement account and a checking account in addition to your investment account. Should you also need access to an investment account for your children's college savings, the Family package can provide that.
Full Review: Acorns
Axos Invest
Annual Fees
0.24%
Minimum Investment
$500
Best For
Those new to investing
Axos Invest is a fairly new robo-advisor, and it comes with all the basics and more. Its annual fee is just 0.24%, which compares really well to most of its competition. You also only need to deposit $500 to get started investing. Investors will have access to 30 different asset classes, as well as tax-loss harvesting, automatic and unlimited rebalances and more.
If you want to go beyond Axos Invest's core robo-advisor package, the company offers a selection of premium plans. If you choose to take advantage of any of these extras, you'll be charged a higher fee.
Prior to October 2019, Axos Invest was known as WiseBanyan. However, the company bought out WiseBanyan in 2018. Axos Invest is part of a larger financial institution known as Axos Financial, which also offers deposit accounts.
How Robo-Advisors Work
Traditionally, having a financial advisor meant turning up to an office for a sit-down conversation about your money and investments. However, some investors balk at the fees charged by financial advisors. And some advisors have minimum investment requirements that exclude people with a lower net worth.
Now, though, the financial advice landscape is shifting. Online-only advisory companies called robo-advisors are offering lower fees for advice based on sophisticated algorithms. Although these companies are automated, some also have financially savvy human advisors on staff as well. The difference is that these companies use fewer working hours on each account, allowing them to pass the resultant savings on to their customers.
The core of any portfolio that a robo-advisor builds is the client's risk tolerance. A robo typically determines your risk tolerance level through a series of questions. These delve into what your goals are for the future, how much money you want to have saved by retirement and more. Based on your answers, the firm will create a portfolio that includes investments that line up with your profile.
Bottom Line
Robo-advisors are competing to offer lower fees than their peers, and all that competition can be good for the consumer. The trend toward offering robo-advising services is a response to the preferences of younger Americans who would prefer easy, online advisory services with mobile apps to match.
Keep in mind that robo-advisors rely on your answers to questions that give them a sense of your goals, investment preferences and risk tolerance. Make sure you answer these questions honestly, or you could end up with an investment strategy that's more or less aggressive than what you really want. Additionally, look for the best deal you can get, while still meeting your personal needs.
Investing Tips
While there are certainly financial and practical benefits to a robo-advisor, they don't fully replace a human financial advisor. This is especially true when it comes to the personalized financial planning services that many advisors offer. Fortunately, finding a financial advisor doesn't have to be hard. SmartAsset's free tool connects you with up to three advisors in your area in five minutes. Get started now.
As you age and get closer to retirement, your tolerance for investment risk will likely drop. It's important to do this so you can protect your money as your transition into retirement. To get an idea of what your portfolio's composition should look like, stop by SmartAsset's asset allocation calculator.
Photo credit: iStock/sompong_tom, Vanguard.com, Betterment.com, Intelligent.Schwab.com, PersonalCapital.com, FutureAdvisor.com, Wealthfront.com, blooom.com, SigFig.com, Acorns.com, AxosInvest.com, iStock/Deagreez