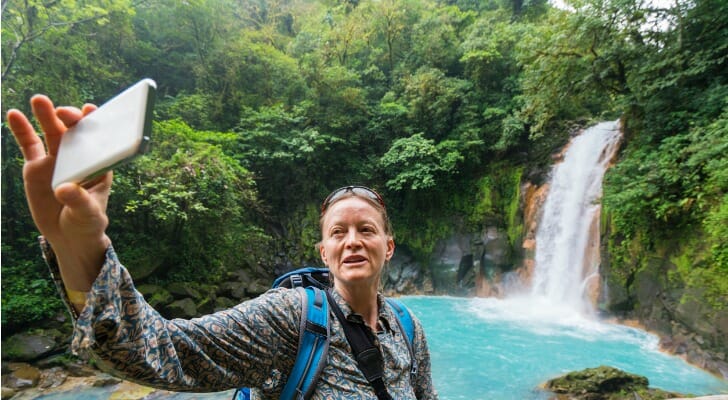 After working hard and saving diligently for retirement, you may find that your nest egg won't take you far in the U.S., but there are other options. In fact, you may be able to stretch your dollar a lot further outside the country and those options might be safer and more comfortable than you think. To assist you in figuring out where you could consider retiring, SmartAsset compiled this list of the best countries where you can retire cheaply and peacefully. For professional guidance, consider working with a financial advisor who can help prepare future retirees financially for the big event.
How We Compiled Our List of the Safest and Most Affordable Countries to Retire In
In order to come up with our list of used several reference points including the 2022 Global Peace Index. This annual report rates more than 160 countries on factors like quality of life and the presence of turmoil or conflict. The Institute for Economics & Peace, a non-profit think tank, compiles this list.
We also turned to other reports like the Annual Global Retirement Index. Produced by International Living magazine, this report rates countries on categories like cost of living and access to healthcare. In addition, we consulted Numbeo's 2022 Cost of Living index.
Below, you can review our list of the top ten cheapest countries where you can retire well.
1. Portugal
Cost of Living Index: 42.18
Global Peace Index Ranking: 6
The nation of Portugal ranks sixth on the Global Peace Index, a fact that makes it one of the overall safest countries in the world. Plus, its sandy beaches and warm climate can serve as a refreshing environment for your golden years.
To retire in Portugal, you'd have to provide proof of health insurance when applying for residency at the local consulate. However, many major health insurance companies that serve the U.S. also extend coverage in Portugal. So your transition may be that much easier.
The country has also recently tweaked its tax code to be particularly friendly to expats. If you qualify for Non-Habitual Residence (NHR) status, for instance, you're exempt from income tax for the next 10 years. This would cover earnings on investments and pension income even if it was made outside Portugal.
2. Malaysia
Cost of Living Index: 34.41
Global Peace Index Ranking: 18
Another country on our list that's making an effort to be more welcoming to expats is Malaysia. In fact, you can get a visa for up to 10 years through its Malaysia My Second Home (MM2H) program.
For nature lovers, the country serves as an ultimate getaway with its many beaches and jungles. But those who want to keep enjoying a city vibe well into their golden years can kick back into one of Malaysia's many urban destinations. In fact, George Town has been ranked as one of the top cities to retire to in the world by a handful of publications.
If you're reading this from a big city in the U.S., you may find Malaysia's low cost of living particularly attractive. According to Numbeo, a one-bedroom apartment in George Town costs an average of $278 in the urban areas and $174 in the suburbs.
And don't worry about overcoming culture shock. English is known as the "unofficial first language" in Malaysia. Plus, it ranks 18 on the Global Peace Index. This places the country considerably higher on the peace scale when compared to other countries in Southeast Asia.
3. Spain
Cost of Living Index: 47.51
Global Peace Index Ranking: 29
Spain remains a European country highlighted for its overall low cost of living and peacefulness. It often makes several lists of the best countries to retire in. With its rich history, Spain offers plenty of sightseeing to keep your mind and body running. Art lovers in particular can bask in the work of Baroque painter Diego Velazquez or modernists like Picasso and Dali.
In addition, expats may qualify for the country's public healthcare program if they meet the following characteristics:
If you're employed or self-employed and paying into Spain's social security system
If you're recently divorced from a partner who pays into Social Security
If you're a state pensioner
Spain's most expensive city is Madrid. But even here, you can find spots priced considerably lower than their counterparts in major U.S. cities. According to the travel website Escape Artist, a one-bedroom apartment in the city center costs about $1,055 a month.
If you want to retire in Spain, you need to register for a visa after 90 days.
4. Costa Rica
Cost of Living Index: 43.65
Global Peace Index Ranking: 38
Those looking to retire in a tropical paradise without the paradise price tag can look no further than Costa Rica. According to Numbeo, rents average around $610 a month in popular San Jose. And meals at local restaurants drop to as low as $7.
Outdoor lovers will find it hard to get bored here. You can enjoy surfing, whitewater rafting, fishing, jungle hikes, horse riding and more. You also don't have to worry as much if you get hurt. International Living rates Costa Rica's healthcare system as excellent and among the best in Latin America.
You can retire in Costa Rica by applying for a Pensionado visa, but you would need a monthly pension income of at least $2,500.
5. Panama
Cost of Living Index: 48.25
Global Peace Index Ranking: 61
Panama topped the Global Retirement Index by International Living. To your advantage, the country makes several moves to attract expats. For instance, the government won't tax income earned outside the U.S. This can benefit you if you continue to invest in a retirement plan you opened in America.
It also offers the Friendly Nations Visa and the Pensionado Visa. You can score the latter if you have a pension, annuity or Social Security income of at least $1,000 a month.
The Pensionado Visa almost works like a rewards credit card. It offers you the following discounts:
25% off flights
30% off public transportation
25% off restaurants
Like any place, however, your cost of living depends on your lifestyle and where you want to live. In Panama, you can forgo some basic luxuries to live on as little as $500 a month. A still-modest but more standard lifestyle would run you about $2,000 a month.
But if you have your eye on Latin America, Panama may offer a solid balance between the cost of living and achieving an active retirement. You can enjoy zip lining, biking, golf and other sports to keep the blood flowing. Or you can retreat to areas like Boquete. This city is known as a wellness hub where you can find plenty of opportunities to engage in yoga, meditation, Tai Chi and more.
6. Czechia (The Czech Republic)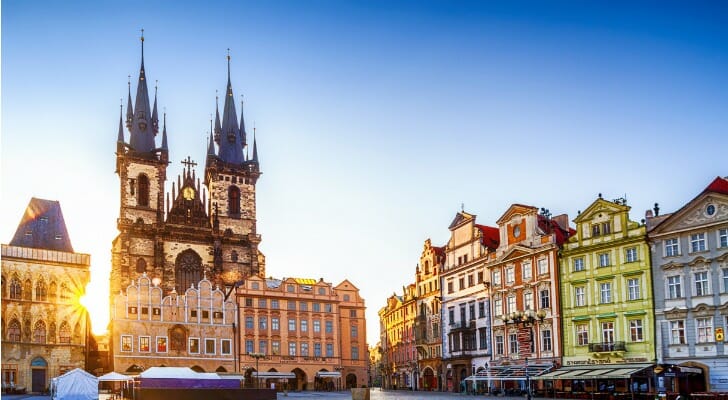 Cost of Living Index: 44.33
Global Peace Index Ranking: 8
If Eastern Europe is calling, the Czech Republic can offer a nice balance of affordability and safety. In fact, it ranks 8th on the Global Peace Index. Real estate costs here dip significantly lower than they do in much of Western Europe, according to the global travel website Expat Focus.
But when you're not home, you have plenty to enjoy especially if you're a history buff. In fact, the Czech Republic is known as the castle capital of the world. The Prague Castle has been standing since the Middle Ages. The country is also home to 20 monuments listed as UNESCO cultural and world heritage sites.
After 90 days, you'd need to register for a visa. You'd need proof of health insurance to apply for one.
7. Peru
Cost of Living Index: 30.74
Global Peace Index Ranking: 101
You have much to choose from in Peru as far as the scenery goes. The country features everything from vibrant cities to mountainous regions and quiet farming towns. Regardless of where you stay, the cost of living tends to rest on the lower side of the spectrum compared with other Latin American countries. For instance, you can find an apartment in Miraflores, an upscale district of Lima, for around $740 a month.
And you'd have access to a world-renowned cuisine made with fresh ingredients from the sea to the mountains. If you can withdraw at least $1,000 in retirement savings, you can secure a Rentista Visa. However, you can't work and must remain in the country for at least six months each year. Following seven years, you can qualify for a permanent visa.
Although Peru ranks 101st on the Global Peace Scale, and has dropped 15 spots in the past year, the organization that designs it still rates Peru as a country with a "high" level of peace.
8. Slovenia
Cost of Living Index: 47.30
Global Peace Index Ranking: 7
For those who want to retire to the backdrop of the Alps but can't afford the French or Swiss price tag, Slovenia is a solid alternative. Slovenia offers several peaks, and adventurers can break a sweat at Triglav National Park.
In fact, International Living rated the Slovenian city of Ljubljana as one of the top 10 cities to retire to in the world. According to Live and Invest Overseas, an organization dedicated to providing information to businesses moving abroad, a couple can comfortably rent an apartment in Ljubljana for about $720 a month.
9. Austria
Cost of Living Index: 64.11
Global Peace Index Ranking: 5
While a bit more expensive than the rest of the countries on our list, Austria ranks among the top 10 most livable countries, according to the Global Peace Index. In fact, a recent study by the Economist Intelligence Unit ranked Vienna as the most livable city on Earth.
This city alone offers a seemingly endless array of museums, fine art and world-renowned architecture. Numbeo indicates you can expect to pay about an average of $960 a month for an apartment in Vienna.
To retire here, you'd need a residence permit after six months. To obtain one, you'd need proof of income.
10. Australia
Cost of Living Index: 72.27
Global Peace Index Ranking: 27
Even though the average cost of living in Australia ranks a bit higher than most countries on our list, it has been dropping in recent years. According to Numbeo, monthly living expenses with rent can hover around $1,000 to $2,000 in the city center.
And you can enjoy the peacefulness and laid-back vibe of the country at one of its many beaches. Animal lovers can go on sightseeing tours of Kangaroos and other native creatures like the wombat.
Retiring here may be a bit trickier than other places on our list, however. For starters, the country abolished its Retirement Visa in 2018. But you may be able to acquire an Investor Retirement Visa if you meet the following qualifications:
Are at least 55-years-old
Live and work in Australia for up to four years
Invest a certain amount of money in the country and make a minimum income based on location
Australia offers an array of different visas aimed at attracting people who can contribute to the country's economy. So it may be the right destination for those who want to work part-time in their golden years. In addition, a family member can sponsor you. Otherwise, you can apply for a visitor's visa and reapply when required.
The Bottom Line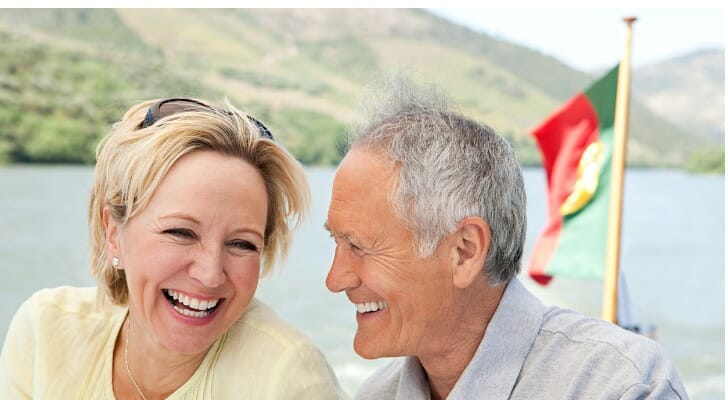 Finding the cheapest place to retire may not be the most difficult task, but you also deserve to live a comfortable retirement in a safe environment. That's why we compiled this list to help you strike the right balance. Of course, price and safety vary widely in a country depending on where you stay within its borders. So make sure you do your own research too to find a place that you mesh well and that fits your personal retirement budget.
Tips on Retiring Cheaply and Comfortably
Your financial situation is unique, and factors like tax status will affect you differently overseas as well. That's why it's crucial to seek a financial advisor to help you make these life-changing decisions. Finding a qualified financial advisor doesn't have to be hard. SmartAsset's free tool matches you with up to three financial advisors who serve your area, and you can interview your advisor matches at no cost to decide which one is right for you. If you're ready to find an advisor who can help you achieve your financial goals, get started now.
This article focused on places outside the U.S., but don't disregard domestic retirement when exploring your options. We also published a report on the best places to retire in the U.S.
Photo credit: ©iStock.com/DavorLovincic, ©iStock.com/Eloi_Omella, ©iStock.com/Image Source