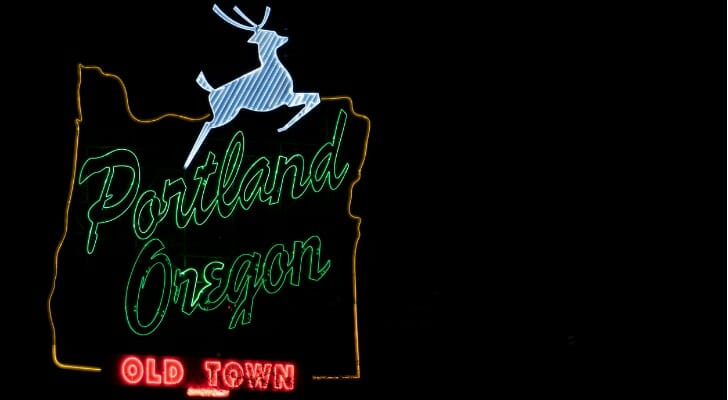 Portland, Oregon is more than just microbreweries and food trucks. The City of Roses boasts a lively arts and cultural scene. Employment options in Portland include established companies like Boeing, Nike and Intel, in addition to a wealth of start-ups and boutiques. If you're thinking of moving there, you should know the details on the cost of living, including housing costs, utility bills and taxes (hint: Oregon has no statewide sales tax!).
Cost of Living in Portland: Home Prices
There's no shortage of expensive homes in and around Portland. According to NeighborhoodScout data from May 2019, more than half of the homes in the city are priced at somewhere between $394,001 and $984,000. Even with these high prices, most of Portland's resident own a home, to the tune of a 52.1% homeownership rate.
Few major U.S. cities have seen the same strong appreciation rates that Portland has since the dawn of the new millennium. NeighborhoodScout data from 2000 to 2018 shows that this housing market has appreciated by 158.15% over that time span.
To see how much a mortgage in Portland may cost, check out our Oregon mortgage calculator.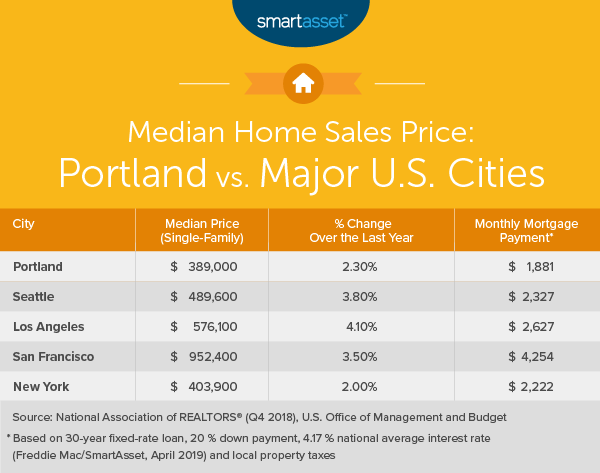 Cost of Living in Portland: Rent
Rentals in Portland are just as expensive as the traditional homebuying market. To be clear, Portland's studio, one, two and three bedroom apartments all hold median rents above their respective national marks. Here's how they compare:
Studio: $1,016 ($189 above the U.S. median)
One bedroom: $1,130 ($183 above the U.S. median)
Two bedroom: $1,334 ($159 above the U.S. median)
Three bedroom: $1,941 ($363 above the U.S. median)
The one area where Portland rentals seem to appear somewhat beneficial is when you compare them to other West Coast cities. This is especially evident when you look at Los Angeles and San Francisco. Check out the graphic below for more insights: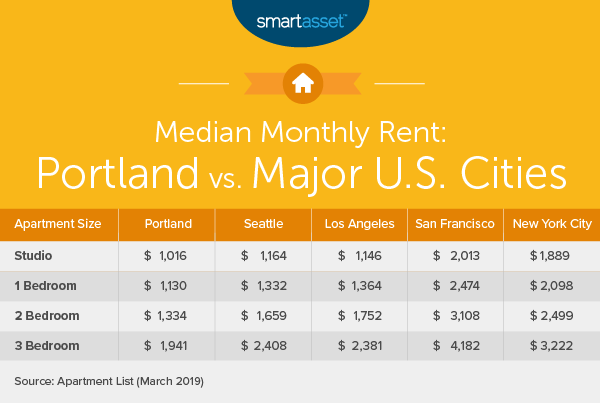 If you're still unsure whether renting or buying is better for your personal financial life, try speaking with a financial advisor.
Cost of Living in Portland: Utilities
If you're lucky enough to find housing you love in the City of Roses, prepare to spend an average of $171.38 for a combination of electricity, heating, water and garbage, according to 2019 data from Numbeo.com. This is much more than most Americans pay, as the national average is $152.08.
Water and sewer costs are rising in Portland, though, so brace for increases if you make the move.
Cost of Living in Portland: Transportation
Walking, biking and taking public transportation are all popular ways of getting around Portland. According to a 2019 report by the City of Portland, there are currently 385 miles of bikeways around the city.
A 2014 report by the League of American Bicyclists shows that Portland boasts the highest number of bicycle commuters of any major U.S. city, at 7.2%. The average number of commuters who bike is usually just 0.5% in other areas of the country.
Don't want to bike? A monthly pass on Portland's Tri-Met public transportation will cost you $100. That's on par with monthly transit pass prices in Los Angeles and Chicago, but New York sets you back by $116.50.
The charmingly named transit pass for "Honored Citizens" offers monthly passes at a price of just $28 for seniors (65+), Medicare members and people with disabilities. Youth passes for those age 7 to 17 are the same price.
If you'd prefer to drive everywhere, gas will set you back quite a lot in Portland. In fact, according to GasBuddy, the average price of a gallon of gas here is $3.46, as of May 2019. That's a full 59 cents more expensive than the $2.87 national average.
Cost of Living in Portland: Food
A three-course meal for two in one of Portland's mid-range restaurants will cost around $50, according to Numbeo.com (May 2019). Two people eating at an inexpensive spot can spend as little as $15.
As far as grocery prices go, a dozen eggs in Portland should cost you $2.71, 44 cents higher than the national average price of $2.27. Furthermore, a pound of chicken in Portland goes for about $5.02, which is $1.18 off the U.S. average.
It may not count as food, but beer is one of Portland's most famous products. OregonCraftBeer.org puts the number of breweries in the Portland metro area at a whopping 157. That's for a city of only 584,000 people. In comparison, Massachusetts has just 185 breweries across the entire state.
Part of the reason that Portland is so reliant on the beer industry may be due to Oregon's agriculture trends. In 2018, Oregon produced about 12.9 million pounds of hops valued at $69,855,000, according to the USDA's National Hop Report.
This abundance doesn't translate to cheaper prices, though. Numbeo.com reports that the average price for a pint of domestic beer in Portland is $5, which is a full dollar pricier than the $4 national average.
Cost of Living in Portland: Taxes
The entire state of Oregon, including Portland, has no sales taxes. Compared to fellow Northwestern city Seattle, with its 10.1% sales tax, Portland looks like a bargain.
On the other hand, the income taxes in Oregon are quite high. Rates range from 5% up to 9.9%. That top rate only applies to earners who have $125,000 or more in taxable income. Capital gains in Oregon are taxed at your state income tax rate, so if your investments perform well, you'll pay for it.
Miscellaneous Cost of Living Facts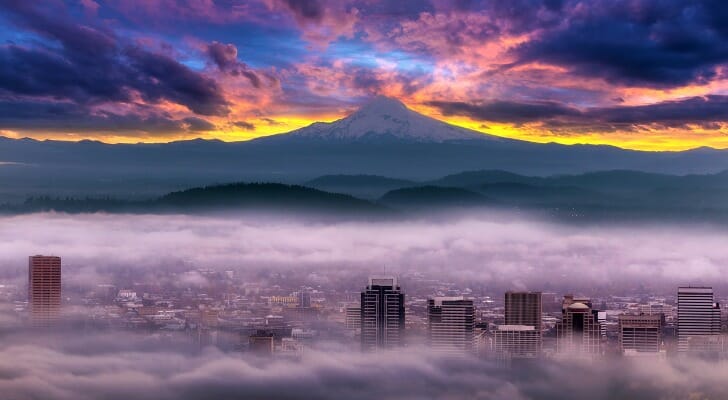 Shoppers in Portland have plenty of options for artisanal and handmade clothing, all of which can carry high prices. But even if you want to go the conventional route, you may have to pay a little more than the national average.
Numbeo.com data shows that a pair of shoes from Portland-based Nike will cost you $80.90 in Portland, compared to the national average price of $73.79. The same goes for jeans, as a pair of Levi's in Portland ($46.84) is $3.71 pricier than the U.S. average ($43.13).
Next Steps for Your Move to a New City
Are you finding it difficult to manage your assets for both the short- and long-term? If so, a financial advisor can help you get your funds in order for a big move, while still keeping future goals, like retirement, in mind. SmartAsset's financial advisor matching tool can set you up with as many as three local fiduciary advisors that area equipped to handle your personal needs. If you're ready to be matched with local advisors that will help you achieve your financial goals, get started now.
When you move to a new place, you'll need to deposit your money with a bank that has branches near you. For incoming Portlanders, Bank of Eastern Oregon, Columbia State Bank, First-Citizens Bank & Trust Company, Heritage Bank and First Choice Bank are a few of your options in the Oregon area.
Find out how expensive Portland is compared to your hometown by using our cost of living calculator. You can type in your zip code and salary and find out how much more it'll cost for food, taxes and housing in the city of your choice.
Photo credit: © iStock/egexplorer, © iStock/thyegn