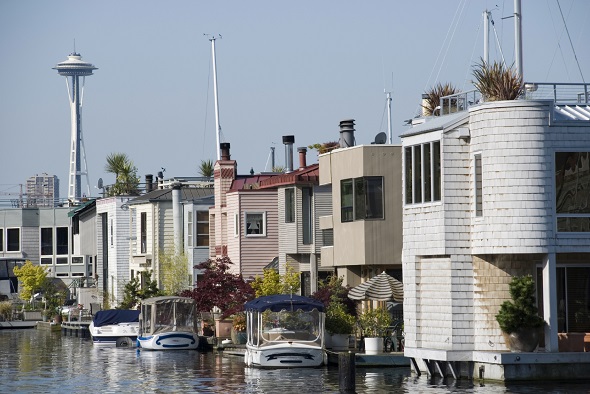 Thinking about moving to Seattle? You're not the only one: Seattle has been the fastest-growing big city in the U.S. since 2010, and it's expected to add nearly 200,000 more people over the next 20 years. That growth is a result of the city's vibrant culture and booming tech scene (not to mention the delicious coffee) but it also means that Seatown is becoming increasingly expensive.
So how much does it really cost to live in Seattle? According to the Council on Economic and Community Relations, Seattle is about 24% more expensive than the typical U.S. city. That means someone earning an annual income of $50,000 in the rest of the U.S. would need to earn about $62,000 in Seattle to maintain the same standard of living. Below, we'll comb through the data on housing, transportation and other major costs to find out how a move to Seattle might affect your wallet.
Home Prices in Seattle
The housing market in Seattle is one of the hottest in the country and it doesn't appear to show signs of cooling off any time soon. While that's great news for current homeowners — residents of King County have been reaping huge rewards from refinances — newcomers to Seattle will face steep (and rapidly growing) prices in the homebuying market.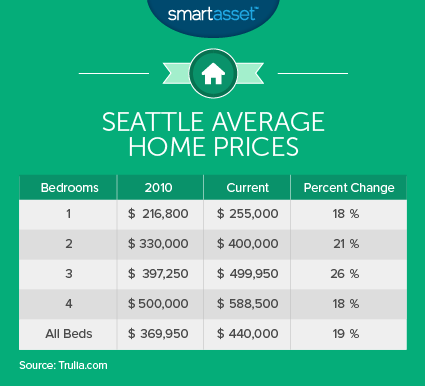 While those prices fall short of, say, San Francisco's housing prices, they may soon match any place in America. If prices in Seattle keep growing at a rate of 20% every five years, the average home price there will surpass $1 million within the next 25 years.
Moving to Seattle? Get help from a financial planner to start saving now.
The Average Rent in Seattle
While renting is often better than buying in the Seattle area, it isn't necessarily cheap. According to myapartmentmap.com the average rent for a two bedroom apartment in Seattle is $2,109. That is nearly 80% higher than the national average.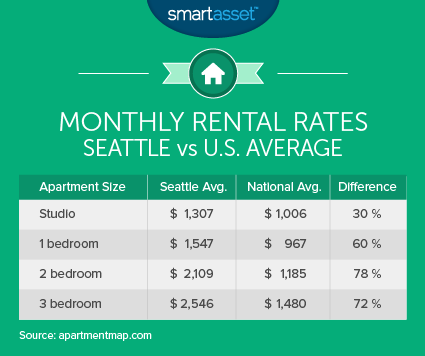 In some Seattle neighborhoods, rent is even more expensive than the rates listed above. According to rental listings site Zumper.com, rent for a one bedroom apartment in Seattle's South Lake Union neighborhood (in which Amazon.com has its world headquarters) is $1,900.
Cost of Food in Seattle
There's a lot of great food in Seattle. If you like seafood, you'll be in heaven at Pike Place Market. Plus, ask any Seattleite about Dick's Drive-In. They'll be happy to tell you why it's superior to In-and-Out. If you're living on a tight budget, however, you may only be able to enjoy Seattle's restaurants on rare occasions. A meal at a typical Seattle dining establishment costs about $30 per person, more than 30% higher than the national average.
What about groceries? The situation there isn't quite as dire. The Council for Community and Economic research found that a typical basket of Seattle groceries is about 11% more expensive than the national average cost for the same goods. There are also a number of open-air farmers markets that run spring through autumn throughout the city, where you may be able to find great deals on fresh produce.
The Cost of Transportation in Seattle
While Seattle does have a light rail system, it only serves a limited portion of the city. Most Seattleites either own a car or use the public bus system. The city also has a large population of cyclists, but given the number of hills and the lousy winter weather, it takes a high level of commitment to rely on a bike year-round.
The price of a single ticket for Seattle's bus system ranges from $2.50 to $3.25, depending on the time of day and the distance of your trip. For regular riders there's the Orca Card, which serves as a single pass for the entire regional transit system. The cost of a monthly pass through the Orca Card system is around $100. This is about the same price as similar transit passes in LA and Chicago, though it is slightly more expensive than San Francisco's monthly pass and a bit lower than New York's monthly pass.
And what about driving in Seattle? Well, the cost there comes in both dollars and minutes. Seattle has some of the worst traffic in the country. Depending on the direction and distance of your commute, you could find yourself spending several hours a day in bumper-to-bumper traffic. That wastes time, not to mention fuel. That's important, because Seattle has some of the most expensive gasoline in the country, with prices usually at least 10% higher than the national average price.
Cost of Energy in Seattle
It isn't all bad news for current and future Seattleites, however. There is one important commodity which is cheaper in the Puget Sound region than it is almost anywhere else in the country. No we're not talking about rain — we're talking about electricity. Thanks in large part to a number of major hydroelectric power plants throughout the state, Washington (and Seattle) have some of the lowest energy rates around.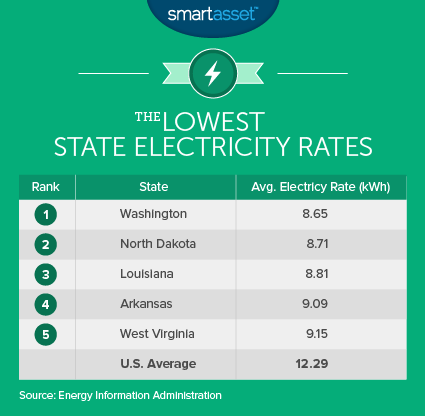 Not only are Seattle's electricity rates super low, but thanks to Seattle's mild climate, the average Seattle household uses less energy than households in most cities in the rest of the country. In fact, many Seattle homes don't even have an AC!
Other Costs in Seattle
On a range of other important expenses, like health care and clothing, Seattle prices are near or slightly above the national average. One important factor to keep in mind is the Seattle sales tax. At 9.5%, it is one of the highest sales taxes in the country, which jacks up the price of nearly everything.
The flip side, however, is that Seattle has no personal income tax. So, while you'll be spending more in Seattle on everything you buy, you may also have more to spend! Add that to the list of reasons increasing numbers of people are calling Seattle home.
Tips for Understanding How Cost of Living Impacts You
If you are moving to Seattle, you probably want to see how your budget will be affected. If you want help with how it will impact your finances or are looking for someone to help you meet your financial goals in general, a financial advisor might be useful. A matching tool like SmartAsset's SmartAdvisor can help you find a person to work with to meet your needs. First you answer a series of questions about your situation and your goals. Then the program narrows down thousands of advisors to three fiduciaries who meet your needs. You can then read their profiles to learn more about them, interview them on the phone or in person and choose who to work with in the future. This allows you to find a good fit while doing much of the hard work for you.
Photo credit: ©iStock.com/mcdc