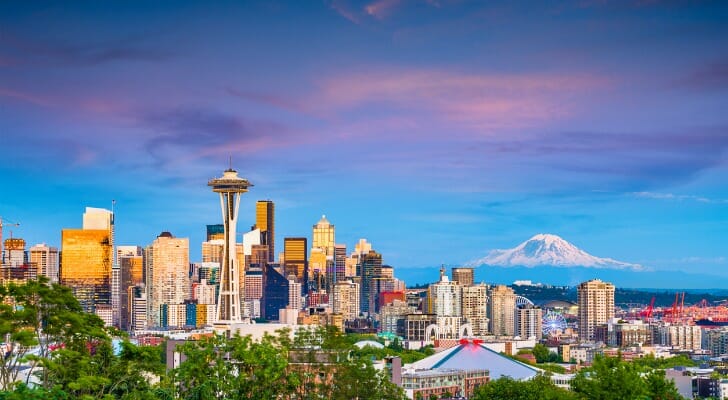 Thinking about moving to Seattle? Seattle has been one of the fastest-growing big cities in the U.S. since 2010, and it's expected to add nearly 200,000 more people over the next 20 years. This growth is a result of the city's vibrant culture and booming tech scene. Unfortunately, this does mean that the Emerald City's cost of living is becoming increasingly expensive.
Home Prices in Seattle
If you're looking into buying a home in Seattle, you might be a bit shocked by the high prices. 2018 housing market data from the National Association of Realtors has the median home sales price at $489,600, which comes in better than Portland, Oregon, and New York City.
Possibly even more impressive than Seattle's current prices are its long-term appreciation rates. According to NeighborhoodScout, home values in Seattle have increased by 179.65% from 2000 to 2018. That's good for a 5.49% annual rate, which is near the best in the country.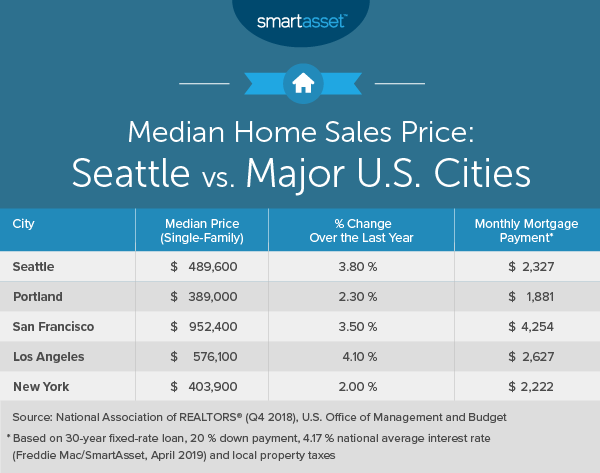 Renting in Seattle
While renting is often better than buying in the Seattle area, it isn't necessarily cheap. According to Apartment List's March 2019 report, the median rent for a two bedroom apartment in Seattle is $1,659. That is nearly $500 higher than the national median of $1,175. The same goes for one bedrooms, as the Seattle median of $1,332 is $385 pricier than the mark for the country as a whole.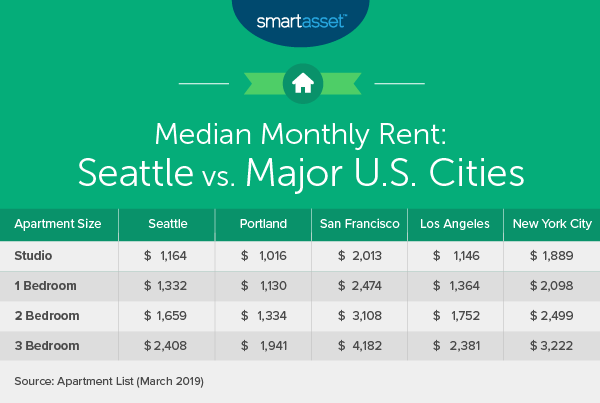 Cost of Food in Seattle
There's a lot of great food in Seattle. If you like seafood, you'll be in heaven at Pike Place Market. Plus, ask any Seattleite about Dick's Drive-In. They'll be happy to tell you why it's superior to In-and-Out.
If you're living on a tight budget, however, you may only be able to enjoy Seattle's restaurants on rare occasions. According to May 2019 data from Numbeo.com, a meal at a typical Seattle dining establishment costs about $30 per person, as compared to the $25 national average.
Grocery prices follow the same trend, only with a larger difference. The monthly recommended food spending for a Seattle resident is $399.69, based on Numbeo.com data. That's nearly $75 more than the $324.20 national average.
As far as specific food items go, a dozen eggs and a pound of apples in Seattle costs $2.95 and $2.48, respectively. These each come out to 68 cents and 50 cents above the national averages, according to Numbeo.com. There are also plenty of open-air farmers markets that run from spring through autumn here, where you may be able to find great deals on fresh produce.
Cost of Transportation in Seattle
While Seattle does have a light rail system, it only serves a limited portion of the city. Most Seattleites either own a car or use the public bus system. The city also has a large contingent of cyclists, but given the number of hills and the lousy winter weather, it takes a high level of commitment to rely on a bike year-round.
The price of a single ticket for Seattle's bus system costs $2.75, depending on the time of day and the distance of your trip. For regular riders there's the Orca Card, which serves as a single pass for the entire regional transit system. The cost of a monthly pass through the Orca Card system is around $100. This is about the same price as similar transit passes in LA and Chicago, which go for $100 and $105, respectively.
If you're looking to drive, Seattle has some of the worst traffic in the country. Depending on the direction and distance of your commute, you could find yourself spending several hours a day in bumper-to-bumper traffic. That wastes time, not to mention fuel.
According to the U.S. Census Bureau, residents of Seattle have, on average, a one minute longer commute to work every day. Seattleites spend nearly half an hour commuting every day. Gas prices are also expensive here, as GasBuddy indicates the average cost of a gallon of gas in Seattle for May 2019 is $3.63. That makes it the most expensive major city in Washington.
Cost of Energy in Seattle
It isn't all bad news for current and future Seattle residents, though. There's one important commodity which is cheaper in this city than almost anywhere else in the country: electricity. This is due in large part to a number of major hydroelectric power plants throughout the state.
As a result, the state of Washington has some of the lowest electricity rates around. A March 2019 report from the U.S. Bureau of Labor Statistics illustrates this. It specifically states that, "the 11.0 cents per kWh Seattle households paid for electricity in March 2019 was 18.5 percent less than the nationwide average of 13.5 cents per kWh."
Miscellaneous Cost of Living Facts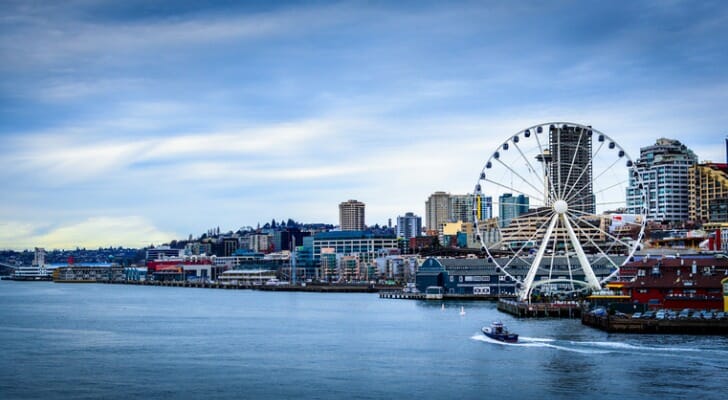 On a range of other important expenses, like healthcare and clothing, Seattle prices are near or slightly above the national average. One important factor to keep in mind is the Seattle sales tax. At 10.10%, it's one of the highest sales tax rates in the country, which jacks up the price of nearly everything.
The flip side, however, is that Washington has no personal income tax. So, while you'll be spending more in Seattle on everything you buy, you'll keep more out of every paycheck.
Tips for Managing Your Long-Term Finances
Photo credit: ©iStock.com/Sean Pavone, ©iStock.com/James Griffiths Photography