Comparing
Set a location
Knowing your location will help us calculate property taxes and home prices.
Dismiss
What is your monthly rent?
This helps us compare your monthly rental costs against your total monthly owning costs.
Dismiss
What's the price of the home you are considering?
This will be used to figure out the costs associated to your monthly home payments.
Dismiss
What % of the Target Home Price do you want to put down?
Down Payment will help us generate your monthly costs of owning a home.
Dismiss
What is your marital status?
We use your marital status to determine the amount of taxes you will pay both while renting and owning. As there can be tax benefits to owning this helps us provide a more accurate answer.
Dismiss
What is your annual pre-tax income?
We need your income to figure out the federal, state and local taxes you will pay both while renting and owning. If you are married do not include your spouse's income.
Dismiss
What is your spouse's annual income?
Adding your spouse's income helps us determine your household income tax rate.
Dismiss
Home Details
Annual Homeowner's Insurance
Monthly Additional Expenses
Annual Home Value Increase
Rent Details
Monthly Renter's Insurance
Advanced
Annual Rate of Return on Savings
Savings Rate
Enter the general savings rate
Dismiss
Set a location
Knowing your location will help us calculate property taxes and home prices.
Dismiss
Back
What is your monthly rent?
This helps us compare your monthly rental costs against your total monthly owning costs.
Dismiss
Back
What's the price of the home you are considering?
This will be used to figure out the costs associated to your monthly home payments.
Dismiss
Back
What is your marital status?
We use your marital status to determine the amount of taxes you will pay both while renting and owning. As there can be tax benefits to owning this helps us provide a more accurate answer.
Dismiss
Back
What is your annual pre-tax income?
We need your income to figure out the federal, state and local taxes you will pay both while renting and owning. If you are married do not include your spouse's income.
Dismiss
Back
What is your spouse's annual income?
Adding your spouse's income helps us determine your household income tax rate.
Dismiss
Back
| | | | |
| --- | --- | --- | --- |
| Year | Renting | Cost Difference | Buying |
| Monthly Cost | $ | | $ |
| Total Cost | $ | | $ |
About This Answer

Our buy vs. rent tool builds one model calculating all of the relevant costs of owning and a different model including all of the costs of renting. Next we figure out the tax consequences of buying a home (we calculate taxes at the federal, state and local level) and consider how home value appreciation and mortgage payments impact your equity in the property. Once the models have calculated all of the costs of owning and renting we compare the two in order to show you how long you need to stay in a property for buying to make more sense than renting.

How We Calculate the Costs of Ownership

First we start with the upfront expenses. Depending on where you want to move and the mortgage type, we estimate all of the relevant expenses required to close on a home purchase. This includes your down payment, local taxes, title insurance, mortgage fees and other expenses down to the appraiser's fee for assessing the value of your home.

We then look at the annual costs, which include your mortgage payment, real estate taxes, homeowners insurance, maintenance expenses and, if relevant, mortgage insurance and HOA fees. It is important to note that our models use actual mortgage data from our partners, so the mortgage payments, amortization and any other related fees are all based on real mortgages that you could use to buy a property of the stated value.

Finally, we calculate how much money you would have left over after selling your property. We account for any capital gains tax, realtor fees and other transaction taxes and expenses that you would have to pay when selling your property.

How We Calculate the Costs of Renting

Calculating rental expenses is more straightforward. We take the initial rent amount you entered and then use the inflation rate, which you can also adjust, to calculate rental payments in the future. You can also add rental insurance or other expenses at your discretion.

...read more

Our Assumptions

Mortgage data: We use live mortgage data when calculating your home affordability.

Closing costs: We have built local datasets so we can calculate what closing costs will be in your neighborhood.

Selling expenses: Our data partnerships allow us to accurately estimate the costs incurred during a home sale.

Taxes: We calculate taxes on a federal, state and local level. The implications of real estate taxes, mortgage interest, mortgage points, mortgage insurance and other factors (including if you do or do not pay the Alternative Minimum Tax) are all considered in our models. To better align with filing season, tax calculations are based on the tax filing calendar, therefore calculations prior to April are based on the previous years tax rules.

Home maintenance expenses: We calculate maintenance fees based on an "Annual Maintenance Fee" (which is a % of the home value) and "Monthly Additional Expenses" (which are fixed expenses that grow with inflation).

HOA fees: We assume that HOA fees are a fixed expense and that they grow with inflation.

Homeowners insurance: We assume homeowners insurance is a percentage of your overall home value.

...read more

Our Home Buying Expert

Michelle Lerner Home Buying

As SmartAsset's home buying expert, award-winning writer Michele Lerner brings more than two decades of experience in real estate. Michele is the author of two books about home buying: "HOMEBUYING: Tough Times, First Time, Any Time," published by Capitol Books, and "New Home 101: Your Guide to Buying and Building a New Home." Michele's work has appeared in The Washington Post, Realtor.com, MSN and National Real Estate Investor magazine. She is passionate about helping buyers through the process of becoming homeowners. The National Association of Real Estate Editors (NAREE) honored Michele in 2016 and 2017 with the award for Best Mortgage or Financial Real Estate Story in a Daily Newspaper.

...read more
Cost Comparison Over Time
Share Your Feedback
How would you rate your experience using this SmartAsset tool?
What is the most important reason for that score? (optional)
Please limit your response to 150 characters or less.
Thank you for your answer! Your feedback is very important to us.
Cost of Renting vs. Cost of Buying
Cost of Renting Over years

Cost of Buying Over years

Rent
Home Equity
Renter's Insurance
Home Value
Mortgage Balance
Upfront Expenses
Down Payment
Mortgage Fees
Other Closing Costs
Ongoing Expenses
Mortgage Payment
Mortgage Insurance
Property Taxes
Homeowner's Insurance
Maintenance & Other Expenses
Selling Expenses
Closing Costs
Capital Gains Tax
Proceeds From Home Sale
Tax Savings
Lost Interest Income
Total
Total
When to Rent vs. Buy
Determining whether to buy or rent your home involves a complex decision-making process. The SmartAsset rent vs. buy calculator helps you see when you'll reach your break-even point and integrates some of the following questions to help you make an informed choice:
How long do you plan on staying in an area?
How much flexibility do you enjoy?
Are you prepared for the responsibility of homeownership?
Perhaps the most important factor to consider when making this buy or rent decision is how long you plan to stay in your home. If you'll only be in town a year, renting will almost always be your best choice. In that scenario, if you're planning to pack up and leave in the short term, you probably don't want to spend the time and money necessary to buy a house, with a down payment, closing costs, loan charges, appraisal fees and so on.
All told, the upfront costs of finding a house and taking out a mortgage can be in the tens of thousands of dollars (or higher). As a renter, by contrast, you'll likely just have to pay an application fee, fork over a broker's fee and make a refundable security deposit of a few months' rent.
On the other hand, if you plan on staying put for 50 years, renting could be more expensive than buying over that time frame. In the long run, there are significant advantages to homeownership. You'll own property, which you can later sell, rent out or pass on to family members down the line. Another possible advantage is mortgage interest deduction, a tax benefit that allows you to deduct mortgage interest payments from your taxable income. This requires filing itemized taxes and is only beneficial if the interest deduction totals more than the standard deduction.
Rental payments, by contrast, have no such advantages. While a portion of each mortgage payment goes toward raising your stake in your home by increasing your equity, rental payments go entirely to your landlord and tend to grow over time as rental prices increase. In the long run, the costs of renting can be much higher than buying.
Of course, renters don't have to pay property taxes, homeowners insurance or maintenance costs. Those costs can really add up. In some areas of the country, like New Jersey and Westchester County, New York, property taxes are so high they cost the same as at least one or two extra mortgage payments per year.
| Owning a Home Pros | Owning a Home Cons | Renting Pros | Renting Cons |
| --- | --- | --- | --- |
| Can build equity | Home value can decrease | Have flexibility, can move to a new place each year | Rent prices can increase each year |
| Mortgage payments stay stable each month (with a fixed-rate mortgage) | Property taxes can increase each year | Landlord handles repairs | Landlord might not be responsive |
| Tax deduction | Must take responsibility for all maintenance | Have fewer upfront costs | Rent payments don't help you build equity |
| Home value can increase | Must pay homeowners insurance costs | | |
| | Have less flexibility | | |
| | Have high upfront expenses with down payment and closing costs | | |
So if renting is better in the short-term and buying is better in the long-run, when does the financial logic switch? When, in other words, do the long-run costs of renting begin to outweigh the upfront costs of buying? This is known as the breakeven year. It could be three years, or seven or 15. The timing depends largely on where you live. That's why our rent vs. buy calculator is location-based.
Rent or Buy Comparison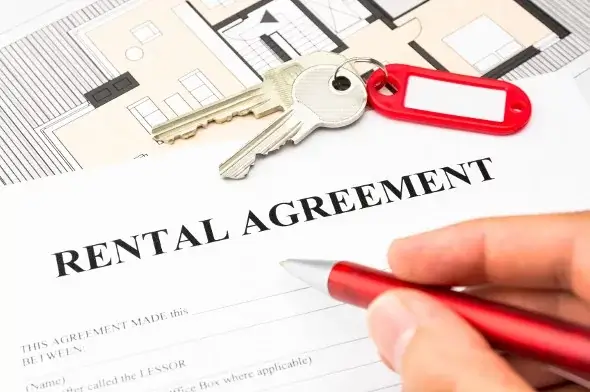 Photo credit: © iStock/eccolo74
Of course, while analyses like the above assume you are making your decision for purely economic reasons, there are other, non-financial factors you may want to consider as well.
Many renters, for example, enjoy the flexibility of being able to change apartments and neighborhoods at the end of their lease. If you no longer like the area you live in or have to move for a job, renting makes life much simpler.
As a homeowner, if you want to move, there are quite a few hoops to jump through, such as:
Finding a real estate agent
Getting the house listed (which means professional photos, filling out a seller's disclosure and possibly handling home repairs)
Navigating offers and negotiations
Paying a number of fees to close the sale
Completing this can take months and really add up. Sometimes you don't have the luxury of waiting until your house sells to move, which is another headache you avoid as a renter.
On the other hand, buying a home gives you year-to-year continuity. In some areas of the U.S., rent prices can change drastically over the course of just a few years. What may have fit your budget a year ago might not now if your landlord hikes the rent when it's time to renew.
As a homeowner, you won't face any spikes in your payment (adjustable-rate mortgages are one exception). But then we come to the question of maintenance. Fixing leaky pipes, painting, cleaning gutters — these are all costs of owning a home. As a renter, most of those issues are the responsibility of maintenance personnel or your landlord.
That said, many renters complain of unresponsive landlords who refuse to deal with things like bad plumbing or a faulty fridge. These are matters of personal preference — do you like fixing your home or do you prefer others to take care of it? It'll come down to your personal preferences as well as what your current and projected housing needs dictate.
The Background Behind the Shift from Homeownership to Renting
For a long time, the common wisdom was that buying a home was a far better financial choice than renting one. As home prices across much of the country marched upward during the 20th century, a house was considered the safest investment around.
The logic was simple: if you were spending 30% of your income on housing, you might as well spend that hard-earned cash on something that would retain its value for you in the future. Renting, by contrast, was wasteful. The rent vs. buy decision traditionally was a straightforward one.
That all changed in 2007 when the housing bubble popped. A house, it turned out, could lose value — and, as some real-life cases demonstrated, could do so in spectacular fashion. There were stories of totally abandoned neighborhoods outside of Las Vegas and half-constructed mansions in Florida.
Those with the misfortune to buy at the peak of the market in 2006 lost thousands or even millions of dollars overnight. Mortgages went underwater and foreclosures skyrocketed. The housing bubble led to a financial crisis that affected not only home values, but also jobs and the economy at large. If you were a renter during this time, you probably had it easier. Rather than dealing with a fatal blow to your home's value, or even foreclosure, you had the flexibility to downsize apartments if you needed to tighten your budget or even move to somewhere with a more affordable cost of living.
Today, there is no clear answer to the rent vs. buy question. In some cities, and for some individuals, buying a home may make more sense, while for others, renting a home may be the better choice. This makes it even more important to run the numbers and see what is best for you and your family.
Bottom Line
In the end, the rent vs. buy decision comes down to your preferences, plans and personal finances. If you know exactly how long you want to stay in your home and where you want to live, and you have some money saved up, the decision could be as easy as calculating which option will cost you less. If your future is less clear, however, you may have more to consider.
How Long You Have to Live in America's Biggest Cities for Buying to Make Sense
May 1, 2015
Housing markets in major cities are often far more competitive than those in small towns or rural areas. That affects the rent vs. buy decision, as potential homebuyers in metros frequently face significantly higher prices, fees and closing costs. Those high upfront costs can mean that it only makes sense to buy for homeowners who are willing to stay put for a longer timeframe.
With that in mind, SmartAsset took a closer look at the data on renting and buying in the largest U.S. markets. We determined the breakeven point, the time it would take for a homeowner to recuperate those upfront costs of buying a home. (For more on our methodology, check here.)
Developments like the boom in tech jobs and increased migration to sunny West Coast cities have shifted housing economics towards renting in some parts of the country, while in other areas, like the South and Texas, buying is still usually the better bet.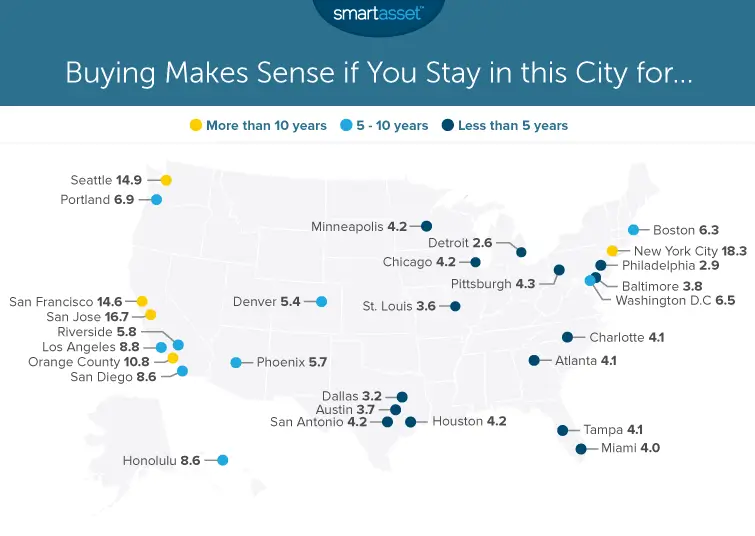 New York City
New York: 18.3 years (to recuperate costs of buying)
The Big Apple's housing market is notoriously competitive, and indeed, SmartAsset's research shows it is the worst urban market for homebuyers in the country. Good deals are nearly impossible to come by and when an attractive option appears on the market, it is often snapped up in days if not hours. That competition bids up prices, which means homes are comparatively more expensive than rentals. The typical New Yorker would need to stay in her home more than 18 years to justify buying instead of renting.
The Tech Hubs
San Jose: 16.73 years
Seattle: 14.9 years
San Francisco: 14.6 years
The boom in high technology over the past few years has generally been concentrated in a relatively small number of cities. It has been especially pronounced in the Bay Area and in Seattle. The growth in high-paying tech jobs in these cities has had profound consequences on their homebuying markets.
In these three cities buying a home only makes financial sense for those who can stay put for at least 14 years (on average). Take note, however, of rising rents. If rents in these cities continue to increase over the next few years, buying may become a more sensible medium-term option for those who have the cash to cover closing costs and a down-payment.
The Sunny West Coast
Orange County: 10.8 Years
Los Angeles: 8.8 years
San Diego: 8.6 years
Honolulu: 8.6 years
In these four western cities, the weather is great, populations are growing quickly, and renting usually beats buying. Average home prices in these cities aren't quite as high as in the tech hubs or New York, but they are still outside the range most residents would consider affordable. On average, homebuyers in these cities recuperate the costs of buying (instead of renting) after 8 to 11 years.
Portland
Portland: 6.9 years
As usual, this Oregon city defies categorization. It hasn't experienced the boom in tech jobs of its neighbors to the north (Seattle) and south (San Francisco), and the weather in Portland isn't the draw that is in other Western cities. Yet, the average home in Multnomah County costs over $315,000 (50% more than the U.S. average) and population growth has been steady. Those factors place Portland in a middle ground between buying and renting: for the average Portlander, buying makes sense if she plans on staying put for seven years or more.
Old Money
Washington, D.C.: 6.5 years
Boston: 6.3 years
D.C. and Boston have historically been among the most expensive housing markets in the country. In these cities, high up-front costs tilt the economic logic away from homebuying for residents who may plan to move around in the near future (recent graduates, for example). But residents who are settling down for the long-term (like more than 6.5 years) could be better off buying.
The Wild West
Riverside: 5.8 years
Phoenix: 5.7 years
Denver: 5.4 years
These three western cities are experiencing strong population growth, which has put some upward pressure on home prices. In these cities, residents who are comfortable staying in one place for the medium- or long-term should at least consider buying. On average, they will recuperate the high up-front costs of purchasing (instead of renting) in five to six years.
The Midwest
Pittsburgh: 4.3 years
Chicago: 4.2 years
Minneapolis: 4.2 years
Especially compared to the west and the northeast, buying and renting in the Midwest are both relatively affordable—but because homeownership also increases a person's net worth over time, buying often makes more sense in the medium- and long-term. The average homebuyer in one of these Midwestern cities should recuperate the upfront costs of closing on a home in just over four years.
Texas and the South
Houston: 4.2 years
Tampa: 4.1 years
Charlotte: 4.1 years
Atlanta: 4.1 years
Miami: 4 years
Austin: 3.7 years
St. Louis: 3.6 years
Dallas: 3.2 years
Traditionally the most affordable parts of the country (for homebuyers), Texas and the south lived up to their reputation in our analysis. In every major southern or Texan city we examined, the average resident would recuperate the up-front costs of homebuying within just four and a half years of closing. After that, the savings would begin to accumulate.
Philadelphia and Detroit
Philadelphia: 2.9 years
Detroit: 2.6 years
These two cities buck all the trends. Both have seen their populations fall in absolute terms in the past 50 years (Philly's by 25% and Detroit's by 50%). The result is a housing supply far larger than demand, and, in turn, bargain basement prices. On average, a resident of either of these cities should only stay in a rental if she might be moving in the next 3 years.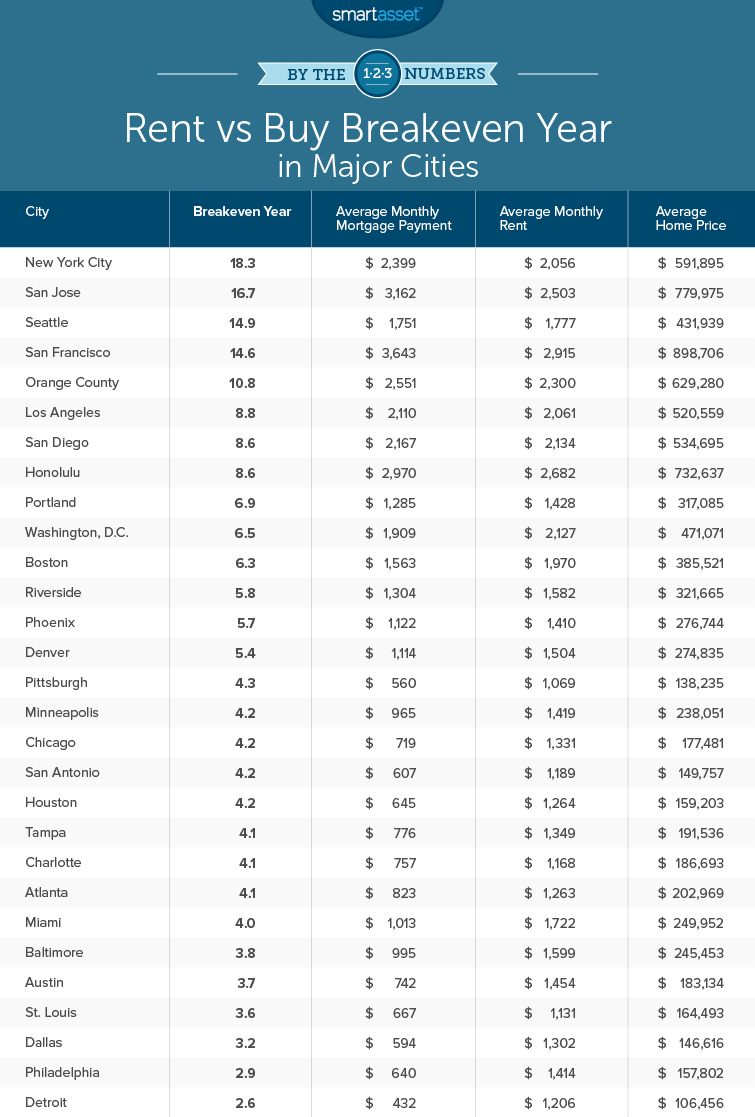 Rent vs. Buy: The Best Places to Own a Home

SmartAsset's interactive buy versus rent map highlights the places where buying a home is better than renting, based on the number of years the buyer plans on staying in their home. The counties identified below are the places where buying makes more financial sense than renting in the shortest period of time.

See where buying is better than renting after years

Renting is Better

Buying is Better

Methodology To find the best places to own a home, SmartAsset analyzed data on rent and home prices in counties across the U.S., and compared the financial advantages of buying or renting in each area.

Specifically, SmartAsset compared the total costs of buying and renting a three bedroom home in each county, for a household earning $100,000 a year. For the "rent" scenario, we measured the median monthly rent for a three bedroom home in each county. For the "buy" scenario, we used the following parameters: an annual 30 year fixed mortgage with an annual interest rate of 4.5%, closing costs of $2,000 and a down payment of 20%.

For each county, we calculated the breakeven point in the buy vs. rent decision — the point at which the total costs of renting become greater than the total costs of buying. The counties with the shortest amount of time needed to break even are the best places to own a home.

Sources: US Department of Housing and Urban Development, US Census Bureau 2017 American Community Survey, SmartAsset