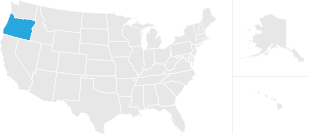 Overview of Oregon Housing Market
Oregon has some of the lowest homeowners insurance costs, but its housing market isn't quite as affordable. The state's median home values are well above the national average.
Today's Mortgage Rates in Oregon

| Product | Today | Last Week | Change |
| --- | --- | --- | --- |
National Mortgage Rates
Source: Freddie Mac Primary Mortgage Market Survey, SmartAsset Research
Details
Where do you want to live?
Your location will be used to find available mortgages and calculate taxes.
Dismiss
Have you or your spouse served in the military?
Credit Rating
Select Your Credit Rating
Dismiss
Annual Homeowner's Insurance
Annual Home Value Increase
Note, for purchase the minimum down payment on a $ home is , or $
Your Total Monthly Payment
Your Total Monthly Payment
| | |
| --- | --- |
| Total Monthly Payment | |
Year
Rate
Monthly Mortgage
Payment
Remaining Mortgage
Balance

Home Equity
Recommended Minimum Income
This is based on our recommendation that your total monthly spend for housing and debts should not exceed 36% of your monthly income.
About This Answer

Our Assumptions
More from SmartAsset
More about this page
​If you could change one thing about ​this page what would it be?​
Thank you for your answer! Your feedback is very important to us.
We are working hard to improve our product and could use your help!
We pay $30 for 30 minutes on the phone to hear your thoughts on what we can do better.
Please enter your email if you'd like to be contacted to help.
| | | | |
| --- | --- | --- | --- |
| | | | |
| Please enter your name | Please enter a valid email | | |
Factors in Your Oregon Mortgage Payment
Homeowners pay their mortgage each month (principal and interest) and sometimes pay extra into an escrow account. Escrow pays out property taxes and homeowners insurance. Oregon property taxes are below the national average, which is good news for homeowners. This is due to several laws that put tax caps on tax rates and growth.
If you own a home in Oregon, a local assessor will appraise the property annually to determine fair market value. Your tax rate will apply to either the market value or the maximum assessed value, whichever is lower. Oregon law states that maximum assessed value (MAV) can't increase by more than 3% each year (unless there are changes to the property such as an addition). The average effective property tax rate in Oregon ranges from 0.75% to just over 1%, depending on where the property is located. School district taxes, included in the average effective property tax rate, are limited to $5 per $1,000 in market value. Overall, effective tax rates in Oregon are limited to 1.5%. Homeowners may also be eligible for a property tax exemption. Oregon boasts over 100 exemption programs so it's worth seeing if you qualify for reduction in tax liability.
As for homeowners insurance, Oregon again is affordable. In fact, it's the 49th-cheapest state in the U.S. for annual premiums, with an average of just $548 a year, according to SmartAsset's Most Affordable Places in America study. While the state has relatively few natural disasters compared to states such as Florida and Texas with high flooding and hail risk, Oregon does see significant earthquake activity. Most homeowners insurance policies don't cover earthquake damage, so 20% of Oregonians opt to purchase a separate policy to cover home and property damage.
In addition to earthquakes, Oregon is the eighth-most wildfire-prone state, with 148,800 households at high or extreme risk from wildfires, according to 2017 estimates by the Insurance Information Institute. In 2016, Oregon wildfires burned 219,509 acres, which placed the state 10th for most acres burned. Homeowners can find information about what to do in case of a wildfire and how to guard against losses on Oregon's government website.
If you're an Oregon homeowner who can't obtain insurance on the voluntary market (regular insurance channels), you can find basic coverage through the Oregon FAIR Plan Association (OFPA).
Costs to Expect When Buying a Home in Oregon
However, before you make it to monthly payments of any sort, you'll have to contend with a number of one-time costs associated with the home-buying process. One of the most important, which comes prior to finalizing a contract, is a home inspection. While not 100% mandatory, it's the smartest choice on the part of the homebuyer to get a good idea of what they're potentially spending hundreds of thousands of dollars on. Home inspections in Oregon average $300 to $450, the lower end of the scale for smaller dwellings, the higher end for larger square footage. General home inspections usually cover the structure, pipes, electrical, roof, basement and a number of other items. If you want specific tests, such as water samples, well flow test, dry rot or pest, expect to pay extra per additional test. In Oregon, inspectors have to be licensed in accordance with state education and testing requirements.
The next step after a satisfactory home inspection, is usually finalizing the purchase contract and proceeding with your mortgage lender. Your lender will set a closing date with you. On that day, you'll meet with a closing agent and usually your realtor and or attorney to sign a number of documents. You also pay a number of fees associated with home-buying called closing costs. Oregon averages 1% to 2.5% (of the purchase price) for closing costs.
Average Closing Costs by County
| | | | |
| --- | --- | --- | --- |
| County | Avg. Closing Costs | Median Home Value | Closing Costs as % of Home Value |
| Baker | $2,889 | $146,600 | 1.97% |
| Benton | $3,323 | $269,700 | 1.23% |
| Clackamas | $3,473 | $301,000 | 1.15% |
| Clatsop | $3,252 | $246,500 | 1.32% |
| Columbia | $3,127 | $206,100 | 1.52% |
| Coos | $2,963 | $170,500 | 1.74% |
| Crook | $2,952 | $166,900 | 1.77% |
| Curry | $3,164 | $218,200 | 1.45% |
| Deschutes | $3,273 | $253,400 | 1.29% |
| Douglas | $2,961 | $169,700 | 1.74% |
| Gilliam | $2,792 | $117,900 | 2.37% |
| Grant | $2,878 | $143,000 | 2.01% |
| Harney | $2,722 | $102,000 | 2.67% |
| Hood River | $3,525 | $321,300 | 1.10% |
| Jackson | $3,164 | $218,100 | 1.45% |
| Jefferson | $2,897 | $149,100 | 1.94% |
| Josephine | $3,157 | $215,900 | 1.46% |
| Klamath | $2,905 | $151,500 | 1.92% |
| Lake | $2,835 | $129,100 | 2.20% |
| Lane | $3,155 | $215,300 | 1.47% |
| Lincoln | $3,167 | $219,100 | 1.45% |
| Linn | $2,963 | $170,300 | 1.74% |
| Malheur | $2,829 | $127,000 | 2.23% |
| Marion | $3,013 | $186,700 | 1.61% |
| Morrow | $2,809 | $121,800 | 2.31% |
| Multnomah | $3,350 | $278,300 | 1.20% |
| Polk | $3,137 | $209,200 | 1.50% |
| Sherman | $2,871 | $140,500 | 2.04% |
| Tillamook | $3,179 | $222,900 | 1.43% |
| Umatilla | $2,881 | $144,000 | 2.00% |
| Union | $2,941 | $163,200 | 1.80% |
| Wallowa | $3,122 | $204,500 | 1.53% |
| Wasco | $2,977 | $174,800 | 1.70% |
| Washington | $3,371 | $285,100 | 1.18% |
| Wheeler | $2,774 | $113,800 | 2.44% |
| Yamhill | $3,172 | $220,800 | 1.44% |
Our Closing Costs Study assumed a 30-year fixed-rate mortgage with a 20% down payment on each county's median home value. We considered all applicable closing costs, including the mortgage tax, transfer tax and both fixed and variable fees. Once we calculated the typical closing costs in each county we divided that figure by the county's median home value to find the closing costs as a percentage of home value figure. Sources: US Census Bureau 2015 5-Year American Community Survey, Bankrate and government websites.
Within the umbrella term, "closing costs," are a number of fees that go to separate entities. One of the biggest collectors of closing costs is your lender. These are called origination fees and include items and services such as underwriting, origin points, loan processing, commitment fees, document preparation, tax service and more. This is why you might see different mortgage closing cost quotes if you shop around for lenders; most of these fees depend on what the bank charges and differ across the board.
The rest of your money will go to third parties including the county and state you buy the home in, appraisal fees, credit reports and flood certification, survey, appraisal and attorney if you used one. This again, depends on whose services you use during the home-buying process.
Another cost is title insurance, generally required by your lender to protect against any title disputes or issues not caught during the title search and report. It's a one-time cost that's supposed to cover you through the life of the loan. You also have the option to purchase an owner's policy if you'd like to be covered for the full home value, not just the loan amount.
In Oregon, only Washington County allows a real estate transfer tax. While this is usually paid for by the seller, it's still a benefit to homebuyers who may eventually sell their home.
Details of Oregon Housing Market
Oregon, home of the majestic Mount Hood, is the 27th-most populous state with 4.09 million residents, according to U.S. Census Bureau 2016 estimates. The population is growing, too, with Oregon clocking in at sixth-highest population percentage growth in the U.S. from 2015 to 2016 and 10th for numeric growth. The Beaver State, with its nickname matching the state flag, has 95,988 square miles of land area and 1,410 shoreline miles. You can divide the state into seven distinct regions: Central, Eastern and Southern Oregon, Greater Portland, Mount Hood/The Gorge, Oregon Coast and Willamette Valley, according to Oregon's Tourism Commission.
The largest cities in the state include Portland, Eugene, Salem, Gresham, Hillsboro and Beaverton. Gresham, Hillsboro and Beaverton surround Portland, while Salem and Eugene can be found south of the city. In general, most of Oregon's population resides in the western part of the state.
In our Healthiest Housing Markets study, we ranked Oregon as the 30th-most healthy. The low ranking is mainly due to a low score for affordability and stability. The other two factors we looked at was risk and ease of sale, which this state ranked higher for. Oregon has had a 9.5% increase in home values from 2016 to 2017, according to data from Zillow. As of August 2017, the state's median home value was $314,400 while median list price was $349,999.
If you're hoping to buy in one of Oregon's cities, you'll need deeper pockets. Portland's median list price was $429,900 as of August 2017, with median home value at $414,800, according to Zillow. Salem, the state capital, is more affordable at $269,000 for list price and $239,800 for home value. Eugene is just a little more expensive than Salem, with prices at $305,000 and home value at $276,200. (All figures as of August 2017.)
Local Economic Factors in Oregon
Oregon, home of Nike, has seen some volatile gross domestic product (GDP) growth. In 2016, Oregon's GDP grew 3.3%, making it the second fastest in the U.S. according to the State of Oregon's Employment Department. And in 2015, Oregon tied with Texas for fastest growth in the U.S. The economic growth was mainly due to durable goods manufacturing (high tech semiconductors), rather than information, which is what drove national GDP growth. However, after the dot com bust in 2011, Oregon dropped from second-fastest to sixth-slowest, and in 2011 it was the slowest, leading to its reputation as volatile.
Unlike the tech and corporation powerhouses of Oregon's neighbors to the north and south (Washington and California), the Beaver State had just two Fortune 500 companies on the 2017 list: Nike and Lithia. The state's largest employers, according to Oregon Live, include Providence Health System, Intel, Fred Meyer, Oregon Health & Science University and Walmart. Oregon's July unemployment rate was 3.8% compared to the national rate of 4.4%, according to the U.S. Bureau of Labor Statistics.
As for income, Oregon's per capita personal income in 2016 was $45,049, 29th-highest in the U.S., according to the Bureau of Economic Analysis. That placed Oregon at 91% of the national average of $49,571.
Although property taxes are some of the lowest in the country, the same can't be said for Oregon's income taxes. Your income will be taxed at the rate that corresponds with the tax bracket you're in. The low end of the scale is 5% and the high end is 9.90% for those making more than $125,000. There are state tax credits available to help lower your tax bill. These include credits for child and dependent care, political contributions, energy credits, retirement income and more.
The good news is that Oregon doesn't charge any sales tax. Not one single county in the state allows it so you'll find savings in that arena. The state does charge an estate tax, however, but only on estates with a gross value of at least $1 million.
If you want to get into the weeds with details, try comparing your cost of living. For comparison, a single-income person moving from Cambridge, Massachusetts to Portland, Oregon earning $80,000 a year would see a 10% decrease in cost of living on average, due to cheaper housing and food. Taxes would actually be higher. Someone moving from Miami, Florida to Portland would see 3% higher average costs due mostly to the tax difference. The same person moving from Minneapolis, Minnesota to Bend, Oregon would only see a 1% decrease in cost of living, but a move from Brooklyn, New York instead, would yield a 19% lower cost of living, on average.
Mortgage Legal Issues in Oregon
As a homebuyer, you'll be glad to hear that Oregon has some buyer protections. The first is the most common: seller's disclosures. Unlike some states, such as Massachusetts that doesn't require disclosures by law, Oregon requires sellers to fill out and deliver a disclosure to each buyer who makes a written offer to purchase the property. The disclosure includes questions such as, "Are there any encroachments, boundary agreements, boundary disputes or recent boundary changes? Is the property connected to a public or community sewage system? Are there problems with settling, soil, standing water or drainage on the property or in the immediate area?" Disclosures are no substitute for home inspections, but they can help you get an idea of the property's condition prior to purchase.
Further buyer protections, such as the requirement for sellers to have a smoke alarm installed, and to disclose any material concerns, can be found on the Oregon Realtors Association website.
As for Oregon's foreclosure laws, the state uses both judicial (judge and lawsuit involved) and non-judicial (no court involvement) processes. If your deed of trust (mortgage document) includes a power of sale clause, your lender can foreclose using the non-judicial process. For this to happen, you have to be behind on your monthly mortgage payments. In some cases, your lender has to request a face-to-face meeting called a resolution conference. If nothing is resolved and you haven't caught up on your payments, you'll receive a Notice of Default and then a Notice of Trustee's Sale, at least 120 days before the sale. In a judicial foreclosure, you'll receive a Notice of Hearing to appear in court.
Oregon has a Foreclosure Avoidance Program and resources under the Division of Finance and Corporate Securities.
Oregon Mortgage Resources
Available Resources
| | | | |
| --- | --- | --- | --- |
| Resource | Problem or Issue | Who Qualifies | Website |
| Oregon Housing and Community Services | Down payment assistance up to $15,000. | Eligible first-time homebuyers who complete a homebuyer education course. | https://www.oregon.gov/ohcs/pages/oregon-bond-program-down-payment-assistance.aspx |
| USDA Rural Development - Single family loans | Offers payment assistance to increase an applicant's repayment ability. | Applicants must be without decent, safe and sanitary housing; Be unable to obtain a loan from other resources on terms and conditions that can reasonably be expected to meet; Agree to occupy the property as your primary residence; Have the legal capacity to incur a loan obligation; Meet citizenship or eligible noncitizen requirements; Not be suspended or debarred from participation in federal programs. | http://www.rd.usda.gov/programs-services/all-programs/single-family-housing-programs |
| Home Affordable Refinance Program | Refinancing. | Single family homes and condos that fit within lending loan limits. | http://www.harp.gov/ |
Homebuyers in the Beaver State can turn to Oregon Housing and Community Services (OHCS) to find first-time homebuyer programs as well as down payment assistance information. The state has a residential loan program that provides tax-exempt revenue bonds to finance below market rate mortgage loans for qualified first-time homebuyers. Educational programs are available as well ranging from in-person classroom classes to online classes.
Low-to-moderate-income homebuyers in rural areas can benefit from USDA loans and programs. While you'll have to meet income and credit eligibility criteria, the good news is that almost all of Oregon land is eligible for USDA programs except select areas near Portland, Salem and other cities.
Ready to get serious about planning? Start with taking a look at Oregon's current mortgage rates. Crunching numbers can give you a better idea of what kind of mortgage payment you'll be looking at if you decide to buy. While you're at it, see how much your paycheck will change in Oregon if you're moving from another state.