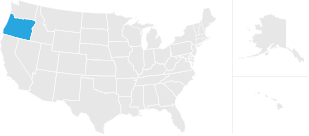 Overview of Oregon Taxes
Oregon has a progressive income tax that ranks among the highest in the nation. The average effective property tax rate is about average, ranking as the 22nd highest rate in the country. Oregon has no sales tax. Retired? Use our Retirement Income Tax Calculator.
Enter your financial details to calculate your taxes
Household Income

Dismiss

Location

Dismiss
Advanced

401(k) Contribution

Dismiss

IRA Contribution

Dismiss

Dismiss

Number of Personal Exemptions

Dismiss
Your Income Taxes Breakdown
Tax

Type

Marginal
Tax Rate
Effective
Tax Rate
2018
Taxes*
Federal

FICA

State
Local
Total Income Taxes
Income After Taxes

Retirement Contributions

Take-Home Pay
* These are the taxes owed for the 2018 - 2019 filing season.
Changes to Your Federal Income
Taxes Under the 2018 Tax Reform
Your

marginal federal income tax rate

Your

effective federal income tax rate

Your federal income taxes
Total Estimated 2018 Tax Burden

Total Estimated Tax Burden

$

Percent of income to taxes =

%

$
Our Tax Expert

Jennifer Mansfield, CPA Tax

Jennifer Mansfield, CPA, JD/LLM-Tax, is a Certified Public Accountant with more than 30 years of experience providing tax advice. SmartAsset's tax expert has a degree in Accounting and Business/Management from the University of Wyoming, as well as both a Masters in Tax Laws and a Juris Doctorate from Georgetown University Law Center. Jennifer has mostly worked in public accounting firms, including Ernst & Young and Deloitte. She is passionate about helping provide people and businesses with valuable accounting and tax advice to allow them to prosper financially. Jennifer lives in Arizona and was recently named to the Greater Tucson Leadership Program.

...read more
Save more with these rates that beat the National Average
​If you could change one thing about ​this page what would it be?​
Thank you for your answer! Your feedback is very important to us.
We are working hard to improve our product and could use your help!
We pay $30 for 30 minutes on the phone to hear your thoughts on what we can do better.
Please enter your email if you'd like to be contacted to help.
| | | | |
| --- | --- | --- | --- |
| | | | |
| Please enter your name | Please enter a valid email | | |
Taxes in Oregon
Oregon State Tax Quick Facts
Income tax: 5.00% - 9.90%
Sales tax: None
Property tax: 1.04% average effective rate
Gas tax: 36.77 cents per gallon of regular gasoline, 36.01 cents per gallon of diesel
The first thing to know about the state of Oregon's tax system is that it includes no sales tax: Neither state nor local tax authorities collect taxes on the sale of products or services. Instead, the state generates revenue with a statewide income tax of 5% to 9.9%, ranking among the highest in the nation. Local governments levy property taxes, and these too rank in the top half of U.S. states. The average Oregon homeowner pays $2,775 a year in property taxes, 22nd-highest in the country.
A financial advisor in Oregon can help you understand how taxes fit into your overall financial goals. Financial advisors can also help with investing and financial plans, including retirement, homeownership, insurance and more, to make sure you are preparing for the future.
Oregon Income Taxes
Oregon was one of the first western states to adopt a state income tax, enacting its current tax in 1930. It consists of four income tax brackets, with rates increasing from 5% to a top rate of 9.9%. That top marginal rate is the second-highest rate in the country. Only a small subset of taxpayers actually pays that rate, however, as it applies only to single taxpayers making at least $125,000 a year ($250,000 for joint filers). The table below shows the full tax brackets and rates for the state income tax in Oregon.
Income Tax Brackets
Single Filers
Oregon Taxable Income
Rate
$0 - $3,400
5.00%
$3,400 - $8,500
7.00%
$8,500 - $125,000
9.00%
$125,000+
9.90%
Married, Filing Jointly
Oregon Taxable Income
Rate
$0 - $6,800
5.00%
$6,800 - $17,000
7.00%
$17,000 - $250,000
9.00%
$250,000+
9.90%
Married, Filing Separately
Oregon Taxable Income
Rate
$0 - $3,400
5.00%
$3,400 - $8,500
7.00%
$8,500 - $125,000
9.00%
$125,000+
9.90%
Head of Household
Oregon Taxable Income
Rate
$0 - $6,800
5.00%
$6,800 - $17,000
7.00%
$17,000 - $250,000
9.00%
$250,000+
9.90%
In calculating personal income taxes, Oregon relies heavily on the federal income tax structure. Oregon taxable income is equal to federal taxable income, with a limited number of additions and subtractions. The most common additions are for income taxes paid to other states and interest income from the government bonds of other states.
Some of the most common subtractions are for federal tax liability (up to $6,450 if your adjusted gross income is under $125,000), Social Security benefits, federal pension income, contributions made to an Oregon 529 College Savings Network account (up to $2,300, or $4,600 for joint filers) and for interest and dividends on U.S. government obligations (savings bonds and Treasury bills, for example). You can use online tax software to help file your return.
Oregon Tax Credits
There are also a number of state tax credits available to taxpayers in Oregon. Some of the most commonly claimed credits are:
The Working Family Household and Dependent Care Credit allows low-income and moderate-income families to claim a credit on qualifying child care expenses.
The earned income credit is equal to 8% of the federal earned income credit, although it can be up to 11% if you have a qualifying dependent under the age of three.
The tax credit for political contributions is available to joint filers with taxable income of less than $200,000 and other filers with taxable income of less than $100,000.
The residential energy credit is available to homeowners who purchase energy efficient devices or install alternative energy sources in their home.
The retirement income credit is available to persons aged 62 or over.
Oregon Sales Tax
Oregon does not collect sales taxes of any kind, at the state or local level.
Oregon Property Tax
There are 1,200 local taxing districts in Oregon, with property tax rates varying between each one. Tax collections are managed primarily by the 36 counties in Oregon, which assess property and calculate taxes owed. Revenue from the property tax typically goes to support local services such as schools and law enforcement.
Statewide, the average effective property tax rate (annual property taxes as a percentage of home value) is 1.04%. This is the 22nd-highest rate in the country. Because of the inherently local nature of property tax collections in Oregon, rates vary significantly between counties. The lowest rate can be found in Josephine County (0.60%) and the highest rate is in Linn County (1.24%).
If you are interested in purchasing a home in Oregon or are looking at refinancing a property, this mortgage guide offers plenty of information on rates, the specifics of getting a mortgage in the Beaver State and details about each county.
Oregon Estate Tax
Oregon is one of a handful of states with an estate tax. Estates with a gross value of at least $1 million are required to file an estate tax return. Estates above that limit face the following rates on the value of the taxable estate:
Oregon Estate Tax Rates
| Taxable Estate | Marginal Rate |
| --- | --- |
| $1,000,000 - $1,500,000 | 10.00% |
| $1,500,000 - $2,500,000 | 10.25% |
| $2,500,000 - $3,500,000 | 10.50% |
| $3,500,000 - $4,500,000 | 11.00% |
| $4,500,000 - $5,500,000 | 11.50% |
| $5,500,000 - $6,500,000 | 12.00% |
| $6,500,000 - $7,500,000 | 13.00% |
| $7,500,000 - $8,500,000 | 14.00% |
| $8,500,000 - $9,500,000 | 15.00% |
| $9,500,000+ | 16.00% |
Note that these are marginal rates, so they only apply to the portion of the estate falling within that bracket.
Oregon Cigarette Tax
The cigarette tax in Oregon is $1.33 per 20-pack. That's on the low end, ranking 32nd among US states. There is a separate tax of $1.6625 for 25-packs.
Oregon Capital Gains Tax
Capital gains in Oregon are subject to the normal personal income tax rates. That means capital gains can be taxed at a rate as high as 9.9%, depending on your total income. That is the third-highest state capital gains tax rate in the U.S.
Oregon Alcohol Tax
While Oregon does not have a general sales tax, it does tax the sale of alcohol. In fact, its total tax on spirits is among the highest in the U.S. at $22.75 per gallon. This is the second-highest liquor tax in the country, according to the Tax Foundation. Beer and wine are treated more favorably, though: Oregon has the 31st highest tax on wine, at $0.67 per gallon, and beer is taxed at just $0.08 per gallon, the 45th highest tax on beer in the country.
Oregon's Crater Lake is 1,943 feet deep at its deepest point. That makes it the deepest lake in North America and the ninth deepest lake in the world.
The largest city in Oregon is Portland, which sits near (though not at) the confluence of the Willamette and Columbia rivers.
The Oregon Trail was a wagon trail used by approximately 400,000 settlers during the first half of the 19th century.
Calculate Your Income Taxes in These Other States
Places with the Lowest Tax Burden

Are you curious how your tax burden stacks up against others in your state? SmartAsset's interactive map highlights the counties with the lowest tax burden. Scroll over any county in the state to learn about taxes in that specific area.

Methodology

Where you live can have a big impact on both which types of taxes you have to pay each year and how much money you spend on them. SmartAsset calculated the amount of money a specific person would pay in income, sales, property and fuel taxes in each county in the country and ranked the lowest to highest tax burden.

To better compare income tax burdens across counties, we used the national median household income. We then applied relevant deductions and exemptions before calculating federal, state and local income taxes.

In order to determine sales tax burden we estimated that 35% of take-home (after-tax) pay is spent on taxable goods. We multiplied the average sales tax rate for a county by the household income less income tax. This product is then multiplied by 35% to estimate the sales tax paid.

For property taxes, we compared the median property taxes paid in each county.

For fuel taxes, we first distributed statewide vehicle miles traveled down to the county level using the number of vehicles in each county. We then calculated the total number of licensed drivers within each county. The countywide miles were then distributed amongst the licensed drivers in the county, which gave us the miles driven per licensed driver. Using the nationwide average fuel economy, we calculated the average gallons of gas used per driver in each county and multiplied that by the fuel tax.

We then added the dollar amount for income, sales, property and fuel taxes to calculate a total tax burden. Finally, we created the Tax Burden Index in order to show how each county in the country compares to the county with the lowest tax burden (that is the county with a Tax Burden Index of 100).

Sources: US Census Bureau 2017 American Community Survey, Government Sources, Avalara, American Petroleum Institute, GasBuddy, UMTRI, Federal Highway Administration, SmartAsset