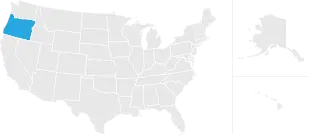 Overview of Oregon Taxes
Oregon levies a progressive state income tax system with one of the highest top rates in the U.S., at 9.90%. Residents of the greater Portland metro area also have to pay a tax to help fund the TriMet transportation system. The Beaver State also has no sales taxes and below-average property taxes.
Work Info
Marital Status
Enter your marital status
Dismiss
Job
Location
Enter your location
Dismiss
Deduction
Name
Calculation
Method
Deduction
Amount
Long Term Disability Insurance
Dismiss
Deduction
Name
Calculation
Method
Deduction
Amount
Dismiss
Are you exempt from any taxes?
Salary (per year)
Dismiss
Hours (per pay period)
Dismiss
Overtime Hourly Wage
Dismiss
Overtime Hours (per pay period)
Dismiss
Your estimated
--
take home pay:
---
Where is your money going?
Gross Paycheck
$

--

Taxes

--

%
$

--

Details
Federal Income

--

%
$

--

State Income

--

%
$

--

Local Income

--

%
$

--

FICA and State Insurance Taxes

--

%
$

--

Details
Social Security

--

%
$

--

Medicare

--

%
$

--

State Disability Insurance Tax

--

%
$

--

State Unemployment Insurance Tax

--

%
$

--

State Family Leave Insurance Tax

--

%
$

--

State Workers Compensation Insurance Tax

--

%
$

--

Pre-Tax Deductions

--

%
$

--

Details
Post-Tax Deductions

--

%
$

--

Details
Take Home Salary

--

%
$

--
Save more with these rates that beat the National Average
---
Share Your Feedback
How would you rate your experience using this SmartAsset tool?
What is the most important reason for that score? (optional)
Please limit your response to 150 characters or less.
Thank you for your answer! Your feedback is very important to us.
Oregon Paycheck Calculator
Oregon Paycheck Quick Facts
Oregon income tax rate: 4.75% - 9.90%
Median household income: $81,855 (U.S. Census Bureau)
Number of cities that have local income taxes: 2
How Your Oregon Paycheck Works
Exactly how much your employer deducts from your wages for federal income taxes depends on factors like your marital status, salary and whether you have any dependents. It's also worth noting that the IRS made major revisions to the W-4 in recent years. The new form doesn't let filers claim allowances anymore, nor are personal or dependency exemptions allowed. This new W-4 now includes a five-step process that allows you to indicate any additional income or jobs, as well as other pertinent personal information.
Beyond federal income taxes, your employer will also withhold Social Security and Medicare taxes from each of your paychecks. Together, these two make up the FICA taxes. Social Security tax is withheld at 6.2% and Medicare tax at 1.45% of your wages. Your employer then matches those amounts, so the total contribution is double what you paid. If you earn wages in excess of $200,000, they are subject to a 0.9% Medicare surtax (though employers do not match this surtax).
Taxpayers who are self-employed will have to pay the entire Social Security and Medicare contributions themselves. If you fall into this camp, make sure that during tax season you look into possible deductions to help recoup the money you spend on the "employer" portion of FICA taxes. For help filing your taxes and maximizing your deductions, consider working with a financial advisor who specializes in taxes.
There are a few other deductions that can impact the size of your paychecks. If you pay for any benefits from your employer, such as health or life insurance, any premiums you pay will come out of your paycheck. Contributions you make to a retirement plan, like a 401(k), or to a medical expense account, like a health savings account (HSA), will also come out of your paycheck. Also keep in mind that these accounts take pre-tax money. That's money that your employer removes from your pay before taxes are applied. While putting money in these accounts shrinks your paycheck, it also lowers your taxable income (and, in the case of retirement accounts, simultaneously helps secure your financial future).
Oregon Median Household Income
| Year | Median Household Income |
| --- | --- |
| 2021 | $81,855 |
| 2020 | $76,855 |
| 2019 | $74,413 |
| 2018 | $69,165 |
| 2017 | $62,498 |
| 2016 | $59,135 |
| 2015 | $60,834 |
| 2014 | $58,875 |
| 2013 | $48,999 |
| 2012 | $51,775 |
In addition to federal taxes, Oregon taxpayers have to pay state taxes. Oregon has some of the highest tax burdens in the U.S. The state uses a four-bracket progressive state income tax, which means that higher income levels correspond to higher state income tax rates. These rates range from 4.75% to 9.90%. For 2022, those filing single or married, separately with more than $125,000 in taxable income have to pay that top rate. That income threshold is doubled for married people filing together and heads of household.
Self-employed individuals who earn money in the Tri-County Metropolitan Transportation District (TriMet) may have to pay an additional transit tax of 0.7937% in 2022 (up from 0.6918% in 2021). Self-employed people who earn money in the Lane County Mass Transit District (LTD) may also have to pay an additional tax. For 2021, the LTD tax rate is 0.0077% (up from 0.0076% in 2021).
While the state income taxes deal a heavy hit to some earners' paychecks, Oregon's tax system isn't all bad news for your wallet. One of Oregon's redeeming tax qualities is its absence of state or local sales taxes. Its property taxes are also below average when compared to other states. For details about mortgages in the state, including rates and specifics about each county, check out our comprehensive Oregon mortgage guide.
Income Tax Brackets
Single Filers
Oregon Taxable Income
Rate
$0 - $3,750
4.75%
$3,750 - $9,450
6.75%
$9,450 - $125,000
8.75%
$125,000+
9.90%
Married, Filing Jointly
Oregon Taxable Income
Rate
$0 - $7,500
4.75%
$7,500 - $18,900
6.75%
$18,900 - $250,000
8.75%
$250,000+
9.90%
Married, Filing Separately
Oregon Taxable Income
Rate
$0 - $3,750
4.75%
$3,750 - $9,450
6.75%
$9,450 - $125,000
8.75%
$125,000+
9.90%
Head of Household
Oregon Taxable Income
Rate
$0 - $7,500
4.75%
$7,500 - $18,900
6.75%
$18,900 - $250,000
8.75%
$250,000+
9.90%
A financial advisor can help you understand how taxes fit into your overall financial goals. SmartAsset's free tool matches you with up to three vetted financial advisors who serve your area, and you can interview your advisor matches at no cost to decide which one is right for you. If you're ready to find an advisor who can help you achieve your financial goals, get started now.
How You Can Affect Your Oregon Paycheck
While taxes are a part of life, you can play a role in how much comes out of your paycheck. One thing you can do is tweak your tax withholdings by asking your employer to withhold an additional dollar amount from your paychecks.
To do this, simply file a new W-4 and write in the extra amount you'd like withheld. For example, say you want to withhold an additional $25 each month. Write $25 on the line of the W-4 that asks how much of an additional withholding you want to be taken from your paycheck. While this will result in slightly less money per paycheck, it could save you money come tax time.
Another way you can alter your paycheck is to change your contributions to employer-sponsored retirement or medical expense accounts. As mentioned above, these are pre-tax contributions, so not only do they help you save for the future, they also save you money on your taxes now.
Oregon Top Income Tax Rate
| Year | Top Income Tax Rate |
| --- | --- |
| 2022 | 9.90% |
| 2021 | 9.90% |
| 2020 | 9.90% |
| 2019 | 9.90% |
| 2018 | 9.90% |
| 2017 | 9.90% |
| 2016 | 9.90% |
| 2015 | 9.90% |
| 2014 | 9.90% |
| 2013 | 9.90% |
Calculate Your Paycheck in These Other States