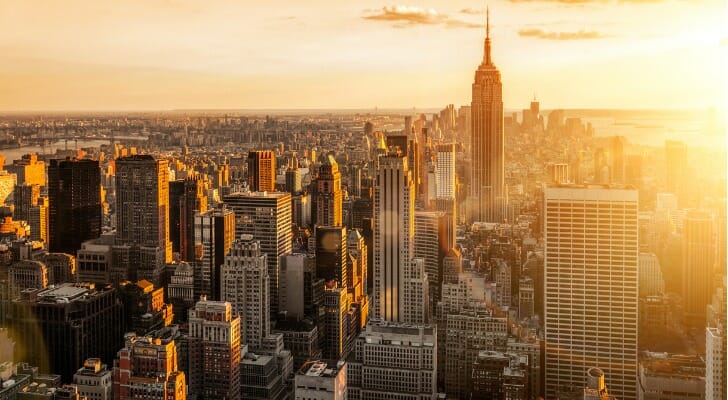 It's no secret that living in New York City is expensive. Before the average NYC resident's paycheck even reaches the bank, they're shelling out some of the highest income taxes in the country, with high taxes on both the state and local level. Beyond that, prospective residents face some of the least affordable housing in the country. That's particularly true for NYC residents who want to be in the heart of it all and live in Manhattan.
Cost of Renting in New York
The high cost of living in NYC starts with its crazy housing market. According to a March 2019 report from Apartment List, the median rent for a two bedroom apartment is $2,499 in New York city. Studio and one bedroom apartments come in at $1,889 and $2,098 a month, respectively.
Each of these rents are far more expensive than not only the U.S. median, but most of the world's large cities. Apartment List's data has the national median rent for studios, one bedrooms and two bedrooms at $827, $947 and $1,175, respectively. That's a $1,062 difference for a studio apartment, a $1,151 deviation for a one bedroom apartment and, lastly, a $1,324 split for a two bedroom apartment. Needless to say, New York is ridiculously expensive to rent in.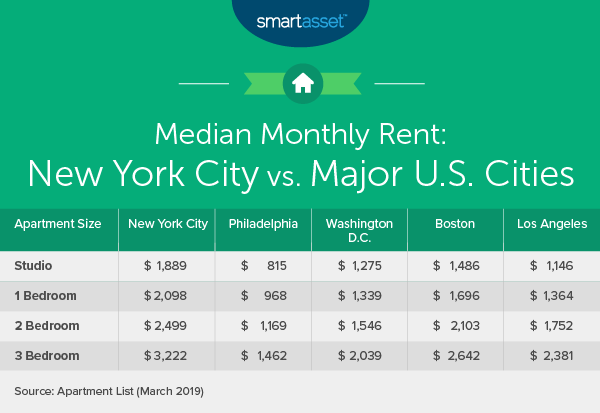 Cost of Buying a House in New York
The classic dilemma of "buy vs. rent" always comes up regardless of where you're living. In the case of New York City, a single-family home in the New York metro area has a median sales price of $403,900, based on 2018 data from the National Association of Realtors. While this might sound favorable, remember that the metro area consists of not only New York City proper, but also the nearby areas that surround it. Buying in the city itself can be much pricier, especially if you want to live near the city center; it's not unheard of to spend more than $1 million for a one-bedroom apartment in Manhattan. (If you want to know how much house you can afford, stop by SmartAsset's home affordability calculator.)
One major advantage of the New York City housing market is its strong appreciation rates. According to NeighborhoodScout data from 2000 to 2018, homes in New York have raised in value by an average of 4.52% annually.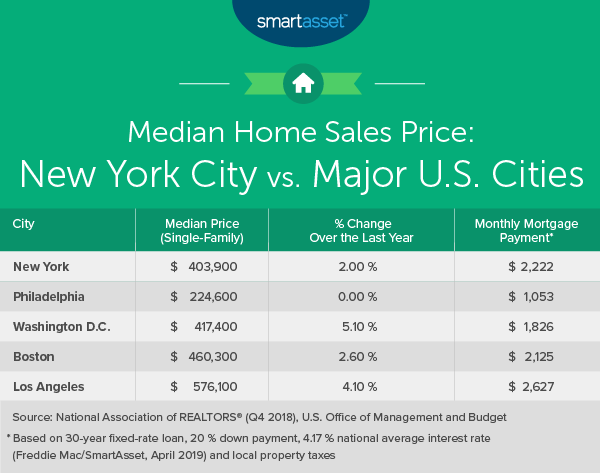 Cost of Utilities in New York
Whether you rent or buy, you'll have to cover the cost of utilities. According to Numbeo.com data from May 2019, the average basic utilities package for a 915 square-foot place in New York costs $145.55. That includes heating, electricity, water and garbage, and is about $7 less than the U.S. average for a month of basic utilities ($152.02).
The monthly cost of internet in New York is about the same as the rest of the country. In New York, you'll pay $62.77, compared to a U.S. average of $62.50.
Cost of Transportation in New York
After housing, the number one expense for most Americans is transportation. For car owners, that's the cost of buying, maintaining, insuring, fueling and storing their vehicle. If you use public transit, you'll be on the hook for a transit pass, and possibly parking, if you need to drive to pick up the bus or train.
For car owners in New York, parking will be a significant expense. According to a 2017 study by Parkopedia, New York has the most expensive long-term parking in the world. The report states that in New York City, you'll pay $606.37 a month to park. Parking in Washington, D.C. ($260.08) costs less than half that per month. As you get into the further reaches of Queens and Brooklyn, you will likely encounter slightly cheaper prices. Regardless of what borough you live in, though, expect to spend a lot to park your car.
In addition to parking, the price of gas in New York is often higher than the national average. GasBuddy data from May 2019 has a gallon of gas in New York City going for $3.08, which is almost 20 cents higher than the $2.89 U.S. average. Insurance isn't cheap either. According to CarInsurance.com, the average insurance rate for drivers in Manhattan tops $4,400 per year.
If you're okay with giving up your car, New York's public transit system is one of the best in the country. But like everything else in the Big Apple, it's one of the most expensive. A monthly transit pass in New York costs $127 per month. For a direct comparison, consider this: monthly transit passes in Los Angeles and Chicago cost $100 and $105, respectively.
Cost of Food in New York
According to Numbeo.com data from May 2019, groceries in New York City usually cost about $471.34 a month, per person. For the U.S. as a whole, the average is almost $150 cheaper, at $324.20. Of course, New York City is famed for its restaurant scene, and those who choose to dine out regularly will see their food budget soar.
There are a number of reasons that contribute to why food and produce is so expensive in New York City. Perhaps the strongest consideration is that the companies that sell the food are forced to pay much more for commercial leases and workers' wages than in other parts of the country. Delivering food can also be especially difficult in Manhattan, as it's a densely populated island.
Cost of Entertainment in New York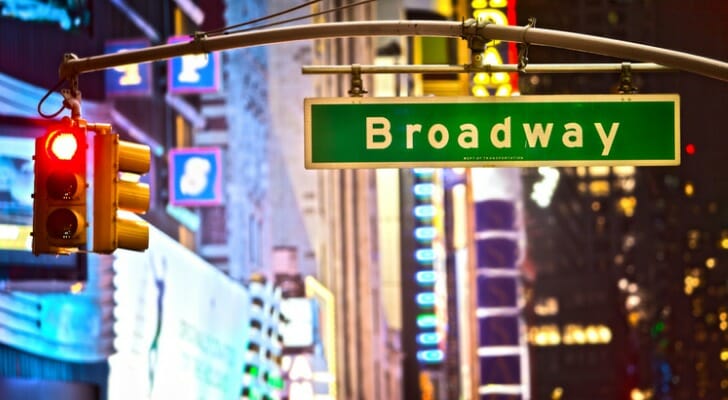 If you have any money left after paying for housing, transportation and food, then you may want to try and enjoy yourself. Well, it's going to cost you. For movie buffs, the average price of admission to a movie in Midtown is $15.25, according to ValuePenguin.
New York is famous for its sports teams, too. If you want to catch a Brooklyn Nets or New York Knicks game, you'll be paying an average of $87 and $190, respectively. Baseball fans can check out both Yankees and Mets games. For the 2018 season, a Statista report has the average Mets ticket at $27.60 and the average Yankees ticket at $47.62.
New Yorkers do have at least one option for cheap entertainment. On a typical weekend night, subway platforms across the city become stages for all kinds of musical performances. Whether you like classical, jazz, hip hop or the blues, there's bound to be something you enjoy.
Tips for Your Move to New York City
Photo credit: ©iStock.com/Beboy_ltd, ©iStock.com/stu99