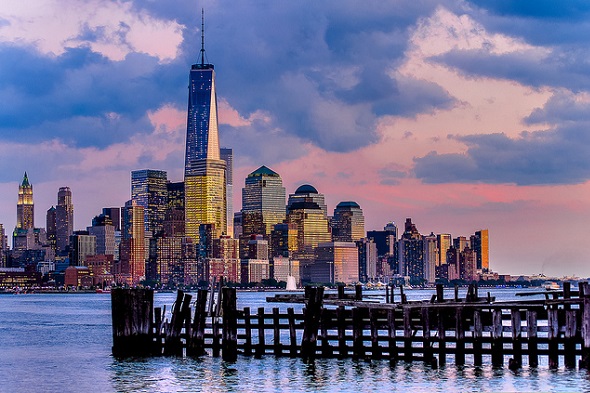 It's no secret that living in New York City is darn expensive. Before the average NYC resident's paycheck even reaches the bank, she's shelling out some of the highest income taxes in the country, with total rates ranging from 7% to 12%. After that, she's facing some of the least affordable housing in the country, along with prices for every-day products that are up to twice the national averages.
Taking all expenses into account, the cost of living in New York City is at least 68.8% higher than the national average. If you live in the city center, however, it's even worse. The cost of living in Manhattan is more than double the national average.1
Now we'll take a deep dive into data on housing costs, food prices, and other living expenses, to find out how a move New York City might impact your wallet (or confirm what you already know if you currently call NYC home). If you have some additional financial questions that you still need answers to, here are the top 10 New York City financial advisor firms.
Cost of Renting in New York
The high cost of living in NYC starts with its crazy housing market. According to the Department of Housing and Urban Development, the median rent for a two bedroom apartment is $1,638 in the New York metro area. If anything, that understates just how expensive it is to rent in New York, however, because it includes data for the suburbs, which are generally cheaper.
If we look at only the city core, housing appears to be even less affordable. The average rent for a two bedroom apartment in Manhattan is $3,895, according to the January 2015 Citi habitat market report. For the record: that's roughly equal to the entire monthly income of the typical U.S. worker.
Cost of Buying a House in New York
Maybe you think it would be better to buy than to rent in New York? Think again. According to the National Association of Realtors, the average home price in the New York metro area is $455,500 – but once again, by including the (generally cheaper) suburbs, that severely understates the situation.
The table below shows average home value by New York City borough.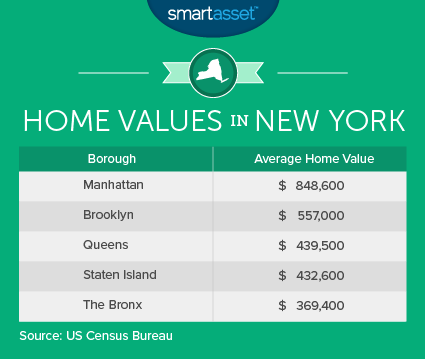 As you can see, if you are looking for affordable housing, New York is a tough place to be.
If you're considering getting a mortgage, check out our New York mortgage calculator to see the potential cost of your monthly payments.
Cost of Utilities in New York
Whether you rent or buy, you'll have to cover the cost of utilities. According to numbeo.com, the average basic utilities package for a 915 square-foot place in New York costs $127.02. That includes heating, electricity, water and garbage, and is about 14% lower than the U.S. average for a month of basic utilities ($147.30). The monthly cost of internet in New York averages $53.37, compared to a U.S. average of $52.02.
Cost of Transportation in New York
After housing, the number one expense for most Americans is transportation. For car owners, that's the cost of buying, maintaining, insuring, fueling and storing their vehicle, and for public transit users, that's the cost of a transit pass (and maybe a good pair of shoes).
For car owners in New York, the number one cost may be parking. According to Colliers International, the average parking rate in downtown Manhattan is $533 per month. That's more than twice the rate in other expensive cities like Los Angeles and Honolulu. While parking is less expensive in other parts of the city, like Brooklyn and Queens, you can still expect to spend at least a few hundred dollars per month to keep your car in a lot or garage. (Street parking is available in many areas, but requires frequently moving your car to avoid costly tickets.)
In addition to parking, the price of gas in New York is often 5-10% higher than the national average, and insurance can also be pricey. According to carinsurance.com, the average insurance rate for drivers in Manhattan tops $4,000 per year.
If you're okay giving up your car, New York's public transportation system is one of the best in the country—and one of the most expensive. A monthly transit pass in New York costs $116.50 per month, about 75% greater than the national average. For a direct comparison, consider this: the monthly transit passes offered in both Los Angeles and Chicago cost $100.
Cost of Food in New York
Ok, so transportation in New York is really expensive, and housing in New York is really, really expensive—what about food? Everyone needs to eat, right?
Well, according to the Council for Community and Economic Research, groceries in New York cost between 28% and 39% more than the national average, depending on where you live. So, if you spend $200 per month on groceries living somewhere else in the country, you'll spend something more like $260 when you move to New York.
Eating out in the Big Apple is even less affordable. A meal at an inexpensive restaurant in New York costs $15, and a meal for two at a moderately expensive restaurant costs $75. Those prices are 50% and 67% higher the national averages, respectively. Your best bet may be to eat at one of the city's many food trucks, although even those can be expensive. Of course, if you're spending a lot on food, you can help yourself out by using a good rewards credit card that provides cash back or extra points for restaurant and grocery store purchases.
Cost of Clothing in New York
Although New York is one of the premier shopping cities in the world, if you're on a budget you may want to buy your clothing online. If you do decide to brave Madison Avenue, or even some of the cheaper stores in other parts of the city, here are some of the prices you can expect to encounter.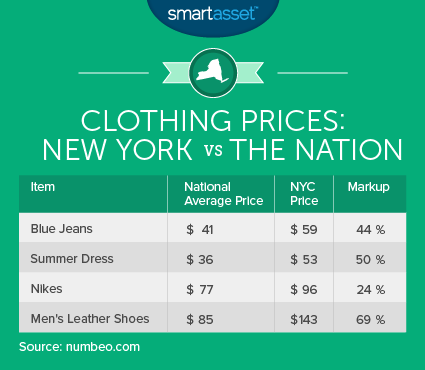 Cost of Entertainment in New York
If you have any money left after paying for housing, transportation, food and clothing in New York City, then you may want to try and enjoy yourself. Well—big surprise—it's going to cost you. The average price of admission to a movie in New York is $14.00, well above the national average ticket price of $10.00, and a round of bowling is at least twice as expensive in New York as in the rest of the country.
New Yorkers do have at least one option for cheap entertainment. On a typical weekend night, subway platforms across the city become stages for all kinds of musical performances. Whether you like classical, jazz, hip hop or the blues, there's bound to be something you enjoy. The best part? It's all of it 100% free.
(Assuming you already paid for a subway pass, that is.)
Bottom Line
There can be an upside to all the added expense. If you can use a credit card responsibly (aka pay off your bill in full each month and avoid overspending), you can get some money back for spending what you would anyway. Picking a rewards credit card that matches your spending patterns can maximize that impact. You can check out the best rewards credit cards here.
If you want help getting control of your finances or meeting your financial goals, a financial advisor may be right for you. It can seem daunting to wade through the options but a matching tool like SmartAsset's SmartAdvisor can help you find a person to work with to meet your needs. First you answer a series of questions about your situation and your goals. Then the program narrows down thousands of advisors to three fiduciaries who meet your needs. You can then read their profiles to learn more about them, interview them on the phone or in person and choose who to work with in the future. This allows you to find a good fit while doing much of the hard work for you.
Photo credit: flickr
---
1. General cost of living figures used in this article come from the Council for Community and Economic Research. Unless otherwise stated, specific price figures come from numbeo.com.