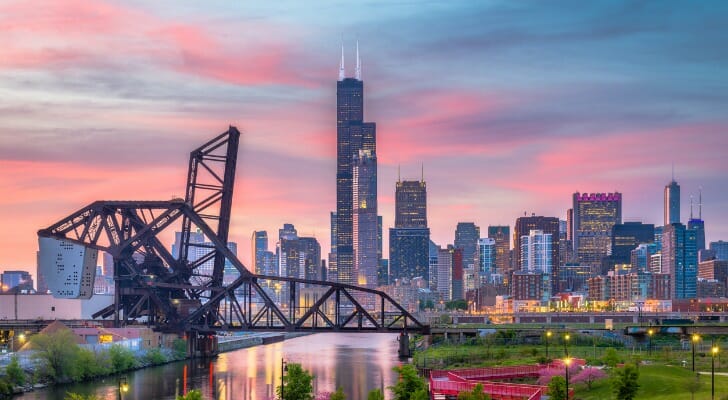 Chicago: The Windy City. Famous for its architecture and its deep-dish pizza, it has a lot to offer visitors and residents alike. This top-five-largest city in the US is also known as the "Jewel of the Midwest." But if you're thinking of making a move to Chicago, you should understand the true cost of living there.
Renting Costs in Chicago
Chicago may rival New York in terms of architectural splendor, but the Windy City is considerably cheaper when it comes to rent prices. And that's a good thing for the overall cost of living in Chicago.
According to March 2019 data from Apartment List, the median rent for a Chicago apartment stands at $927 for a studio and $1,076 for a one-bedroom place. Upgrade to a two-bedroom and you can expect to pay around $1,265. A three-bedroom will run you $1,618. These aren't exactly bargains, but they're well below the prices in New York, Los Angeles, San Francisco and other large cities.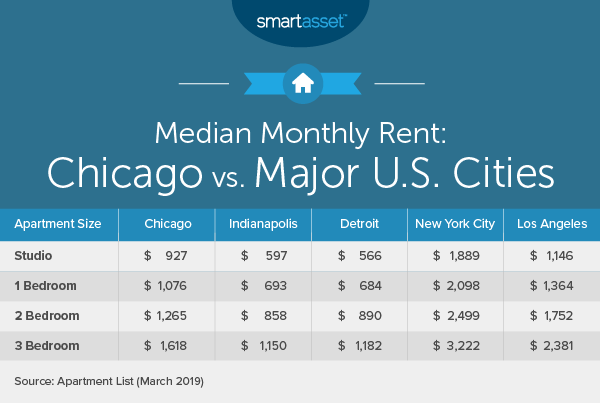 Chicago Home Prices
The cost of buying a home in Chicago isn't terribly expensive. This is likely due to the extreme fall of real estate prices during the market crash in 2008. Since then, however, prices have rebounded fairly well, especially by in-state standards.
According to a 2018 report from the National Association of Realtors, the median price for a single-family home in Chicago is $243,300. In the same breath, New York homes have a $403,900 median and Los Angeles homes oust them at $576,100. So although Chicago is considered to be one of the largest and most influential cities in the U.S., its housing market is still fairly cheap.
Are you ready to commit to a mortgage? If so, you may want to talk to a financial advisor about how these new payments could affect your financial life in its entirety.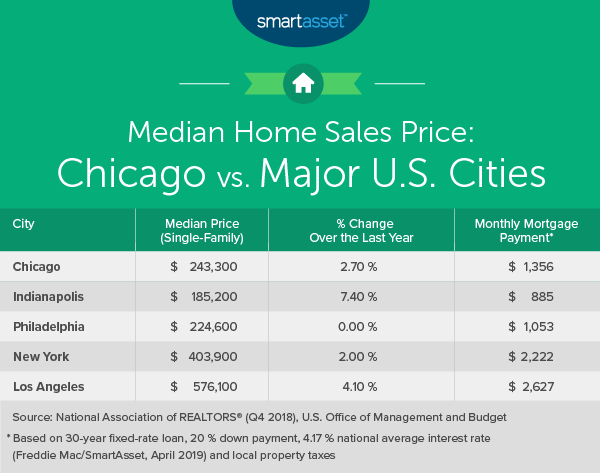 Utilities
Utilities come into play regardless of whether you rent or buy. According to May 2019 reports from Numbeo.com, a basic utilities package of electricity, heating, water and garbage costs $130.97 in Chicago. If you add in internet, your combined bill will be around $191. That's below the national average of $214.52.
The downside of living in Chicago is the special "Cloud Tax" you'll have to pay for online streaming services. It's a 9% surtax on the cost of services like Netflix. While the signing of this tax into law was met with resistance, it has withstood a lawsuit from the Liberty Justice Center in 2018.
Transportation
Chicagoans who don't have cars rely on a combination of bus and subway services. An unlimited monthly pass from the Chicago Transit Authority costs $105. That's $5 more than the same pass in Los Angeles, but almost $17 less than New York's equivalent.
If you decide you can't get by without a car, you'll have to pay for one of Chicago's City Vehicle Stickers. This annual expense ensures your compliance with the city's Wheel Tax. For a regular-sized passenger car, the sticker will cost you $87.82. Got an SUV or a mid-sized van? Expect to pay $139.48.
Once you've paid for your vehicle sticker you'll be ready to hit the road. But what about gas prices? According to GasBuddy data from May 2019, you can expect to pay $3.23 for a gallon of gas in Chicago. That's almost 35 cents above the national average of $2.89.
Food Prices
With the essentials of housing, utilities and transportation covered, that leaves food. According to Numbeo.com, a three-course meal for two in a mid-range Chicago restaurant will cost you $65. A meal at an inexpensive Chicago restaurant costs just $15. Whether you go fancy or no-frills, you'll pay a 1.25% additional meals tax in downtown Chicago and a 0.25% meals tax outside of downtown. That's on top of the state and local sales taxes.
Taxes
In addition to the aforementioned meals tax, groceries in Chicago are subject to a 2.25% extra sales tax. This is rare, but it's normal in a city with an already exorbitant sales tax. More specifically, the 6.25% Illinois state tax, plus state and local surtaxes, bring Chicago's standard sales tax to 10.25%.
Illinois has the second-highest property taxes in the nation. The statewide average effective property tax rate is 2.32%, which is almost twice the national average.
When it comes to income taxes, Chicago keeps things simple. Illinois has a flat income tax of 4.95%.
Entertainment
Chicago isn't lacking in entertainment options. There's the famous Lollapalooza music festival every summer, the improv institution Second City and, for traditionalists, the Chicago Symphony Orchestra, one of the "Big Five" American orchestras.
If you're a sports fan, you can head to Wrigley Field to catch a Cubs game or go over to the South Side to see the White Sox. White Sox tickets are a better deal than Cubs tickets. In fact, according to Statista's 2018 report, Cubs tickets are the most expensive in baseball. The average ticket price for a Cubs game is $58.57. For a White Sox game, the average is $26.73. Of course, ticket prices inherently vary on a game to game basis.
Prefer basketball? According to Statista, the average ticket price to see the Bulls for the 2015-2016 season was $82.33. That's up from $54.62 in the 2006-2007 season, an almost 51% increase.
Miscellaneous Cost of Living Facts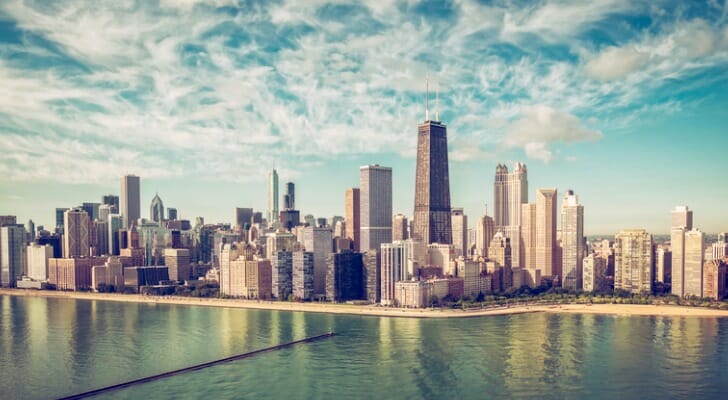 Chicago has plenty of free attractions to check out. How about a walk along the shore of Lake Michigan, a picnic in Millennium Park or a visit to the Lincoln Park Zoo? When you get tired you can check out the campus of the University of Chicago or take a stroll through Wicker Park. Just make sure you bring a warm coat if it's winter. Although the origin of the nickname "Windy City" has nothing to do with the weather, Chicago is in fact a windy place.
Next Steps for Your Move to Chicago
Photo credit: © iStock/Sean Pavone, © iStock/marchello74