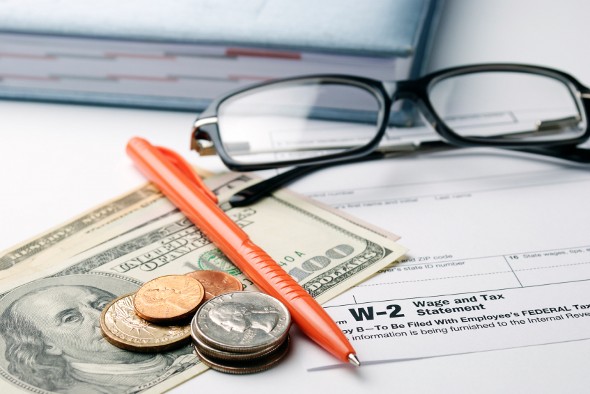 Income tax season brings with it a massive amount of paperwork that needs to be finished. Not fun. Thankfully, you won't have to complete some of these forms – like the W-2 – yourself, unless you're an employer. If you can't remember how to fill out a W-2 form or you're not sure whether your employees need one, we've got the lowdown on everything you need to know.
What Is a W-2 Form?
There's a reason why a W-2 is referred to as a wage and tax statement. Put simply, it's a form that shows how much money an employee has earned for the year and the amount of taxes that employers have already handed over to the IRS.
Not everyone needs a W-2 form. Independent contractors and folks who are self-employed need a 1099 form instead. But if your employees have made at least $600 in the tax year, you'll need to send them a W-2 by the January 31st deadline. Even if someone makes less than $600, that person must receive a W-2 if any income, Medicare or Social Security taxes were withheld (taken out of their paychecks).
Have you ever confused a W-2 form with a W-4? It's a common mistake. Just remember that employers complete W-2 forms. Employees complete W-4 forms. When someone starts a new job or experiences a change in their financial circumstances or tax filing status, that person fills out a W-4 form to list deductions and tell employers the amount of taxes to withhold. Check out this helpful article if you aren't sure how to fill out your W-4.
How to Find Your W-2 Online and What to Do If It's Missing

Employers typically send out W-2 forms through the mail. To get your W-2 online, order it straight from the IRS.
If you're missing a W-2 form or if you lose the form, it's important to contact your employer as soon as possible. If you don't receive the forms by Valentine's Day, it's a good idea to give the IRS a call.
You'll need your W-2 to complete your tax return, but if worst comes to worst, you could fill out Form 4852 instead. That's the substitute wage and tax statement. You might also need to ask for an extension to get your ducks in a row.
If you happen to receive your W-2 later on and the information on it differs from the estimates you made on Form 4852, you can complete an additional form (1040X) so that your tax return is accurate. This is known as filing an amended tax return.
How Many W-2 Forms Do I Need?
In total, employers produce six copies of every W-2 form. Three of those copies go to the employee, who files them with their tax returns. Employers keep one (Copy D) and send the other two to the government.
Let's break this down even further. Copy A goes to the Social Security Administration (SSA) along with a W-3 form that includes a summary of all of the W-2s for every worker on payroll. The SSA only accepts e-filed forms, not photocopies.
Copy 1 of the W-2 form goes to the appropriate state, city or local tax department. Employees keep Copy C for themselves. They file copies B and 2 with their federal tax returns and state, city or local income tax returns, respectively.
What Goes on a W-2 Form?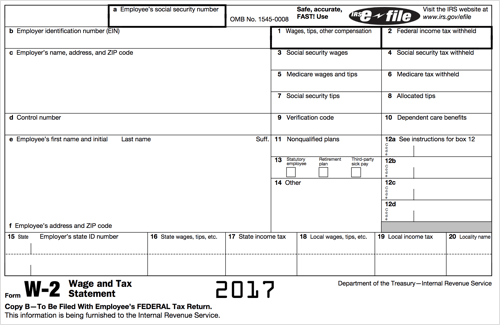 If you're an employer who isn't clear on how to complete a W-2 form, consider this your official guide. An employee's social security number goes at the very top. Directly below that is a spot for your identification number followed by your name and address.
Then there's the control number that you may or may not use for payroll purposes. That comes right before the employee's name and mailing address.
Boxes 1 – 10
Turning your attention to the numbers on the right side of the form, you'll place an employee's annual earnings from wages and tips in box 1. Any taxes that have been withheld are included in that number, but deductions from things like IRAs aren't. Boxes 2, 4 and 6 are for the federal income taxes, Social Security taxes and Medicare taxes that you've paid Uncle Sam over the course of that tax year.
Do you work in the food and beverage industry? The amount in tips that your employee reports to you gets placed in box 7, but the actual amount they receive goes in box 8. Box 9 has been blank since 2011 when the government did away with the pay-as-you-go option for the Earned Income Tax Credit. Now, eligible filers get their EITC in one big refund rather than over the course of the year.
Box 3 is where you indicate the amount of income that's taxed for Social Security. Don't include any tips here. Because this number reflects taxable earnings before deductions were made, it could be more than the amount in box 1.
The number in box 3 could also be lower than whatever appears in box 1. That's because Social Security can't tax employees above a certain threshold, which was $127,200 for the 2017 tax year. (The threshold is $128,400 for the 2018 tax year.) There's no cap on taxable earnings for Medicare, so the amount that's put in box 5 takes wages and tips into account.
If your employees receive any deductions for childcare expenses, that amount goes in box 10.
Boxes 11 – 14
If your employee withdraws anything from a 457(b) plan or a non-qualified retirement plan, that dollar amount gets placed in box 11. Box 12 might take time to fill out because you'll need to enter different codes and amounts here depending on the benefits and additional payments a worker receives. Twenty-six codes ranging from A to Z and AA to EE are located on the back of the form for your convenience.
Box 13 has its own three boxes that you'll check to indicate that your employee is part of your retirement plan, received sick pay from a third party and is a statutory worker. Independent contractors count as statutory employees in certain situations, including when a full-time salesperson mainly works for one company.
Any other deductions that have been left out can be written in box 14. Examples include tuition assistance and union dues.
Boxes 15 – 20
Write your state and employer state ID number in box 15 if your state requires you to do so. Box 16 is for an employee's total earnings that are subject to state income tax withholding, while box 17 indicates the state income tax amount that's been withheld. All of the income eligible for local taxation must be placed in Box 18.
The amount of local taxes that have been withheld goes in box 19. Finally, box 20 is for the specific name of the place that the local taxes are tied to.
The Takeaway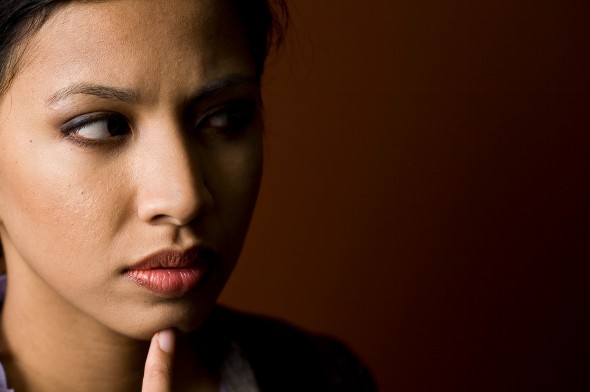 W-2 forms reveal how taxes affect employees' annual earnings. Plus, they let workers know whether they can expect a tax refund from paying more taxes than was necessary.
If you're an employee and your W-2 includes any errors, you'll need to report that information to your boss as soon as possible. In some cases – like when your name on the form doesn't match the name on your Social Security card – you may need a whole new form.
Update: So many people reached out to us looking for tax and long-term financial planning help, we started our own matching service to help you find a financial advisor. The SmartAdvisor matching tool can help you find a person to work with to meet your needs. First you'll answer a series of questions about your situation and your goals. Then the program will narrow down your options to three fiduciaries who suit your needs. You can then read their profiles to learn more about them, interview them on the phone or in person and choose who to work with in the future. This allows you to find a good fit while the program does much of the hard work for you.
Photo credit: ©iStock.com/ITkach, Image of 2017 W-2 Form comes from IRS.gov, ©iStock.com/Steve Debenport