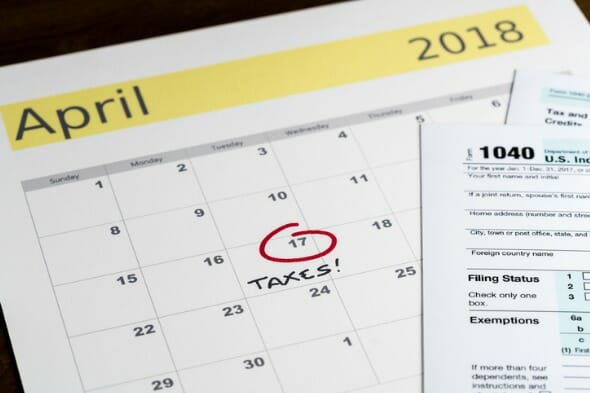 Everyone filing federal income taxes for the 2017 tax year will need to get their returns in by the filing deadline. There is one general date by which most filers need to get returns in. You may have a different deadline if you filed for an extension or if you are a corporation. Here's a rundown of all the deadlines you need to keep track of.
2018 Federal Income Tax Deadline for 2017 Tax Returns
The deadline for filing 2017 federal income taxes, also known as tax day, is Tuesday April 17, 2018. Tax day is normally on the 15th but since that falls on a Sunday in 2018 and since the Monday after tax day is a federal holiday (Emancipation Day), tax day gets bumped to Tuesday.
In order to avoid any fees for filing late, you need to file your tax return by April 17. If you mail in your return, it must be postmarked April 17 of sooner. Here's a tax refund schedule to give you an idea when to expect your refund after you've filed.
If you cannot file your tax return by the deadline, you need to file for a tax extension by April 17, 2018.
People who still want to contribute to an individual retirement account (IRA) for the 2017 tax year need to make contributions by April 17, 2018. It is also necessary to include these contributions on your tax return. It doesn't matter whether you make pre-tax or post-tax contributions. So even if you contribute money to a Roth IRA (post-tax money) and you do not plan to claim any deductions or credits from that contribution, you need to report it on your federal income tax return.
On another note, April 17, 2018 is also the deadline for self-employed individuals who need to make their first quarterly estimated tax payments of the 2018 tax year. You can file your estimated payments with form 1040-ES. The other estimated tax payment deadlines are June 15, 2018 for quarter two, Sept. 17, 2018 for quarter three and Jan. 15, 2019 for quarter four.
Deadline If You Get a Tax Extension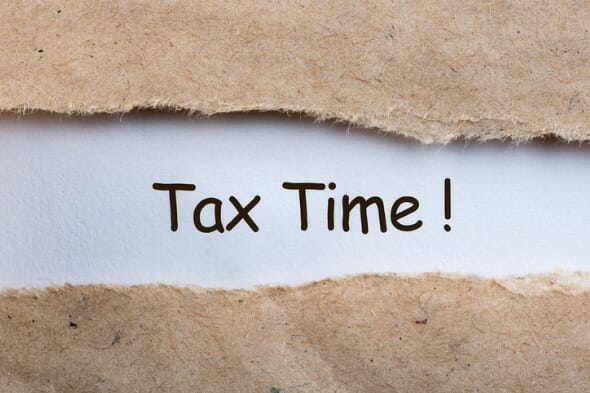 If you filed an extension for your 2017 federal income taxes, you have an additional six months to send in your tax report. Note that the six months is from the date when tax day should appear on the calendar (April 15, 2018). So the deadline becomes Oct. 15, 2018 (not the 17th).
Deadlines for Business Taxes
If you are a business, the due date for your tax forms will depend on what kind of business you are. March 15, 2018 is the deadline for S-corporations (Form 1120S) and partnerships (1065) to submit their tax forms. If you file for an extension, you will have an additional six months, which would bring your deadline to Sept. 17, 2018.
The deadline for most C-corporations (Form 1120) and any other business individuals who file Form 1040 is the same as the standard tax deadline – April 17, 2018. The deadline if you file an extension is Oct. 15, 2018.
C-corporations with a fiscal year ending on June 30 may have a different income tax deadline. In this case, it's best to speak with a tax professional to ensure you file by the correct deadline.
State Tax Deadlines for 2017 Income Taxes
Most states require taxpayers to file their state income taxes by tax day. That's easy to remember because it is the same deadline as the federal tax deadline. However, there are five states (Delaware, Hawaii, Iowa, Louisiana and Virginia) that impose a different deadline. There are also nine states that have no income tax. You can see the deadline for each state and the District of Columbia in the table below.
2018 State Income Tax Deadlines (for 2017 Tax Returns)
State
Deadline
Alabama
April 17, 2018
Alaska
No state return necessary
Arizona
April 17, 2018
Arkansas
April 17, 2018
California
April 17, 2018
Colorado
April 17, 2018
Connecticut
April 17, 2018
Delaware
April 30, 2018
District of Columbia
April 17, 2018
Florida
No state return necessary
Georgia
April 17, 2018
Hawaii
April 20, 2018
Idaho
April 17, 2018
Illinois
April 17, 2018
Indiana
April 17, 2018
Iowa
May 1, 2018
Kansas
April 17, 2018
Kentucky
April 17, 2018
Louisiana
May 15, 2018
Maine
April 17, 2018
Maryland
April 17, 2018
Massachusetts
April 17, 2018
Michigan
April 17, 2018
Minnesota
April 17, 2018
Mississippi
April 17, 2018
Missouri
April 17, 2018
Montana
April 17, 2018
Nebraska
April 17, 2018
Nevada
No state return necessary
New Hampshire
No state return necessary
New Jersey
April 17, 2018
New Mexico
April 17, 2018
New York
April 17, 2018
North Carolina
April 17, 2018
North Dakota
April 17, 2018
Ohio
April 17, 2018
Oklahoma
April 17, 2018
Oregon
April 17, 2018
Pennsylvania
April 17, 2018
Rhode Island
April 17, 2018
South Carolina
April 17, 2018
South Dakota
No state return necessary
Tennessee
No state return necessary
Texas
No state return necessary
Utah
April 17, 2018
Vermont
April 17, 2018
Virginia
May 1, 2018
Washington
No state return necessary
West Virginia
April 17, 2018
Wisconsin
April 17, 2018
Wyoming
No state return necessary
The Bottom Line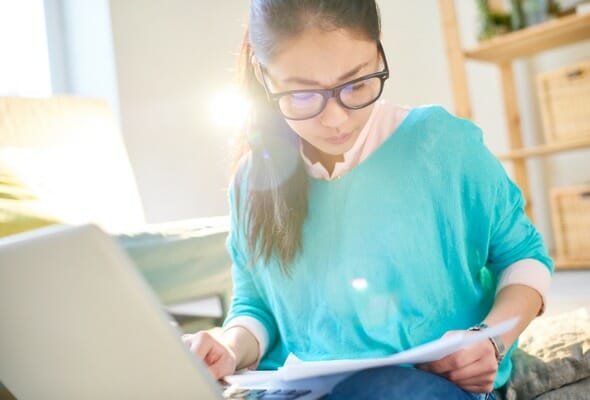 The tax deadline for the majority of taxpayers to file their 2017 federal income taxes is Tuesday April 17, 2018. This same deadline applies to many businesses, including C Corporations. If you need more time for file your taxes, you can request an extension. A tax extension gives you six additional months and brings your tax deadline to October 15, 2018 (not the 17th). State income taxes are mostly due on tax day just like federal income taxes. However, there are five states with a different (later) deadline and there are also nine states with no income tax.
Tips for Filing Your Taxes
One good way to set yourself up for success is to plan for your taxes throughout the year. This way you avoid any surprises come tax time. If you need any help managing your taxes, you might want to hire a financial advisor who specializes in taxes. A matching tool like SmartAsset's SmartAdvisor can help you find a person to work with to meet your needs. First you'll answer a series of questions about your situation and goals. Then the program will narrow down your options from thousands of advisors to up to three registered investment advisors who suit your needs. You can then read their profiles to learn more about them, interview them on the phone or in person and choose who to work with in the future. This allows you to find a good fit while the program does much of the hard work for you.
Filing taxes no longer has to be a pain thanks to a variety of easy-to-use and affordable tax filing services. Here's a breakdown of the two the most popular services, H&R Block and TurboTax.
Photo Credit: © iStock/BackyardProduction, © iStock/Bychykhin_Olexandr, © iStock/mediaphotos