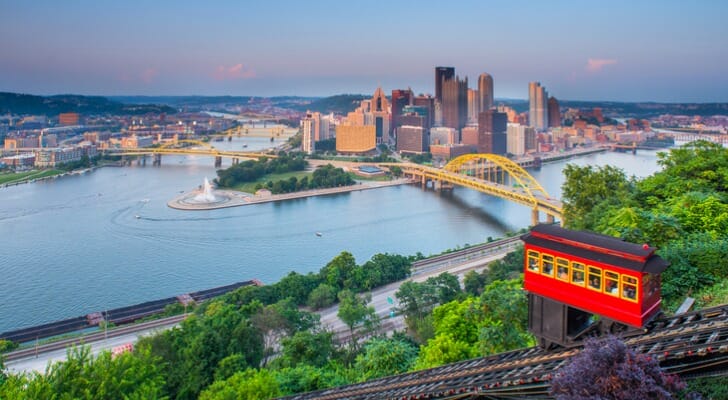 The Steel City is known for its industrial history and its scrappy charm. Pittsburgh has also become popular due to its affordability for young creatives priced out of other cities. Pennsylvania has fairly low state income taxes, as it uses a flat rate for all residents. There are some solid homebuying opportunities in Pittsburgh as well. If you're thinking of moving there, here are the details on the cost of living in Pittsburgh.
Pittsburgh Home Prices
Pittsburgh boasts some beautiful historic homes, along with newer builds and more affordable units. If you can afford a down payment for a Pittsburgh home, you'll have a lot of good options. In fact, according to NeighborhoodScout, 83.5% of the homes in the Pittsburgh housing market are priced at $363,000 or less.
Although homes are well-priced in the 'Burgh, the homeownership rate among residents is just 44.4%. There may be some validity to this trend, though, as 2019 data from NeighborhoodScout also indicates that over half of the homes in this market were built in 1939 or before. That leaves very little for the standard homebuyer to think about buying, especially compared to more modern metropolises like New York and Boston.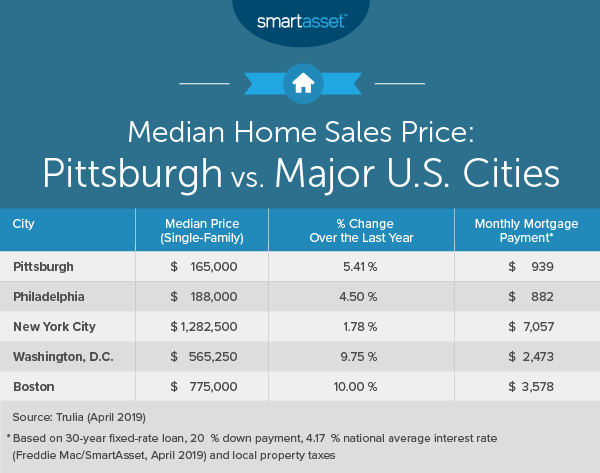 Pittsburgh Rent
Similar to its housing market, rent in Pittsburgh is more expensive than in the surrounding areas, but less expensive than in many large cities. According to Apartment List's March 2019 report, the median rent for a one bedroom apartment in Pittsburgh is $727. An upgrade to a two bedroom place will cost you $910, while three bedroom apartments typically go for $1,139.
Each of the aforementioned rent prices is significantly cheaper than their corresponding national medians. For example, a one bedroom apartment in Pittsburgh runs for $220 less than the U.S. median ($947). Two and three bedroom apartments carry even cheaper prices, as they are $265 and $439 below national medians, respectively.
Still on the rent side of the rent-or-buy decision? A financial advisor can help you decide which route is best for you.
Utilities
According to May 2019 data from Numbeo.com, the price of a basic package of utilities in Pittsburgh, including heating, water, electricity and garbage, costs an average of $171.52. This estimate is based on the cost of utilities for a 915-square foot apartment. By contrast, the average utility price nationwide is almost $20 cheaper at $152.11.
Food
Food in Pittsburgh is hardly expensive by national standards. Numbeo.com's May 2019 data shows that the recommended minimum monthly budget for food in the city is $328.07, or $10.58 a day. That's barely above the U.S. averages, which are $324.43 and $10.47, respectively.
If you want to go out to eat at a mid-range restaurant, the average cost of a meal for two is around $50, much cheaper than cities like New York or San Francisco. Some of Pittsburgh most famous food items are inexpensive, so you can get a feel for the city's culinary culture without breaking the bank. Some affordable Pittsburgh classics are Halupki (Eastern European meat and cabbage rolls), hot dogs, chipped ham and pierogies.
Transportation
In Pittsburgh, it helps to have a car. The city isn't so big that you'll find everything within the limits, but you can make do.
If you don't plan on driving while living in Pittsburgh, there are public transportation options. Bus service is free in downtown Pittsburgh, as well as the North Shore area between North Side Station and Allegheny Station. In other areas, bus fare is $2.50 with a ConnectCard or $2.75 with cash. For an unlimited pass at full price, you'll pay $97.50 per month or $1,072.50 annually.
Pittsburgh drivers can expect to pay high prices for gas. According to GasBuddy data from May 2019, the average price of a gallon of gas here is $3.11. That's good for 24 cents more expensive than the $2.87 national average.
Pennsylvania usually tops the charts for highest state taxes on gas and diesel fuel. As of 2019, a 58.7 cents per gallon tax is levied on normal gas purchases, while diesel purchases come with a 75.2 cents per gallon tax.
Taxes
Property taxes in Pittsburgh's home, Allegheny County, have an average effective rate of 2.08%. That's higher than both Pennsylvania's average effective rate and the nation's.
When it comes to income taxes, Pittsburgh is a bit of a complex case. Like other Pennsylvania municipalities, Pittsburgh has a city-level income tax, with a rate of 1.50%. This percentage is then added on to the 3.07% flat Pennsylvania income tax for a grand total of 4.57%.
Miscellaneous Cost of Living Facts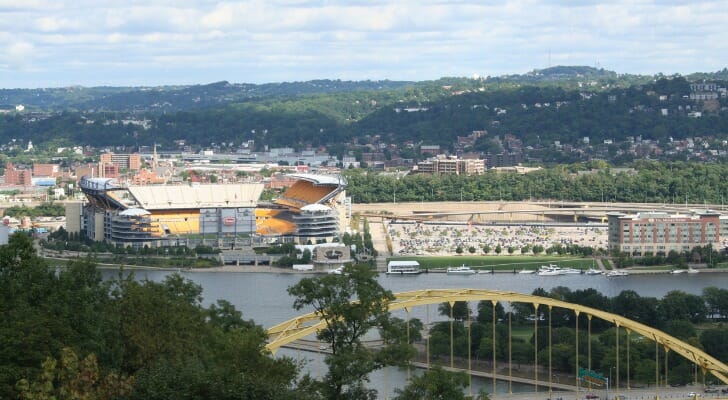 Pittsburgh is a great city for art-lovers, too. An adult admission to the Carnegie Museum of Art will cost you $19.95; child admission (3-18) is $11.95. You can visit the Andy Warhol Museum for $20, kids for $10.
For contemporary art and an experimental lab that features installations created by artists-in-residence, head to the Mattress Factory. Admission is $20 for adults, $15 for students and free for children under six.
Pittsburgh is home to some rather passionate sports fans. Ticket prices vary by sport, though. If you're looking to catch a game in Pittsburgh, here are the average prices for each of the city's teams:
Pittsburgh Steelers (NFL): $104.60 (Statista.com, 2018)
Pittsburgh Pirates (MLB): $23.43 (Statista.com, 2018)
Pittsburgh Penguins (NHL): $73.59 (Statista.com, 2014/2015)
Next Steps
Photo credit: ©iStock.com/HaizhanZheng, ©iStock.com/JamesHanlon