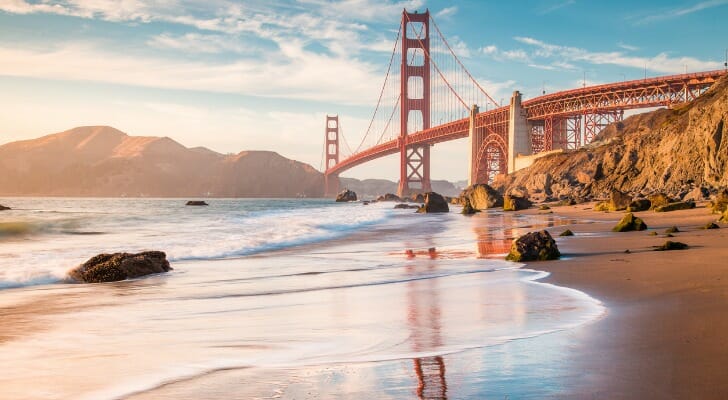 If you're going to San Francisco, be sure to have some money in your pocket. Thanks to skyrocketing home prices and an increasingly competitive rental market, the City by the Bay is extremely expensive. In addition to high housing costs, miscellaneous expenses like grocery shopping and healthcare are also very high. We'll break down the various costs so you can determine whether you can afford to live there. A financial advisor can help you make it work in San Francisco, even if its expensive.

Home Prices and Cost of Living in San Francisco
San Francisco's high cost of living starts with a hot housing market. Simply put, affordable housing is hard to come by in SF. According to 2018 data from the National Association of Realtors, existing home sales prices increased by 3.50% from 2017 to 2018, reaching a median price of $952,400. Yes, the median is just shy of $1 million! California is known for its remarkably expensive homes, but San Francisco takes the cake. As a reference, San Diego's median home sales price is $626,000, while the median in Los Angeles is even lower at $576,100.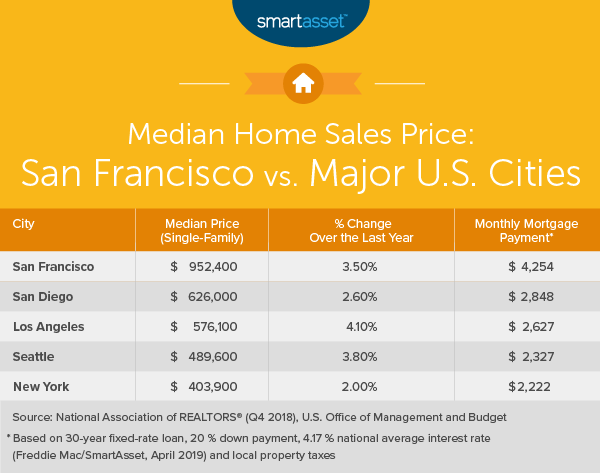 Rent and Cost of Living in San Francisco
Unfortunately, the high prices of homes in San Francisco have spilled over into the rental market. According to a March 2019 study from Apartment List, rental rates in San Francisco are about as high as you'll come across. The median rent for a two bedroom apartment in San Francisco is $3,108, which is an incredible $1,933 pricier than the $1,175 national median. Even smaller rentals are very expensive. The median rent for studio apartments is $2,013 median and $2,474 for a one-bedroom. To do a deep dive into whether renting or buying is a better financial decision for you, stop by SmartAsset's rent vs. buy calculator.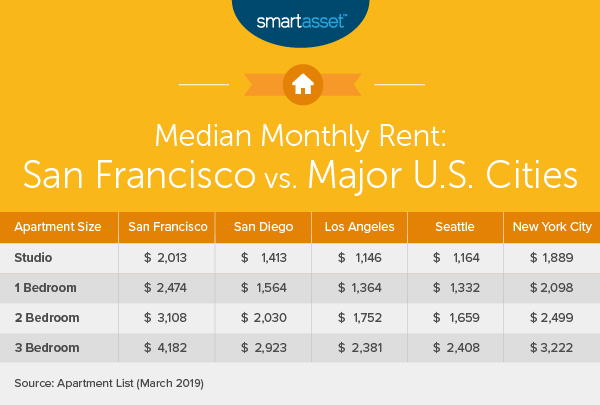 Transportation and Cost of Living in San Francisco
If you are lucky enough to secure some affordable housing in San Francisco, you'll need a way to get around. According to the U.S. Census Bureau, commuting to work takes 32.8 minutes in San Fran, which is six minutes longer than the 26.4-minute national average. But if owning a car has any chance to improve that time, the cost to do so is rather expensive. While free parking can generally be found outside of the city center, if you need regular access to parking downtown, you can expect to pay daily parking rates of $27.42, according to Parkopedia's 2017 data. The same study places the monthly rate for parking in San Francisco at $310.04.
Another major expense of car ownership in San Francisco is gasoline. The average price of a gallon of gas in San Francisco is far above the U.S. mark. According to GasBuddy, the average price in May 2019 is $4.20 per gallon. That makes San Fran the most expensive city in California, which is consequently the most expensive state in the U.S. when it comes to fuel.
If you're willing to give up your wheels, the best way to save money on transportation in San Francisco is by using the city's public transit system. A monthly pass for bus and cable car service can be purchased for just $78, while a pass that also gives access to BART (Bay Area Rapid Transit) trains within San Francisco costs $94. Both of those passes are far less expensive than the transportation passes in other major cities, like Chicago ($105) and New York ($116.50).
Food and Cost of Living in San Francisco
Eating out in San Francisco can be extremely expensive. The city is recognized for having some of the best restaurants in the world. But even if you're not eating at one of those famed places, prices are still high. According to May 2019 data from Numbeo.com, a meal for two at a mid-range restaurant in San Francisco costs $80, nearly double the national average.
Of course, for the budget-conscious, eating at home is always the best choice. Home cooking may be a good way to save money in San Francisco, but it isn't necessarily cheap. Numbeo.com's report finds that the recommended monthly food spending per person in San Francisco is $423.75. Compare this to the much more modest $324.20 national average.
Taxes and Cost of Living in San Francisco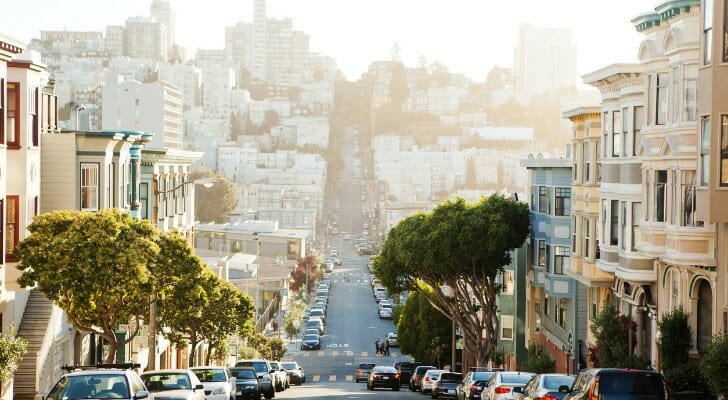 Like much of California, taxes are high in San Francisco. First and foremost, as a state, California's income tax rates are some of the highest in the nation. The top 12.3% rate applies only to taxable income above $572,980. Should you break the $1 million threshold, a 1% surtax will be added on.
The California state sales tax is 7.25%, but once you tack on city and county rates, it becomes 8.50% in San Francisco. Property taxes in San Francisco county, and California in general, are low at a 0.67% average effective property tax rate. This is largely because of California Proposition 13, a state law that reduced property taxes and capped increases in assessed home values.
The Bottom Line
There are a number of factors that go into determining the cost of living in San Francisco — taxes, home prices, food and transportation all matter. If you want to live by the Bay and are looking for help making it work, consider finding a financial advisor.
Next Steps for Living in San Francisco
Living in a city as expensive as San Francisco requires a high income and a thorough financial plan. A financial advisor can be a big help in building a plan and growing your money. Fortunately, finding the right financial advisor that fits your needs doesn't have to be hard. SmartAsset's free tool matches you with financial advisors in your area in 5 minutes. If you're ready to be matched with local advisors that will help you achieve your financial goals, get started now. SmartAsset has also identified the top financial advisor firms in San Francisco.
One of the best things you can do to make yourself feel financially comfortable in a new place is deposit your money with a local bank. Since it can be difficult to know where to look first, here are a few suggestions for in and around San Fran: Fresno First Bank, American Riviera Bank, First Foundation Bank, Pacific Mercantile Bank and Luther Burbank Savings.
Photo credit: ©iStock.com/bluejayphoto, ©iStock.com/ibsky