A stroll through the streets of Boston is a stroll through American history, and you can enjoy walking on cobblestone streets where the Founding Fathers once stepped. You can also take advantage of Boston's world-class universities and hospitals, and watch its wildly successful professional sports teams. Before you move to the City on a Hill, though, make sure you take into account the high housing costs associated with both buying and renting. If you're unsure of how Boston's cost of living could affect your long-term finances, consider working with a financial advisor.
Home Prices
Buying a home in the Boston metro area doesn't come cheap. In fact, according to the National Association of Realtors, the city has one of the highest median single-family home prices on the East Coast. At $460,300, the city ousts the likes of New York ($403,900) and Washington, D.C. ($417,400).
NeighborhoodScout data shows that from 2000 to 2018, the Boston housing market saw a total appreciation rate of almost 130%. That's not only one of the best rates in Massachusetts, but also the county. Take a look at our Massachusetts mortgage calculator to get an idea how much financing your home with a mortgage may set you back.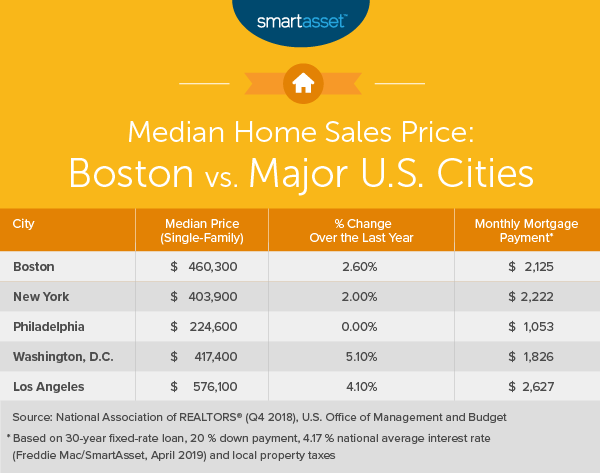 Rent
Boston may not be quite as pricey as San Francisco or New York, but it's still expensive. According to Apartment List (March 2019), a studio apartment in Boston is going for a median monthly rent of $1,486. The median for a one bedroom apartment jumps to $1,696, while a two bedroom crosses the $2,000 threshold at $2,103.
Apartment List's report also indicates that Boston rents far surpass the national median. For studios, the U.S. median is $872, while the nationwide mark for a two bedroom is $1,175. That means Boston comes in at $659 and $928 above those rates, respectively.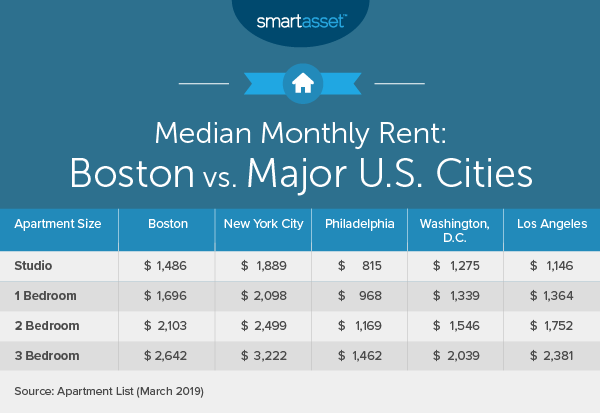 Utilities
Regardless of where you decide to live, you'll need to pay for utilities. According to Numbeo.com data from May 2019, a basic utilities package for a 915-square foot place in Boston will cost you $147.15 per month. That includes electricity, heating, water and garbage, at a price that's around $5 cheaper than the national average.
Food
Boston has plenty of food to offer, from Italian pastries in the North End to steaming bowls of New England clam chowder. If your budget is tight, Numbeo.com (May 2019) estimates you'll need a minimum of $14.06 per day and $435.78 per month to spend on food. That's significantly more expensive than the U.S. average, which is $10.47 per day and $324.50 per month. In other words, food in Boston is pricey.
If you decide to eat out, expect to pay around $15 for a meal at an inexpensive restaurant. A three-course meal for two at a mid-range restaurant comes with an average price of $69, according to Numbeo.com.
Transportation
The Massachusetts Bay Transportation Authority (MBTA) runs Boston's public transportation system. A monthly LinkPass gives you unlimited access to Boston's subway lines and local buses for just $84.50. That's much less than you'd pay for the same passes in New York City ($116.50) and Los Angeles ($100).
If relying on public transportation just isn't for you, you'll need to drive. To register a vehicle with the Massachusetts DMV, you'll pay a fee of $60. The Massachusetts DMV title fee is $75.
According to a May 2019 report from GasBuddy, the average cost of a gallon of gas in Boston is $2.87, which is almost exactly in line with the national average. Metered parking in Boston costs $1.25 an hour and $0.25 for 12 minutes, with a two-hour maximum. Parking is always free on Sundays and government holidays.
Taxes
Massachusetts is a high-tax state. Residents of Suffolk County, where Boston is located, have a median home value of $398,000. The median annual property tax payment in the county is $3,336 and the average effective property tax rate is 0.84%.
For income taxes, Massachusetts charges a flat rate (5.10%) and a flat statewide sales tax rate (6.25%). This sales tax is applied to all items except non-restaurant food and clothing under $175. A local option meals tax of 0.75% may be applied.
The Bay State taxes long-term capital gains at the same 5.10% used for regular income. Short-term capital gains are taxed at a rate of 12%.
Massachusetts has its own estate tax, which applies to any estate over $1,000,000. Rates range from 0.8% to 16% of the taxable estate. That top rate is only on the amount above $10,040,000, so most residents won't incur these charges.
Miscellaneous Cost of Living Facts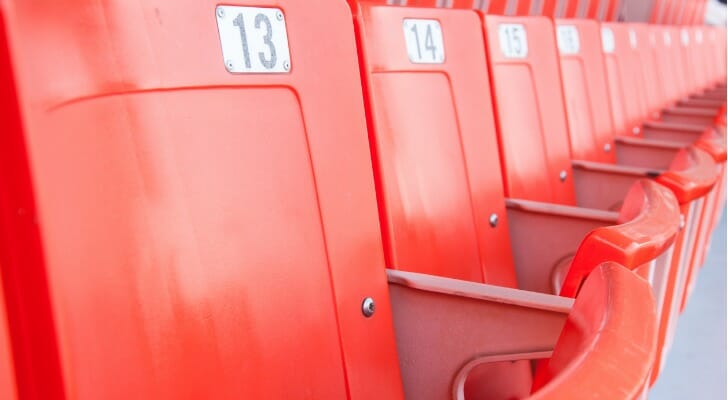 There's more to quality of life than just the basics. If you want to catch a baseball game at famous Fenway Park, Boston Red Sox tickets are the second-most expensive tickets in Major League Baseball. According to 2018 Statista.com data, the Sox have an average ticket price of $56.97.
If baseball isn't your thing, there are plenty of other entertainment options. An adult ticket to Boston's Museum of Fine Arts will cost you $25. A subscription to the online edition of the Boston Globe will cost you $6.93 a week, or $27.72 a month. For a totally free option, you can walk Boston's Freedom Trail, a 2.5-mile, red-lined route that leads you to 16 historically significant sites at no cost.
Tips for Planning a Move to Boston
Photo credit: ©iStock/Sean Pavone, ©iStock/rawintanpin