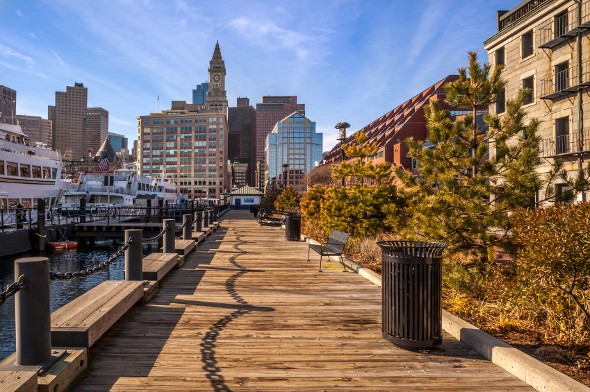 A stroll through the streets of Boston is a stroll through U.S. history. And if walking on cobblestone streets where the Founding Fathers once stepped doesn't do it for you, you can always take advantage of Boston's thriving academic, artistic and athletic scenes. Before you make the move to the City on a Hill, here's what you should know about the cost of living in Boston.
Check out our cost of living calculator.
Home Prices
Buying a home in Boston doesn't come cheap. Check out the chart below to see how home prices in Boston vary based on the number of bedrooms you need. Of course, there's a range in home prices. If you decide to settle in pricey Back Bay you might pay over two million dollars for a home. And if Boston prices are really out of reach you might decide to settle in one of the less expensive suburbs outside of the city. Take a look at our Massachusetts mortgage calculator to get an idea how much financing your home with a mortgage may set you back.You might also consider consulting one of Boston's top 10 financial advisor firms.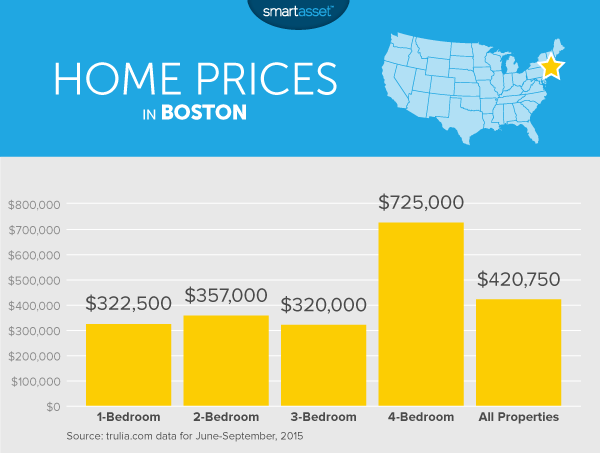 Rent
Boston may not be San Francisco or New York-style expensive, but it's still expensive. According to myapartmentmap.com a studio apartment in Boston is going for an average monthly rent of $1,854. One-bedrooms rent for an average of $2,260, with two-bedroom places at $2,828 and three-bedroom apartments renting for $2,977.
Utilities
We're guessing you'll want heat, water and garbage collection for your home, whether you rent or buy. According to numbeo.com, a basic utilities package for a 915-square foot place in Boston will cost you $159.59 per month. That includes electricity, heating, water and garbage, at a price that's about 2% above the national average.
Food
Boston has plenty of food to offer, from Italian pastries in the North End to steaming bowls of New England clam chowder. If your budget is tight, numbeo.com estimates you'll need a minimum of $11.77 per day and $365.01 per month to spend on food. Of course, that assumes that you'll buy simple grocery store items and never eat out.
If you decide to eat out, expect to pay around $15 for a meal at an inexpensive restaurant. A three-course meal for two at a mid-range restaurant comes with an average price of $60.
Transportation
The Massachusetts Bay Transportation Authority (MBTA) runs Boston's public transportation system. A monthly LinkPass gives you unlimited access to Boston's subway lines and local buses for just $75. That's 25% less than the monthly transit pass in LA and 36% less than the monthly MetroCard in NYC. Not bad, right?
If relying on public transportation just isn't for you, here's what you should know about owning a car in Boston. For one thing, parking in Boston is notoriously scarce. Also, Boston drivers have a reputation for being aggressive.
But let's talk costs. To register a vehicle with the Massachusetts DMV for two years you'll pay a registration fee of $60. The Massachusetts DMV title fee is $75. According to gasbuddy.com, the average cost of a gallon of gas in Boston is $2.24, just 2% below the national average. Metered parking in Boston costs $1.25 an hour and $0.25 for 12 minutes, with a two-hour maximum. Parking is always free on Sundays and government holidays.
Taxes
Massachusetts is a higher-tax state. You don't get some of the best schools in the nation for nothing. According to the SmartAsset's Massachusetts property tax calculator, residents of Suffolk County, where Boston is located, have a median home value of $358,700. The median annual property tax payment in the county is $3,068 and the average effective property tax rate is 0.86%.
Fans of flat taxes, rejoice. Massachusetts has a flat income tax rate (5.15%) and a flat statewide sales tax rate (6.25%). That 6.25% state sales tax is applied to all items except non-restaurant food and clothing under $175, as well as to retail sales of alcoholic beverages, restaurant meals and take-out meals. A local option meals tax of 0.75% may be applied.
The state taxes long-term capital gains at the same 5.15% used for regular income. Short-term capital gains are taxed at a rate of 12%. Massachusetts has its own estate tax, which applies to any estate over $1,000,000. Rates range from 0.8% of the taxable estate to 16% of the taxable estate. That top rate is only on the amount above $10,040,000, so the average Joe likely won't have to worry about it too much.
Extras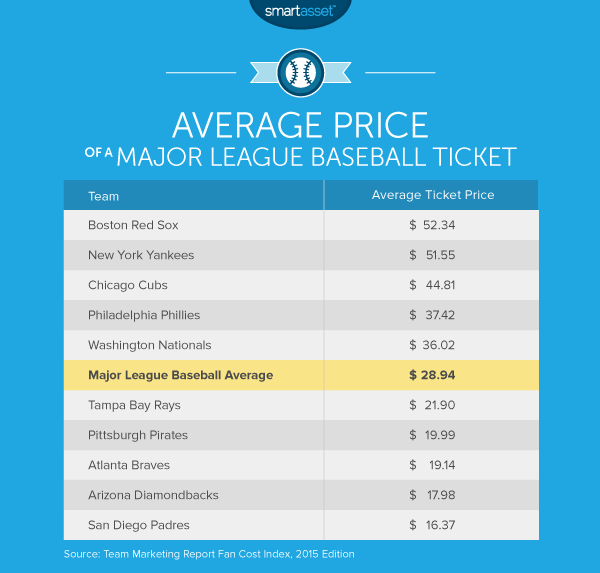 There's more to quality of life than just the basics. Let's talk about the price of the some of the extras that enhance our day-to-day – and add to the cost of living. Brace yourself: Boston Red Sox tickets are the most expensive tickets in Major League Baseball. According to Team Marketing Report, the Red Sox have a league-high average ticket price of $52.34 and Fan Cost Index of $350.86 in 2015.
If baseball isn't your thing there are plenty of other entertainment options. An adult ticket to Boston's Museum of Fine Arts will cost you $25, on par with New York's Museum of Modern Art. A subscription to the online edition of the Boston Globe will cost you $3.99 per week after the initial introductory period, when you'll pay 99 cents for the first four weeks of your subscription. For a totally free option, you can walk Boston's Freedom Trail, a 2.5-mile, red-lined route that leads you to 16 historically significant sites at no cost.
Next Steps
If you're preparing to move to Boston, it can be helpful to know how the change will affect your budget so you can plan accordingly. A financial advisor can help you navigate big life changes like a move to a new state, or just help you to meet your financial goals in general. SmartAsset's financial advisor matching tool can help you find a person to work with to meet your needs. First you'll answer a series of questions about your situation and your goals. Then the program will narrow down your options to up to three financial advisors who suit your needs. You can then read their profiles to learn more about them, interview them on the phone or in person and choose who to work with in the future. This allows you to find a good fit while the program does much of the hard work for you.
If you'll be switching jobs once you move, your paycheck could end up looking quite different than it does now. Try using our Massachusetts paycheck calculator to estimate what your new take-home pay will be.
Photo credit: ©iStock/Marcio Silva