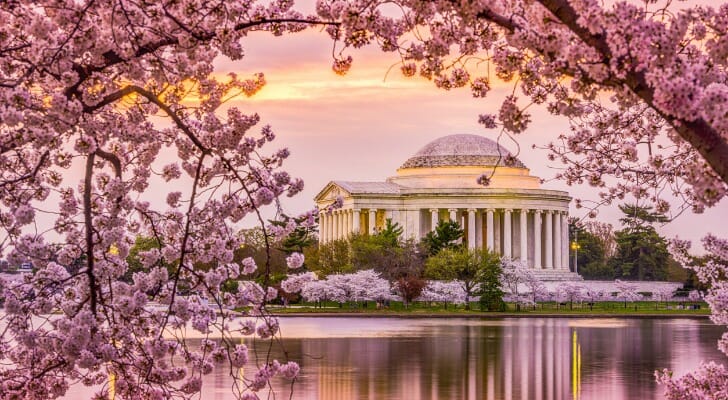 If you're thinking about moving to the nation's capital, you're probably wondering whether you can afford to settle down there. Home prices in the District are notoriously high, but there's more to the story than that. In fact, rent prices are surprisingly more affordable than other major cities on the East Coast.
Washington, D.C. Home Prices
D.C. real estate prices have soared as the city has started attracting wealthier residents. As a result, finding an affordable home to purchase may be challenging. According to the National Association of Realtors, the median sales price of a single-family home in the Washington, D.C. metro area is $417,400. That's more expensive than both New York City ($403,900) and Philadelphia ($224,600).
The home buying market in D.C. is continually experiencing strong annual appreciation rates. In fact, according to NeighborhoodScout, from 2000 to 2018, Washington, D.C. saw a 219.67% cumulative appreciation rate.
If you have questions about how well a mortgage would fit into your financial life, consider working with a fiduciary financial advisor in your area.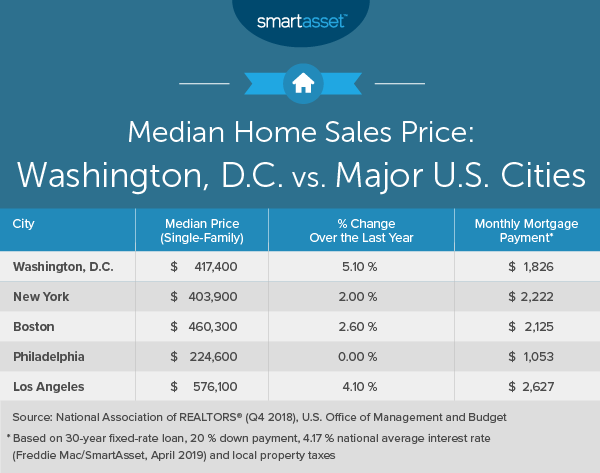 Washington, D.C. Rent
The homeownership rate in Washington, D.C. is just above 60%, meaning around 40% of residents pay rent, according to NeighborhoodScout. Therefore if you're moving to the city, you may have to decide whether to rent or buy.
Although homes definitely aren't cheap in D.C., rent prices aren't much better. March 2019 data from Apartment List paints the picture of a market that's well above the national average. To rent a two bedroom apartment in the capital, you'll pay a median rent of $1,546. That's a full $371 above the nationwide mark of $1,175.
The prospects don't get any better for smaller apartments either. The median rents for studio and one bedroom apartments in D.C. are $1,275 and $1,339, respectively. As a comparison, the national medians for these apartment types are $827 and $947 each.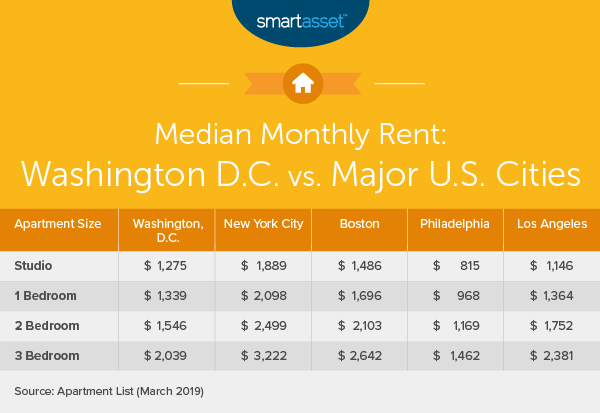 D.C. Utility Costs
For a generally expensive city, Washington, D.C., has surprisingly low utility costs. A 2017 report by the U.S. Energy Information Administration (EIA) indicates the average monthly energy bill in D.C. is $96.52. That's almost $15 cheaper than the $111.67 national average.
To take things a step further, May 2019 data from Numbeo.com takes a look at the price of a basic utilities package for a 915 square foot apartment in Washington, D.C. The data estimates that you'll pay $123.12 a month for electricity, heating, water and garbage. For reference, the national average for the same time period is $152.06.
Food
Everybody's got to eat, right? Groceries in D.C. aren't as expensive as they are in New York, but they're far from cheap. Numbeo.com's May 2019 data estimates a recommended minimum amount of money for food in D.C. at $15.20 a day, or $471.28 a month. The national average is $324.20.
Of course, that's just the minimum, and it assumes that you're getting all of your food items from the grocery store and preparing them yourself. If you want to eat out at a restaurant, expect to pay around $16 at an inexpensive place, according to Numbeo.com. A three-course meal for two at a mid-range restaurant in Washington, D.C. will cost you approximately $75. That's $25 above the national average.
Transportation
Like many densely populated cities, public transit is popular in D.C. A one-month Metrorail SmarTrip pass costs anywhere from $72 to $216, depending on the distance of your trip. A one-day pass costs $14.50, and the price of a seven-day pass is $60.
Unlike New York City, the subway fare in D.C. isn't flat. You'll pay more the farther you go. If you don't buy a multi-day pass, your public transit costs will vary based on the length of your journeys.
To drive in D.C., you'll first need to have a car that's compliant with the rules of the D.C. DMV. To ensure this is the case, you'll have to pay an annual registration fee. These fees range from $72 to $155 depending on the weight of your vehicle. Hybrid and electric car owners only have to pay $36.
According to GasBuddy (May 2019), a gallon of gas in Washington, D.C. carries an average price of $2.95. This is marginally more expensive than the $2.88 national average. Gas taxes here are 23.5 cents per gallon. Include the 18.4-cent federal gas tax and you will pay 41.9 cents in gas taxes in the U.S. capital.
Car insurance premiums in the city are the fifth-highest in the nation, based on a 2019 report by Insure.com. The average annual insurance premium for D.C. vehicles is $1,876. That means you'll be spending $400 more than the $1,457 national average.
Healthcare
The cost of healthcare in Washington, D.C. is actually pretty affordable. A 2016 study by the Health Care Cost Institute places the overall healthcare prices in the Washington, D.C.-Arlington-Alexandria metro area at 4% below the national median. In comparison, the same data shows New York City's prices are 22% above the national median and Philadelphia's are 11% higher than the national mark.
Taxes
If you look carefully at D.C. license plates, you'll see that some of them say "Taxation Without Representation." Irregardless, D.C. residents have to pay federal income taxes. They also pay a progressive District Income Tax of 4% to 8.95%. The District also has a sales tax of 6%.
Property taxes in the capital are quite low, with an average effective property tax rate of just 0.56%. If D.C. were a state, it would have one of the lowest property tax rates in the country.
Miscellaneous Cost of Living Facts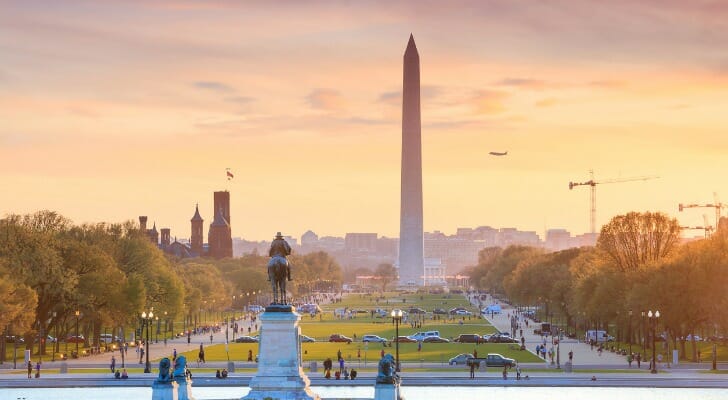 The entertainment options in the capital help take the edge off the high cost of living, as there are plenty of free museums and monuments. Some popular places to visit include the Washington Monument, the Lincoln Memorial, the Tomb of the Unknown Soldier, the Smithsonian National Air and Space Museum and the United States Holocaust Memorial Museum.
There's a plethora of sports teams that call Washington, D.C. home as well. Here are the average ticket prices for teams in the area:
Washington Nationals (MLB): $42.04 (2018 season, Statista.com)
Washington Redskins (NFL): $117.13 (2018 season, Statista.com)
Washington Wizards (NBA): $51.21 (2015/2016 season, Statista.com)
Washington Capitals (NHL): $70.98 (2014/2015 season, Statista.com)
D.C. United (MLS): $20-$75 (2017, WCPO Cincinnati)
Tips for Managing Washington, D.C.'s High Cost of Living
Washington, D.C. is an expensive city to live in, making the responsible management of your money all the more important. If you're unsure of how to make this a reality, perhaps working with a financial advisor could be of interest to you. The SmartAsset financial advisor matching tool helps to simplify your search for an advisory by pairing you with as many as three fiduciaries in your area. Your answers to our short questionnaire will dictate what matches are the best for you. For more information, you can check out SmartAsset's list of the top financial advisor firms in D.C..
Depositing your money with a bank that boasts high interest rates and low fees and minimums can be helpful for your overall financial well-being. Here are a few options in the D.C. area: Industrial Bank, EagleBank, Presidential Bank, John Marshall Bank and United Bank.
Photo credit: ©iStock/SeanPavonePhoto, ©iStock/f11photo