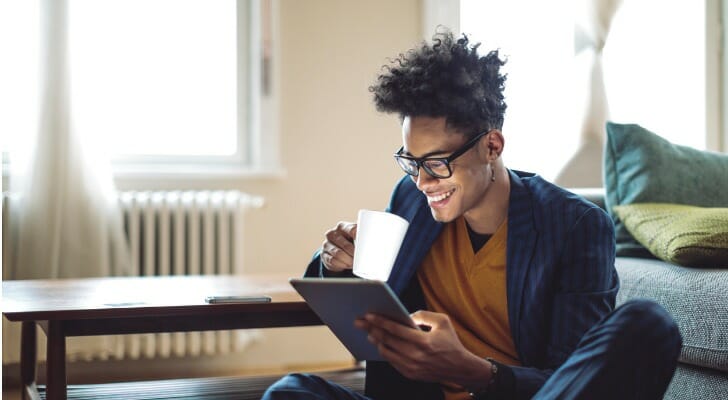 Day trading apps make buying and selling stocks, mutual funds or other securities easier than ever. These apps offer convenience and portability since you can manage your investment portfolio from your mobile device or laptop on the go. But which ones are the best right now? SmartAsset has rounded up the best day trading apps of 2021 for tech-savvy investors.
Do you have questions about investing? Speak with a local financial advisor today.
1. Best Overall Day Trading App: TD Ameritrade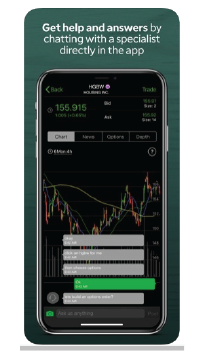 Cost per trade: $0 for stocks, ETFs and options
Account minimum: $0
Designed for: Intermediate to advanced investors
One of the nation's top-rated brokerages, TD Ameritrade offers several mobile apps designed for investors, including the thinkorswim app. This app allows users to trade a variety of investments, including stocks, options, foreign currency and futures.
Features are extremely customizable, in that you can generate charts, monitor trends and simulate more complex trading options, based on your risk tolerance, goals and overall investing strategy. TD Ameritrade also offers a vast base of educational tools and resources to help you expand and improve your investing know-how.
2. Best Free Day Trading App: Webull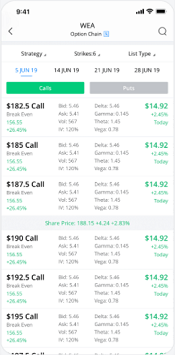 Cost per trade: $0 for stocks, ETFs and options
Account minimum: $0
Designed for: New investors looking to learn
Webull is a commission- and minimum-free brokerage service that features an extremely easy-to-use mobile app. The brokerage's apps are packed with relevant information about all types of investments and markets, including initial public offerings (IPOs), dividends, popular ETFs and industries, Forex and even more.
You can explore all of the above insights and immediately make investment decisions based on your findings. While you can trade just about any type of security through this app, such as stocks, options and ETFs, Webull will soon have a cryptocurrency trading feature as well.
3. Best Options Trading App: E*TRADE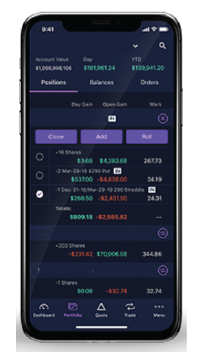 Cost per trade: $0 for stocks, ETFs and options; $0.65 for options contracts; $1.50 for futures contracts; $1 for bonds (online secondary trades)
Account minimum: $0
Designed for: Beginning to intermediate stock and options traders
E*TRADE is another brokerage powerhouse and the company's day trading app is streamlined and easy to use. Investors can trade stocks and exchange-traded funds, as well as futures and options. Pricing is very low and the app comes with a built-in risk assessment tool to help you gauge the potential risk factor associated with specific trade strategies. It's a solid choice for options traders looking for some of the lowest commissions on the market. As an added bonus, support from E*TRADE Options Specialists is always on tap if you need help executing a trade.
4. Best Incremental Investing App: Acorns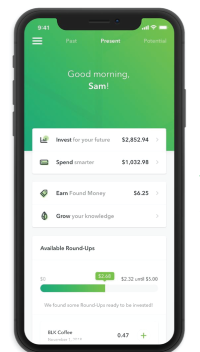 Cost per trade: $1, $3 or $5 per month, depending on plan choice
Account minimum: $5
Designed for: Beginners
The Acorns investing app is geared toward investors who are just starting to build a portfolio and can only do so with smaller amounts of money. This app, which charges a flat monthly fee ranging from $1 to $6, depending on the account type you choose, invests your spare change for you automatically. You create an Acorns account and link it to your bank account. The Acorns app then reviews your spending. Once your spare change totals at least $5, the app will invest it in a portfolio of ETFs. It's a very simple way to grow your investments over time with smaller amounts of money. The only drawback, however, is that investment options are limited to ETFs. If you're looking for an app that offers stock trading, you'll need to consider another day trading app from this list.
5. Best App for Experienced Investors: TradeStation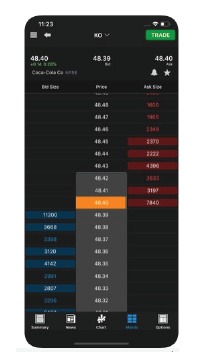 Cost per trade: $0 for stocks, ETFs, options and futures; an additional $0.50 per option contract; $0.85 per futures contract
Account minimum: $0 for the TS GO package, or $2,000 for the TS SELECT package
Designed for: Advanced investors
TradeStation is designed with two types of investors in mind: full-time investors who trade for a living and part-time traders who are looking for ways to grow their wealth. The TradeStation app allows for trades across stocks, futures, ETFs, mutual funds and bonds, as well as cryptocurrency. This app is designed for the more experienced investor who's looking for in-depth analytical tools and real-time market monitoring. Two brokerage packages are available through TradeStation: TS GO and TS SELECT. TS GO is the more basic of the two, as the TS SELECT package exclusively offers surcharge-free trading through the TradeStation Desktop.
6. Best App for Active Traders: Interactive Brokers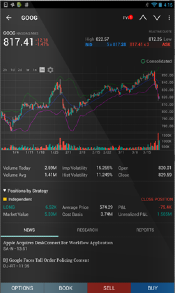 Cost per trade: Starting at $0, but varies based on trade volume and package
Account minimum: $0
Designed for: Consistent traders
Interactive Brokers' mobile app boasts perhaps the most robust set of features of any app on this list. Customers will have access to an extremely wide range of potential investments, with specific market breakdowns for each type of security. More specifically, users will have the chance to invest in stocks, bonds, options, futures, currencies, ETFs, mutual funds, hedge funds and EFPs. In addition to transferring money from your bank accounts, Interactive Brokers lets user deposit money directly from checks with its mobile check deposit feature. So if you're looking to trade early and often, there are few options better suited to you than this app.
7. Best FOREX Trading App: Forex.com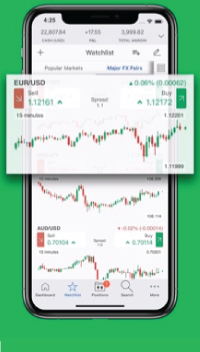 Cost per trade: Commissions range from $0 to $60 per $1 million and up
Account minimum: $0, but $25,000 for highest-tier account
Designed for: FOREX traders
Trading foreign currency is an alternative strategy to trading stocks or ETFs. Though it can be a higher risk play, it can also offer higher returns. Forex.com offers mobile FOREX trading through standard, commissions or high volume trade accounts.
Mobile trading includes access to advanced charts from TradingView and you can easily check margin requirements before executing a trade. You can also build custom watch lists and set alerts so you don't miss any market movements that could have a critical impact on your FOREX portfolio.
8. Best Cryptocurrency Trading App: Robinhood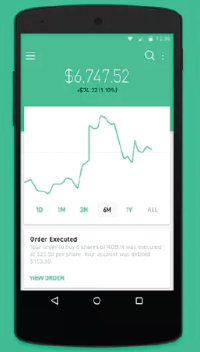 Cost per trade: $0 for basic and crypto accounts; $5 for Gold account
Account minimum: $0
Designed for: Beginning to intermediate investors
The Robinhood investing app keeps day trading as simple as possible. There is no account minimum required to start investing and you can trade stocks, ETFs, options and even cryptocurrency with no trading or commission fees. However, the company's pay-for-order-flow arrangements with market makers can mean customer trades won't always be executed at the most advantageous price. The app also limited customers' purchases of several stocks in January 2021, resulting in at least one lawsuit. The mobile app's interface is streamlined and easy to use. And it's designed for the beginning investor in mind. You can easily view your portfolio's performance at a glance and chart your investment progress over time. A free account could be a great way to ease into stock trading. If you'd like to expand your investment options into margins trading or after-market trades, you can upgrade to a Robinhood Gold account.
Bottom Line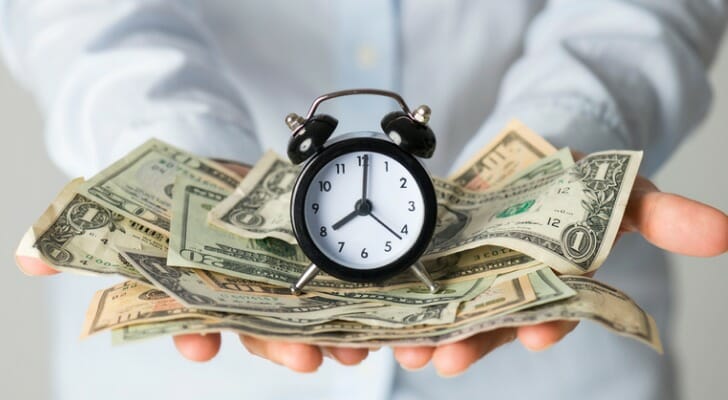 These are by no means the only day trading apps around, but they are the best of the best for 2021. When you're considering which investing app to use, consider the total picture. Review the trading fees and account minimums, range of investment options, level of support that's available and the app's usability and tech features. Keep an eye out for apps that offer demo versions, which let you try out the features before committing your dollars to the platform. And consider using a brokerage comparison tool to keep the process simple. Investing money can really be as easy as downloading an app, and it can make a big difference in your financial future.
Day Trading Tips
Consider working with a financial advisor to discuss the possible financial implications of day trading from a tax perspective. Finding the right financial advisor doesn't have to be hard. SmartAsset's free tool matches you with financial advisors in your area in five minutes. Get started now.
Before diving into the world of day trading, be clear about your risk tolerance and objectives. Decide what type of securities you're most comfortable investing in and evaluate your financial position to determine how much money you have to invest on a regular basis. Also consider how day trading fits within your broader asset allocation strategy.
Photo credit: ©iStock.com/NicoElNino, ©iStock.com/Eva-Katalin, ©iStock.com/solidcolours