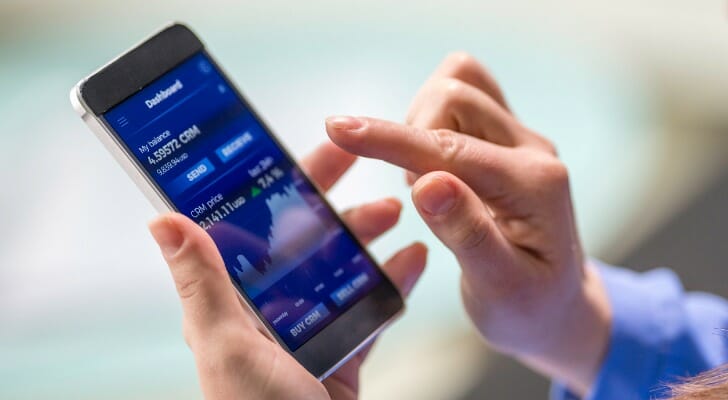 With both established brokerages and new companies offering investment apps, the options can be overwhelming. There are apps for every kind of investor, from the beginner just looking to dip a toe in the water to seasoned day traders who want to analyze individual stocks on the go. Check out our top picks.
Managing your investments on your own can be overwhelming. Find a financial advisor today.
The features that are most important depend on your investing goals and the budget you're working with. We've rounded up a collection of apps for every kind of investor out there, whether you are making your first trade or have been doing it for decades. For each app on this list, we've provided user ratings on both the iTunes store (for iPhone/iPad apps) and Google Play store (for Android apps); they are current as of this article's update.
Wealthfront: Best App for Low-Maintenance Investors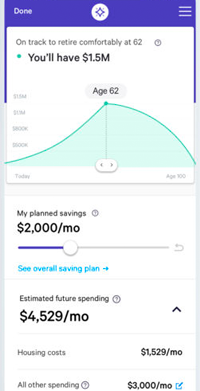 Apple App Store Rating: 4.9/5
Google Play Store Rating: 4.8/5
Wealthfront, founded in 2008, is a robo-advisor that invests your money in a portfolio of low-cost exchange-traded funds (ETFs) and (in some cases) individual stocks. Portfolios typically contain six to eight ETFs from a larger catalog spanning 11 different asset classes.
Once you've opened an account and answered a few questions about your goals and risk tolerance, Wealthfront will take it from there. Proprietary software will automatically rebalance your portfolio as needed, allowing you to focus on other things.
In terms of fees, you'll face a 0.25% account management fee. However, if you refer a friend who then funds an account, both of you will have the fee waived for the first $5,000.
You'll need at least $500 to open a brokerage account with Wealthfront. That's high relative to other investing apps on this list, but it's still a relatively low figure when it comes to investing. Also keep in mind that, since Wealthfront is a robo-advisor, you won't be able to have a hand in fund selection or making trades.
Betterment: Best App for Tax-Efficient Investing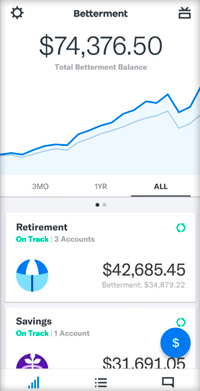 Apple App Store Rating: 4.8/5
Google Play Store Rating: 4.5/5
Betterment, founded in 2008, has the distinction of being the first publicly available robo-advisor. Betterment's software creates custom portfolios for each user based on an initial survey.
Betterment says that it wants to save its investors more on taxes than any other service. Like many robo-advisors (including Wealthfront and Stash), Betterment automatically conducts tax-loss harvesting on all accounts. But Betterment takes things one step further with its asset location strategy. This strategy helps clients with both taxable accounts and retirement accounts ensure that different investments are allocated into both accounts in the most tax-efficient way. For the investor focused on the after-tax return above all else, Betterment is an attractive choice. (Note: If you're really focused on tax-optimizing your portfolio, we'd recommend finding a financial advisor who specializes in tax planning.)
Like Wealthfront, its most direct competitor, Betterment charges a 0.25% account management fee. However, Betterment has no account minimum, so you can start with as small an investment as you like.
Investors can choose between a digital portfolio or a premium portfolio. With a premium portfolio, you can receive guidance on outside investment accounts and speak to certified financial planners (CFPs) over the phone 24/7. The premium portfolio comes with an account minimum of $100,000 and a higher 0.40% account management fee.
Acorns: Best App to Help You Save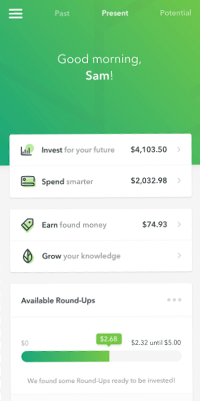 Apple App Store Rating: 4.7/5
Google Play Store Rating: 4.6/5
If you want to start investing but aren't diligent about saving money, Acorns may be the app for you. Acorns is a robo-advisor that saves your spare change for you.
Link your debit and/or credit cards to Acorn and the app will "round up" purchases on these cards to the next dollar. It then invests this "change" in a portfolio of BlackRock and Vanguard exchange-traded funds (ETFs). You can gradually save and build your portfolio without even realizing that you're doing it. There are just a handful of pre-made investment options, which makes Acorns great for investors who don't want to spend hours scouring research and comparing stocks
In addition to the spare change method, you can also set up one-time or recurring deposits in your investment account if you like. You can open a standard investment account — called Acorns Core — or an individual retirement account (IRA), Acorns Later.
While you can choose from a range of portfolios from conservative to aggressive, that's the only customization available to you. The app charges $1 a month for Acorns Core and $2 for Acorns Later. College students with a .edu email address can access Acorns Core for four years, free of charge.
M1 Finance: Best App for Stock Picking and Automated Investing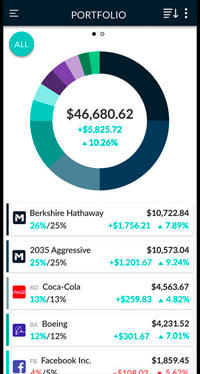 Apple App Store Rating: 4.7/5
Google Play Store Rating: 4.5/5
M1 Finance is an app for long-term investors who want the choice between hand-picking stocks and letting the app invest for them. With M1, investors can choose a model portfolio powered by a robo-advisor; manually select a portfolio of stocks (including fractional shares) and ETFs; or choose a mix of both strategies. The hybrid setup makes the app a great fit for investors who want some flexibility.
M1 offers a taxable account and an IRA account. Both are fee-free provided you invest at least $100 or $500, respectively. Investors who want a line of credit with a flexible payback schedule would need to have at least $10,000 in their account. For an annual $125 fee, you can upgrade to an M1 Plus, which offers a lower rate on the line of credit, more stock options and other benefits. On the downside, this app doesn't offer minute-to-minute trading functionality or have much in the way of research materials. If you're looking to read up on potential stocks or ETFs, you'll need to do it outside the app.
Stash: Best App for Rookie Investors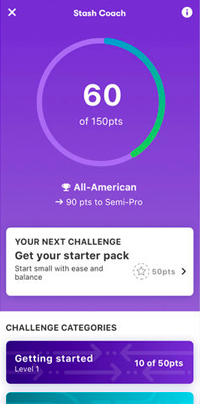 Apple App Store Rating: 4.7/5
Google Play Store Rating: 4.2/5
Stash is designed to help beginners make their first foray into investing. It caters to these beginners with its ample educational content and its Stash Coach feature. Stash Coach is part game, part educational tool, and it's designed to help you better understand investing. You can participate in customized challenges and track your progress as you amass more investing knowledge.
When you first download the app, you'll answer a few questions to establish how risk-averse you'd like to be and what your goals are. Then, the app will suggest a collection of ETFs and individual stocks for you and populate the education tab with content tailored to your situation.
The actual act of building your portfolio will be up to you, as Stash only provides suggestions. However, the app may nudge you in a different direction if your portfolio isn't diversified.
You'll need only $5 to start investing with Stash, thanks to the ability to purchase fractional shares of the 110 individual stocks available within the app. With Stash, you can open a taxable account for $1 per month, a taxable account with a retirement account (traditional or Roth IRA) for $3 per month or a taxable account, retirement account and two accounts for kids for $9 per month.
E-Trade: Best App for Investment Selection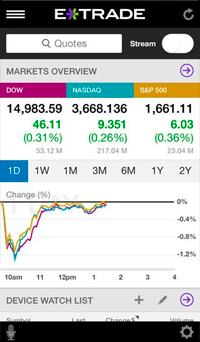 Apple App Store Rating: 4.6/5
Google Play Store Rating: 3.9/5
The E-Trade mobile app is for the trader who likes having a lot of investment options. You'll have access to thousands of stocks, options, futures, ETFs, mutual funds, bonds and more. There is no commission for online trading of stocks, mutual funds or ETFs.
In addition to trading capabilities, the app has news and market analysis from CNBC, MarketWatch and Morningstar. You can also set up personalized stock alerts and compile watchlists of investments to more easily keep tabs. If you'd rather not do all the work yourself, you can choose E-Trade Core Portfolio, E-Trade's robo-advisor offering. You'll need a minimum balance of $500, and you'll pay a 0.30% fee.
TD Ameritrade: Best App For Research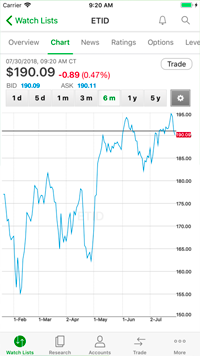 Apple App Store Rating: 4.5/5
Google Play Store Rating: 3.8/5
TD Ameritrade is one of the most well-known brokerage firms in the country, and its mobile app is well suited for the investor that wants as much information as possible. The app is chock full of research and data on stocks, companies and markets, and there's also a series of educational videos designed to teach you about different investing strategies.
Additionally, you can check up on your investments, view a breakdown of your portfolio and make trades, all within the app. Finally, you can set up alerts so that you're notified of breaking news or when a stock hits a certain price.
In addition to the standard TD Ameritrade mobile app, the brokerage firm also has a standalone TD Ameritrade Trading app, which mobilizes its "thinkorswim" trading platform. This is meant for confident investors who want more customization. Online stock and ETF trades are commission-free.
Tips for New Investors
The intent of apps is to try and make investing more accessible to the masses. But if you find investing sizable amounts of money intimidating, you don't have to do it all alone, as a financial advisor can be a great resource. To find the right advisor for you, use SmartAsset's free matching tool. Just answer some questions about your financial situation and goals, and you'll be linked with up to three local advisors who meet your needs. Get started now.
Diversify your assets across several asset classes and economic sectors. That way, the success of your portfolio isn't overly dependent on one area of the market.
Photo Credit: ©iStock.com/vm, ©Robinhood.com, ©Acorns.com, ©iTunes.com, ©Etrade.com