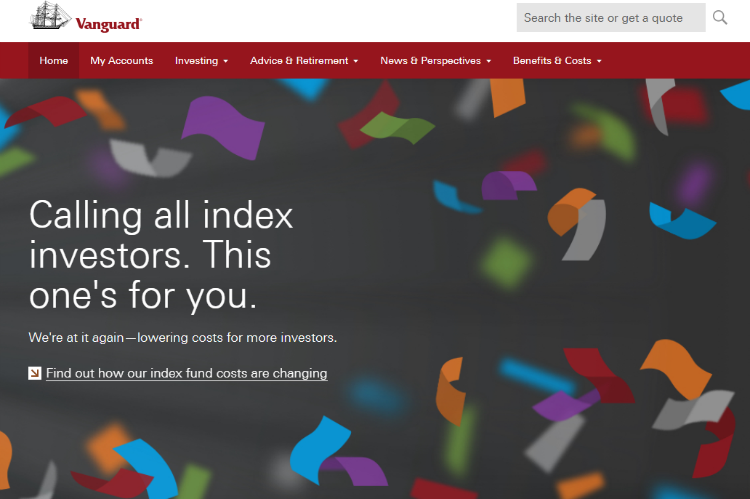 Vanguard began operations back in 1975, although its oldest fund, the Vanguard Wellington™ Fund, was incepted in 1929. The company currently manages about $5.1 trillion in global assets from over 20 million investors in about 170 countries.
Unlike many other investment management companies, which are owned by outside stockholders, Vanguard is owned by its customers who buy and own the company's funds. By giving ownership to its clients, Vanguard gets to return profits back to you in the form of lower costs, helping to boost your savings. This ownership structure also means Vanguard can focus solely on its customers.
Keeping in line with its core purpose of giving investors "the best chance for investment success," Vanguard offers a variety of investment products. This allows you to find the best investments for you and your financial goals. You can buy and sell Vanguard ETFs and mutual funds at no commission. There are also non-Vanguard ETFs and funds available, though these potentially cost more.
You could also choose to diversify and stabilize your portfolio with Vanguard CDs, bonds and securities.
Vanguard Overview
Pros
– Wide selection of mutual funds and ETFs at very low cost
– Simple online interface for passive investors
Cons
– High fees for trading, especially at high volume
– Higher minimum investment requirements on many mutual funds
Best For
– Investors with high balances
– Customers who choose Vanguard funds
– Long-term / buy-and-hold Investors who make fewer than 25 trades a year
Drawbacks
– Best prices and features reserved for higher investment balances
Fees Under Vanguard
When trading Vanguard mutual funds and ETFs, you won't face any commission fees on those trades. You also avoid commission charges on 1,8000 non-Vanguard ETFs and mutual funds when you buy online. (Buying non-Vanguard funds over the phone always carries a fee.)
Trading individual stocks on Vanguard will cost you $7 per trade. Unlike day-trading-focused sites like E-Trade, those commissions go up the more you trade, with commissions rising to $20 if you make more than 25 trades in a year. Note that there are discounts and free trades for larger account sizes.
If you're sticking with mutual funds, you should keep an eye out for the minimum investment amounts for each fund. Minimums range from $1,000 to $100,000 to start investing, though most Vanguard mutual funds will require a minimum investment of $3,000. In fact, Vanguard recently lowered the minimum investment on dozens of its very low-cost Admiral Shares index mutual funds, from $10,000 to $3,000.
Vanguard is also a major provider of ETFs, for which the minimum investment is just the price of one share. Share prices vary, but plenty of Vanguard's ETFs are trading for under $100.
Vanguard charges an annual account service fee of $20. You can easily avoid the fee if you sign up for statement e-delivery or maintain at least $10,000 in Vanguard funds and ETFs. Other specific client labels (like Voyager or Voyager Select) and account types can have the fee waived.
Vanguard Fees
Fee Type
Rates
Annual Account Service Fee
– $20
Vanguard ETFs & Mutual Funds
– $0 commissions
– No loads
Average Vanguard Expense Ratio
– 0.11%
Non-Vanguard ETFs
– Online: $0 commission
– By phone: $0 – $25 per trade
Non-Vanguard Mutual Funds
– Online: $0
– By phone: $0 – $50 per trade
Transaction-Fee (TF) Funds
– Online: $0
– By phone: $0 – $50 per trade
Individual Stocks
– Online: $7 – $20 per trade
– By phone: $20 – $25 per trade
Options
– $2 – $7 per trade
– $1 per trade
U.S. Government Agency Securities, Corporate Bonds and CDs
– New issues: $0
– Existing issues: $250 maximum
Vanguard Features & Services
Vanguard offers a wide range of investments, from mutual funds to stocks to CDs. To make the most of a Vanguard brokerage account, though, your best bet is Vanguard's mutual funds and ETFs. These funds do not charge commission fees, and they're famously low-cost: The average Vanguard no-load mutual fund cost is 83% less than the industry average. Vanguard's founder, Jack Bogle, pioneered index investing, and Vanguard's most popular funds are index mutual funds and ETFs with minuscule expense ratios. Its Total Stock Market Index Admiral Shares fund, for instance, has an expense ratio of 0.04%, which means that an investment of $100,000 would only cost $40 a year.
You aren't limited to Vanguard's own funds, though. You can use your Vanguard Brokerage Account to invest in mutual funds and ETFs from hundreds of other companies; nearly 2,000 of these can also be bought and sold with no commission fee, though loads and expense ratios vary. You can also trade stocks and options through the site, though Vanguard's fee structure and lack of sophisticated trading tool discourages active trading. If you'd like to hedge against market risk, you can choose from various bonds and CDs for more predictable streams of income.
For a more hands-off investment experience, you can also check out Vanguard Personal Advisor Services. Before you consider it too seriously, know that you'll need at least $50,000 to qualify for the service. This advisory service provides constant portfolio rebalancing, access to personal financial advisors and more premium benefits.
Vanguard Online Experience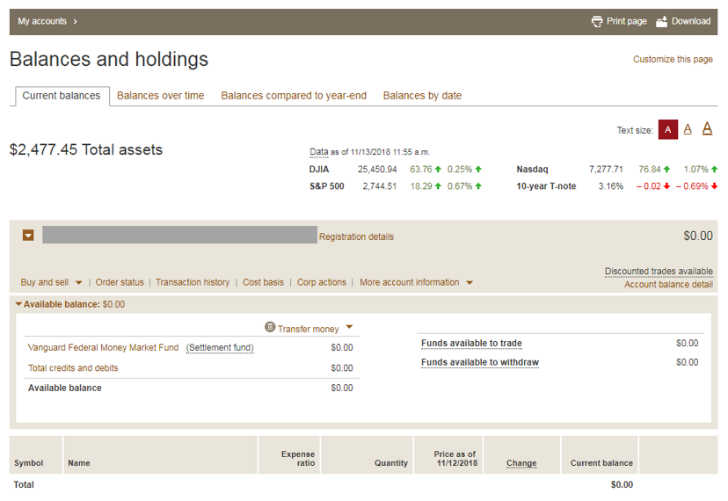 Vanguard's desktop website offers a fairly bare-bones, minimalist interface. If you're not yet a Vanguard customer, or you come in expecting a sophisticated and visually appealing trading platform, you may be disappointed.
Still, it offers the essentials you need to research, trade, and manage investments. You can transfer money between your Vanguard portfolio and bank accounts, connect with a Vanguard advisor and set up future transactions, including automatic investments or withdrawals. You can also set up account activity alerts and enroll in e-delivery of statements and other documents.
You'll find that Vanguard employs various security features to keep you and your accounts safe, including two-factor authentication.
Vanguard Mobile Experience
Vanguard ensures you can manage your portfolio and accounts even while on-the-go with its mobile app. Available through Apple, Android and on Amazon, the mobile app allows you to access all your accounts. You can check your balances, investment performance, transaction history, prices, returns and more. You'll also be able to buy, sell or exchange investments. You even have the ability to deposit checks directly into your account using your device's camera. Outside of your own accounts, the Vanguard mobile app also includes educational features to help you learn more about the market, keep up with financial news and hone your investing skills.
Vanguard Customer Support
Vanguard's Contact Us page allows you to choose your topic of concern first so you don't have to sift through a phone tree trying to find the right department. For brokerage services concerns, you can call customer service, send a secure email or send regular mail. You can contact a representative over the phone Monday through Friday from 8 a.m. to 10 p.m. EST. You can also reach a representative at a different number even if you are not a customer yet. Always be careful about sending personal and account information over email and about sending money through the mail.
Who Is Vanguard For?
Vanguard works best for online investors with relatively large amounts to deposit, with most Vanguard mutual funds requiring at least $3,000 to start. Having a higher balance can also help you avoid some commissions and get access to lower-cost funds.
Vanguard also favors web-savvy investors. Investing online allows you to avoid a number of commission charges, as trading by phone can land you with commissions of up to $50. You can also avoid the $20 account fee by switching to e-delivery of statements.
Vanguard is not targeted toward day traders. The brokerage lacks the advanced trading platform and screeners you'll find at brokerages like E-Trade. It also discourages high-volume trading with its fee structure. Vanguard is designed for long-term investing with low-cost index funds, rather than fast-paced selling and quick profits.
How Does Vanguard Compare?
Vanguard is best for long-term, buy-and-hold investors, particularly those who favor an investing philosophy built around index funds. It doesn't include the advanced trading technology that TD Ameritrade offers with its thinkorswim platform, or anything like E-Trade's OptionsHouse platform. Investors used to using such a platform might find Vanguard's site to be a fairly bare-bones experience.
They'll also find that Vanguard's fee structure is less favorable to active traders. Vanguard charges $7 per trade on stocks and options (with an additional $1 contract fee on options), but it goes up to $20 if you make more than 25 trades in a year. By contrast, Schwab and TD Ameritrade charge a flat $4.95 and $6.95 per trade, respectively, and E-Trade's commission prices actually go down if you make more than 30 trades in a quarter.
There's no minimum to open an account on Vanguard, though you will need to meet the minimum investment amount of whichever mutual funds you choose to fill your account with. While its target-date retirement funds have a minimum investment of $1,000, most of Vanguard's other mutual funds require at least a $3,000 minimum investment. That may be too high for some investors, who may be able to find mutual funds with $100 minimums at other brokerages. Still, mutual funds are not the only option at Vanguard; if you choose to invest in ETFs or stocks, the minimum investment will just be the cost of a single share.
Vanguard offers access to most of the asset classes you'd find at brokerages like Schwab and TD Ameritrade. The exceptions are forex and cryptocurrency, which you can trade on TD Ameritrade but not at Vanguard.
Brokerage Comparison
Brokerage Firm
Fees
Best For
Vanguard
$7 for first 25 trades
$20 thereafter (on less than $50,000 in assets)
– Investors with high balances, for lower fees
– Investors making relatively few trades each month
Schwab
$4.95 online equity trades
– Customers who also own Schwab Trading Services accounts for further perks
TD Ameritrade
$6.95 per online equity trade
– Active traders with low balances
– Cryptocurrency and forex traders
Vanguard: What's the Catch?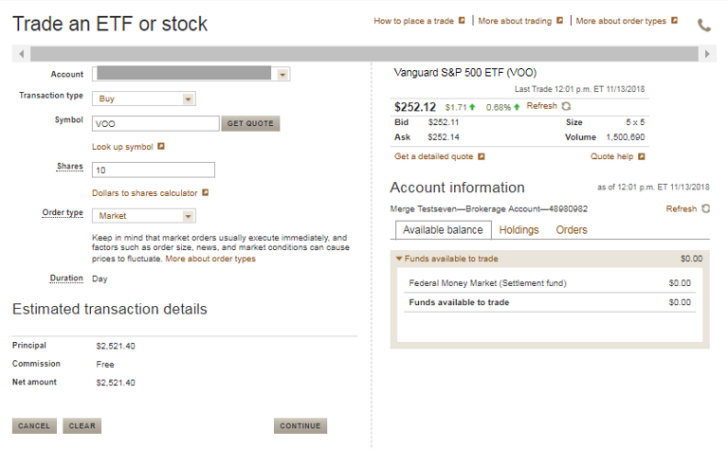 Vanguard is known for its low fees and zero-commission stocks and funds. However, you'll still face a number of fees when buying funds from other companies.
You'll get the most out of Vanguard if you have a higher account balance. It's not generally necessary to deposit thousands of dollars to start investing, but having at least $3,000 will give you access to Vanguard's lineup of mutual funds. Plus, a higher balance will lower your fees and allow you to snag more premium perks and benefits, including access to some of Vanguard's financial advisory services.
Disclosures
Vanguard Marketing Corporation currently has nine total disclosures per FINRA. This includes two regulation events and seven events of arbitration. The last disclosure, a regulatory event, is from March 2015.
Vanguard: The Bottom Line
Vanguard is best known for its low-cost stocks and funds. Opening a Vanguard brokerage account works best for those interested in long-term investing, and it's a great place for your retirement savings. As always, check what minimums and fees you might face for trading or certain account types. That way, you won't be blindsided by extra costs once you get trading.
Tips to Get Into Investing
To get yourself investing, it may help to start with an investment plan. That way you can set yourself up towards a specific savings goal. For other investors, it might be more lucrative to start using a robo-advisor. These online investing platforms are great for passive investors. Plus, robo-advisors can automatically rebalance your portfolio as you grow older.
Another way to succeed in investing is to enlist the help of a qualified professional like a financial advisor. The right advisor can optimize your investments with your own goals in mind, whether you're saving for retirement or just trying to get a little extra income. SmartAsset's financial advisor matching tool can connect you with up to three advisors in your area.
Photo credit: Vanguard