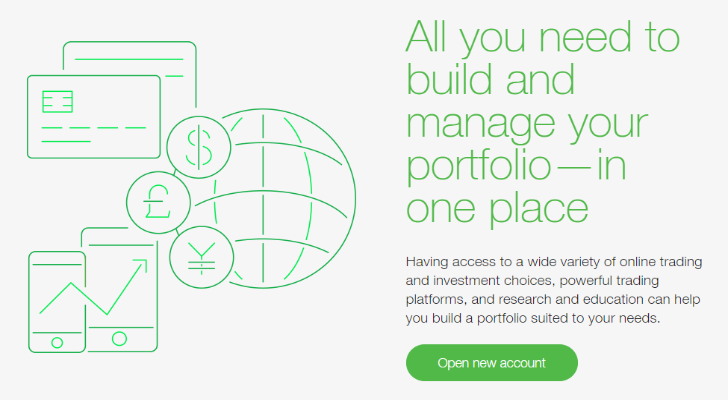 TD Ameritrade is a full-service brokerage firm that is a fixture in the investment sphere. It was first established back in 1975. As a matter of fact, as recently as 2018, Kiplinger named TD Ameritrade the No. 1 overall broker in the U.S. TD Ameritrade employs well-balanced online and mobile trading platforms that include versions for both new and experienced investors. It backs this up with great customer support to help clients get the most out of the diverse account features. However, even with all these benefits to its name, TD Ameritrade has a significant number of legal issues on its record.
In late 2017, TD Ameritrade bought out Scottrade, another massive national brokerage that opened its doors in 1981. With the annexation of Scottrade's accounts and funds, the firm now serves a combined 11 million clients with more than $1 trillion in assets. TD Ameritrade finished its complete integration of Scottrade in 2018.
TD Ameritrade Overview
Pros
– Top-rated broker
– Strong customer service
– Online/mobile trading platforms for newbies and veterans alike
Cons
– Many disclosures on its record
Best For
– Online traders
– Customers who value support
Drawbacks
– Checkered legal history
Fees Under TD Ameritrade
TD Ameritrade charges fees in line with other brokerages out there. And until Dec. 31, 2018, the brokerage is running a promotion for new customers. To gain eligibility, you'll need to be opening an individual, joint or IRA account with TD. This promotion goes as follows:
Initial deposit of at least $3,000

60 days of commission-free online equity, ETF and option trades

Initial deposit of at least $25,000

$100 bonus
60 days of commission-free online equity, ETF and option trades

Initial deposit of at least $100,000

$300 bonus
60 days of commission-free online equity, ETF and option trades

Initial deposit of at least $250,000

$600 bonus
60 days of commission-free online equity, ETF and option trades
Otherwise, the rest of TD Ameritrade's fee structure is pretty standard when it comes to commissions and account fees. There are really no major costs to watch out for at TD, though you'll save the most money by sticking to online investments. These require very little intervention by the firm, which is why its corresponding fees are so low.
TD Ameritrade Fees
Fee Type
Rates
Stock Commissions
– All stocks: $6.95
ETF Commissions
– Online: $6.95
Mutual Fund Commissions
– Load: $0
– No-load: $49.99
Options Commissions
– Online: $6.95 + $0.75 per contract
– Exercises and assignments: $19.99
Bond Commissions
– Per bond transaction fee: $1
– Treasuries at auction: Available commission free
– All other bonds: on a net yield basis
CD Commissions
– On a net yield basis
Futures Commissions
– $2.25 per contract
Exceptions
– Alternative investment transaction fee: $100
– Foreign security: $15
– Commission-free ETF short-term trading: $13.90
– Return check/electronic funding: $25
Regulatory
– Section 31 fee: $0.000013 per $1.00 of transaction proceeds
– Options fee: $0.0140 per options contract
– Trading activity fees: $0.000119 per equity share; $0.002 per options contract; $0.00075 per bond
The U.S. Securities and Exchange Commission (SEC) and the Financial Industry Regulatory Authority (FINRA) require their own regulatory fees. These are much less significant than typical commissions and other fees, so you likely don't need to worry unless you're trading large amounts of money.
TD Ameritrade Services & Features
TD Ameritrade Services & Features
Feature/Service
Details
Investment Research Tools
– Market Edge®: current market and technical analysis
– ETF Market Center: premier compilation of ETFs
– Stocks Charts: analysis of stocks similar to the ones in your portfolio
– Screeners: shows stocks, ETFs, options and mutual funds that adhere to your personal specifications
– Premier List: list of the top mutual funds
– Bond Wizard: projects clients' returns on bonds and CDs
TD Ameritrade Essential Portfolios
– Robo-advisor service
– Fully automated with automatic rebalances
– $5,000 minimum investment
TD Private Client Wealth
– Full advisor-client relationship
– Investment management with financial planning
Educational Resources
– Videos, articles and a learning curriculum for becoming a knowledgeable investor
Available Investment Products
– Stocks, options, ETFs, mutual funds, futures, forex, annuities, bonds & CDs
TD Ameritrade has a full-bodied set of research tools that are aimed at making even the least experienced investors feel comfortable with investment analysis. For the most part, these are centered around specific investment types and and risk profiles to keep things as simple as possible.
Even with the plethora of knowledge you can gain through the tools above, becoming an investment expert can help as you make decisions about your portfolio. TD Ameritrade evidently wants to help its investors reach that point, as it provides a ton of online educational content. This includes lengthy articles, videos and even a full investment curriculum.
TD Ameritrade Essential Portfolios is the robo-advisor arm of TD Ameritrade. A robo-advisor is an automated investment service that builds your portfolio according to your pre-stated risk tolerance, tax situation and overall investment needs. Essential Portfolios will cost you a 0.30% annual fee and a minimum initial investment of $5,000. You can create a number of accounts through this, such as IRAs, individual and joint accounts and more.
If you are unsure of how to begin investing, a financial advisor can get you on the right track. TD Ameritrade's internal financial advisor firm is TD Private Client Wealth, which has just under $2.7 billion in assets under management (AUM) and a fee-based fee schedule. The firm's services include wealth planning, retirement planning, investment management, legacy planning, business succession planning, real estate financing and more.
TD Ameritrade Online Experience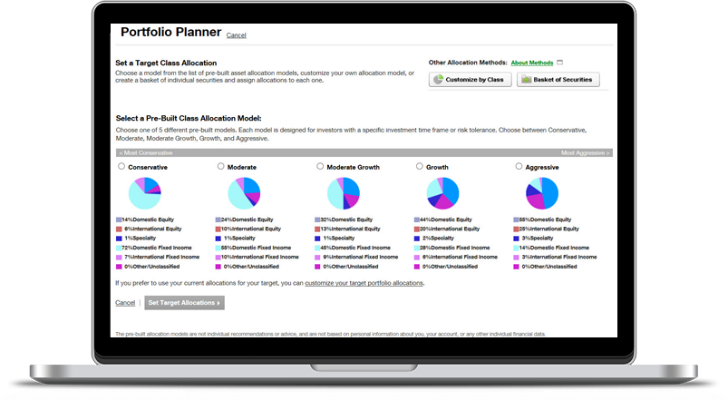 A sizable portion of TD Ameritrade's brokerage business is based on its online desktop trading platforms. This is divided between two distinct offerings: its standard web platform and its thinkorswim platform.
If you're new to investing or you perhaps want some level of investment guidance, the standard platform is for you. Customers can access a multitude of educational resources to get themselves acquainted with the many nuances of building an investment portfolio. Once you feel comfortable enough to begin investing, you can use TD Ameritrade's online Portfolio Planner tool that's integrated with its Retirement Planner tool to ensure that every investment decision you make is on par with your ultimate life goals.
TD Ameritrade offers pre-built asset allocations that vary based on risk tolerance, along with current market analysis and alerts to help you follow shifts in investment prices. The standard online platform also comes with the GainsKeeper® feature, which tracks your losses and profits to keep you in the know regarding your capital gains taxes.
The thinkorswim platform is angled to support the needs of confident investors who prefer customization over a cookie-cutter approach. Users can take advantage of massive amounts of market data from the national and international markets, as well as other useful statistics and analyses. One of the best benefits of this service is TD Ameritrade's paperMoney® feature. This affords customers the ability to simulate their investment choices in a dummy brokerage account and IRA. You'll receive $100,000 in each account.
thinkorswim has a very strong investment community presence, as customers can visit TD Ameritrade's online chat rooms to talk to other investors about the market. The platform has a number of other market-connected features and tools, such as the ability to livestream media coverage and trace prices and data through Stock Hacker and Market Monitor. For those that are interested in thinkorswim, stop by TD Ameritrade's website to schedule an online platform demo.
TD Ameritrade Mobile Experience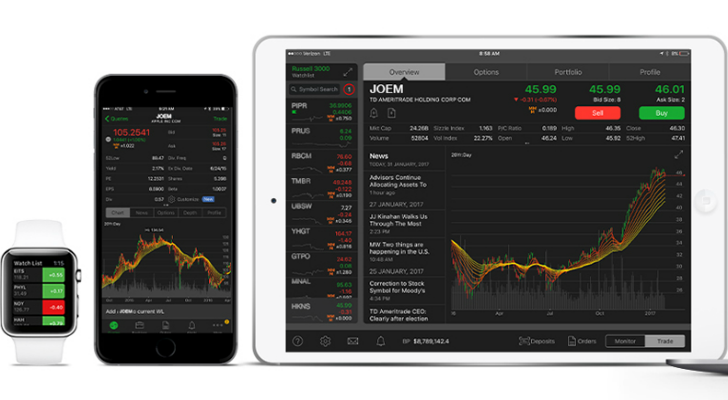 TD Ameritrade has an equally robust mobile investing experience that Barron's has recognized as a top trading app for 2018. StockBrokers.com also voted TD Ameritrade the best for mobile trading and for platform/tools. Similar to its desktop services, TD Ameritrade provides two mobile apps – the TD Ameritrade Mobile app and the TD Ameritrade Trader app – that offer features that fall in line with the standard and thinkorswim web platforms, respectively.
As a credit to TD Ameritrade, the firm has managed to squeeze many of its desktop perks into its mobile apps, and this is especially evident with the base TD Ameritrade Mobile app. You can not only monitor your current investments and overall portfolio, but you can complete trades as well. The app even lets you view investment charts, quotes, news and research.
While the services of the thinkorswim platform are laid out better in its desktop incarnation, TD Ameritrade has done an admirable job turning it into a mobile offering with the TD Ameritrade Trader app. The same in-depth investment analysis and data that's on your computer is available in the palm of your hand. You can set up news, market and update alerts through the app to give yourself the ability to stay on top of your investments at all times.
For Apple users, these apps are also available for the Apple Watch™. Between the Android and Apple app stores, users have rated TD Ameritrade Mobile at 3.5 stars and TD Ameritrade Trader at 4.2 stars.
TD Ameritrade Customer Support
As one of the largest investment organizations in the U.S., TD Ameritrade has the resources on-hand to set up an extensive customer support network, and it doesn't disappoint. First and foremost, customers can trade on their platforms 24 hours a day, five days a week. Should you have questions about any of the firm's services, or investing in general, you can reach customer service over the phone at (866) 839-1100 or via the chat service on your online and mobile accounts.
Who Is TD Ameritrade For?
TD Ameritrade distinguishes itself in that it attempts to meet the needs of both inexperienced and experienced investors. Although this is definitely easier said than done, the firm has done an admirable job. The dual versions of its online and mobile trading platforms are suitably presented with either a focus of education/guidance or personalization for each group of prospective customers.
TD Ameritrade can practice in all 50 states and Washington, D.C., the U.S. Virgin Islands and Puerto Rico. The firm is based in Omaha, Nebraska at 200 South 108th Avenue, but offers 364 total branch locations, which are in every state aside from North Dakota and Wyoming.
How Does TD Ameritrade Compare?
Not many brokerages have features that align with both the novice and expert investors' needs, but TD Ameritrade accomplishes that feat fairly well. Though this may seem like a plausible thing to expect from most firms, TD's competition often chooses to focus on a specific type of investor. For example, Robinhood is a very simple and user-friendly platform. On the other hand, Merrill Edge has some of the more in-depth benefits that veteran investors expect.
In terms of fees and other financial factors, TD Ameritrade falls right in line with the majority of the market. However, Robinhood offers free stock, option, ETF and cryptocurrency trading, which is a substantial offer.
Brokerage Comparison
Brokerage Firm
Fees
Minimum
Best For
TD Ameritrade
$6.95
$0
– Online traders
– Customers who value support
Robinhood
$0
$0
– Mobile/online traders
– Self-sufficient investors
Merrill Edge
$6.95
$0
– Desktop traders
– Bank of America account holders
– Customer support junkies
TD Ameritrade: What's the Catch?
There are two online/mobile trading platforms available through TD Ameritrade: its standard product and the thinkorswim product. Unfortunately, these two platforms have not been integrated into the same mobile apps or online dashboard. This could become a bit inconvenient, especially for those who want to participate in both sides.
TD Ameritrade does have some disclosures, which you can find more information about below.
Disclosures
According to FINRA, TD Ameritrade has 187 total disclosures on its regulatory record. Brokerage firms typically receive these legal infringements when they violate federal or state laws that dictate how securities must be marketed, offered, bought, sold and generally handled. The fines associated with TD Ameritrade's offenses range from $500 all the way up to a staggering $2.65 million.
In September 2018, the SEC fined TD Ameritrade $500,000 after it found that the firm had not filed suspicious activity reports for 111 of its independent investment advisors that it terminated. According to the SEC, this situation "presented an unacceptable business, credit, operational, reputational or regulatory risk to [TD Ameritrade] or its customers." Without denying or admitting the allegations, TD Ameritrade agreed to pay the $500,000 fine.
TD Ameritrade: The Bottom Line
Because of the overarching appeal of its services, TD Ameritrade should be on every investor's list of considerations, regardless of their experience level. The thinkorswim web and mobile platform has an impressive array of research benefits that will help you make informed decisions about where to invest. But if you prefer a more straightforward approach, TD Ameritrade's standard online and mobile package will satisfy you.
How to Improve Your Investments
Investing can be a nerve-racking venture, as many Americans work long and hard for the money they intend to invest. The SmartAsset financial advisor matching tool can pair you up with advisors in your area that can aid you in making sound investment choices. Simply answer the questionnaire, and your matches will appear based on your specific needs.
Try to avoid becoming so obsessed with the return potential of your portfolio that you forget to take into account the ever present capital gains tax. SmartAsset's capital gains tax calculator can help you figure out exactly what you can expect Uncle Sam to take.
Photo credit: TDAmeritrade.com, ©iStock.com/undefined_undefined