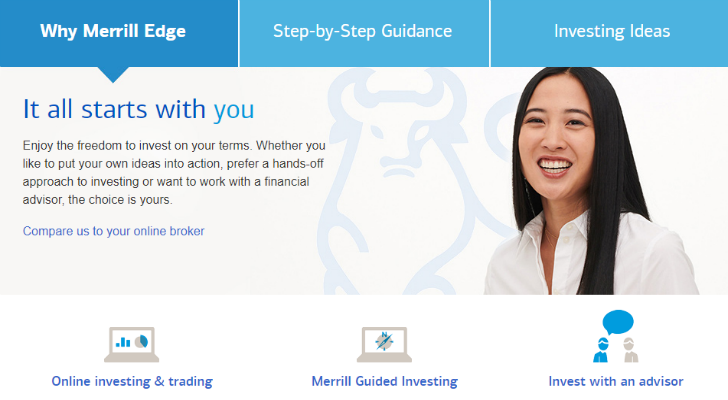 Merrill Edge is a brokerage firm that offers everything from self-sufficient investing to financial advisor consultations and robo-advisor services. The brokerage firm falls under the umbrella of the Merrill Lynch group of companies. Although once its own entity, Merrill Lynch is now under the ownership of Bank of America. Therefore Merrill Edge is an especially natural fit for anyone who maintains accounts at BoA.
The brokerage firm has racked up its fair share of accolades in recent years. Barron's has handed Merrill Edge a 4-star rating each year from 2014 to 2018 as one of the top online brokers on the market. Institutional Investor has also named it one of the top global research firms from 2011 to 2017. The firm boasts some of the best customer service marks as well, leading to J.D. Power's "Outstanding Customer Service Experience" award for seven years running.
On the downside, Merrill Edge does not excel when it comes to its mobile app, which has a weaker interface. But with an excellent desktop platform, high-quality customer service and plenty of investment insights, Merrill Edge is best suited for those who invest at their computer and who may need access to extra support.
Merrill Edge Overview
Pros
– Free stock, ETF and option trades
– Strong desktop platform and research tools
– Great customer service
Cons
– Low-rated mobile experience
Best For
– Desktop investors
– Bank of America account holders
– Those who need customer service
Drawbacks
– Mobile app is lacking
Fees Under Merrill Edge
Like much of the brokerage landscape, Merrill Edge has an extremely low-cost trading fee schedule. In fact, stocks, ETFs and options are available for $0 per trade. There is no minimum deposit necessary to join Merrill Edge, and the firm does not charge annual account fees.
BoA Preferred Rewards members receive access to the firm's proprietary Merrill Edge MarketPro® investment research service if they reach the "Platinum" or "Platinum Honors" tiers. The required average balance to become a Platinum member is $50,000, whereas anyone who surpasses $100,000 is upgraded to a Platinum Honors tier.
Merrill Edge's complete fee schedule is below:
Merrill Edge Fees
Fee Type
Rates
Stock and ETF Commissions
– Online trades: $0
– Representative-assisted: $29.95
Options Commissions
– Online: $0 + $0.65 per contract
– Representative-assisted: $29.95 + $0.65 per contract
– Exercised/assigned: $0
Mutual Fund Commissions
– No-load NTF: $0
– Load-waived funds: $0
– Online no-load TF: $19.95
– Representative-assisted no-load TF: $29.95
Fixed-Income/Bond Commissions
– New issues: $0
– Online treasuries: $0
– Representative-assisted treasuries: $29.95
– Online corporate, municipal and government agency bonds: $1
– Representative-assisted corporate, municipal and government agency bonds: $1 + $29.95 service fee
Account
– Annual fee: $0
– Full account transfer: $49.95
– Partial account transfer: $0
– Domestic/International wire transfer: $24.95
– Return deposit: $20
– Closeout fee: $0 (non-retirement account) or $49.95 (retirement account)
Regulatory
– Section 31 fee: $0.000013 per $1.00 of transaction proceeds
– Options fee: $0.0140 per options contract
– Trading activity fees: $0.000119 per equity share; $0.002 per options contract; $0.00075 per bond
The U.S. Securities and Exchange Commission (SEC) and the Financial Industry Regulatory Authority (FINRA) require their own regulatory fees. These are much less significant than typical commissions and other fees, so you likely don't need to worry unless you're trading large amounts of money.
Merrill Edge Services & Features
Merrill Edge Services & Features
Feature/Service
Details
Merrill Edge MarketPro®
– Interactive charts, research and market analysis with current data
– Adjustable dashboard to fit your needs
Self-directed investing accounts
– Independent investment portfolios
– Proprietary investment research
Merrill Edge Guided Investing
– Robo-advisor, automated investment portfolio
– Low fees
– $5,000 minimum investment
Merrill Edge Financial Advisors
– Work directly with a financial advisor
– Manageable fees
– $20,000 minimum investment
Available investment products
– Stocks, bonds, options, ETFs & mutual funds
Merrill Edge MarketPro® is an investment research tool developed by Merrill Edge to give you ultimate insight into the market. This desktop-centric platform features a flexible dashboard that allows you to include the information that's most important to you. You can take advantage of price alerts, interactive investment charts and data, financial and investment news and more. When you feel informed enough to pull the trigger on a stock, option, mutual fund or ETF trade, you can make the move right within MarketPro®.
The core service at Merrill Edge is its self-direct investment accounts. This service essentially offers all the benefits of the firm's research, wide range of investment choices and more in an easy-to-use package that's great for individual investors. Merrill Edge simplifies much of the market data within this platform so that even those who have just begun investing can do successfully.
It can be scary to jump right into investing without any experience. Financial advisors offer the chance to work directly with an investment professional to develop a portfolio that incorporates long-term financial planning. Merrill Lynch Financial Advisors is the advisory service associated with Merrill Edge. The firm requires a $20,000 minimum investment, and it comes with a 0.85% annual management fee.
Merrill Edge Guided Investing is an in-between offering from Merrill Edge that combines the perks of a financial advisor and personal investment portfolio into one. Clients can monitor their portfolio's performance and select a risk-adjusted investment strategy, all while a team of advisors at Merrill monitors your account and rebalances as necessary. The annual fee for this is a minimal 0.45%, with a required investment of $5,000.
Merrill Edge Online Experience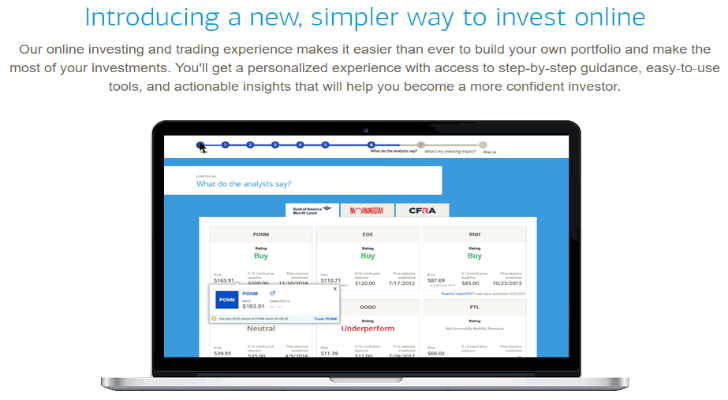 Merrill Edge's services are centered around its online trading platform that allows users to take advantage of self‑directed investing accounts. This affords customers the ability to customize their portfolio to exactly their personal preferences. Merrill Edge provides extensive analysis, research and charts highlighting stocks, the companies they are paired with and their overall performance histories.
If you need help selecting investments to flesh out and diversify your portfolio with, Merrill Edge offers educational resources online. As you build your portfolio, the firm's asset allocation charts will display how your funds are spread out across the market. Once your investments are complete, tracking their performance is done through virtual charts that compare your returns to that of various indices.
Merrill Edge Mobile Experience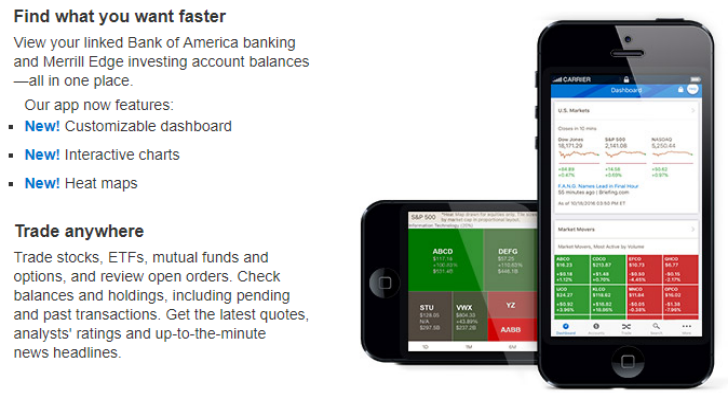 The success of Merrill Edge's solid desktop trading platform has subsequently transferred to its mobile app. More specifically, the app's appearance in the Apple and Android app stores has led to a strong 4.5-star average rating. For what it's worth, Apple customers rated it about 0.6 stars higher than Android users.
All the basics of a brokerage app exist with Merrill Edge. You can view your entire portfolio, see how your investments are progressing, make new investments and deposit money. Recently, though, Merrill has added in some new features that could end up flipping the script on the above ratings. The most important upgrade is the ability for customers to create their own mobile dashboard that puts all of their top priorities in a single place. Furthermore, you can access interactive charts and heat maps that give insight into securities.
Merrill Edge Customer Support
Merrill Edge has four different routes that customers can utilize to access support services. Your options include calling (888) 637-3343, emailing ContactME@ml.com, visiting the firm's website for online chat or setting up a meeting with a representative, either in person or via callback. Because Merrill Edge is ultimately affiliated with Bank of America, there are a number of financial centers around the country you can stop by if necessary.
Who Is Merrill Edge For?
What Merrill Edge lacks in mobile trading prowess it more than makes up for with its online trading platform. That makes this brokerage a great choice for anyone who likes investing from a desktop or laptop computer. Merrill Edge offers some great customer service in addition to these offerings. So if you prefer to have help available 24/7, the platform should look all the more appealing.
Merrill Edge, and in turn Merrill Lynch, is under the ownership of Bank of America. This gives it a massive physical presence across the country, with branches in Washington, D.C. and 32 states: Arizona, Arkansas, California, Colorado, Connecticut, Delaware, Florida, Georgia, Illinois, Indiana, Kansas, Maine, Maryland, Massachusetts, Michigan, Minnesota, Missouri, Nevada, New Hampshire, New Jersey, New Mexico, New York, North Carolina, Oklahoma, Oregon, Pennsylvania, Rhode Island, South Carolina, Tennessee, Texas, Virginia, Washington and Washington, D.C. The company can practice in all 50 states, though, along with the U.S. Virgin Islands and Puerto Rico.
How Does Merrill Edge Compare?
Investors who are unsure of what kind of investment account they want will find Merrill Edge to be a diverse brokerage firm. Its services allow you to see everything from a completed self-run investment account all the way up to a standard financial advisory relationship. Also, because of its relationship with Bank of America, BoA customers should look to Merrill Edge as their possible first choice.
Online trading and customer service are major strengths of Merrill Edge, but the same cannot be said for its mobile home on Apple and Android devices. So if mobile trading is your preference, Merrill may not be the best fit for you. On the other hand, more traditional investors will likely be satisfied.
E-Trade has a similar set of services, with highly-rated customer support and a powerful online trading platform. There are brokers, like Robinhood, that are focused more on a strong mobile experience.
Brokerage Comparison
Brokerage Firm
Fees
Minimum
Best For
Merrill Edge
$0
$0
– Desktop traders
– Bank of America Preferred Rewards members
– Customer service junkies
E-Trade
$0
$500
– Those who trade often
– Anyone who prefers strong customer service
Robinhood
$0
$0
– Mobile/online traders
– Self-sufficient investors
Disclosures
Merrill Lynch, which provides Merrill Edge's services, currently has 1,432 disclosures in its disciplinary past. Although this isn't terribly alarming considering the firm's enormous customer and trading base, some of its fines are quite high.
In June 2018, for instance, the SEC alleged that Merrill Lynch misled investors through a practice called "masking" to make it appear to be a much more active trader than it really was. The SEC ruled that Merrill modified records and other documentation related to this action and charged the company a $42 million fine.
Bottom Line
Aside from its weak mobile trading app and sometimes unrealistic requirements to be eligible for certain benefits, Merrill Edge has plenty to offer most investors searching for a broker to join forces with. The firm's fees are right in line with the market.
How Financial Planning Can Help Your Investments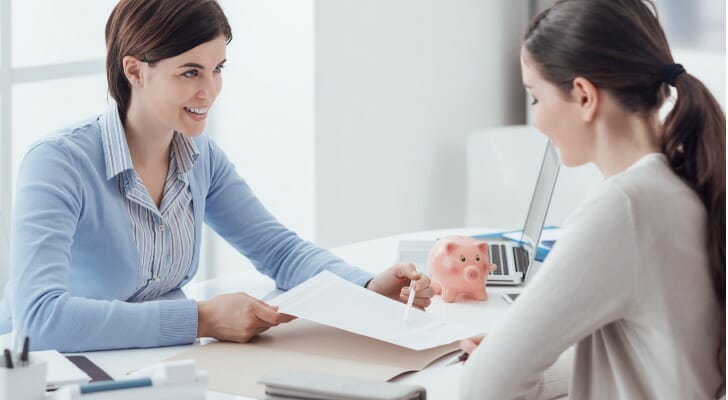 A succinct financial plan is a responsible way to ensure that every investment you make has a specific purpose behind it. For most people, this will likely include some form of planning for their retirement or retirement income. But regardless of the financial goals you choose for your investments, be sure to have a well-built plan in place.
In theory, financial planning may seem like a simple task, but there are many nuances to doing it successfully. SmartAsset's financial advisor matching tool takes your answers to a short questionnaire and pairs you up with as many as three local fiduciary advisors who can help you throw together a detailed financial plan.
Photo credit: MerrillEdge.com, ©iStock.com/demaerre