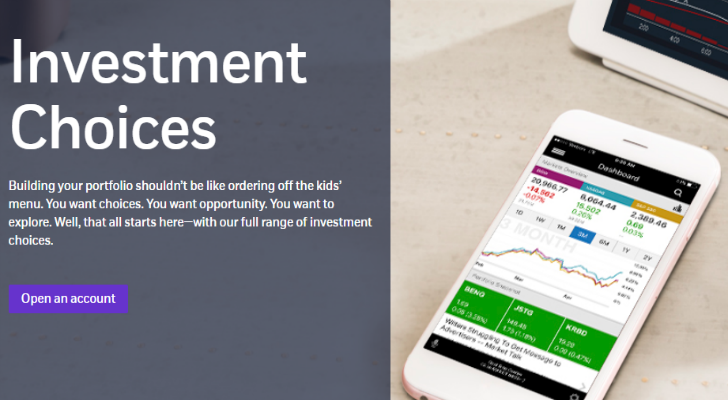 A big name in the investment and day-trading worlds, E*TRADE offers a wide variety of investments and platforms to trade them. Originally founded in 1982 as TradePlus, the company made its first online trade the following year and relaunched as E*TRADE in 1992. Should you choose to start trading with E*TRADE, you'll join over 3.9 million existing brokerage accounts. The company currently has $473 billion in assets under management.
E*TRADE Overview
Pros
– Investment options for long-term investors and short-term traders
– Free stock analyses and screeners
– Award-winning OptionsHouse trading platform
Cons
– Commissions and fees on most trades
– Minimum balance required to open account
Best For
– Active and experienced traders
Drawbacks
– Fees for commissions and trades can easily add up
– 200+ disclosures
E*TRADE Services & Features
E*TRADE offers investments and tools for both investing beginners and advanced traders. Here's a snapshot of the accounts, tools, and resources available to E*TRADE customers.
E*TRADE Services & Features
Feature/Service
Details
Account Types
– IRAs: Traditional, Roth, Rollover, Beneficiary
– 401(k)s (Individual and Roth)
– SEP and SIMPLE IRAs
– Taxable Accounts
– Custodial Accounts
– Coverdell ESA
– Managed Portfolios
Investment research tools
– Screeners and options chains
– Interactive charts
– Real-time streaming market data
– Stock ticker page
Educational Resources
– Videos, articles and live education sessions
– Covers beginner investing, stocks, options & futures, ETFs & mutual funds, bonds & fixed income, retirement & planning, tools & platforms and stock plan benefits
Customer Service
– Financial Consultants available on high-end portfolio accounts
– 24/7 access to Customer Service Representative
– Retirement Specialists available
Tools available to active traders include free screeners to find companies that fit into your portfolio, real-time streaming market data, interactive charts and stock ticker pages. E*TRADE users also have access to OptionsHouse, a powerful platform for trading options and other securities.
In addition to stocks, E*TRADE users can also trade bonds and options. And if you don't feel confident trading your own portfolio of individual securities, E*TRADE provides access to ETFs and mutual funds. While many of these funds charge fees to buy and sell, E*TRADE offers hundreds of commission-free funds.
No matter what you fill your portfolio with, E*TRADE provides its investors with ample research and tools to help you invest more effectively, including online screeners and Top 5 and All-Star Funds Lists. In addition, E*TRADE representatives are available over phone and live chat to help you manage your accounts, though access to financial advisors services will cost an additional fee.
Fees Under E*TRADE
You'll need at least $500 to start investing with E*TRADE. How much you pay in fees depends on what you're trading and how often you're trading it.
E*TRADE Fees
Fee Type
Rates
Stocks
– $6.95 per trade
– $4.95 per trade when making 30+ trades per quarter
ETFs
– $6.95 per trade
– $4.95 per trade when making 30+ trades per quarter
– $0 commission on more than 250 ETFs
– Expense ratios vary
Mutual Funds
– $19.99 for transaction fee funds
– $0 commission on more than 4,000 mutual funds
– $49.99 for early redemption of no-load / no-transaction-fee Mutual Funds
– Expense ratios and loads vary
Bonds
– $0 bond tools and research
– $1.00 commission per bond trade for online secondary market trades
Options
– $4.95 – $6.95 commission
– $0.50 – $0.75 contract fee
Futures
– $1.50 per contract, per side
– $2.50 bitcoin futures trades per contract, per side
Account activity fees
– $25 each for returned checks for insufficient funds, electronic transfer returned for insufficient funds and fed call extensions
– $5 for worthless securities processing
– $0.005 – $0.05 per share for ADRs custody fee
– $25 for forced margin liquidation
If you're doing your own trading of stocks, options, and other investments, you'll be charged commissions for each trade. The standard commission for stocks, options, and ETFs is $6.95 per trade, though you'll pay a discounted $4.95 per trade if you make at least 30 trades per quarter. Meeting this minimum can also knock your options contract fee down from $0.75 to $0.50 per trade.
E*TRADE does offer more than 250 ETFs that can be purchased with no transaction fees. There also more than 4,000 no-load / no transaction fee mutual funds available. Of course, these mutual funds and ETFs have expense ratios, meaning that a percentage of your balance will go toward management fees on an annual basis. Still, you can use E*TRADE's screener to find funds with low expense ratios, and some of the funds (primarily index funds) have ratios below 0.10%.
Given the wide range of fees, expense ratios, and exceptions, E*TRADE customers would be well advised to educate themselves on the various fee structures in place to make sure they're aware of what their investments will cost them.
Apart from the usual fees that come with trading, E*TRADE does have some ancillary fees you'll want to watch out for. You can be charged for returned checks with insufficient funds, electronic transfer returns due to insufficient funds, fed call extensions, worthless securities processing, forced margin liquidation and more.
Promotional Offer
In addition to their discounts for high-volume traders, E*TRADE is also currently offering a special promotion. New accounts with deposits of at least $10,000 will receive 60 days of commission-free stock and option trades. As part of this promotion, larger accounts will also get bonus cash to trade. The amount you deposit or transfer into your account will determine the exact amount of cash credit you receive.
Promotional Offer
Reward
Deposit or Transfer
$2,500 + commission-free trades
$1,000,000 and over
$1,200 + commission-free trades
$500,000–$999,999
$600 + commission-free trades
$250,000–$499,999
$300 + commission-free trades
$100,000–$249,999
$200 + commission-free trades
$25,000–$99,999
Commission-free trades
$10,000–$24,999
E*TRADE Online Experience
E*TRADE brands its web platform as the original place to invest online. It certainly has a lot to offer its customers, with a variety of tools and features to track the markets, place trades and learn more about investment practices. Through the website alone, you'll have access to third-party analyst research, quotes, news, charts, investing tools and screeners.
E*TRADE customers will also have access to the award-winning OptionsHouse trading platform. Previously its own brokerage, OptionsHouse now provides an advanced and easy-to-use platform for E*TRADE investors. Here, you'll be able to check on your performance, make trades of options and other equities, review options chains and evaluate your trades Wish List. The platform includes over 100 technical studies and over 30 drawing tools to help you hone your own trading strategies. OptionsHouse also provides instant access to streaming prices. That way, you can keep up with the market, as well as trade, cancel or change orders with one click.
E*TRADE Mobile Experience
You never have to fully unplug from your investments with E*TRADE. Not only do you have access to the E*TRADE mobile app, but there's also a separate app for your OptionsHouse platform. You can find the E*TRADE mobile app on both Apple and Android devices to manage your stocks, ETFs, mutual funds and options on the go.
Also available with both Apple and Android, the OptionsHouse app works like its desktop counterpart with the same professional-grade tools and features. Just like its web platform, the app allows you to trade ETFs, equities, futures and simple and complex options on a single trade ticket. You'll still have access to the advanced and interactive charts, customizable options chain, streaming market movement updates and trading ladders.
E*TRADE Customer Support
You can reach an E*TRADE representative in a number of ways. There are multiple customer support numbers, some of which are staffed 24/7 and others which are only reachable on weekdays.
If you're already a customer, you can speak to a representative through your secure message system or over email; just be careful of sending personal and financial information over an unsecure server. You can also contact the company by mail, and you can also head to one of E*TRADE's 30 retail branches if you happen to live near one.
Who Is E*TRADE For?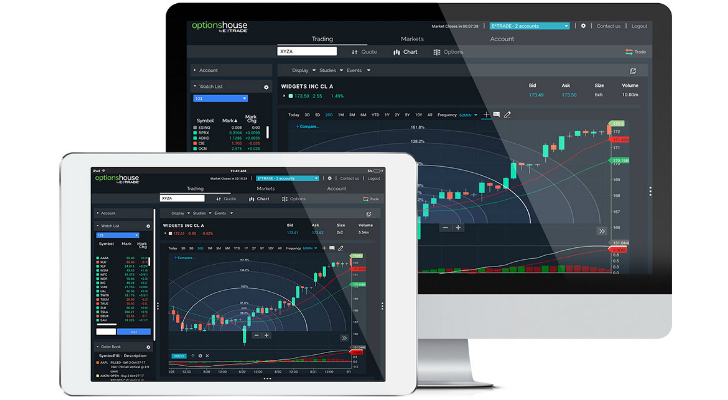 E*TRADE brokerage accounts provide options for a wide variety of investing styles and levels of experience. However, the brokerage's service – particularly the mobile app and the OptionsHouse trading platform – are primarily targeted toward active traders. Still, there are simple investment options for beginners, including commission-free ETFs and mutual funds.
If you'd rather have E*TRADE manage your portfolio, consider its robo-advisor arm E*TRADE Core Portfolios. Completing an eight-part questionnaire about your financial situation and objectives will help the advisor's algorithm create a proposed portfolio for you to approve. E*TRADE Core Portfolios automatically rebalances your funds semi-annually and after any deposits or withdrawals.
For more in-person advice and guidance on your portfolio, consider E*TRADE's Blend Portfolios. You'll have access to a Financial Consultant to help you craft the perfect portfolio. You will need at least $25,000 to get access to this service. For those with balances north of $150,000, E*TRADE's Dedicated Portfolios provides a fully custom portfolio and the services of a Financial Consultant.
Both options offer taxable and tax-sensitive portfolios, tax-loss harvesting, socially responsible investments and category and securities restrictions. Both also charge annual advisory fees:
E*TRADE Managed Portfolios
Service
Minimum
Annual Advisory Fee
Core Portfolios
$5,000
0.30% (waived first year)
Blend Portfolios
$25,000
0.65%-0.90%
Dedicated Portfolios
$150,000
0.95%-1.25%
How Does E*TRADE Compare?
E*TRADE is one of the leading online brokerages. Its variety of investment opportunities match the extent of offerings from other big competitors like TD Ameritrade and Merrill Edge. TD Ameritrade, however, offers the opportunity to trade forex and cryptocurrency, which E*TRADE does not currently offer.
E*TRADE maintains a slight edge over its competitors with its top-of-the-line trading platform, OptionsHouse. You can access this platform on both desktop and mobile. TD Ameritrade does offer its own advanced trading platform, called thinkorswim, for professional-grade, serious traders. This platform includes high-end tools to monitor potential risk and reward, perform analyses, test strategies, scan the market and more.
E*TRADE does have a minimum investment requirement of $500, which may be prohibitive for beginners. By contrast, neither TD Ameritrade nor Merrill Edge have minimum balance requirements.
Brokerage Comparison
Brokerage Firm
Fees
Minimum
Best For
E*TRADE
$6.95
$500
– Experienced and active traders
– Traders who want constant access to accounts, even on the go
TD Ameritrade
$6.95
$0
– Active traders with low balances
– Cryptocurrency and forex traders
Merrill Edge
$6.95
$0
– Bank of America customers
E*TRADE: What's the Catch?
Like any company that makes its money facilitating trading and investing, E*TRADE has plenty of fees. Each investment you buy, save for those commission-free ETFs and mutual funds, will come with a commission charge. These fees can really add up. And of course, even commission-free funds will have expense ratios that can cut into your returns.
Disclosures
E*TRADE has a total of 213 disclosures including 86 regulatory events and 127 events of arbitration. The latest disclosure event occurred in May 2017 when FINRA (the Financial Industry Regulatory Authority, Inc.) initiated and resolved a regulatory event.
E*TRADE: The Bottom Line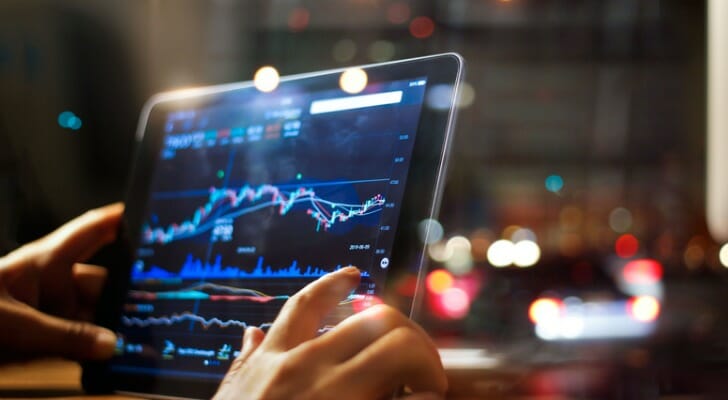 There is a lot that E*TRADE can offer its customers. From stock and option trading to low-cost mutual funds and ETFs, there are investment opportunities for anyone. You'll need to have at least $500 to start investing. You should also know about the various commissions that you'll be charged for trading.
Tips to Get Into Investing
Novice investors should go in with an investment plan and an eye toward the long-term goals for your portfolio. And if you find the world of trading and investing intimidating, it might help to start with a platform like Stash or Acorns. These apps offer a simple introduction into investing and allow you to be as hands-on as you'd like.
E*TRADE's Core Portfolio service is just one of many robo-advisor services on the market. These platforms offer a range of investment options, but the common denominator is the use of algorithms to optimize your asset allocation. Some may require your sign off on trades, while others make all final decisions. No matter what you choose, the robo-advisor will handle your investments for you.
Some investors want the human touch of a qualified professional. If that sounds like you, it's time to seek out a financial advisor. The right advisor can optimize your investments with your goals in mind, whether you're saving for retirement or just trying to get a little extra income. SmartAsset's financial advisor matching tool can connect you with up to three advisors in your area to get you started.
Photo credit: us.etrade.com, iStock.com/ipopba