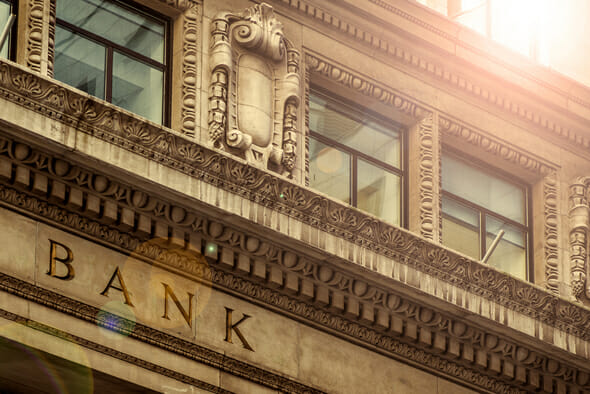 The consolidation of banks in the U.S. has been a trend over the past 35 years. In fact, in 1985, there were 14,427 banks that were insured by the Federal Deposit Insurance Corporation (FDIC). However, in 2021, there were only 4,951. On one hand, fewer banks mean less competition, which is bad for consumers. But on the other hand, big banks have lower costs, which they can pass on to their customers. Below is an overview of the 10 largest banks in the U.S., according to the number of assets they hold. If you have questions about how your banking choices can affect your long-term financial plan, consider working with a financial advisor.
1. JPMorgan-Chase
At the top of the list, JPMorgan-Chase holds $3.95 trillion in assets. This makes it the largest bank in the country, and one of the largest in the world. The company is the result of the 2000 merger of J.P. Morgan and Company and Chase Manhattan Corporation. While the J.P. Morgan name is used for investment banking and private wealth management, the bank provides retail and commercial bank services such as Chase.
Financial titan of the 19th century, John Pierpont Morgan, is the namesake of the company and founder of the original J.P. Morgan Bank. Early American politician and notorious duelist Aaron Burr were one of the creators of Chase Manhattan. Today, CEO Jamie Dimon leads the bank.
2. Citibank/Citigroup
Next up on the list is Citibank (formerly the City Bank of New York) with $2.394 trillion. A pioneer of both the credit card industry and automated teller machines, Citibank was regarded as an East Coast equivalent to Wells Fargo during the 19th century when both banks were purely regional. With its expansion to Argentina in 1914, Citibank was also the first U.S. bank to open a banking office in a foreign country. Today, the bank has nearly 1,000 branches in the U.S. and a couple hundred in the rest of the world.
3. Bank of America
With $2.43 trillion in consolidated assets, Bank of America is second on the list. Its headquarters in Charlotte, North Carolina singlehandedly makes the city one of the biggest financial centers in the country. Though it's not the largest bank, this company is in fact the world's largest wealth management firm, because it owns Merrill Lynch, a giant in that field.
Bank of America has nearly 5,000 branches in the country, which isn't far behind Chase. It started as a small institution serving immigrants in San Francisco at the beginning of the 1900s, that was, oddly enough, called the Bank of Italy. Bank of America briefly ventured into finance in China with the acquisition of a stake in a Chinese Construction Bank, which it later sold off.
4. Wells Fargo
Following a merger with Norwest Corporation in 1998 and an acquisition of Wachovia National Bank in 2008, Wells Fargo is the third-largest bank in the country with $1.88 trillion. Going by the number of branches, though, it is the largest, with 4,874, according to Statista. The financial services company has headquarters in San Francisco.
Wells Fargo holds the oldest continuously operating bank charter in the United States. Acquired through Wachovia, it was originally granted to the First National Bank of Philadelphia. In 2016, the bank gained some notoriety after news came out about a corporate culture where employees felt pressured to create 2 million bank accounts without customers' permission. After a series of charges involving wrongful home foreclosures and violations of consumer protection laws, CEO Tim Sloan stepped down in 2019.
5. U.S. Bank/U.S. Bancorp
Fifth on the list, U.S. Bank, part of U.S. Bancorp, has more than $564 billion in consolidated assets. With headquarters in Minneapolis, the bank largely operates in the Midwest and West. It has 2,352 domestic branches.
The current bank is the result of many mergers and acquisitions of major regional banks, including Old National Bank, Heritage Bank, People's National Bank, Northwestern Commercial Bank, Heart Federal Savings and Loan and West One Bancorp. In 1997, First Bank System acquired and renamed what is now U.S. Bancorp, only to come under the control of Firstar Corporation in 2000. The newly consolidated bank kept the U.S. Bancorp name (since 1933, the law has prohibited banks from using "United States" in their names). It has since acquired many more banks such as Pacific Century Bank, Bay View Bank, Vail Banks, Downey Savings and Loan and Charter One Bank.
6. PNC
Pittsburgh-based PNC is a regional financial institution operating mostly on the East Coast. With 2,629 branches in a handful of eastern states and Washington, D.C., the bank has $557 billion in total assets.
An acronym for two different banks, PNC stands for both Pittsburgh National Corporation and Providence National Corporation. When the two Pennsylvania banks merged to form the beginnings of the current company, they decided to use just the acronym because of the coincidence of their acronyms. PNC was an early adopter of "virtual wallet" services among traditional banks.
7. Truist Bank
Compared to the other banks on this list, Truist Bank is the youngest entry. In fact, Truist only came into existence in September of 2019. It was formed via the merger of two other large banks: SunTrust and BB&T (Branch Banking and Trust Company). Today, the bank boasts $528 billion in total assets.
The bank's holdings are quite wide-ranging, as it holds various arms that cover insurance, investing, wealth management and more. It also boasts one of the largest pools of branch locations, as it currently operates 2,781 offices.
8. Bank of New York Mellon
The Bank of New York was co-founded in 1784 by none other than the first Secretary of the Treasury, Alexander Hamilton. Bank of New York Mellon (BNY Mellon) is the result of the merging of that firm and T. Mellon and Sons, a Pittsburgh institution that financed the steel and fuel industries. This long history makes BNY Mellon the oldest banking corporation in the country. It holds $444 billion in total assets and operates branches in 29 U.S. cities, Washington, D.C. and three countries (Dubai, Grand Cayman and England). Its subsidiary BNY Mellon Wealth Management provides investment management services.
9. TD Bank
With $434 billion in assets, TD Bank is also a combination of several banks. Over the years, it has gone by the name Portland Savings Bank, Banknorth and now TD Bank. In 2008, it acquired Commerce Bank and then merged with Canadian TD Banknorth.
The TD in TD Bank actually stands for Toronto-Dominion. Though its parent company is Canadian, the U.S. subsidiary has headquarters in Cherry Hill, New Jersey, and 1,220 branches in the country.
10. Capital One
Capital One is primarily a retail banking operation, providing credit cards, auto loans and home loans in addition to checking and savings services. Originally a pure credit card company, Capital One expanded into banking in earnest in 2005. Early in 2014, Capital One was criticized for changing its customer terms of service to allow the bank to contact customers in any manner it chose, including deliberately deceiving them with fake phone caller IDs. Today, Capital One has more than $432 billion in assets, though its number of branches is one of the smallest on this list.
Frequently Asked Questions (FAQs) for the Largest Banks
We've compiled a list of frequently asked questions regarding the top banks in America by assets held and have answered each below:
What is the most trustworthy bank in America? The most trustworthy bank may differ by state or even branch location because everyone is going to relate their banking experience with the people they deal with on a daily basis. With banking becoming more online, the overall experience of dealing with customer service and the fees they are charged become more important. JP Morgan-Chase ranks highly by its customers for brand recognition and net trust, and the bank also tops our list as the largest bank in America.
Which bank is in all 50 states? JP Morgan-Chase comes the closest to having branches in all 50 states. There is no bank that has a branch location in every state, but Chase has locations in all 48 lower states, only excluding Alaska and Hawaii. Wells Fargo has more branch locations, however. Keep in mind that with the popularity of online banking, you may not need a physical location to use the bank of your choice.
Who is the best bank to bank with? The best bank to put your money with and create a banking relationship is a personal choice. Every bank on our list is large enough to protect your assets and they all have branches is at least around half the country. Choosing the right bank account or lending opportunity might be the differentiating factor between these banks. For example, you can choose the bank that gives you the best rates.
Tips for Choosing a Bank Account
Your checking, savings and other bank accounts can play a large role in your overall financial plan. A financial advisor can help you determine if your banking choices fall in line with your overall goals. Finding a qualified financial advisor doesn't have to be hard. SmartAsset's free tool matches you with up to three financial advisors who serve your area, and you can interview your advisor matches at no cost to decide which one is right for you. If you're ready to find an advisor who can help you achieve your financial goals, get started now.
If your local bank's fees seem high, consider trying a national bank that offers online accounts or an online bank that has no physical branches. To increase their customer base, these banks often have lower requirements to avoid fees and offer higher interest rates on savings.
Source: Federal Reserve
Photo credit: ©iStock.com/Warchi, ©iStock.com/fizkes