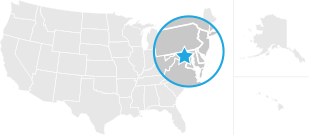 Overview of District of Columbia Taxes
Washington, D.C. residents pay a progressive district income tax. The District of Columbia's property taxes would rank as the fourth lowest among U.S. states. Washington, D.C. has a sales tax of 6%. Retired? Use our Retirement Income Tax Calculator.
Enter your financial details to calculate your taxes
Household Income

Dismiss

Location

Dismiss
Advanced

401(k) Contribution

Dismiss

IRA Contribution

Dismiss

Dismiss

Number of Personal Exemptions

Dismiss
Your Income Taxes Breakdown
Tax

Type

Marginal
Tax Rate
Effective
Tax Rate
2018
Taxes*
Federal

FICA

State
Local
Total Income Taxes
Income After Taxes

Retirement Contributions

Take-Home Pay
* These are the taxes owed for the 2018 - 2019 filing season.
Changes to Your Federal Income
Taxes Under the 2018 Tax Reform
Your

marginal federal income tax rate

Your

effective federal income tax rate

Your federal income taxes
Total Estimated 2018 Tax Burden

Total Estimated Tax Burden

$

Percent of income to taxes =

%

$
Our Tax Expert

Jennifer Mansfield, CPA Tax

Jennifer Mansfield, CPA, JD/LLM-Tax, is a Certified Public Accountant with more than 30 years of experience providing tax advice. SmartAsset's tax expert has a degree in Accounting and Business/Management from the University of Wyoming, as well as both a Masters in Tax Laws and a Juris Doctorate from Georgetown University Law Center. Jennifer has mostly worked in public accounting firms, including Ernst & Young and Deloitte. She is passionate about helping provide people and businesses with valuable accounting and tax advice to allow them to prosper financially. Jennifer lives in Arizona and was recently named to the Greater Tucson Leadership Program.

...read more
Save more with these rates that beat the National Average
​If you could change one thing about ​this page what would it be?​
Thank you for your answer! Your feedback is very important to us.
We are working hard to improve our product and could use your help!
We pay $30 for 30 minutes on the phone to hear your thoughts on what we can do better.
Please enter your email if you'd like to be contacted to help.
| | | | |
| --- | --- | --- | --- |
| | | | |
| Please enter your name | Please enter a valid email | | |
Taxes in Washington, D.C.
District of Columbia Tax Quick Facts
Income tax: 4% - 8.95%
Sales tax: 6%
Property tax: 0.55% average effective rate
Gas tax: 23.5 cents per gallon of regular gasoline and diesel
In addition to federal income taxes, taxpayers in the nation's capital pay local taxes to the District of Columbia. These include a district income tax, with rates ranging from 4% to 8.95%, a 6% sales tax, and property taxes on real estate. The District has an average effective property tax rate of 0.55%. Of course, all of these taxes have their own specific rules and exceptions.
A financial advisor in Washington, D.C. can help you understand how taxes fit into your overall financial goals. Financial advisors can also help with investing and financial plans, including retirement, homeownership, insurance and more, to make sure you are preparing for the future.
Washington, D.C. Income Taxes
Any person who lived in the District of Columbia for at least 183 days during the course of the year must file a D.C. tax return (though only if he or she was required to file a federal tax return). The D.C. income tax consists of six tax brackets, with rates from 4% to 8.95%. The table below shows the brackets and rates for all filing statuses in D.C.
Income Tax Brackets
All Filers
District of Columbia Taxable Income
Rate
$0 - $10,000
4.00%
$10,000 - $40,000
6.00%
$40,000 - $60,000
6.50%
$60,000 - $350,000
8.50%
$350,000 - $1,000,000
8.75%
$1,000,000+
8.95%
D.C. income tax rates apply to taxable income. This is derived from federal adjusted gross income (AGI), which includes salaries, wages, interest, dividends, capital gains (described in further detail below), rental income and royalties. However, a number of adjustments can be made to that total to reduce taxable income.
For example, part-year residents can subtract income earned while they were not living in D.C. Any Social Security income that is taxed federally can also be subtracted, as can interest from U.S. debt obligations, long-term care insurance premiums and contributions to D.C. College Savings Plans (up to $4000 for single filer or $8000 for joint filers).
After adjustments have been made, you can apply deductions. The standard deduction in D.C. for the 2018 tax year is $5,650. Married couples filing jointly can claim a standard deduction of $10,275 and those filing as a head of household have a deduction of $7,800. As an alternative, you can also claim itemized deductions in D.C. These are equal to the total of your federal itemized deductions, less the amount you claimed for either the state and local income tax deduction or the state and local general sales tax deduction.
The last step is to apply exemptions. The exemption amount in Washington, D.C. is $1,775. Multiply this amount by the number of exemptions listed on your federal income tax return to get your total exemption, which, along with deductions, can be subtracted from your adjusted gross income to calculate taxable income. If you need help filing taxes, you can look into tax preparation software like H&R Block and TaxAct or hire a professional accountant.
Washington, D.C. Tax Credits
Once you have calculated your income tax in D.C., you may be eligible for a number of credits that will reduce your income taxes owed. Credits for individual taxpayers in D.C. include:
The credit for child and dependent care expenses is equal to 32% of the federal credit.
The Earned Income Tax Credit is equal to 40% of the federal credit.
The state income tax credit is credit for income taxes paid in other states.
The alternative fuel credit is available to taxpayers who install alternative vehicle infrastructure in their homes (charging stations, etc.) or who convert their vehicles from gasoline to an alternative fuel.
Washington, D.C. Sales Tax
The general sales tax rate in Washington, D.C. is 6%. This is collected by retailers and vendors, and charged to consumers. It applies to most goods (also called "tangible personal property") and some services.
Types of services that are subject to sales tax in D.C. include maintenance of real property (buildings, houses, land, etc.) and landscaping; data processing services such as word processing, business accounting and data storage; and information services like electronic data retrieval, wire services, scouting services and surveys.
There are a number of items specifically exempt from sales tax in Washington, D.C. Prescription and non-prescription drugs are exempt, as are groceries and public utilities like gas and electric service. Public utilities do pay a gross receipts tax of 10%; this is not directly charged to consumers but may lead to higher prices.
On the other hand, some goods and services face higher sales tax rates. Private parking lots are subject to a tax of 18%. Hotels and motels face a tax rate of 14.95%. Restaurants, rental cars and liquor are all subject to a tax rate of 10.25% (read more about the liquor tax below).
D.C. also collects a separate motor vehicle excise tax at the issuance of new certificates of title for any motor vehicle. The rates depend on the fair market value and weight of the vehicle. Vehicles up to 3,499 pounds face a rate of 6%. Vehicles from 3,500 to 4,999 pounds face a rate of 7%. Vehicles weighing more than that are subject to a rate of 8%.
Washington, D.C. Property Tax
D.C. has some of the lowest property taxes in the country. The city's listed tax rate on residential property is 0.5%, but that rate is applied to assessed value, which is not necessarily equal to a home's actual market value. In fact, the effective property tax rate in the district - which is the property tax as a percentage of market (and not assessed) value - is a mere 0.55%. That would rank as the fourth-lowest property tax rate among states.
To learn more about getting a mortgage in D.C. – for either purchasing a home or refinancing – check out our D.C. mortgage guide. It highlights important information about rates and getting a mortgage in the nation's capital.
Washington, D.C. Gas Tax
The gas tax in the nation's capital is 23.5 cents per gallon. The tax applies not only to gasoline, but to all fuel types, including diesel, kerosene, ethanol and benzol. When including the federal gas tax of 18.4 cents, the total gas tax in D.C. is 41.9 cents per gallon.
Washington, D.C. Cigarette Tax
Cigarettes are taxed at a rate of $4.50 per pack of 20 in Washington, D.C. That's the highest cigarette tax in the United States. Cigarettes sold to the military and to the federal government are exempt from this tax.
Washington, D.C. Alcohol Tax
Alcohol sales in Washington, D.C. face two separate types of taxes. The first are excise taxes that are charged to the wholesaler. These vary by the type of alcohol. Beer is taxed at a rate of $2.79 per barrel (9 cents per gallon). Wine with less than 14% alcohol by volume is taxed at rate of 30 cents per gallon, while wine with more than 14% alcohol by volume is taxed at a rate of 40 cents per gallon. Liquor is taxed at a rate of $1.50 per gallon.
The second type of tax is the alcohol-specific sales tax. The rate for that tax is 10.25% of the purchase price, which is charged by the vendor to the consumer.
Washington, D.C. Estate Tax
Washington, D.C. has an estate tax that applies to estates of over $5.6 million. For estates above that threshold, rates are applied based on the total gross estate. That includes bank accounts, real estate, automobiles, investments and other valuable property held by the decedent. Tax rates are applied to the taxable estate based on brackets. The top rate of 16% applies to the portion of any estate over $10 million.
About 30% of the population of Washington, D.C. is employed by the government.
Construction on the Washington Monument was halted for 23 years, from 1854 to 1877, because of a lack of funding, discord in the Washington National Monument Society and the Civil War.
Washington, D.C. has nineteen separate universities and colleges.
Calculate Your Income Taxes in These Other States
Places with the Lowest Tax Burden

Are you curious how your tax burden stacks up against others in your state? SmartAsset's interactive map highlights the counties with the lowest tax burden. Scroll over any county in the state to learn about taxes in that specific area.

Methodology

Where you live can have a big impact on both which types of taxes you have to pay each year and how much money you spend on them. SmartAsset calculated the amount of money a specific person would pay in income, sales, property and fuel taxes in each county in the country and ranked the lowest to highest tax burden.

To better compare income tax burdens across counties, we used the national median household income. We then applied relevant deductions and exemptions before calculating federal, state and local income taxes.

In order to determine sales tax burden we estimated that 35% of take-home (after-tax) pay is spent on taxable goods. We multiplied the average sales tax rate for a county by the household income less income tax. This product is then multiplied by 35% to estimate the sales tax paid.

For property taxes, we compared the median property taxes paid in each county.

For fuel taxes, we first distributed statewide vehicle miles traveled down to the county level using the number of vehicles in each county. We then calculated the total number of licensed drivers within each county. The countywide miles were then distributed amongst the licensed drivers in the county, which gave us the miles driven per licensed driver. Using the nationwide average fuel economy, we calculated the average gallons of gas used per driver in each county and multiplied that by the fuel tax.

We then added the dollar amount for income, sales, property and fuel taxes to calculate a total tax burden. Finally, we created the Tax Burden Index in order to show how each county in the country compares to the county with the lowest tax burden (that is the county with a Tax Burden Index of 100).

Sources: US Census Bureau 2017 American Community Survey, Government Sources, Avalara, American Petroleum Institute, GasBuddy, UMTRI, Federal Highway Administration, SmartAsset