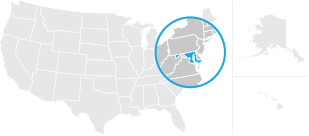 Overview of Maryland Taxes
Maryland has a progressive state income tax, as well as income taxes in every county. The state sales tax is among the lowest in the nation and the average effective property tax rate is right in line with the national average. Retired? Use our Retirement Income Tax Calculator.
Enter your financial details to calculate your taxes
Household Income

Dismiss

Location

Dismiss
Advanced

401(k) Contribution

Dismiss

IRA Contribution

Dismiss

Dismiss

Number of State Personal Exemptions

Dismiss
Your Income Taxes Breakdown
Tax

Type

Marginal
Tax Rate
Effective
Tax Rate
2019
Taxes*
Federal

FICA

State
Local
Total Income Taxes
Income After Taxes

Retirement Contributions

Take-Home Pay
* These are the taxes owed for the 2019 - 2020 filing season.
Your 2019 Federal Income Tax Comparison
Your

marginal federal income tax rate

Your

effective federal income tax rate

Your federal income taxes
Total Estimated 2019 Tax Burden

Total Estimated Tax Burden

$

Percent of income to taxes =

%

$
About This Answer

Our income tax calculator calculates your federal, state and local taxes based on several key inputs: your household income, location, filing status and number of personal exemptions. Also, we separately calculate the federal income taxes you will owe in the 2019 - 2020 filing season based on the Trump Tax Plan.

How Income Taxes Are Calculated

First, we calculate your adjusted gross income (AGI) by taking your total household income and reducing it by certain items such as contributions to your 401(k).
Next, from AGI we subtract exemptions and deductions (either itemized or standard) to get your taxable income. Exemptions can be claimed for each taxpayer as well as dependents such as one's spouse or children.
Based on your filing status, your taxable income is then applied to the the tax brackets to calculate your federal income taxes owed for the year.
Your location will determine whether you owe local and / or state taxes.

...read more

Last Updated: January 1, 2020

When Do We Update? - We regularly check for any updates to the latest tax rates and regulations.

Customer Service - If you would like to leave any feedback, feel free to email info@smartasset.com.

...read more

Our Tax Expert

Jennifer Mansfield, CPA Tax

Jennifer Mansfield, CPA, JD/LLM-Tax, is a Certified Public Accountant with more than 30 years of experience providing tax advice. SmartAsset's tax expert has a degree in Accounting and Business/Management from the University of Wyoming, as well as both a Masters in Tax Laws and a Juris Doctorate from Georgetown University Law Center. Jennifer has mostly worked in public accounting firms, including Ernst & Young and Deloitte. She is passionate about helping provide people and businesses with valuable accounting and tax advice to allow them to prosper financially. Jennifer lives in Arizona and was recently named to the Greater Tucson Leadership Program.

...read more
Find a Savings or CD account that works for you
Taxes can really put a dent in your paycheck. But with a Savings or CD account, you can let your money work for you. Check out these deals below:
​If you could change one thing about ​this page what would it be?​
Thank you for your answer! Your feedback is very important to us.
We are working hard to improve our product and could use your help!
We pay $30 for 30 minutes on the phone to hear your thoughts on what we can do better.
Please enter your email if you'd like to be contacted to help.
| | | | |
| --- | --- | --- | --- |
| | | | |
| Please enter your name | Please enter a valid email | | |
Taxes in Maryland
Maryland State Tax Quick Facts
State income tax: 2.00% - 5.75%
County income tax: 1.75% - 3.20%
Sales tax: 6.00%
Property tax: 1.10% average effective rate
Gas tax: 36.70 cents per gallon of regular gasoline, 37.45 cents per gallon of diesel
Maryland is among the states in which local governments levy their own taxes on personal income. Specifically, counties in Maryland collect income taxes with rates ranging from 1.75% to 3.20%. Additionally, there is a statewide income tax in Maryland, with a top rate of 5.75%.
While those combined state and local taxes place Maryland in the top half of U.S. states for income taxes, its state sales tax of 6% is relatively quite low. The state's property taxes, at an average effective rate of 1.10%, are slightly higher than average. Of course, all of these taxes and rates are subject to their own specific rules and exceptions. Here we'll take a closer look into the Maryland state tax system.
A financial advisor in Maryland can help you understand how these taxes fit into your overall financial goals. Financial advisors can also help with investing and financial plans, including retirement, homeownership, insurance and more, to make sure you are preparing for the future.
Maryland Income Taxes
There are both state and county income taxes in Maryland. The state tax is structured based on income brackets, similar to the federal tax system.,
Income Tax Brackets
Single Filers
Maryland Taxable Income
Rate
$0 - $1,000
2.00%
$1,000 - $2,000
3.00%
$2,000 - $3,000
4.00%
$3,000 - $100,000
4.75%
$100,000 - $125,000
5.00%
$125,000 - $150,000
5.25%
$150,000 - $250,000
5.50%
$250,000+
5.75%
Married, Filing Jointly
Maryland Taxable Income
Rate
$0 - $1,000
2.00%
$1,000 - $2,000
3.00%
$2,000 - $3,000
4.00%
$3,000 - $150,000
4.75%
$150,000 - $175,000
5.00%
$175,000 - $225,000
5.25%
$225,000 - $300,000
5.50%
$300,000+
5.75%
Married, Filing Separately
Maryland Taxable Income
Rate
$0 - $1,000
2.00%
$1,000 - $2,000
3.00%
$2,000 - $3,000
4.00%
$3,000 - $100,000
4.75%
$100,000 - $125,000
5.00%
$125,000 - $150,000
5.25%
$150,000 - $250,000
5.50%
$250,000+
5.75%
Head of Household
Maryland Taxable Income
Rate
$0 - $1,000
2.00%
$1,000 - $2,000
3.00%
$2,000 - $3,000
4.00%
$3,000 - $150,000
4.75%
$150,000 - $175,000
5.00%
$175,000 - $225,000
5.25%
$225,000 - $300,000
5.50%
$300,000+
5.75%
In addition to those statewide tax rates, taxpayers in Maryland pay additional income taxes based on the county in which they live (not where they work). County income taxes are assessed at a flat rate, which means the rate does not change based on income level - there are no brackets. The table below shows the tax rates for every county in Maryland.
County Income Tax Rates
| County | Tax Rate |
| --- | --- |
| Allegany | 3.05% |
| Anne Arundel | 2.50% |
| Baltimore (county) | 3.20% |
| Baltimore (city) | 2.83% |
| Calvert | 3.00% |
| Caroline | 3.20% |
| Carroll | 3.03% |
| Cecil | 3.00% |
| Charles | 3.03% |
| Dorchester | 2.62% |
| Frederick | 2.96% |
| Garrett | 2.65% |
| Harford | 3.06% |
| Howard | 3.20% |
| Kent | 2.85% |
| Montgomery | 3.20% |
| Prince Georges | 3.20% |
| Queen Anne's | 3.20% |
| Saint Mary's | 3.00% |
| Somerset | 3.20% |
| Talbot | 2.40% |
| Washington | 2.80% |
| Wicomico | 3.20% |
| Worcester | 1.75% |
The above rates apply to Maryland taxable income. Maryland taxable income is based on your federal adjusted gross income (AGI), but with some differences. While the number of personal exemptions in Maryland will equal the number of exemptions on your federal tax return, the exemption amount is different.
For single filers with an income less than $100,000, or joint filers with an income of less than $150,000, the exemption is $3,200. For single filers with income between $100,000 and $125,000, the exemption falls to $1,600; from $125,000 to $150,000 it falls to $800; and for single filers with AGI greater than $150,000 the exemption is zero. For joint filers or heads of household, the exemption is $3,200 up to $150,000 in income, $1,600 from $150,000 to $175,000, $800 up to $200,000 and zero beyond that.
Additionally, there are a number of deductions and credits available to taxpayers in Maryland. Taxpayers making a contribution to the Maryland Prepaid College Trust or the Maryland Broker-Dealer Investment Plan may claim a deduction of up to $2,500 per year (extra contributions may be carried over to subsequent years). Credits can be claimed for, among other things, income taxes paid in other states and for childcare expenses.
Maryland Sales Tax
The sales tax in Maryland is 6%. Unlike many other states, there are no local sales taxes anywhere in Maryland. Therefore, this rate does not vary depending on your location within the state. It applies to most goods, including personal property like furniture and clothing, but not to most services.
Alcoholic beverages are taxed at a higher rate, $0.54 per gallon of beer, $1.43 per gallon of wine and $5.02 per gallon of liquor. However, most food sold at grocery stores or markets is not subject to sales tax at all. Prepared food as served in a restaurant is taxed at the 6% rate. Vehicles and other large purchases are subject to the 6% tax rate, with vehicles facing a minimum tax of $38.40.
Maryland Property Tax
There are 179 separate tax authorities that collect property taxes in Maryland, including all 23 counties, the City of Baltimore and 155 incorporated cities. Rates vary depending on the district in which the home is located, but the statewide average effective rate (taxes paid as a percentage of home value) is 1.10%. This is slightly below the average among U.S. states of 1.08%. Baltimore County has one of the highest effective property tax rates in the state at 1.16%, while Talbot County's rate of 0.66% is lowest.
If you are looking to purchase a house or refinance your Maryland residence, take a look at our Maryland mortgage rates guide for all you need to know about mortgages in Maryland.
Maryland Estate Tax and Inheritance Tax
Maryland has both an estate tax and an inheritance tax. Estate taxes are paid by the estate, while inheritance taxes are paid by the heirs. The 2019 exemption for taxable estates is $5 million. Estates below that level do not need to pay the estate tax. Estates above that exemption pay a rate of up to 16%, with most estates paying closer to 10% of the value of the gross estate.
Even if an estate is exempt from the estate tax, heirs may still have to pay the inheritance tax. Property passed on to a child or direct descendent, the spouse of a child or direct descendent, a spouse, parent, grandparent, sibling, stepchild or stepparent is exempt from inheritance tax. Property passed on to anyone else, including friends or colleagues, is subject to a 10% inheritance tax rate.
Maryland Cigarette Tax
Maryland taxes cigarettes at 10 cents each, or $2.00 per pack of 20. Cigars face a tax rate of 70% of the wholesale price and other tobacco products face a rate of 30% of the wholesale price.
Maryland Gas Tax
The statewide gas tax in Maryland is 36.70 cents per gallon regular fuel, which is on the high side compared to the rest of the country. The tax on diesel is 37.45 cents per gallon, also on the high side.
The Capital of Maryland is Annapolis, which is also home to the United States Naval Academy and was the site of the Continental Congress in 1783-84.
Maryland has an area of 12,406 square miles, making it roughly the size of Belgium.
The Chesapeake Bay is the largest estuary in the United States and dominates the geography of Eastern Maryland.
Calculate Your Income Taxes in These Other States
Places with the Lowest Tax Burden

Are you curious how your tax burden stacks up against others in your state? SmartAsset's interactive map highlights the counties with the lowest tax burden. Scroll over any county in the state to learn about taxes in that specific area.

Methodology

To find the places with the lowest tax burdens, SmartAsset calculated the amount of money a specific person would pay in income, sales, property and fuel taxes in each county in the country.

To better compare income tax burdens across counties, we used the national median household income. We then applied relevant deductions and exemptions before calculating federal, state and local income taxes.

In order to determine sales tax burden, we estimated that 35% of take-home (after-tax) pay is spent on taxable goods. We multiplied the average sales tax rate for a county by the household income after taxes. This balance is then multiplied by 35% to estimate the sales tax paid.For property taxes, we compared the median property taxes paid in each county.

For fuel taxes, we first distributed statewide vehicle miles traveled to the county level using the number of vehicles in each county. We then calculated the total number of licensed drivers within each county. The countywide miles were then distributed amongst the licensed drivers in the county, which gave us the miles driven per licensed driver. Using the nationwide average fuel economy, we calculated the average gallons of gas used per driver in each county and multiplied that by the fuel tax.

We then added the dollar amount for income, sales, property and fuel taxes to calculate a total tax burden. Finally, each county was ranked and indexed, on a scale of 0 to100. The county with the lowest tax burden received a score of 100 and the remaining counties in the study were scored based on how closely their tax burden compares.

Sources: US Census Bureau 2018 American Community Survey, Government Sources, Avalara, American Petroleum Institute, GasBuddy, UMTRI, Federal Highway Administration, SmartAsset