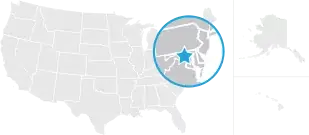 Overview of District of Columbia Mortgages
Washington D.C.'s population has grown dramatically over the last two decades. While more people rent than own in D.C., it's still possible to find good real estate to buy if you're set on being a homeowner in the nation's capital. The mortgage rates here tend to be slightly lower than the national average. Conforming loan limits in Washington, D.C. are the maximum amount, indicating the high cost of real estate.
National Mortgage Rates
Source: Freddie Mac Primary Mortgage Market Survey, SmartAsset Research
Details
Purchase or Refinance
Select Purchase or Refinance
Dismiss
Location
Enter your location
Dismiss
Target Home Value
Enter target home value
Dismiss
Down Payment
Enter down payment
Dismiss
Current Home Value
Enter current home value
Dismiss
Current Mortgage Balance
Current Mortgage Balance
Enter current mortgage balance
Dismiss
Credit Rating
Select Your Credit Rating
Dismiss
Share Your Feedback
How would you rate your experience using SmartAsset's financial advisor matching service so far?
What is the most important reason for that score? (optional)
Please limit your response to 150 characters or less.
Thank you for your answer! Your feedback is very important to us.
Historical Mortgage Rates in Washington, D.C.
District of Columbia Mortgage Rates Quick Facts
Median Home Value: $646,500 (U.S. Census Bureau)
Loan Funding Rate: 55.34% (CFPB)
Homeownership Rate: 42.5% (St. Louis Fed)
Median Monthly Homeownership Costs: $2,569 (U.S. Census Bureau)
The Washington, D.C. mortgage market is home to high prices. Building heights in D.C. are constrained, so the supply of housing is limited. However, Washington, D.C. mortgage rates are similar to rates in the rest of the country.
A financial advisor in Washington, D.C. can help you plan for the homebuying process. Financial advisors can also help with investing and financial plans, including tax, retirement and estate planning, to make sure you are preparing for the future.
District of Columbia Historic Mortgage Rates*
| Year | District of Columbia Rate | U.S. Rate |
| --- | --- | --- |
| 2000 | 7.82 | 7.86 |
| 2001 | 7.02 | 6.94 |
| 2002 | 6.56 | 6.44 |
| 2003 | 5.69 | 5.67 |
| 2004 | 5.50 | 5.68 |
| 2005 | 5.64 | 5.85 |
| 2006 | 6.51 | 6.54 |
| 2007 | 6.50 | 6.42 |
| 2008 | 6.08 | 6.06 |
| 2009 | 4.96 | 5.05 |
| 2010 | 4.84 | 4.81 |
| 2011 | 4.52 | 4.56 |
| 2012 | 3.65 | 3.65 |
| 2013 | 3.86 | 3.84 |
| 2014 | 4.15 | 4.13 |
| 2015 | 3.84 | 3.88 |
| 2016 | 3.59 | 3.73 |
| 2017 | 3.94 | 4.03 |
| 2018 | 4.51 | 4.56 |
*The FHFA stopped reporting new data in 2018.
Washington, D.C. Mortgages Overview
Getting a mortgage in Washington, D.C. isn't as common a practice as it is in some other parts of the country. D.C.'s homeownership rate is on the low side, meaning more households are renters than are buyers.
Washington, D.C. home prices are high, which is why the conforming loan limit in the District is $970,800, well over the $647,200 limit that's standard in most areas around the U.S. Any loans over the conforming loan limit are considered jumbo loans and typically come with a higher interest rate.
Conforming and FHA Loan Limits by County
| County | Conforming Limit | FHA Limit |
| --- | --- | --- |
| District of Columbia | $970,800 | $970,800 |
D.C.'s growing population - particularly millennials - is driving up demand for rental housing in the city. You'll probably have to go outside the Beltway and have a longer commute to work for a property that's relatively affordable. That's not as popular a choice as it once was, which is why so much of the new housing construction in Washington, D.C. is geared toward renters.
If you're ready to take the plunge and buy a home in D.C., you'll probably find that the competition is steep. Housing inventory in the city is low. There's one quirk of the Washington, D.C. mortgage market that you should keep in mind: parking. If you own a car or you think you might at some point down the road, it's worth evaluating the parking options that come with each home listing you're considering.
Some listings require that you purchase a separate parking space to go with your house, condo or co-op apartment. These spaces can add tens of thousands of dollars to the purchase price of your home, but you may be able to rent out the space if you don't plan to use it yourself. Other homes come with onsite parking, either in a lot, garage or driveway. Be sure to ask about parking (and whether you're entitled to rent out your parking space) before you commit to a home purchase.
30-Year Fixed Mortgage Rates in Washington, D.C.
When it's time to get a mortgage, most people turn to the 30-year fixed-rate mortgage. It's a dependable mortgage because the monthly payment will stay the same for all 30 years of the mortgage term, unless you decide to refinance. You can get a mortgage with a shorter loan term and be debt-free earlier, but your monthly payments will be larger because you'll be paying off the same loan in less time. There are also 40-year loans, but by the time you pay one of those off, you will have paid a lot of money in mortgage interest.
The average 30-year fixed mortgage rate in Washington, D.C. is 3.44% (Zillow, Jan. 2022).
Washington, D.C. ARM Loan Rates
An adjustable-rate mortgage, or ARM, is exactly what it sounds like – a mortgage whose interest rate can "adjust" over time. After an introductory period that can last for between one and 10 years, your lender has the right to adjust your mortgage interest rate up or down once a year. The total increase over the loan term is capped in the mortgage documents, but adjustable-rate mortgages can still leave homeowners with monthly payments that are higher than they can afford. However, if you think you'll sell the home before the introductory period ends, you may decide to take advantage of the lower rates that prevail during the initial periods on ARMs.
The average rate for a 5/1 ARM in Washington, D.C. is 2.83% (Zillow, Jan. 2022).
Washington, D.C. Mortgage Resources
Buying a home in Washington, D.C. is out of reach for many low- and middle-income households, but there are resources that can help families make the jump from renting to owning. The D.C. Department of Housing and Community Development (DHCD) runs a Home Purchase Assistance Program (HPAP).
HPAP provides interest-free loans and closing cost help to qualified residents who want to purchase single-family homes, condos or co-ops. The loan amount you can finance through HPAP will depend on your income, household size and assets. Your interest rate will be 0% for the first five years and your loan will be amortized over 40 years.
Gap financing of up to $80,000 is also available, in addition to closing cost assistance of up to $4,000. Your required contribution will be $500 or 50% of your liquid assets greater than $3,000, whichever amount is bigger. However, you can waive contributions greater than $500 based on need, age and disability status.
Available Resources
| Resource | Problem or Issue | Who Qualifies |
| --- | --- | --- |
| D.C. Department of Housing and Community Development | Offers interest-free loans and closing cost assistance, foreclosure assistance and home rehabilitation. | Low-to-moderate-income first-time homebuyers with good credit. |
| DCHousingSearch.org | Offers links to resources for people needing affordable housing. | Varies depending on the program. |
To be eligible for HPAP, you must be the head of your household and a first-time homebuyer. You must qualify as low-to-moderate income according to the D.C. Department of Housing and Community Development. You can't have owned a home within the last three years and the home you intend to purchase must be for use as your primary residence.
You must have good credit and intend to buy a home in the District. D.C. residents, low-income applicants, elderly applicants, disabled residents and displaced District residents will be given priority in the application process.
Another resource for aspiring homebuyers in D.C. is called Tenant Opportunity to Purchase Assistance. Run by the DHCD, the program provides assistance to rental tenants who are facing displacement due to the sale of their apartment building. It helps tenants in a rental building band together and purchase their building for conversion into coops and condos.
According to the program's website, available help for tenant groups includes "seed money, earnest money deposits and acquisition assistance." There are also free organizational and development services for tenant groups – help with things like preparing legal documents and applying for a loan.
The District of Columbia also has an inclusionary zoning housing lottery and a website where you can look for affordable housing options in the District.
Washington, D.C. Mortgage Taxes
If you sell your home in the District of Columbia, you'll pay deed transfer taxes. These amount to 1.10% of fair market value for residential property transfers (sales) of up to $400,000 or 1.45% of fair market value if the sale is higher than $400,000. In Washington, D.C., the seller typically pays these costs.
There's also a deed recordation tax that's levied at the same rate as the deed transfer taxes. This operates the same way as the above transfer tax. The buyer typically pays this tax. There are recording fees that can vary by property. Payment of these fees can be negotiated between the buyer and the seller.
The property tax rate in Washington, D.C. is $0.85 per $100 of assessed value for usable and occupied residential properties. Some D.C. mortgages roll property tax payments into your monthly mortgage payments and have the lender pay the taxes to the government. This isn't always the case, though, so be sure to check with your lender to determine how your property taxes will be paid.
D.C. has a generous homestead exemption that, depending on your income, lets you deduct money from your property value for property tax assessment purposes. However, if you fall behind on your property taxes in Washington, D.C. your debt can pile up quickly. The penalty for delinquent property tax payments is 10% of your tax, and interest on your unpaid debt accrues at a rate of 1.5% of the tax for each full or partial month your payment is late.
That steep penalty has led to a high rate of property tax foreclosure in Washington, D.C., making it extra important to stay on top of your property tax payments in the District. If you fall behind, your property can be sold at a tax sale to cover your tax liability. To get it back, you would have to pay all taxes, assessments, fees and costs due to the District of Columbia, plus legal costs due to the tax sale buyer.
The foreclosure process, whether for property tax delinquency or mortgage payment delinquency, does not require the lender to take the homeowner to court. In other words, non-judicial foreclosure is permitted in Washington, D.C. If you want your case to go before a judge before the home is sold in a foreclosure sale you will have to hire an attorney and take your lender to court.
Borrowers can also request foreclosure mediation with their lender for a fee of $50 if they submit a Mediation Election Form and a Loss Mitigation Application to both the D.C. Department of Insurance, Securities and Banking's Mediation Administrator and to the lender.
If no court case ensues, the foreclosure process in D.C. generally takes around 60 days. If your lender sells the home for less than the amount you still owe, the lender can go after your assets to collect that "deficiency," (the difference between what the lender obtained in the sale and what you still owe on your mortgage).
Washington, D.C. Mortgage Refinance
Ready to refinance your Washington, D.C. mortgage? You won't have to pay transfer or recordation taxes if you refinance your property and don't take out any construction funds in the refinance. You also don't have to use the same lender who helped you with your original District of Columbia mortgage. You can see if another refinance lender can offer you more favorable rates and terms.
See Mortgage Rates in These Other States