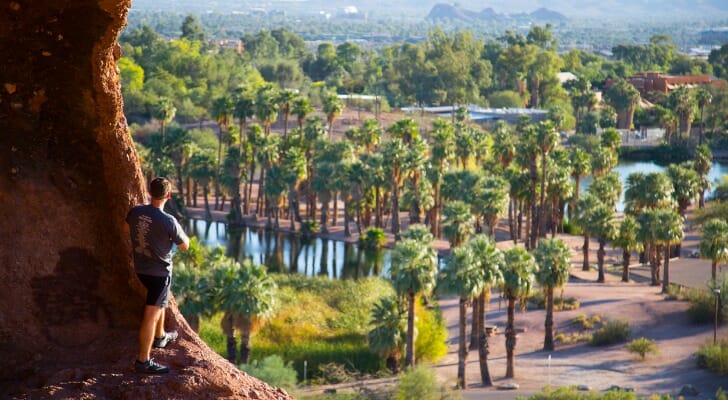 Considering a move to Phoenix? You're probably wondering whether you can afford to settle there. Our guide to the cost of living in Phoenix highlights low housing costs, low rent rates and low income taxes in the city. Additionally, Phoenix is growing quickly, but there are still bargains to be found. In the Valley of the Sun, you'll have the benefits of an urban setting, plus the beauty of the surrounding desert.
Home Prices in Phoenix
More than half of Phoenix residents are homeowners, but the city's housing market isn't quite as valuable as some other major metro areas in the western United States. For example, the median sales price for a single-family home in Los Angeles is $576,100, according to the National Association of Realtors. In San Diego, that number jumps to $626,000. Meanwhile, the Phoenix median sits at $272,700.
One area where the Phoenix home market has performed well is its home appreciation rates. According to data from NeighborhoodScout, Phoenix homes have appreciated by 107.38% from 2000 to 2018. That's a strong rate not only within Arizona, but also across the U.S. as a whole.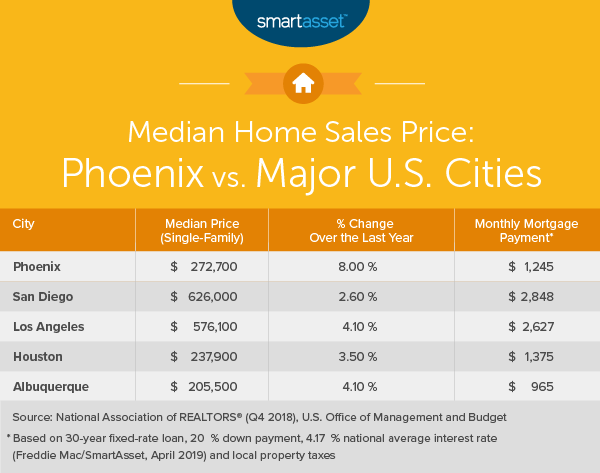 Phoenix Rent
If you're deciding whether to rent or buy, you should know that Phoenix rents leave a lot of opportunity for renters. To be exact, every apartment type in the city comes in lower than the national median for rent, according to a March 2019 report by Apartment List. For those that prefer a smaller apartment, the medians for studios ($707) and one bedrooms ($859) are $120 and $88 less than their respective U.S. medians. The same trend applies for both two bedroom and three bedroom apartments as well.
Unsure of whether buying or renting is a better financial move for you? Try speaking with a financial advisor about the specifics of your personal situation.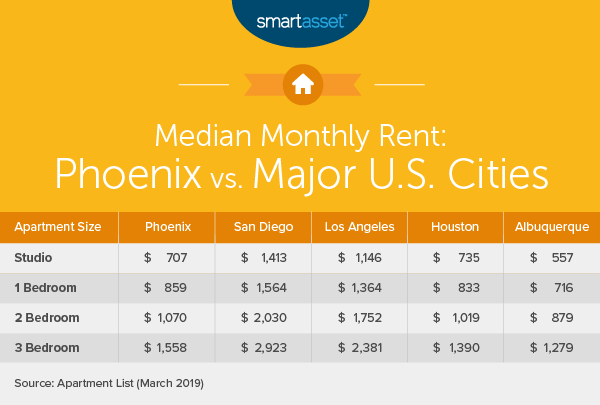 Utilities in Phoenix
Both renters and buyers have to cover their utilities. According to Numbeo.com (May 2019), the average basic utilities package for a 915-square foot place in Phoenix is $159.19 a month. That covers water, electricity, heating and garbage, and it's about $17.10 more expensive than the U.S. average of $152.09. Internet will cost you around $74.35 per month in Phoenix, which is much pricier than the U.S. average of $62.52.
Food in Phoenix
The food scene in Phoenix is actually pretty cheap. Numbeo.com lists a recommended minimum amount of money for food in Phoenix of $9.35 per day or $289.96 per month. That's almost a full $35 more expensive than the national monthly average, which comes out to $324.53.
If you have more wiggle room in your budget and can afford to eat out, expect to pay around $12 for an inexpensive meal in Phoenix. A three-course meal for two at a mid-range Phoenix restaurant should cost you around $60.
Phoenix Taxes
The city of Phoenix is located in Maricopa County. The average effective property tax rate countywide is just 0.68%, which is well below the 0.77% Arizona average. In addition to low property taxes, Arizona residents pay low income taxes, too. Income tax rates in the state range from 2.59% to 4.54%, depending on your income bracket.
Unfortunately, the sales tax in Phoenix is high, though. Residents of the city pay a sales tax rate of 8.6%. This is the combination of the state sales tax rate (5.6%), along with a combined county/city rate (3%).
Transportation in Phoenix
Like most American cities, Phoenix is a driving town. That doesn't mean Phoenix lacks public transportation, though. Buses and a light rail services are common here. In the greater Phoenix area, there are commuter buses, a vanpool service to encourage carpooling, dial-a-ride and METRO light rail. A 31-day pass on the Valley Metro public transit system will cost you $64. That gives you access to local bus routes, LINK (a connector between bus and light rail) and light rail.
If you'd prefer to drive in Phoenix, just know that you'll pay quite a bit for fuel. A gallon of gas goes for $3.20, according to GasBuddy data from May 2019. That's not only expensive for the state of Arizona ($3.14), but it's also higher than the national average ($2.87).
Miscellaneous Cost of Living Facts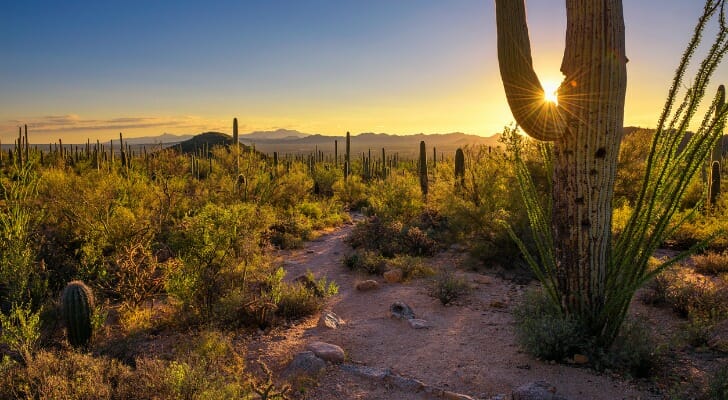 Sports fans in Phoenix have plenty of options. If you like the NBA, you can head to see the Phoenix Suns play basketball. According to Statista.com (2015/2016), the average ticket price for a Suns game is $56.10. If that sounds a little steep to you, you can instead check out the Arizona Diamondbacks play baseball. The average ticket price to go to the ballpark in Phoenix is only $19.65.
Cinema fans will find that you can see a movie in Phoenix for fairly cheap. Based on May 2019 data from Numbeo.com, the average ticket price for a movie in Phoenix is $10.25. Conversely, the average ticket price nationwide is $12.
Next Steps: Financial Moves to Make
Photo credit: © iStock.com/Josh Namdar, © iStock.com/miroslav_1