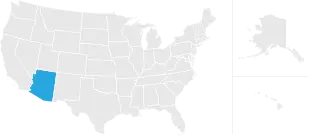 Overview of Arizona Taxes
Taxpayers in Arizona face below-average income tax rates and property tax rates, along with low gas taxes. But the state's sales tax is among the highest in the country.
Enter your financial details to calculate your taxes
Household Income

Dismiss

Location

Dismiss
Advanced

401(k) Contribution

Dismiss

IRA Contribution

Dismiss

Dismiss

Number of State Personal Exemptions

Dismiss
Your Income Taxes Breakdown
Tax

Type

Marginal
Tax Rate
Effective
Tax Rate
2021
Taxes*
Federal

FICA

State
Local
Total Income Taxes
Income After Taxes

Retirement Contributions

Take-Home Pay
* These are the taxes owed for the 2021 - 2022 filing season.
Your 2021 Federal Income Tax Comparison
Your

marginal federal income tax rate

Your

effective federal income tax rate

Your federal income taxes
Total Estimated 2021 Tax Burden

Total Estimated Tax Burden

$

Percent of income to taxes =

%

$
About This Answer

Our income tax calculator calculates your federal, state and local taxes based on several key inputs: your household income, location, filing status and number of personal exemptions. Also, we separately calculate the federal income taxes you will owe in the 2020 - 2021 filing season based on the Trump Tax Plan.

How Income Taxes Are Calculated

First, we calculate your adjusted gross income (AGI) by taking your total household income and reducing it by certain items such as contributions to your 401(k).
Next, from AGI we subtract exemptions and deductions (either itemized or standard) to get your taxable income. Exemptions can be claimed for each taxpayer as well as dependents such as one's spouse or children.
Based on your filing status, your taxable income is then applied to the the tax brackets to calculate your federal income taxes owed for the year.
Your location will determine whether you owe local and / or state taxes.

...read more

Last Updated: January 1, 2021

When Do We Update? - We regularly check for any updates to the latest tax rates and regulations.

Customer Service - If you would like to leave any feedback, feel free to email info@smartasset.com.

...read more

Our Expert
Find a Savings or CD account that works for you
Taxes can really put a dent in your paycheck. But with a Savings or CD account, you can let your money work for you. Check out these deals below:
Share Your Feedback
How would you rate your experience using SmartAsset's financial advisor matching service so far?
What is the most important reason for that score? (optional)
Please limit your response to 150 characters or less.
Thank you for your answer! Your feedback is very important to us.
Taxes in Arizona
Arizona State Tax Quick Facts
Income tax: 2.59% - 4.50%
Sales tax: 5.60% - 11.20%
Property tax: 0.62% average effective rate
Gas tax: 18 cents per gallon of regular gasoline, 26 cents per gallon of diesel
Arizona has been one of the fastest growing states in recent years, as low taxes may have played a role in drawing people to the desert. Among U.S. states, Arizona has below-average income and property tax rates, and it has the fourth lowest gas tax rate in the nation. On the other hand, when considering both statewide and local taxes, the Grand Canyon State has the 11th-highest sales tax rate in the country. In all, the effect of Arizona's tax system varies depending on your specific financial circumstances.
A financial advisor in Arizona can help you understand how taxes fit into your overall financial goals. Financial advisors can also help with investing and financial plans, including retirement, homeownership, insurance and more, to make sure you are preparing for the future.
Arizona Income Taxes
Like the federal income tax, Arizona's state income tax has rates based on income brackets. The rates range from 2.59% to 4.50%, with higher brackets paying higher rates.
Income Tax Brackets
Single Filers
Arizona Taxable Income
Rate
$0 - $27,272
2.59%
$27,272 - $54,544
3.34%
$54,544 - $163,362
4.17%
$163,362+
4.50%
Married, Filing Jointly
Arizona Taxable Income
Rate
$0 - $54,544
2.59%
$54,544 - $109,088
3.34%
$109,088 - $327,263
4.17%
$327,263+
4.50%
Married, Filing Separately
Arizona Taxable Income
Rate
$0 - $27,272
2.59%
$27,272 - $54,544
3.34%
$54,544 - $163,362
4.17%
$163,362+
4.50%
Head of Household
Arizona Taxable Income
Rate
$0 - $54,544
2.59%
$54,544 - $109,088
3.34%
$109,088 - $327,263
4.17%
$327,263+
4.50%
Those rates apply to Arizona taxable income. The starting point for computing Arizona taxable income is federal adjusted gross income (AGI). From here, there are a number of subtractions and additions made to calculate taxable income. For example, interest income from non-Arizona municipal bonds is taxable, and must be added to taxable income.
For the most part, however, calculating taxable income is a matter of subtracting deductions and exemptions from gross income. Itemized deductions in Arizona track very closely to federal itemized deductions. If you choose not to itemize on your Arizona tax return, you can claim the Arizona standard deduction, which is $12,550 for single filers and $25,100 for joint filers. Each of these match the federal standard deduction.
Arizona Sales Tax
You'll have to pay state and local sales taxes on purchases made in Arizona. The statewide rate is 5.60%. When taking all local taxes into account, the state's average rate is 8.40%, 11th-highest in the nation. The table below shows the combined state and county taxes for every county and the combined state, county and city sales tax rates for several cities in Arizona.
Sales Tax Rates
(Updated January 2022)
County
County
State Rate
County Rate
Total Sales Tax
Apache County
5.60%
0.50%
6.10%
Cochise County
5.60%
0.50%
6.10%
Coconino County
5.60%
1.30%
6.90%
Gila County
5.60%
1.00%
6.60%
Graham County
5.60%
1.00%
6.60%
Greenlee County
5.60%
0.50%
6.10%
La Paz County
5.60%
2.00%
7.60%
Maricopa County
5.60%
0.70%
6.30%
Mohave County
5.60%
0.00%
5.60%
Navajo County
5.60%
0.83%
6.43%
Pima County
5.60%
0.50%
6.10%
Pinal County
5.60%
1.60%
7.20%
Santa Cruz County
5.60%
1.00%
6.60%
Yavapai County
5.60%
0.75%
6.35%
Yuma County
5.60%
1.11%
6.71%
City
City
State Rate
County + City Rate
Total Sales Tax
Apache Junction
5.60%
4.00%
9.60%
Avondale
5.60%
3.20%
8.80%
Buckeye
5.60%
3.70%
9.30%
Bullhead City
5.60%
2.00%
7.60%
Casa Grande
5.60%
3.60%
9.20%
Casas Adobes
5.60%
0.50%
6.10%
Catalina Foothills
5.60%
0.50%
6.10%
Chandler
5.60%
2.20%
7.80%
Flagstaff
5.60%
3.58%
9.18%
Gilbert
5.60%
2.20%
7.80%
Glendale
5.60%
3.60%
9.20%
Goodyear
5.60%
3.20%
8.80%
Lake Havasu City
5.60%
2.00%
7.60%
Marana
5.60%
2.50%
8.10%
Maricopa
5.60%
3.60%
9.20%
Mesa
5.60%
2.70%
8.30%
Oro Valley
5.60%
3.00%
8.60%
Peoria
5.60%
2.50%
8.10%
Phoenix
5.60%
3.00%
8.60%
Prescott
5.60%
3.50%
9.10%
Prescott Valley
5.60%
3.58%
9.18%
San Tan Valley
5.60%
1.60%
7.20%
Scottsdale
5.60%
2.45%
8.05%
Sierra Vista
5.60%
2.45%
8.05%
Sun City
5.60%
0.70%
6.30%
Surprise
5.60%
2.90%
8.50%
Tempe
5.60%
2.50%
8.10%
Tempe Junction
5.60%
0.70%
6.30%
Tucson
5.60%
3.10%
8.70%
Yuma
5.60%
2.81%
8.41%
While most products purchased in the state will be subject to those rates, some items are exempt. Among the items exempt from sales tax in Arizona are groceries, internet subscriptions, prescription drugs and professional or personal services.
Arizona Property Tax
The typical homeowner pays $1,578 per year in property taxes in Arizona. The average effective property tax rate (total taxes paid as a percentage of home value) is 0.62%. That rate varies somewhat between cities and counties, but no county in Arizona has an effective property tax rate higher than 1.01%, which is just 0.06% below the U.S. average of 1.07%.
Arizona's sales tax may be on the higher side, but its property taxes are among the lowest in the nation. If you're looking to refinance or relocate to Arizona, take a look at our guide to Arizona mortgage rates and getting a mortgage in the state.
Arizona Tobacco Tax
On a nationwide scale, Arizona taxes cigarettes at a high rate. In fact, the tax costs $2.00 per pack of 20 cigarettes, or 10 cents per stick.
Arizona Estate Tax
As of January 2005, there is no estate tax in Arizona.
Arizona Alcohol Tax
Arizona collects excise taxes on alcoholic beverages, depending on the type of product being sold. The tax is equal to $3.00 per gallon of liquor, 84 cents per gallon of wine and 16 cents per gallon of beer.
The Grand Canyon is over one mile deep in places, and as many as 18 miles wide. It may be over 17 million years old.
Arizona was the last of the contiguous 48 states to achieve statehood. It did so on February 14, 1912.
Calculate Your Income Taxes in These Other States