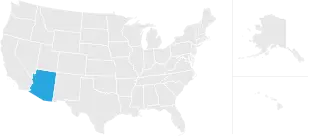 Overview of Arizona Taxes
Arizona has a progressive tax system, with varying rates depending on your income level. There are four tax brackets that range from 2.59% and 4.50%. There are no local income taxes. Of course, you'll have federal taxes deducted from each paycheck along with your state taxes.
Work Info
Marital Status
Enter your marital status
Dismiss
Job
Location
Enter your location
Dismiss
Deduction
Name
Calculation
Method
Deduction
Amount
Long Term Disability Insurance
Dismiss
Deduction
Name
Calculation
Method
Deduction
Amount
Dismiss
Are you exempt from any taxes?
Salary (per year)
Dismiss
Hours (per pay period)
Dismiss
Overtime Hourly Wage
Dismiss
Overtime Hours (per pay period)
Dismiss
Your estimated
--
take home pay:
---
Where is your money going?
Gross Paycheck
$

--

Taxes

--

%
$

--

Details
Federal Income

--

%
$

--

State Income

--

%
$

--

Local Income

--

%
$

--

FICA and State Insurance Taxes

--

%
$

--

Details
Social Security

--

%
$

--

Medicare

--

%
$

--

State Disability Insurance Tax

--

%
$

--

State Unemployment Insurance Tax

--

%
$

--

State Family Leave Insurance Tax

--

%
$

--

State Workers Compensation Insurance Tax

--

%
$

--

Pre-Tax Deductions

--

%
$

--

Details
Post-Tax Deductions

--

%
$

--

Details
Take Home Salary

--

%
$

--
Our Tax Expert

Jennifer Mansfield, CPA Tax

Jennifer Mansfield, CPA, JD/LLM-Tax, is a Certified Public Accountant with more than 30 years of experience providing tax advice. SmartAsset's tax expert has a degree in Accounting and Business/Management from the University of Wyoming, as well as both a Masters in Tax Laws and a Juris Doctorate from Georgetown University Law Center. Jennifer has mostly worked in public accounting firms, including Ernst & Young and Deloitte. She is passionate about helping provide people and businesses with valuable accounting and tax advice to allow them to prosper financially. Jennifer lives in Arizona and was recently named to the Greater Tucson Leadership Program.

...read more
Save more with these rates that beat the National Average
---
Share Your Feedback
How would you rate your experience using SmartAsset's financial advisor matching service so far?
What is the most important reason for that score? (optional)
Please limit your response to 150 characters or less.
Thank you for your answer! Your feedback is very important to us.
Arizona Paycheck Calculator
Arizona Paycheck Quick Facts
Arizona income tax rate: 2.59% - 4.50%
Median household income: $64,777 (U.S. Census Bureau)
Number of cities that have local income taxes: 0
How Your Arizona Paycheck Works
Like every other state, employers in Arizona withhold federal income and FICA taxes from your paychecks. That money goes to the IRS, who then divvies it up into Social Security, Medicare and, of course, your annual income taxes. Based on the information you provide on your W-4 form (which you need to fill out every time your filing status changes or you get a new job), your employer will withhold a certain amount of taxes.
In recent years, the IRS has made adjustments to the Form W-4. So if it's been some time since you've checked your W-4, you may want to do so to ensure that all of your information is up to date. This new W-4 removes the use of allowances, along with the option to claim personal or dependency exemptions. Filers will have to enter dollar amounts instead of the number of withholding allowances. The dollar amounts will represent income tax credits, non-wage income, itemized and other deductions and total annual taxable wages. The updated form also features a five-step process that allows filers to enter personal information, claim dependents, indicate any additional income and more. These alterations will primarily affect those adjusting their withholdings and changing jobs.
Making pre- and post-tax deductions will also impact how much is withheld from your paycheck. For example, if your employer has a 401(k) plan and you utilize it, your contributions will come directly out of your paycheck. The money you contribute to a 401(k) plan will be deducted before taxes are taken out. This lowers your taxable income and could be a good way for you to save on your taxes until retirement. You could also put money in a health savings account (HSA) or flexible spending account (FSA). Again, this money will be deducted from your checks pre-tax.
Arizona Median Household Income
| Year | Median Household Income |
| --- | --- |
| 2020 | $64,777 |
| 2019 | $62,055 |
| 2018 | $59,246 |
| 2017 | $56,581 |
| 2016 | $53,558 |
| 2015 | $51,492 |
| 2014 | $50,068 |
| 2013 | $48,510 |
| 2012 | $47,826 |
| 2011 | $46,709 |
Filing as a single person in Arizona, you will get taxed at a rate of 2.59% on your first $27,272 of taxable income; 3.34% up to $54,544; 4.17% up to $163,632; and 4.50% on income beyond $163,632. Note that these are marginal tax rates, so the rate in question only applies to the income that falls within that bracket. If you decide to file jointly or as a head of household (as in you're the only one in your home who's earning taxable income), the income brackets are roughly doubled and the tax rates are the same.
If you work in certain industries, your employer might not have to withhold Arizona taxes. If you have a spouse in the Armed Forces who is in Arizona on military orders, then you might be exempt. You will need to prove that you're in the state solely to join your spouse and that you and your spouse maintain a domicile in another state. Other industries that are exempt from withholding include seasonal agricultural workers, motion picture production employees or non-residents who are in Arizona temporarily to help with disaster recovery.
Income Tax Brackets
Single Filers
Arizona Taxable Income
Rate
$0 - $27,272
2.59%
$27,272 - $54,544
3.34%
$54,544 - $163,632
4.17%
$163,632+
4.50%
Married, Filing Jointly
Arizona Taxable Income
Rate
$0 - $54,544
2.59%
$54,544 - $109,088
3.34%
$109,088 - $327,263
4.17%
$327,263+
4.50%
Married, Filing Separately
Arizona Taxable Income
Rate
$0 - $27,272
2.59%
$27,272 - $54,544
3.34%
$54,544 - $163,632
4.17%
$163,632+
4.50%
Head of Household
Arizona Taxable Income
Rate
$0 - $54,544
2.59%
$54,544 - $109,088
3.34%
$109,088 - $327,263
4.17%
$327,263+
4.50%
A financial advisor in Arizona can help you understand how taxes fit into your overall financial goals. Financial advisors can also help with investing and financial plans, including retirement, homeownership, insurance and more, to make sure you are preparing for the future.
How You Can Affect Your Arizona Paycheck
One of the simplest ways to change the size of your paycheck is to ask your employer to withhold a certain dollar amount each pay period. If you think you might owe a lot come tax season, you can get more withheld from each paycheck throughout the year. All you have to do is specify a dollar amount to be withheld on the appropriate line of the W-4. If you can afford to have a smaller paycheck, you might thank yourself later when you end up avoiding paying a huge lump sum in April.
If you work overtime, keep in mind that you may actually be taking home a smaller paycheck than you expect if your extra income pushes you into a higher tax bracket. Do some quick calculations to see if the extra hours are worth it for your situation.
As is mentioned above, modifying your pre-tax contributions will also affect the amount of taxes withheld. Think about saving more in your retirement accounts or medical accounts.
Arizona Top Income Tax Rate
| Year | Top Income Tax Rate |
| --- | --- |
| 2021 | 4.50% |
| 2020 | 4.50% |
| 2019 | 4.50% |
| 2018 | 4.54% |
| 2017 | 4.54% |
| 2016 | 4.54% |
| 2015 | 4.54% |
| 2014 | 4.54% |
| 2013 | 4.54% |
| 2012 | 4.54% |
Calculate Your Paycheck in These Other States