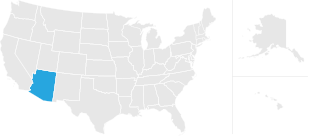 Overview of Arizona Housing Market
As one of the fastest-growing states by population in recent years, Arizona has seen an explosion of home construction. While home values have risen in recent years, as a whole, Arizona remains relatively affordable.
Today's Mortgage Rates in Arizona

| Product | Today | Last Week | Change |
| --- | --- | --- | --- |
National Mortgage Rates
Source: Freddie Mac Primary Mortgage Market Survey, SmartAsset Research
Details
Where do you want to live?
Your location will be used to find available mortgages and calculate taxes.
Dismiss
Have you or your spouse served in the military?
Credit Rating
Select Your Credit Rating
Dismiss
Annual Homeowner's Insurance
Annual Home Value Increase
Note, for purchase the minimum down payment on a $ home is , or $
Your Total Monthly Payment
Your Total Monthly Payment
| | |
| --- | --- |
| Total Monthly Payment | |
Year
Rate
Monthly Mortgage
Payment
Remaining Mortgage
Balance

Home Equity
Recommended Minimum Income
This is based on our recommendation that your total monthly spend for housing and debts should not exceed 36% of your monthly income.
About This Answer

Our Assumptions
More from SmartAsset
More about this page
​If you could change one thing about ​this page what would it be?​
Thank you for your answer! Your feedback is very important to us.
We are working hard to improve our product and could use your help!
We pay $30 for 30 minutes on the phone to hear your thoughts on what we can do better.
Please enter your email if you'd like to be contacted to help.
| | | | |
| --- | --- | --- | --- |
| | | | |
| Please enter your name | Please enter a valid email | | |
Factors in Your Arizona Mortgage Payment
After you calculate your monthly principal and interest payments, you'll add home insurance and property taxes. For the latter, Arizona is quite affordable, with the average homeowner paying $1,393 in property taxes. That's $800 less than the national average. The average effective property tax rate in Arizona ranges from 0.43% to 1.10%, depending on county.
Arizona counties collect property taxes that include local jurisdictions, such as school districts, college districts, cities and state. The money collected goes to these districts to help pay for regular expenses as well as day-to-day operations.
In addition to property tax, you'll have to pay homeowners insurance, which is often rolled into your monthly mortgage payment as part of your escrow account. In Arizona, expect to pay about $850 for your annual premium. Out of the U.S., Arizona ranks 41st for homeowners insurance cost. While you won't find coastal issues with this landlocked state, you may experience wildfires or flash flooding, two of the insurance hazards in Arizona.
According to the Insurance Information Institute, Arizona is the fourth-most wildfire prone state as of 2017, with 234,600 households at high or extreme risk from wildfires. In 2016, more than 300,000 acres burned in the state. Arizona's Department of Insurance has information regarding whether your fire-related loss is covered by your homeowners insurance policy.
Flooding, the other hazard in Arizona, is usually not covered by homeowners insurance. In Arizona, wildfire can alter the landscape which in turn can result in urban and flash flooding, according to the Arizona Department of Emergency and Military Affairs. You have to purchase flood insurance ahead of any disasters (policies take 30 days to go into effect), which you can do through the National Flood Insurance Program.
Costs to Expect When Buying a Home in Arizona
Before you even start paying your monthly home costs, you'll have to contend with a number of costs during home buying.
One of the first you'll come across is paying for a home inspection. The price for a home inspection in Arizona typically ranges from $350 to $500. The cost depends on the square footage of the home. You can expect your home inspector to observe structural components (interior and exterior), plumbing, electrical, heating and cooling, interior walls, ventilation and appliances. For additional tests such as radon, pest or mold, you'll pay additional fees.
Once you've finalized your offer and move forward with the home purchase, you'll set a closing date with your lender. Along with signing paperwork, you're responsible to pay the remaining fees for services involved with your home-buying experience. These are called closing costs. In Arizona, average closing costs range from 1.55% to 2.93% of the home purchase price.
Average Closing Costs by County
| | | | |
| --- | --- | --- | --- |
| County | Avg. Closing Costs | Median Home Value | Closing Costs as % of Home Value |
| Apache | $2,439 | $83,300 | 2.93% |
| Cochise | $3,075 | $143,900 | 2.14% |
| Coconino | $3,398 | $219,300 | 1.55% |
| Gila | $3,042 | $134,200 | 2.27% |
| Graham | $3,003 | $123,300 | 2.44% |
| Greenlee | $2,432 | $82,700 | 2.94% |
| La Paz | $2,279 | $69,100 | 3.30% |
| Maricopa | $3,224 | $187,100 | 1.72% |
| Mohave | $3,003 | $123,200 | 2.44% |
| Navajo | $2,923 | $104,400 | 2.80% |
| Pima | $3,131 | $159,900 | 1.96% |
| Pinal | $3,023 | $128,700 | 2.35% |
| Santa Cruz | $3,052 | $137,000 | 2.23% |
| Yavapai | $3,228 | $188,200 | 1.72% |
| Yuma | $2,956 | $112,100 | 2.64% |
Our Closing Costs Study assumed a 30-year fixed-rate mortgage with a 20% down payment on each county's median home value. We considered all applicable closing costs, including the mortgage tax, transfer tax and both fixed and variable fees. Once we calculated the typical closing costs in each county we divided that figure by the county's median home value to find the closing costs as a percentage of home value figure. Sources: US Census Bureau 2015 5-Year American Community Survey, Bankrate and government websites.
Closing costs include origination fees, which is what your lender charges, and third-party fees, which will depend on what services you use during your home-buying journey. For the first, your lender can charge fees for loan processing, commitment, document preparation, tax service, origin points and underwriting. Some lenders charge for certain services, while others don't, so shopping around before committing to a lender is prudent if you're trying to save on costs.
Third-party fees include your attorney's charges, flood certification, survey costs, appraisal and credit reports. This varies and will depend on what services you use during the transaction.
Most lenders also require title insurance, in the form of a loan policy. This protects the lender by covering the cost of the loan if a title defect causes you to lose your rights to the property. You can also buy an owner's policy to protect your own interest in the title. Arizona has a document that helps homebuyers understand title insurance.
One last fee, which is usually the responsibility of the seller is real estate transfer taxes. Arizona, however, voted in 2008 to ban real estate transfer taxes and in 2009, the Protect Our Homes Act was approved and signed.
Details of Arizona Housing Market
Despite being the last state in the contiguous U.S. to join the Union, Arizona is ranked 14th for population, with 6.93 million residents. It's also one of the fastest-growing states. According to the Census Bureau, from 2015 to 2016, Arizona's population grew 1.66%, bringing the state to eighth-fastest growing in the U.S. behind Colorado.
Largest cities in Arizona include Phoenix, Tucson, Mesa, Glendale and Scottsdale. All but Tucson are in Maricopa County in the south-central region of the state. Tucson is about 115 miles southeast of Phoenix. In the northeast corner of the state, Arizona is home to the largest Native American Reservation in the U.S. The Navajo Nation Reservation crosses into New Mexico, Utah and Colorado. It's not the only reservation, either. Arizona is home to the third-largest Native American population in the U.S. and has multiple reservations across the state.
Turning to Arizona's housing market, you'll notice some issues, mainly with foreclosures during the recession. But overall, the state has made headway in recovery. In SmartAsset's Healthiest Housing Markets study, the state ranked 21st in the U.S. We looked at stability, affordability, risk and ease-of-sale factors to determine the rankings.
The good news is Arizona is considered one of the more affordable states to own property. For example, the state doesn't have any counties above the 2017 conforming loan limits of $424,100, even in the state's most expensive areas. Arizona's median home value as of August 2017 was $225,600, which is a 6.5% increase from 2016, according to Zillow estimates. The median list price was $268,990. Phoenix, the capital, is pretty close to the state average with a median home value of $217,100 and a median list price of $265,000.
Directly adjacent and east of downtown Phoenix is Scottsdale, where prices were higher with a median list price of $585,000 and a median home value of $426,100. On the west side of Phoenix, Glendale had lower prices with the median home price listed at $235,000 and a median home value of $216,800. Tucson, to the south, was more affordable with a median home value of $166,600 and list price of $198,000. (All figures are as of August 2017.)
Local Economic Factors in Arizona
The Grand Canyon State isn't just home to spectacular natural beauty and ideal weather, it's also known for its growing gross domestic product and growing industries. The Arizona Commerce Authority lists aerospace and defense, tech, renewable energy, bioscience optics and photonics, business services and advanced manufacturing as top industries in the state. Arizona's largest employers, according to BizJournal's 2015 list, include Arizona government, Banner Health, Walmart, Fry's Food store and Wells Fargo & Co.
Just four companies in Arizona made the 2017 Fortune 500 list: Avent, a distributer and retailer of tech components, the mining company Freeport-McMoRan, waste disposal company Republic Services and Insight Enterprises, an IT solutions company.
The state's unemployment rate for the last year has hovered above the national average. In August 2017 Arizona's unemployment rate sat at 5% compared to the national rate of 4.4%, according to Bureau of Labor Statistics numbers. In addition, Arizona's behind the national average for per capita personal income (PCPI), with $40,243 compared to $49,571 in 2016 according to the Bureau of Economic Analysis. Arizona's PCPI increased 2.6% from 2015 to 2016 in comparison to the national change of 2.9%.
If you work in Arizona, you'll pay state income tax as well as federal income tax. Arizona levies taxes based on income brackets, with the lowest rate at 2.59% and the highest at 4.54%. There's also sales tax, which Arizona levies as transaction privilege tax. It's actually on the seller's behalf to pay it, but most vendors pass the charge to customers. The statewide rate is 5.6% and counties can add additional percentages. Cities also have the authority to add an additional rate. For example, in Phoenix, tax is 8.3% with 2.7% levied by the county and city on top of the state's 5.6%.
Planning your move to the Grand Canyon State? You can jump start your financial planning by comparing the cost of living. For example, if you're moving from Salt Lake City, Utah to Phoenix, Arizona and you earn $65,000 a year, your cost of living will decrease by 1% on average, due to lower taxes in Arizona, but higher food and housing costs. However, if you move from Los Angeles, California to Phoenix or Tucson, you'd see average decreases of 13% and 17%, respectively. This is due to decreases in taxes, housing and food costs. And if you're moving from Washington, D.C. to tech and defense hub Sierra Vista, Arizona, your cost of living decreases by a whopping 20%, on average.
Mortgage Legal Issues in Arizona
Arizona has moved away from the old doctrine of let the buyer beware, known as "caveat emptor," and has certain buyer protections in place. One of them is requiring the seller to disclose material defects. The Arizona Association of Realtors has a sample property disclosure document you can read through to see what aspects of the home are covered. Sample questions include "Are you aware of any zoning violations," and "are you aware of any past or present water heater problems?" The Arizona Department of Real Estate lists topics to research prior to purchasing real estate which includes homeowners association information, lead-based paint safety and sex offender information.
If you're curious about Arizona's foreclosure process, it can go two routes: judicial or non-judicial. The more common practice in Arizona is non-judicial foreclosure through a power of sale clause on a deed of trust, but judicial foreclosures are possible in some circumstances. The takeaway for homeowners is that the process is much quicker with non-judicial foreclosures as the lender doesn't have to go through the court and initiate a lawsuit to foreclose. If you're facing foreclosure in Arizona, you can call the help line or contact a housing counselor for advice.
Arizona Mortgage Resources
Available Resources
| | | | |
| --- | --- | --- | --- |
| Resource | Problem or Issue | Who Qualifies | Website |
| Arizona Department of Housing | Offers down payment assistance, 30-year fixed-rate mortgages at low rates and mortgage credit certificates for those who refinance. | Homebuyers purchasing primary residences with a purchase price equal to or below $371,936. | https://housing.az.gov/finance-authority/home-plus |
| Save Our Home AZ Program | Offers principal reduction assistance, mortgage subsidy assistance, second lien elimination and short sale assistance. | Homeowners with owner occupied, primary residences. | https://housing.az.gov/save-our-home |
| Home Affordable Refinance Program | Refinancing. | Single family homes and condos that fit within lending loan limits. | http://www.harp.gov/ |
| HUD Approved Housing Counseling Agencies | Mortgage delinquency and resolution counseling; pre-purchase homebuyer education; rental housing counseling; reverse mortgage counseling. | Homebuyers and owners who meet specific program qualifications. | http://www.hud.gov/offices/hsg/sfh/hcc/hcs.cfm?webListAction=search&searchstate=AZ |
Your first stop as a homebuyer is the Arizona Department of Housing to see if you qualify for any programs. This can include down payment assistance and lender programs for qualified buyers. Find information on home-buying topics such as how to find the right realtor and how to improve your credit score.
An option that's available for rural homebuyers is the USDA. Find out if your income qualifies you for this government-backed loan.
If you're already an Arizona homeowner, and you're in danger of foreclosure, you can apply for the Save Our Home AZ Program. Eligible homeowners can qualify for principal reduction assistance, mortgage assistance, second lien elimination and more.
For those moving from out-of-state, get a head start on your budget with our Arizona paycheck calculator. If you're reaching retirement age and have Phoenix or Scottsdale on your short-list for your retirement home, check out whether Arizona is retirement tax-friendly.