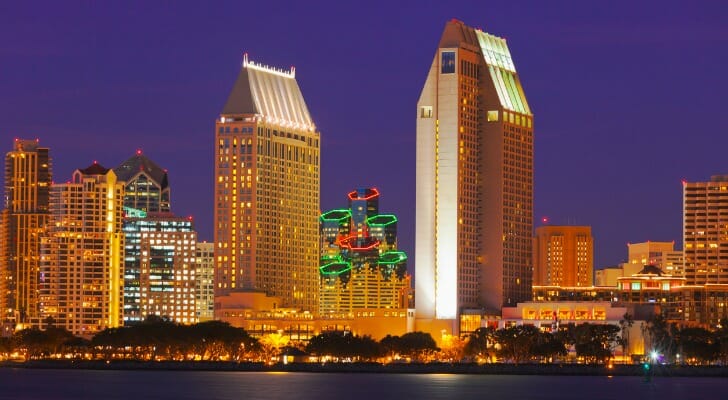 Life in a sunny city by the Pacific Ocean sounds pretty appealing to most people. If you're considering moving to San Diego, you're probably wondering whether you can afford to live in what's officially nicknamed "America's Finest City." As far as housing costs go, the city is rather expensive. This is true regardless of whether you're looking to buy or rent.
San Diego Home Prices
The housing market in San Diego has become extremely valuable over the last two decades. In fact, 2000 to 2018 data from NeighborhoodScout has the average annual appreciation rate for homes in the city at 4.85%.
This has led to high median prices for homes in San Diego, even by Californian standards. A 2018 report from the National Association of Realtors lists the median home sales price for San Diego at $626,000. That beats out Los Angeles, which holds a $576,100 median.
San Diego Rent
If you don't yet have the savings for a down payment, renting is your only option. According to March 2019 Apartment List data, the average rent for a San Diego studio is $1,413. Rents for a one bedroom in the city average $1,564, while that number rises to $2,030 for a two bedroom and $2,923 for a three bedroom.
Depending on where you're from, those rents may sound outrageous. Even still, the San Diego price-to-rent ratio is high, meaning that renting could be a better deal than buying. Of course, your rent-vs. buy decision will depend on your specific financial situation. To figure out if a mortgage is even a viable option for you, check out SmartAsset's mortgage calculator.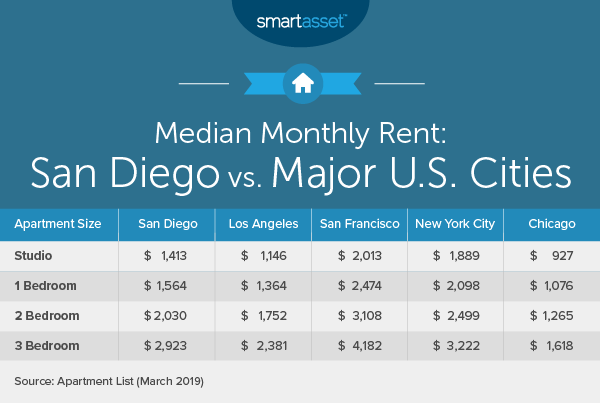 Utilities
Housing is one of the major drivers of the cost of living in San Diego, but it's not the only factor to consider. According to Numbeo.com, a basic package of utilities for a 915-square foot apartment in San Diego costs an average of $130.60 per month. That includes electricity, water, heating and garbage. If you want to add in internet, you can expect to pay a further $64.59 per month.
Transportation
Once you have your housing and utilities taken care of, you need to think about how you'll get around. A monthly pass on San Diego's public transit system costs $72 and $100 for express service. There are significant discounts available for senior citizens, disabled people, those on Medicare and children as well.
If you prefer to have a car, you'll need to pay for gas. According to GasBuddy (May 2019), a gallon of gas in San Diego costs $4.09. That's right in line with California's average price. But if you compare it to the $2.89 national average, it doesn't look so great.
Food
The best way to save money on food is to cook at home. San Diego residents who choose to go this route will spend about $313 a month on groceries, which is actually lower than the $324 U.S. average, according to Numbeo.com.
Having to cook all the time can get old, though. If you want to eat out once in a while, a standard, inexpensive meal in San Diego will cost you $15. Data from Numbeo.com indicates that a trip to a mid-tier restaurant for a three-course meal will cause that price to jump to $50.
Healthcare
All the farm-fresh food and vitamin D available in San Diego should help you keep your health game strong. However, at some point, a doctor's appointment is inevitable. According to a 2016 report by the Health Care Cost Institute, healthcare prices in San Diego are 64% more expensive than the national median. That easily places it as one of the priciest cities for healthcare in the country.
Taxes
California is known for its high taxes. In fact, it boasts the highest income tax rates in the U.S. As far as San Diego-specific taxes go, the sales tax rate is 7.75%. There's one respite: As with the rest of California, property taxes are low, and the average effective property tax rate for San Diego county is 0.76%. If you want to see what your tax burden will be like in California, check out our free tax calculator.
Miscellaneous Cost of Living Facts
Outside of the basic necessities of life, there are plenty of fun things to do in San Diego. The good news is that many of them don't cost anything, with ample hiking trails and beaches that are accessible for free. There are some other activities you can pay for, though.
An adult ticket to the famed San Diego Zoo will cost you $56 for adults (a ticket for a child aged 3 to 11 is $46). The San Diego Padres have some of the cheapest tickets in all of Major League Baseball (despite playing in one of the league's most beautiful ballparks, Petco Park). According to Statista, the average price of a Padres ticket is just $21.78 for the 2018 season. For reference, the highest-priced tickets in baseball are Cubs tickets, at $58.57.
Prefer something a little more highbrow? An adult ticket to the San Diego Museum of Art will cost you $15. It's $10 for the Museum of Contemporary Art and $18 for the San Diego Botanical Garden. There's something for everyone in America's Finest City.
Preparing for a Move to the Golden State
Photo credit: ©iStock.com/Ron and Patty Thomas, ©iStock.com/JByard