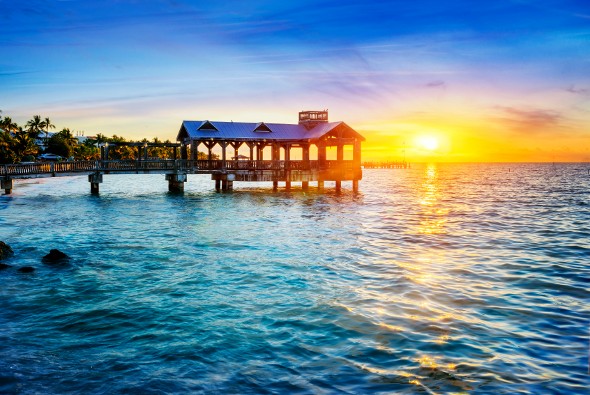 The Sunshine State: Whether you love Florida for Disney, Major League Baseball spring training, Art Basel or the Keys, you've probably thought about moving there, especially on a cold winter day somewhere else. There are many exciting activities you'll have access to in Florida, not to mention the low taxes. The state is a popular destination for retirees for a reason.
Want to prepare your finances for a move to Florida? Speak with a financial advisor today.
Housing Costs in Florida
Florida was hit hard by the housing market crash in 2008. The state suffered a high rate of foreclosure and home values took a dive, though it's rebounded nicely. Many cities in Florida are affordable options for homeowners, such as Jacksonville, where the median home value is $186,519 and more than half of the city's residents own homes.
On the other hand, Miami is a much more renter-centric city. More than 70% of Miami's residents choose to rent, possibly because home's are more expensive than other large cities in the Florida. In fact, its median home value is $317,273.
If you don't have the funds to make a down payment yet, renting could be a legitimate possibility. According to March 2019 rent data from Apartment List, a two bedroom apartment in Miami has a median rent of $1,355, while the same apartment type in Daytona Beach has a $1,018 median rent.
In comparison, the national median rent for a two bedroom apartment is $1,175. That places Miami $180 above the national mark and Daytona Beach $157 beneath it.
The table below illustrates the home value vs. rent comparisons for the biggest cities in the Sunshine State. Look through these price differences carefully when searching for a place to live in Florida. If you have further questions about how these numbers will affect your personal financial situation, consider working with a financial advisor.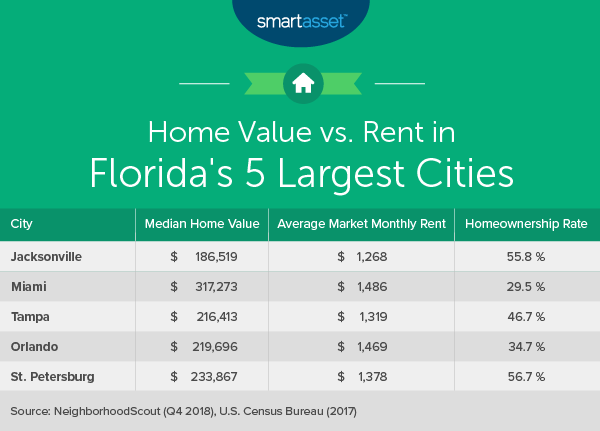 Utilities
Florida's energy prices are on the high side. Residents pay an average monthly electricity bill of $126.44, based on information from the U.S. Energy Information Administration (EIA). That's 13% higher the national average of $111.67.
The data from the EIA also shows that residents of Florida consume the sixth most kWh per month in the country at 1,089. This is likely due to the hot and humid climate, which has many residents running the air conditioning for most of the year.
Food
Do you associate food in Florida with gator, Cuban cuisine, citrus, seafood or even key lime pie? Whatever your food style, you'll pay varying amounts for it depending on where you live within the state.
In Jacksonville, a gallon of milk goes for $3.58 and a pound of apples is priced at $2.26. In Sarasota, the prices of each of these items is slightly lower at $3.37 and $2.17. These statistics are from Numbeo.com for 2019.
On a larger scale, the MIT Living Wage Calculator shows that an adult with no children in Florida will need a living wage of $25,324 before taxes. Of that estimate, just about $3,000 is allocated for the purchase of food.
Taxes
Florida is a low-tax state, which means that taxes don't pay a huge role in the cost of living in Florida. As a matter of fact, there's no state income tax in Florida. Plus, the average effective property tax rate in Florida is 1.02%, which is less than the national average.
Florida has a statewide sales tax of 6%. Some counties add their own sales tax to that 6%, with anywhere from a 0.5% to 2% hike. In turn, the state has a sales tax rate that maxes out at 8%, though, which is lower than the top rates in other big states, like California.
The bad news is that Floridians pay high gas taxes. Florida's gas tax is 41.36 cents per gallon on regular gas, the 10th-highest in the nation. There's also a special tax on alcohol, in Florida. This comes out to 48 cents per gallon on beer and $6.50 per gallon on spirits.
A special tax on communications services means consumers pay 7.44% extra on all phone, internet and television services. Service providers bill a maximum of 5.07%, with the remaining 2.37% left for consumers to pay on their own. Floridians pay a tax of 11.44% on satellite services like DirecTV.
Transportation
According to GasBuddy, Florida's gas prices average $2.76 per gallon. That's right below the U.S. average of $2.89. As far as car insurance prices go, Florida has some of the highest average rates based on data from Insure.com. The average annual premium in the state is $2,219, or $185 per month.
Public transportation options in Florida aren't amazing, as the Sunshine State is a driving state. A monthly pass for public transit in Miami-Dade County will cost you $145, or $72.50 if you qualify for a discounted fare. A 31-day STAR card for Jacksonville's public transportation costs just $50, with a reduced fare of $30.
Miscellaneous Cost of Living Facts
Florida has plenty of major league sports teams to keep fans happy. As in other states, baseball games carry the lowest average ticket price. Fans of the Miami Heat basketball team will generally pay the highest average ticket price to catch a game. Here's how the average ticket price of different Florida teams stacks up.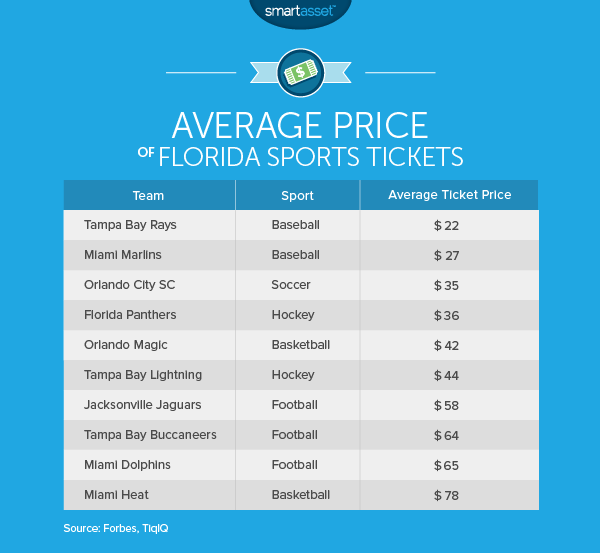 Next Steps
Photo credit: © iStock.com/ventdusud, SmartAsset.com, SmartAsset.com