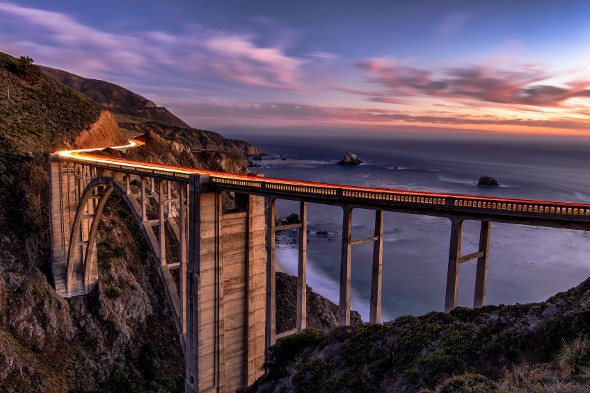 California is a state of extremes. It's home to some of America's richest and poorest cities and counties. That means there's no single cost of living in California. Still, there are some things that apply to locations across the state, like a high income tax. To take you through the range of prices in California, we put together a guide of the cost of living in the Golden State.
Housing Costs in California
For most people, the largest portion of their budget is housing. Needless to say, there's a huge spectrum of housing costs in California, from ultra-expensive San Francisco to smaller cities. According to NeighborhoodScout, the median home value in San Francisco is $1,304,885, whereas Sacramento boasts a median home value of $355,030.
A March 2019 report from Apartment List shows that the national median rent for a two bedroom apartment is $1,175. Most cities in California come out above that mark. Apartment List's data indicates that the median two bedroom rent in Los Angles is $1,752, which is nearly $577 higher than the national median. San Diego has an even bigger split, as its $2,030 median rent is $855 above the national median.
Check out the chart below to see how California home values and rent compare to one another. Something you'll notice is that many major cities in the state have more renters than homeowners. For example, nearly two-thirds of Los Angeles and San Francisco residents rent are renters. Conversely, San Jose residents mostly own homes.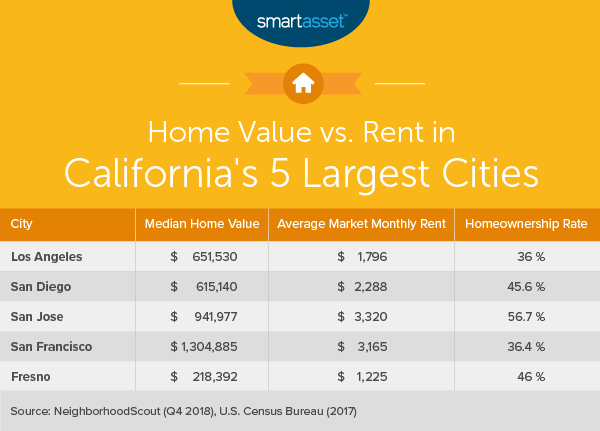 If you're still on the fence about whether to rent or buy, consider speaking with a financial advisor. They can help you evaluate how each of these decisions, and others, will fit into your long-term financial plans.
Utilities
Californians pay relatively low utility bills. According to the U.S. Energy Information Administration (EIA), Californians consume an average of 554 kWh per month. They pay an average of 18.31 cents/kWh, resulting in an average monthly electricity bill of $101.49. For reference, the most expensive average monthly bill is Hawaii ($149.33) and the cheapest is New Mexico ($79.16). The average for the U.S. as a whole is $111.67.
Food
According to the MIT Living Wage Calculator, an adult with no children in California requires a living wage of $30,392 before taxes. Of that annual income, food expenses account for $3,573, or 11.8%. This is a simple living wage calculation, though, so it doesn't allow for luxuries.
Of course, food expenses vary within California. Based on 2019 data from Numbeo.com, the average cost of a gallon of milk and a dozen eggs in Fresno is $2.91 and $1.83, respectively. In LA, those prices each jump to $3.81 and $3.24. For reference, the national average price for a gallon of milk and a dozen eggs $3.10 and $2.26, respectively.
Transportation
California is known for its beautiful stretches of highway, and its traffic. According to GasBuddy, a gallon of regular gas in California has an average cost of $4.09. As of May 2019, this prices California as the most expensive state in the U.S.
If you're looking to own and drive a car in California, you'll need insurance. Insure.com's report on car insurance rates from April 2019 shows that California has the sixth-highest average annual premium at $1,846. This is almost $400 more than the national average of $1,457.
There are public transportation options in California, but the cost varies from place to place. For example, a monthly transit pass in LA will cost you $100. A monthly pass for San Francisco-area transit costs $78, or $94 for access to the San Francisco municipal transit plus the Bay Area Rapid Transit (BART).
Taxes
California holds the honor of some of the highest income taxes in America. Its top state income tax bracket comes with a 12.3% rate. It's a progressive tax system, though. Residents in the bottom bracket pay just 1% in state income taxes. If your taxable income is over $1 million, you'll pay a 1% surtax on top of the 12.3% rate, bringing the total to 13.3%.
California also has the highest base rate for state sales tax, at 7.25%. Counties and cities can add sales taxes of their own, which is why some cities in Los Angeles have sales tax rates of 9.5%.
Here's some good news for the tax-averse: California's property tax rates are below average. The state has an average effective property tax rate of 0.79%, compared to the national average of 1.19%. This is largely because of California's Proposition 13, a state law that reduced property taxes by more than 50% and capped annual increases in assessed home values.
Miscellaneous Cost of Living Facts
Moving to California is a dream for many. There's no place quite like the Golden State. Wine lovers could look into Napa. Art fans can check out the Getty, the Los Angeles County Museum of Art (LACMA), the De Young in San Francisco or any number of other museums and galleries.
California also features a number of places where you can surf, hike and road trip your way through some of the country's most beautiful terrain. There's also a lot to love if you're a sports fan – the Los Angeles Dodgers and Golden State Warriors have been contenders for the last few years, and the state also boasts multiple teams in the NFL and NHL.
Next Steps If You're Moving to the Golden State
Photo credit: ©iStock.com/Jeremiah Pierucci