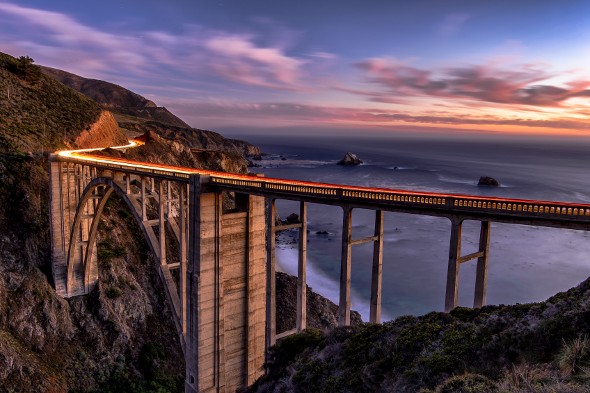 California is a state of extremes. It's home to some of America's richest and poorest counties. That means there's no single cost of living in California. Still, there are some things that apply to locations across the state – like the high income tax. To take you through the range of prices in California, we put together a guide to the cost of living in the Golden State. Here's what you should know.
California Housing Costs
For most people, the biggest item in their budget is housing. Needless to say, there's a huge range of housing costs in California, from ultra-expensive San Francisco to rural towns that have fallen on hard times. According to Zillow, two-bedroom homes in Lake County California (the state's poorest county) have a median sale price of $158,000. In wealthy Santa Clara County, a two-bedroom home has a median sale price of $641,000.
Still on the fence about whether to rent or buy? You probably want to know what the rental market is like in California. We've all heard how off-the-charts high the rent has gotten in San Francisco. But what about the overall rental market in the state?
According to myapartmentmap.com data for November 2015, the average rent for a California studio is $1,680, $618 above the national average. One-bedrooms average $1,596, $613 above the U.S. average. That pattern continues with two-bedroom apartments, which carry an average rent of $2,065, $861 higher than the U.S. average. If you need three bedrooms, the California average is $2,657, a full $1,138 higher than the national average.
San Jose, one of California's largest cities, offers some of the top financial advisor firms in the state. These advisors can help you manage your assets to make living in the Golden State a bit less stressful.
Check out the chart below to see how California compares to the U.S. average on metrics like home value, income and poverty rate. As you can see, home values in California are considerably higher than in the country as a whole. So if you're able to make the leap from renter to buyer and build up some equity, you'll be sitting on a valuable asset.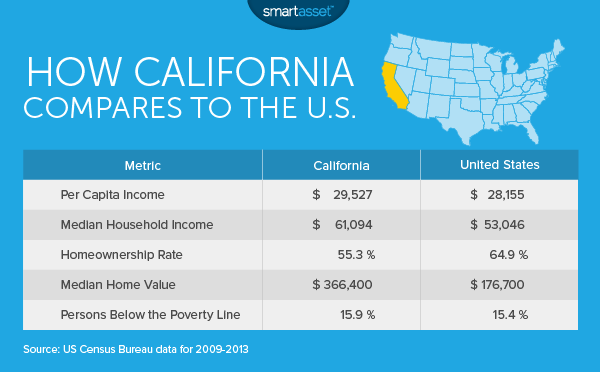 Utilities
Californians pay relatively low utility bills. According to the U.S. Energy Information Administration, Californians consume an average of 562 kWh per month. They pay an average of 16.25 cents/kWh and have an average monthly bill of $91.26. For reference, the most expensive average monthly bill is Hawaii ($187.59) and the cheapest is New Mexico ($77.79). The U.S. average is $114.11.
Food
According to the MIT Living Wage Calculator, an adult with no children in California requires a living wage of $25,677. That's the required annual income before taxes. Of that $25,677, food expenses are $3,607 per year. That's just a living wage, though. It doesn't allow for luxuries. And of course, food expenses vary within California. If you're dining on exquisite locally grown produce in Berkeley you'll be spending more than if you're buying bare-bones grocery items in Lake County.
Transportation
California is known for its beautiful stretches of highway – and its traffic. According to gasbuddy.com, a gallon of gas in California has an average cost of $2.844. At the time of writing, it's the state with the second-highest gas prices, after Hawaii.
If you're going to drive in California (or anywhere) you'll need some insurance for your vehicle. ValuePenguin's 2015 study of car insurance prices put the average monthly car insurance premium in California at $164, with an average annual rate of $1,962. For reference, the annual average for the U.S. as a whole was $907.38 in 2014. In other words, the California annual average is more than double the US average.
There are public transportation options in California but the cost varies from place to place. For example, a monthly transit pass in LA will cost you $100. A monthly pass for the San Francisco-area transit costs $70, or $83 for access to the San Francisco municipal transit plus BART, the Bay Area Rapid Transit.
Taxes
California holds the honor of the highest income taxes in America. Its top state income tax rate is 12.3%. It's a progressive tax system, though. Folks in the bottom bracket pay just 1% in state income taxes. If you're super-rich, you'll pay a 1% surcharge on top of that 12.3% on income over $1 million. This surcharge is used to fund mental health programs in the Golden State.
California also has the highest base rate for state sales tax, at 7.5%. Counties and cities can add sales taxes of their own, which is how some cities in Los Angeles have sales tax rates of 10%.
Here's some good news for the tax-averse: California's property tax rates are below average. The state has an average effective property tax rate of 0.813%, compared to a U.S. average of over 1.192%.
Extras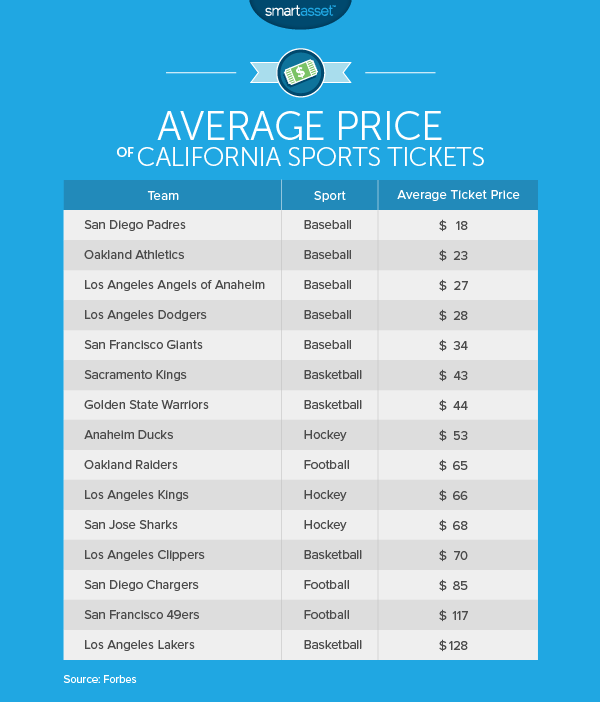 Moving to California is a dream for many. There's no place quite like the Golden State. Like wine? Head to Napa. Love art? Check out the Getty, the Los Angeles County Museum of Art (LACMA), the De Young in San Francisco or any number of other museums and galleries. You can surf, hike and road trip your way through some of the country's most beautiful terrain. There's also a lot to love if you're a sports fan. Check out the chart above for more information on how the average price of a ticket to see a California sports team stacks up.
Next Steps If You're Moving to the Golden State
Moving to a new state can have a large impact on your budget. It's important to know about the tax implications – not just on your income but also on your property taxes and your paycheck.
It's also a good idea to understand how moving to a new state will impact your budget. A financial advisor can help you navigate big life changes like a move, or offer assistance with identifying and meeting your financial goals in general. A matching tool like SmartAsset's can help you find a person to work with to meet your needs. First you answer a series of questions about your situation and your goals. Then the program narrows down thousands of advisors to three fiduciaries who meet your needs. You can then read their profiles to learn more about them, interview them on the phone or in person and choose who to work with in the future. This allows you to find a good fit while doing much of the hard work for you.
Photo credit: ©iStock.com/Jeremiah Pierucci