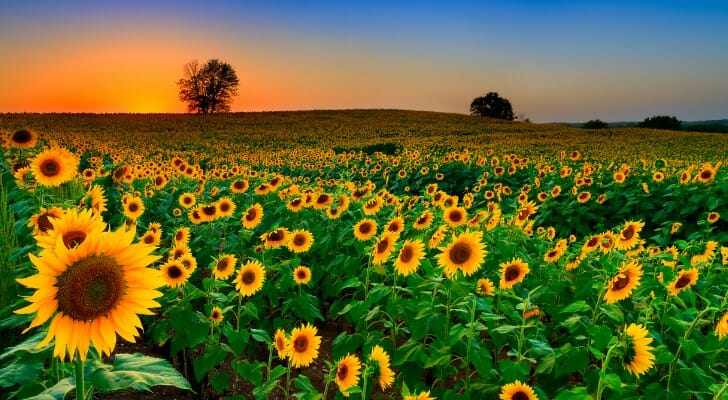 The state of Kansas and the federal government sponsor several first-time homebuyer programs. Some cater to low-income individuals with less-than-superb credit scores. Others support public service professionals like teachers, police officers and firefighters. One even assists people who already have a mortgage. So glance before the scenic beauty that is Kansas, and get ready to embark on your journey of becoming a homeowner. But if you want professional help along the way, our SmartAsset advisor matching tool can help. It links you with to up to three Kansas-based financial advisors who can help you find the most affordable mortgage you qualify for and plan the rest of your financial life accordingly.
Federal First-Time Homebuyer Programs
FHA Loans
Pros
– Low down payments
– No early payment penalty
Cons
– Interest rates could be higher for people with credit scores below 580
Eligibility
– A credit score of at least 500 usually helps you get one
Best For
– People with adequate credit scores and low to moderate income
Many mortgage lenders in Kansas work through the Federal Housing Administration. They issue FHA loans to low-to-moderate income individuals who don't have the best credit scores. In fact, having a FICO® credit score of at least 580 typically helps you land an FHA loan with a down payment as low as 3.5%. In addition, you won't have to worry about a prepayment penalty, as you would when taking out most other types of mortgages.
And because these loans are backed by the FHA, lenders don't take as much risk providing favorable rates to people without the best credit histories.
However, your down payment may rise to about 10% if your credit score falls below 580. You'd also likely pay mortgage insurance premiums. You'd also owe closing costs. Still, the rates for both tend to sink lower than those tied to conventional mortgages.
Overall, FHA loans should be on the checklist for anyone who dreams of owning a home in the United States but fears income and credit history will stand in the way.
USDA Loans
Pros
– Low-interest loans with little-to-no down payments
– Can qualify with a low credit score or no traditional credit history
Cons
– Can't qualify if you make more than 115% of the median income in the designated area you wish to live in
Eligibility
– Property must be in an area designated by the USDA
– Can't make more than 115% of area's median income
Best For
– low-to-moderate income individuals who wish to live in rural or suburban Kansas
The United States Department of Agriculture sprouted its USDA loan program to encourage people to buy single-family homes in America's countryside. But some suburban areas near major cities also fall in the USDA's scope. In fact, dozens of counties in Kansas sit within the USDA's radar.
USDA loans usually carry lower interest rates than conventional mortgages. You can even find some with no down payment requirements. To qualify for one, however, you can't make more than 115% of the median income for the designated area you wish to live in.
But having a FICO® credit score of at least 600 can typically qualify you for a USDA loan with a very low interest rate and a zero down payment. You can still qualify for a USDA loan if your score dips below that level, or even if you don't have a traditional credit history at all. However, the rates might not be as favorable and your down payment could rise to around 10%. Still, this falls far below the interest rate for a conventional mortgage, which normally floats around 20% of the home's value. Closing costs, which apply to most mortgages, also fall to a low 1% to 3%.
Most of these loans are backed by the USDA but issued through traditional lenders. You can also take out a USDA loan for home improvement purposes. Lower-income individuals may qualify for a mortgage directly from the USDA.
VA Loans
Pros
– Can cover up to 100% of a home's value
Cons
– Generally lower interest rates than conventional mortgages
– No PMI required
Eligibility
– Most service members, veterans, spouses, and other beneficiaries can qualify for a VA loan
Best For
– Veterans or current service members who have satisfactory credit and low-to-moderate income
To help veterans and U.S. military members afford a home, the Department of Veterans Affairs issues VA loans. Current and retired service members as well as their spouses and certain other beneficiaries may be eligible for a VA loan.
The government backs VA loans, but local lenders throughout Kansas provide them directly to borrowers. Lenders typically charge lower interest rates than those linked to conventional mortgages. Some allow zero down payments to those who qualify.The VA also caps the amount lenders can charge in closing costs. In addition, you won't be required to buy private mortgage insurance (PMI). Furthermore, the VA appraisal process involves property inspection to make sure it's safe and reasonably valued.
However, these loans come with an up-front VA funding fee. This fee can range from 2.15% to 3.3% depending on several factors including your military status and whether you've had the loan before.
Good Neighbor Next Door Program
Pros
– 50% discount on the listing price of home in a revitalization area
– You can sell home after three years and keep profits
Cons
– Selection process is highly competitive
– Home must be your primary residence for at least three years.
Eligibility
– Be a K-12 teacher, EMT, police officer or firefighter
Best For
– Eligible public servants with low-to-moderate income
Public servants from teachers in the classroom to police officers on the beat provide vital services to the communities they serve. So much so that the U.S. Department of Housing and Urban Development (HUD) wants to help them become homeowners.
The HUD sponsors the Good Neighbor Next Door program. This initiative provides eligible K-12 teachers, police officers, firefighters and emergency medical technicians (EMTs) with a flat 50% discount off the listing price of a home in a revitalization area. These are locations where these professionals don't take a sizable chunk of the population.
In Kansas, that covers communities from Abilene to Winfield. However, you're required to make this home your primary residence for at least three years. The program is also highly competitive. In some areas, certain homes get listed on the program's website for just five days. And if several people apply for the same house and qualify, a random lottery determines the discount recipient.
The approval process also involves preapproval from a Good Neighbor Next Door agent. In addition, Good Neighbor Next Door also offers grants along with closing cost and down payment assistance programs if you qualify. So be sure to ask.
Overall, qualification can be a long process. But the Good Neighbor Next Door Program can give you a headstart on becoming a first-time home owner, while doing what you love. Plus, you can sell the property after three years.
Fannie Mae/Freddie Mac
Pros
– Flexible options
– You can qualify with little-to-no credit
– Low down payments
Cons
– Strict income limits
Eligibility
– Meet income and house-size requirements, unless property is in low-income census tract
Best For
– Low-income individuals seeking help with purchasing a home
Created by the federal government, Freddie Mac and Fannie Mae work with traditional mortgage lenders throughout the country. They offer special loans to low or middle income Americans, who don't have the best credit.
Fannie Mae runs the HomeReady program. Through this plan, you may qualify for a low-interest mortgage with a down payment as low as 3%. A FICO® credit score between 620 and 680 usually secures you the best rates and terms. But you can still qualify with lower scores.
Eligibility also depends on your income and the area you want to live in. But you'd face no income restrictions if your property rests in a low-income tract determined by the U.S. Census Bureau. According to a 2018 report by Fannie Mae, 25% of Kansas falls in this parameter.
Freddie Mac runs a similar program called HomePossible. The HomePossible 97 LTV (3% down payment) loan come as a 15- to 30-year fixed-rate mortgage. You can also find various adjustable-rate mortgages (ARM).
Both programs allow you to cover down payments with money from family, friends and employer-sponsored programs. Many conventional mortgage lenders don't permit this.
Income limits for loans through the HomeReady and HomePossible program vary by location and set each year. Speak with a partner lender for the latest details.
NADL
Pros
– Low closing costs and credit score requirements
– Small funding fee
Cons
– Limited to a small group of borrowers
Eligibility
– Home must be on Federal Trust land, Alaska Native Corporation or Pacific Island territory.
– Be a service member or veteran who also is one of the following: Native American in an American Indian tribe, native Alaskan village, or in a tribe that holds a MOU with the VA; Pacific Islander, Native Hawaiian, or person married to eligible spouse
Best For
– Native American service members and veterans with low-to-moderate income
The VA also backs the Native American Direct Loan Program (NADL). To qualify, a Native American veteran or service member must be considering homes on Federal trust Land or other areas the VA designates.
Freddie Mac sets the borrowing limit for single-family homes. The VA calculates NADAL interest rates, which are typically low. In addition, closing costs are also low. And these loans require no PMI. The funding fee for an NADL is 1.25% for active duty personnel. It rises to 2% for reserve members.
These loans are issued directly by the VA. And the organization is typically very reasonable when it comes to credit score qualifications.
Kansas First-Time Homebuyer Programs
Kansas Housing Resources Corporation (KHRC)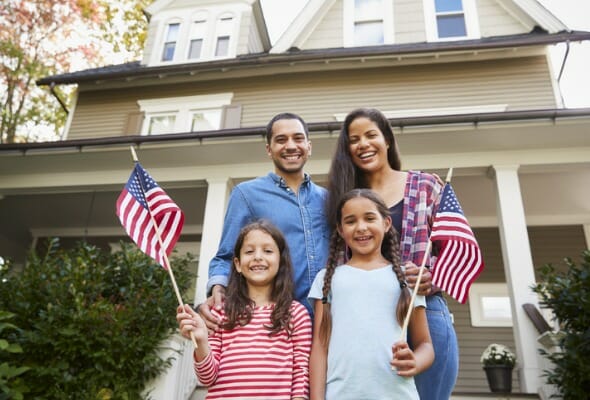 | | |
| --- | --- |
| Pros | – Low-income individuals qualify |
| Cons | – Not available in some areas including Kansas City |
| Eligibility | – Meet income and house-size requirements |
| Best For | – Low-to moderate income Americans interested in purchasing a home within certain areas in Kansas |
The Kansas Housing Resources Corporation (KHRC) stands as the main administrator of the the 25 affordable housing programs active in the state of Kansas. It runs a first-time homebuyer program that aims to help low-income individuals make down payments and cover closing costs.
Individuals and families who have not owned a home in the past three years may apply. Eligibility largely depends on income, household size and the potential property's location. However, the program can't apply to properties in Topeka, Wichita, Lawrence, Kansas City or Johnson County.
Income levels are based off HUD limits and can be found on the KRCs website for each designated Kansas area.
To apply, you must find a lender that participates in the KHRC program. The lender will then process your paperwork as well as the mortgage loan before applying to the KHRC program for you. According to the KHRC, approved applicants will receive a soft loan that may be forgivable in time depending on your income. You're also required to pay 2% of the sale price.
Kansas Housing Assistance Program
| | |
| --- | --- |
| Pros | – Can be used in combination with government-backed loans |
| Cons | – Need a credit score between 640-660 to qualify for some loans |
| Eligibility | – Meet income eligibility as well as house type and location requirements |
| Best For | – People who already have government-backed loans and would like to see if they qualify for additional assistance |
The Kansas Housing Assistance Program helps first-time homebuyers as well as those who already have a 30-year-fixed-rate mortgage through the FHA, VA and USDA. This program provides eligible applicants with grants of up to 5% in cash assistance for down payments or closing costs.
To qualify if you have a USDA, VA or conventional loan, you need a credit score of at least 640. You'd need a credit score of at least 660 if you have an FHA loan.
You must also meet certain credit score minimums and income limits, as well as home type and location rules. Income limits are detailed below.
For those with government loans
Kansas City MSA (Leavenworth, Wyandotte, Johnson, Linn & Miami): $92,000
Lawrence MSA (Douglass): $90,965
All other areas: $84,065
For those with conventional mortgages
Kansas City MSA (Leavenworth, Wyandotte, Johnson, Linn & Miami): $92,000
Lawrence MSA (Douglas): $90,965
All Other Areas: $84,065
In addition, existing homeowners can receive assistance up to the following levels:
FHA: 4%
USDA: 2%
VA: 2%
Conventional unassisted: Up to 5%
For new mortgages, the maximum home purchase price is $453,100 and you'd have to use the loan to finance a single-family detached home, a duplex, condominium or townhouse. If you qualify, you can get a 30-year-fixed-rate loan through a participating lender with up to a 5% grant to cover down payments and closing costs.
Mortgage rates are set daily for those looking for a new loan, so contact a participating lender for more information. This statewide program is sponsored by Sedgwick County and Shawnee County.
House Hunting Tips


Mortgages can be complicated contracts when you consider factors like closing costs and PMI. To help you gauge the real cost, we've developed our mortgage calculator. You can also use our "How much house can I afford?" tool to help you get a better grasp of what you can manage.
The Sunflower state is a beautiful place to live. But don't settle for just anything. We've gathered an interactive report on the best Kansas mortgage rates and where you can find the right lender.
The home buying journey may involve potential pitfalls you'd want to avoid. If you'd like someone to guide you along the way, we can give you a tip. Our SmartAsset matching tool asks you a few simple questions before recommending up to three Kansas-based financial advisors. Any one of these professionals can help you find the first-time homebuyer programs in Kansas that would benefit you the most. An advisor can also help with long-term concerns like the estate tax.
Photo credit: ©iStock.com/tomofbluesprings, ©iStock.com/DenisTangneyJr, ©iStock.com/tomofbluesprings