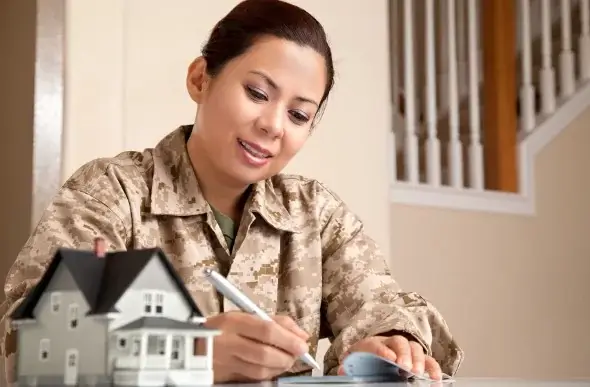 Photo credit: © iStock/DanielBendjy
So you served your country honorably and now you want help getting a low-cost home loan? That sounds pretty reasonable. Luckily, the VA has got you covered with VA loans. How do VA loans work? We're glad you asked.
What is a VA home loan?
A VA home loan is a special loan available to service-members, retired service-members and some surviving military spouses. It's kind of like military financial aid.
How does a VA loan work?
The Department of Veterans Affairs backs VA loans, but conventional lenders are the ones who actually supply and service the loans.
What are the advantages of a VA home loan?
For many, the biggest advantage of a VA loan is that it comes with the option of 100% financing, meaning you don't have to fork over a down payment if you can't afford it.
Another point in favor of the VA loan is that it doesn't come with an insurance requirement. With a regular mortgage, you'd need to pay for mortgage insurance if you had anything less than a 20% equity stake in the home. Not so with a VA loan.
VA loans come with no prepayment penalty. The VA isn't trying to make money off of your mortgage in the same way that conventional lenders are, so they're just as happy as you are if you can put some money toward a prepayment.
The VA imposes limits on how much lenders can charge veterans in closing costs. That means that loans for veterans may come with lower closing costs than other loans.
The VA appraisal process means that you won't get stuck in a house that needs more work than you can afford. Before helping you finance a mortgage, a VA appraiser will check the home to make sure it's safe for you and your family.
If you have a VA loan and you run into trouble making your payments, the VA has programs in place to counsel you and help you stay in your home.
Like any home mortgage, the VA loan comes with potential tax benefits like deductions for interest paid.
Any disadvantages to a VA loan?
VA loans come with fees. These fees come in two forms. First, the regular fees associated with a home loan — fees like appraisal fees, closing costs and recording fees. Second, there's the VA loan funding fee. The VA loan funding fee makes your loan a little less expensive for the VA, and by extension the taxpayer. You can pay the VA loan funding fee up front or finance it as part of your loan.
VA loans can take a long time from application to closing. Now, this is true of most home loans, but it's especially true of the VA loan, since it comes with extra eligibility requirements and procedures related to your military service.

Is there a special VA loan for Native Americans?
Yes! It's called the Native American Direct Loan (NADL). It gives direct home loans from the VA to qualifying Native American veterans. The loan can go to financing the purchase, construction or improvements of homes on Federal Trust Land. The NADL can also be used to refinance an existing NADL and secure lower interest rates.
The interest rate on the NADL is 4.25% as of 2017 but can change along with market fluctuations. There is a funding fee of 1.25% (for those on active duty) or 2% (for reservists) required to obtain this kind of loan. You can pay the fee up front or roll it into the amount that you're financing with the loan. Check the NADL website for exemptions to the fee requirement and to find out if the NADL is the right fit for your home-buying needs.
How do I refinance a VA loan?
To refinance a VA loan you have two options. One is the streamline IRRRL, and the other is the cash-out refinance.
The IRRRL (Interest Rate Reduction Refinance Loan) helps veterans secure lower interest rates on their existing VA loans and in the process lower their monthly mortgage payments. The IRRRL can also be used to refinance from an adjustable-rate mortgage (ARM) to a fixed rate mortgage.
With the cash-out refinance, you can take cash out of your home equity to meet immediate needs, like paying off high-interest credit card debt or going back to school. Think of it like a home equity loan. The VA cash-out refinance is also available for veterans looking to convert a non-VA loan into a VA loan. Veterans' home loans have advantages over regular loans that mean you might want to consider refinancing to a VA loan.
Should I get pre-approved for a VA loan?
Absolutely! Getting pre-approved can make your life much easier.
The VA has its own pre-approval process. You can request a pre-approval document package from the VA and have it delivered to you. That's right, the VA does the paperwork for you, filling in the necessary information and organizing the documents to make them as easy to understand as possible. Once you return the package, the VA can supply you with a pre-approval letter to take to your real estate agent.
You will need to meet the conditions listed in the pre-approval letter before the VA can finalize your loan paperwork. It's likely that you will need to supply the VA with pay stubs, tax returns, employment history, bank statements and evidence of any real estate assets you may already have.
Getting pre-approved can shorten your wait time for a loan, but it will also provide another important benefit: letting you know your price range for your home purchase. Getting pre-approved before you start your home search will prevent you from falling in love with a house that's outside of your budget or from spending valuable free time touring homes that are worth way more — or less — than what you'll be able to finance with your VA loan. For most counties, the maximum VA loan is $424,100 but that doesn't necessarily mean you should borrow the maximum. It's important to stick with what's comfortable for your budget.
Can I get a VA loan for a fixer-upper?
That depends on how much fixing the home needs. In general, the VA's interest is in helping veterans and their families finance move-in ready, safe, sound and sanitary housing. They're not as interested in helping you live out your DIY dreams or apply all the knowledge you gained from watching HGTV.
To qualify for a VA loan, the home you want to purchase will have to pass the VA appraisal process. During this process, the VA appraiser will make sure that the home you want to finance isn't a complete mess. He or she will be checking to make sure that the home meets the VA's Minimum Property Requirements (MPRs).
What are VA loan MPRs?
Basically, the house you finance with a VA loan can't be rotting, leaking, shoddily built, have a faulty roof — you get the idea. MPRs protect veterans from people who may want to sell them unsafe homes and they protect veterans by saving them money on excessive repair and maintenance costs for their new home.
Are VA loans assumable if I want to sell my home?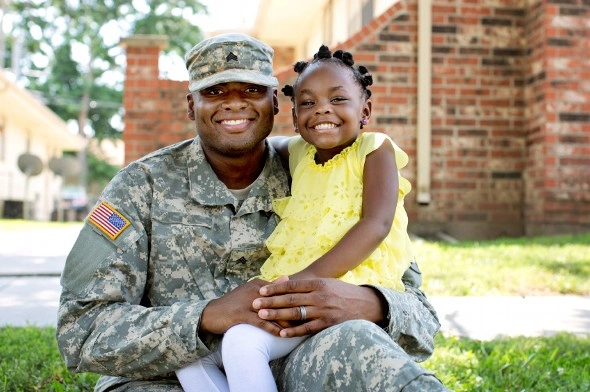 Photo credit: © iStock/DanielBendjy
Good question! Having an assumable loan can make selling your home way easier. Once upon a time, all VA loans were assumable, whether the new buyer was military or civilian. Now, VA loans are only assumable in certain circumstances. If a veteran divorces, his or her spouse can assume the VA mortgage on the home. If the loan closed before March 1, 1988 it is assumable no matter what. If the VA loan closed after that date, loan assumption is not allowed unless the veteran obtains prior consent from the mortgage lender.
And there you have it — a simple run-down of the VA loan.