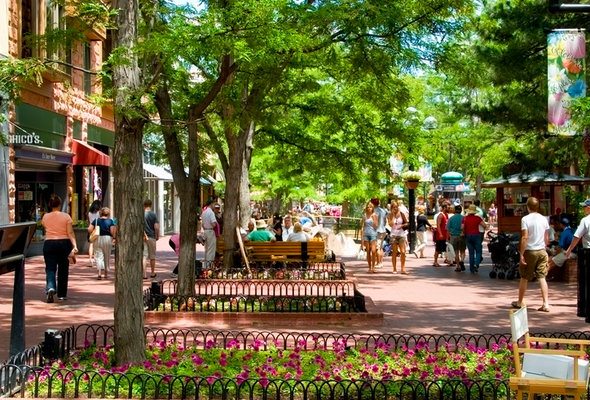 Whether you're buying a house for yourself or as an investment, one factor to consider is the long-term value of the home. Housing market growth is a way to determine if you'll get a return for your home. Many high growth areas took a turn for the worse after the housing bubble burst in 2007-2008. However, as time moves us further from the housing crisis, the market is heating up again. It's good news for buyers as well as sellers, as long as it's stable growth rather than another rapid rise. SmartAsset analyzed historical price data and ranked the best housing markets for growth and stability for 2017.
Compare current mortgage rates here.
Key Findings
Consistency for the top two. Boulder, Colorado, and Austin-Round Rock, Texas top our list at the number one and two spot for the third year in a row. Both metro areas continue to see strong, yet stable housing market growth.
No wins for the Northeast. This marks the third year of not a single Northeast housing market making our top 25. Burlington comes closest finishing in the 41st spot, with State College close behind in 43rd. Both cities scored well in stability, but were held back by relatively low growth numbers.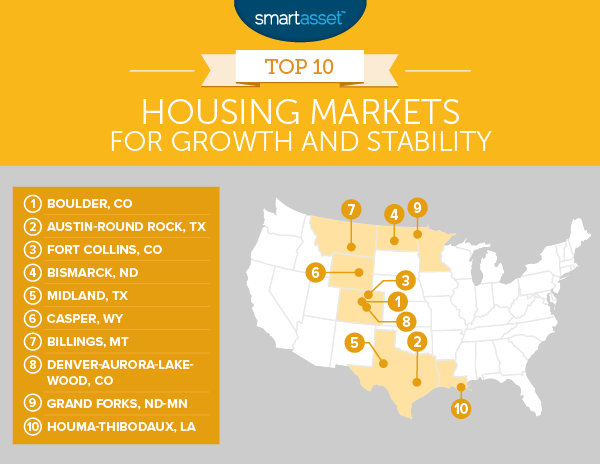 This is the third annual version of SmartAsset's best housing markets for growth and stability study. Read the 2016 version here.
1. Boulder, Colorado
Topping our list for the third year in the row, Boulder, a popular mountain city of 100,000 people, makes a strong showing once again. The city has the highest average home appreciation of any metro area in our study. And while a number of factors are responsible for growth, the close proximity to outdoor recreation and the University of Colorado Boulder helps make this city an attractive place to buy.
2. Austin-Round Rock, Texas
Texas' capital has quite a few things going for it. Not only has the metro area seen 267% housing market growth in the past 25 years, it's also gained a reputation as one of the best places to start a business. A great housing market, a plethora of large companies (think Amazon, Google and Facebook) and no state income tax all add to the appeal of this Texas gem.
3. Fort Collins, Colorado
Fort Collins keeps climbing up our list. In 2015, the area ranked No. 11 in our study and in 2016, it rose to No. 6. With 261% housing price growth, the city's just 6% behind Austin-Round Rock. Stability has also been high at only a 4% probability that housing prices will decline. Add to that an unemployment rate of 2.9%, and it's no wonder this Colorado town ranks higher each year.
4. Bismarck, North Dakota
For the second year in a row, Bismarck ranks No. 4. This oil hub had only 2.3% unemployment in 2016, thanks to a robust economy and stable job market. All this adds to its overall stability in home prices and market growth.
5. Midland, Texas
This western Texas metro area with the motto, "Feel the energy!" makes it into our top five for the third year. Oil is one of the main draws to this city, which hasn't seen a single period of significant price declines since 1992. Its growth over 25 years, from 1992-2016, was 213%.
6. Casper, Wyoming
Dropping from last year's number three, Casper still stays in our top 10 housing markets. What helped keep it on the list was a growth of 250%, with only a 9% probability for a decline in prices. The last time prices declined was during the housing crisis. Since then, the Western city of roughly 60,000 residents has seen stable growth, year after year.
7. Billings, Montana
Montana's highest-populated city stays at No. 7 on our list for the third year in a row. The average Billings homeowner hasn't experienced price declines of 5% or more since 1992. And overall growth during that time period was 194%, a slight dip from last year's 200%.
8. Denver-Aurora-Lakewood, Colorado
Colorado's capital, last year's No. 9 and 2015's No. 18, climbs up our list slowly but surely. Housing market growth of 276% helps make the Denver metro area a good place to buy. The only thing holding the city back is a 17% probability of a price decline, which is the highest for our top 10 markets by 8%.
9. Grand Forks, North Dakota — Minnesota
The third-largest city in North Dakota slowly creeps up our list from last year's No. 10 to this year's No. 9. While most of the metro areas on the list benefit from an oil or tech economy, this Midwestern city mostly relies on agriculture, aviation and manufacturing for its economy.
10. Houma-Thibodaux, Lousiana
The last metro area to make it into our top 10 is this Southern area of roughly 210,000 people. Average home prices in Houma-Thibodaux have grown almost uninterrupted since 1992. In fact, despite the multiple setbacks of Hurricane Katrina and the recession, home prices declined by just 2.5% from their peak at the beginning of the crisis to their low point. With home prices growing at 182% in the past 25 years, this city is strong and steady.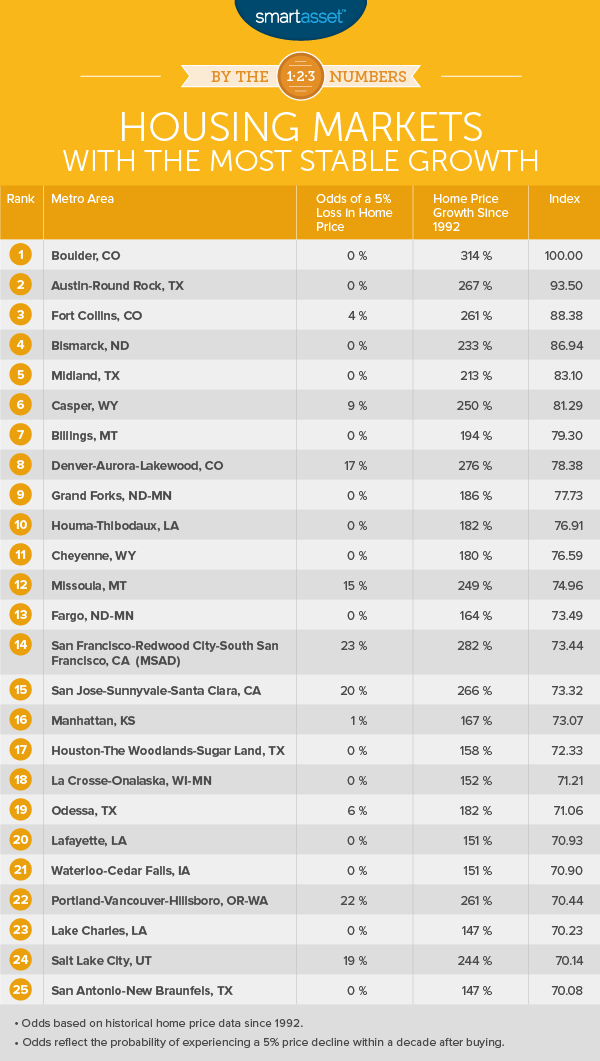 Data & Methodology
SmartAsset used Federal Housing Finance Agency data to determine the best housing markets with the most stable growth. In particular, we pulled the home price index for single-family homes in the 358 largest urban markets. We focused on homebuyers who had purchased homes between the first quarter of 1992 and the last quarter of 2016.
For each market, we calculated overall home price growth since 1992 to determine growth. Next, we figured the probability of a homeowner experiencing significant price declines (5% or more) at any point in the 10 years following the home purchase for our stability factor.
We used those two metrics, home price growth and the probability of a price decline, to determine a score. For the stability metric, a metro area with a 0% historical probability of significant price declines scored a 100. To score a 0, a metro area had to have a 50% probability of significant price declines. Fifty percent was the highest possible odds in our analysis.
For our growth metric, a metro area with overall home price increases of at least 300% scored a 100. Metro areas with 0% growth scored a 0.
For our final results, we averaged the scores for both factors (growth and long-term stability) and created an overall index, giving half-weight to each factor.
Questions about our study? Contact us at press@smartasset.com.
The data analysis for this study was completed by Nick Wallace.
Photo credit: ©iStock.com/SWKrullImaging