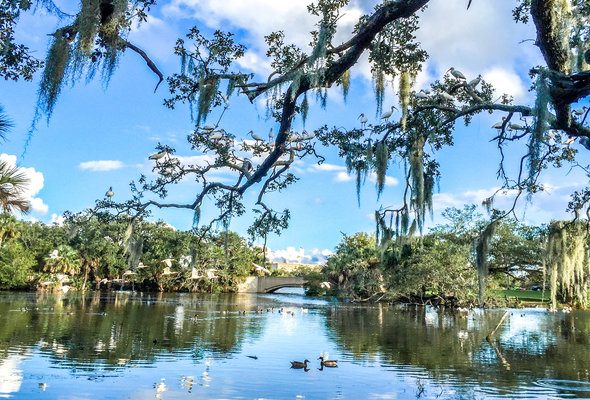 Some folks don't like being stuck inside. They prefer to spend their free time participating in different outdoor activities, from cycling and backpacking to whitewater rafting. Finding a peaceful park or a quiet hiking trail can be a challenge, particularly when you live in a major metropolitan area. But in some cases you don't have to sacrifice your love of nature for a big-city lifestyle. We took a look at the best cities in the country for outdoor enthusiasts.
This is SmartAsset's second annual study of the best cities for outdoor enthusiasts. Read 2015's study here.
Study Specifics
To find the best cities for outdoor enthusiasts, SmartAsset ranked the 100 largest U.S. cities across the same five metrics that we considered in the 2015 version of our analysis. Specifically, we focused on the air quality in each of the cities in our study and the acres of parkland per 1,000 residents.
We also looked at water area, parkland as a percentage of the total land area and the percentage of commuters in each city who bike or walk. You can read our full methodology below.
Key Findings
Explore the Southeast. You'll find quite a few natural gems in this region. Four of our top 10 cities for outdoor enthusiasts are located in Florida, Louisiana and Virginia. Jacksonville alone has 76 acres of parkland for every 1,000 people.
Take two. For the second year in a row, both Honolulu and Anchorage appear at the top of our list. Both places have dozens of areas that are designated as parkland.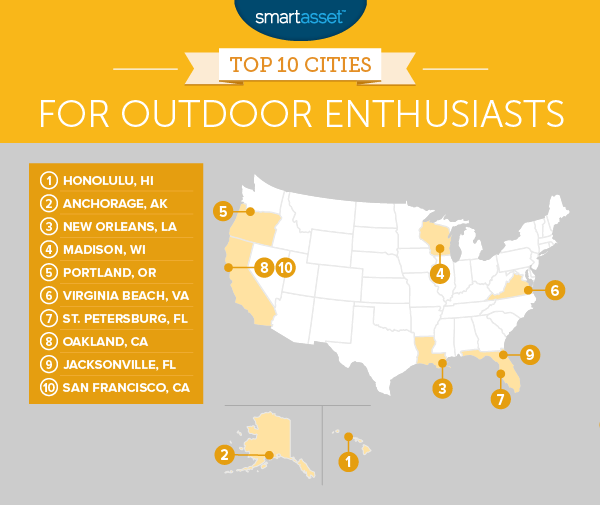 1. Honolulu, Hawaii
There are 34 acres of parkland in Honolulu for every 1,000 residents. Besides surfing and scuba diving, residents can hike along the Koko Crater Trail or go on a bike tour. If you visit Hawaii and fall in love with it, you may find yourself wanting to move there.
2. Anchorage, Alaska
Anchorage has cleaner air than most of the cities in our study. According to the Environmental Protection Agency, the city's average air quality index is 35. Any score between 0 and 50 is good and the lower the score, the better.
There are more than 200 different parks in Anchorage. In terms of area, more than 50% of the country's national park lands can be found in the state of Alaska.
Thinking about moving? Check out our cost of living calculator.
3. New Orleans, Louisiana
Over half of the total area in New Orleans is covered by water. The only other cities in our study with a higher percentage of water area are St. Petersburg, San Francisco and Corpus Christi.
Crescent City residents who need a break from the scorching heat (and humidity) can visit a number of different water parks, including the Audubon Zoo's wet and wild splash park, known as the Cool Zoo. They can also try kayaking or flyboarding, an extreme water sport that propels participants in the air so that they're flying 30 feet above water.
4. Madison, Wisconsin
Madison ranks as the fourth best city for outdoor enthusiasts. Last year, it took the sixth spot on our list.
Besides being one of the best state capitals and one of the least-stressed cities in America, Madison has cleaner air than most major cities in the Midwest (according to the EPA). It also has a relatively high percentage of residents (14%) who bike or walk to work.
Related Article: The Least-Stressed Cities in America – 2016 Edition
5. Portland, Oregon
One-year estimates from the Census Bureau's 2015 American Community Survey show that Portland has about 632,187 residents. More people are expected to pour into the city and the areas surrounding it, putting a greater strain on its rental and housing markets. That's something to keep in mind if you're trying to decide whether you should buy a house there or keep renting.
Residents who want more personal space might want to consider spending more time outdoors. Parkland makes up 18% of the total land area in Portland. Popular parks include Mt. Tabor Park and the Tom McCall Waterfront Park in downtown Portland.
6. Virginia Beach, Virginia
There's more to Virginia Beach than its boardwalk and sandy beaches. The city has 55 acres of parkland per 1,000 residents and over 250 parks and outdoor facilities. First Landing State Park attracts more visitors than any other state park in Virginia. History buffs might be interested to know that it's the first place where early colonists settled in 1607.
7. St. Petersburg, Florida
St. Petersburg has a lot to offer outdoor enthusiasts. The city has one of the largest urban waterfront park systems in the country and is home to the Sunken Gardens, a breath-taking four-acre attraction that has existed for 100 years.
There's a reason why St. Petersburg is known as the Sunshine City. It still holds the world record for having the most sunny days in a row: 768. Plenty of sunshine means there's plenty of opportunities to go hiking, horseback riding and fishing.
8. Oakland, California
Folks in the Bay Area can escape to a number of places when they need fresh air. The Oakland Rose Garden is a peaceful spot filled with thousands of brightly colored roses. Joaquin Miller Park is another area to explore if you want spectacular views of the bay. It's roughly 15 minutes away from downtown Oakland and is a great place for bikers and picnickers.
9. Jacksonville, Florida
The Sunshine State has one of the highest concentrations of wildlife refuges in the U.S. and Jacksonville has a couple of them. The Catty Shack Ranch Wildlife Sanctuary is a non-profit organization that takes in endangered lions, arctic foxes and other big cats. The Bird Emergency Aid and Kare Sanctuary is a rehabilitation sanctuary that receives about 4,000 wild birds each year.
Jacksonville also has more parkland than any other major city in the state of Florida. In fact, its urban park system is the largest one in the nation. Its parks, gardens and other facilities cover more than 80,000 acres of land.
10. San Francisco, California
Data from the U.S. Census Bureau shows that 14.7% of commuters in San Francisco bike or walk. The Bay Area Bike Share program – which launched in SF in 2013 – is currently being expanded. More residents will soon be able to ride their bikes throughout the city, and it's set to become one of the largest bike sharing systems in the country.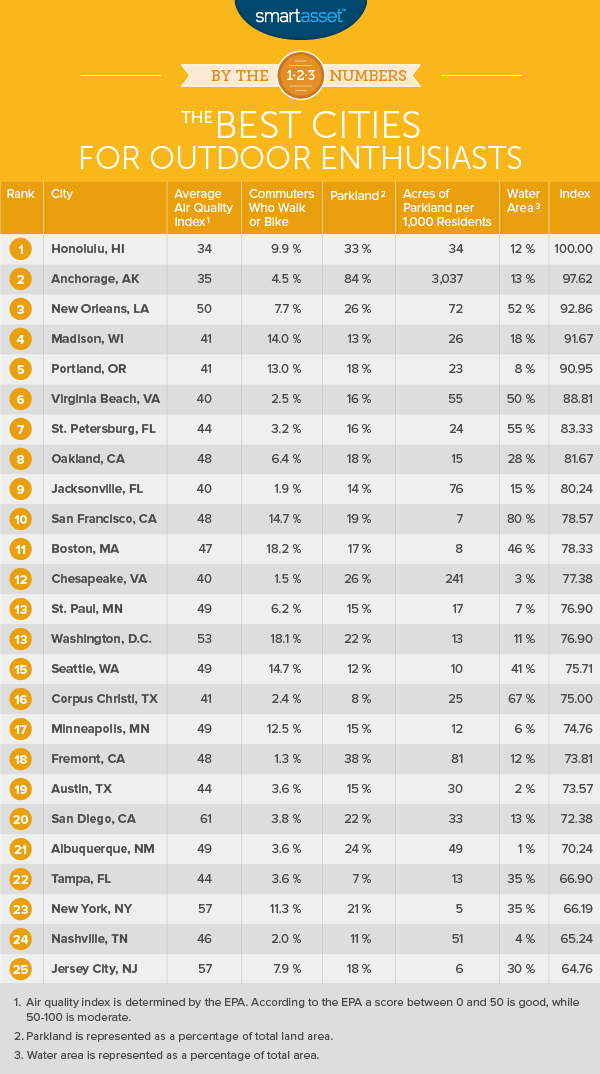 Methodology & Data Sources
SmartAsset found the best cities for outdoor enthusiasts by ranking the 100 largest U.S. cities using several different factors. For each of these cities, we looked at the average air quality index (which reflects the amount of ozone and other pollutants in the air), water area as a percentage of the total area and the percentage of people who bike or walk to work. We also considered parkland as a percentage of the total land area and the acres of parkland per 1,000 residents.
After ranking each city across our five metrics, we averaged our rankings and gave equal weight to each factor. Then we gave each city a score between 0 and 100. The highest-ranking city received a 100 and the lowest-ranking city received a 0.
Data on the average air quality index comes from the Environmental Protection Agency's 2015 Air Quality Index Report. Data on water area comes from the 2010 Census.
Commuter data is based on one-year estimates from the U.S. Census Bureau's 2015 American Community Survey. Parkland data comes from the Trust for Public Land's 2016 City Park Facts report.
The data analysis for this study was completed by Nick Wallace.
Questions about our study? Contact us at press@smartasset.com
Photo credit: ©iStock.com/nolamissesyou