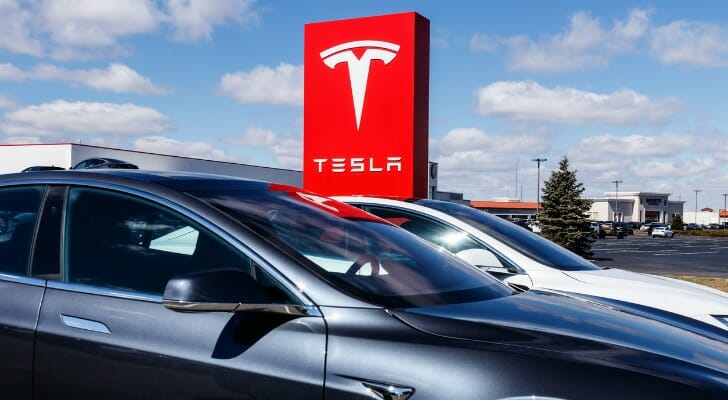 Tesla is one of the most popular American electric vehicle companies. Headed by CEO Elon Musk, the company designs, develops, manufacturers and distributes a variety of electric cars and vehicle powertrain components. In addition, it provides storage and energy generation products. Tesla's success and global international product offerings have many investors looking to buy equity. But how do you invest in Tesla stock? We go over your options below. If you'd also like expert guidance with your financial decisions, consider using a financial advisor matching tool to pair you with local advisors in your area.
How to Buy Tesla Stock With a Brokerage Account
Tesla is a publicly traded company, which makes its stock available to anyone of age interested in purchasing equity. In order to become a shareholder, you'll need to open a brokerage account. You'll have a range of brokers to choose from, but it's wise to choose the one that best complements your financial situation. Brokers offer varying account minimums and trading commissions, so you'll want to weigh your options before making a final decision.
If you're worried you may not have enough money to purchase an entire share of Tesla, other services, such as Motif Investing, allow investors to buy fractional shares of equity. After you've selected your broker and determined how many shares you'd like to buy, you'll be ready to place an order. You'll need to use Tesla's ticker symbol on the Nasdaq — TSLA — to proceed. You'll then have the option between two orders: a market or limit order. Specifically, a market order allows you to purchase a company's stock at whatever the current price is. However, a limit order lets you dictate the maximum or minimum price at which you're willing to buy or sell.
Brokerage Comparison
Brokerage Firm
Trading Fees
Minimum
Best For
Robinhood
Read Review
$0
$0
– Mobile/online traders
– Self-sufficient investors
Merrill Edge
Read Review
$6.95
$0
– Bank of America account holders
– Customer support users
TD Ameritrade
Read Review
$6.95
$0
– Online traders
– Customers who value support
How to Buy Tesla Stock With a Financial Advisor
You may also want to consider an alternative to consulting a brokerage. If you're looking for expert guidance with your investment portfolio, a financial advisor could be a great option for you. If you're new to investing, or even if you've got a bit of experience, financial advisors could present a holistic approach to transforming your finances. Whether it's structuring your portfolio, or determining which investment types to use, financial advisors can help you meet your long-term savings goals.
Overview of Tesla
Founded in 2003 and headquartered in Palo Alto, California, Tesla designs, builds and sells both electric vehicles, energy generation products and storage products. The company not only sells its products in the U.S., but also on an international level. In fact, its product distribution extends to China, Europe and Australia. It's also important to note that the company operates in two primary segments: Automotive and Energy Generation and Storage. The Automotive segment focuses mainly on electric vehicles and electric vehicle powertrain components. The segment additionally offers vehicle services and benefits like Tesla Leasing and Tesla Lending. The Energy Generation and Storage segment, on the other hand, sells solar systems and renewable energy and offers energy storage products.
Tesla Company Overview
Automotive
– Sedans and sport utility vehicles
– Electric vehicle powertrain component distribution
– Tesla Leasing, Tesla Lending
– Vehicle services
Energy Generation and Storage
– Energy storage products
– Solar systems
– Renewable energy
Tesla's Financial Profile
Though an incredibly popular company, Tesla's stock hasn't received blue-chip status. When a company earns blue chip status, that means it has a longstanding history of profitability and success in its industry. Tesla doesn't retain the status largely because of its rocky profitability history.
Tesla's stock currently runs around $220 per share, making the current price around 73% lower than its 52-week high stock price of $379. The "52-week" mark essentially represents the highest or lowest share price over the span of the previous 52 weeks. The Tesla 52-week low was $178, which was around 18% below the current share price. If you'd like a more holistic view of the company, it may also help to review its Form 10k. The Form 10K is an annual report that all publicly traded companies must file with the SEC. It highlights everything from a company's management and risks, to its expenses and total revenue.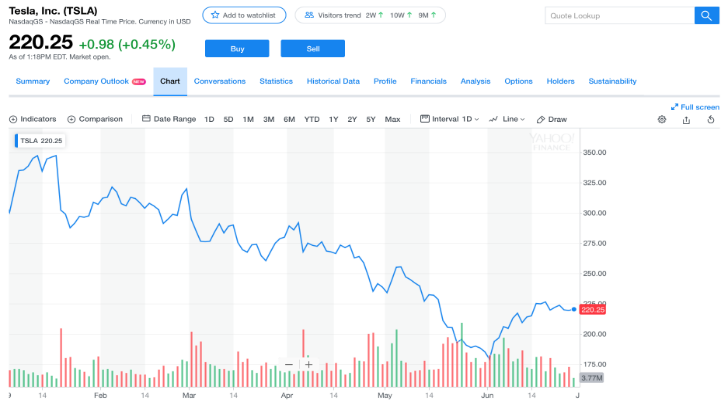 Should You Buy Tesla Stock?
Before deciding whether you should purchase Tesla stock, it's wise to assess your financial situation and long-term savings goals. While Tesla is a widely recognized and popular company, its stock is nonetheless susceptible to volatility. In 2018, the company's stock underwent numerous ups and downs, and CEO Elon Musk reported that the company was on the verge of bankruptcy. However, Tesla has announced that it's making severe cost cuts to become more profitable. Therefore, your decision to invest will depend largely on your faith in the company's current and future performance.
Both qualitative and quantitative factors are all important considerations in determining where to invest. Before purchasing equity, you should weigh things like Tesla's total revenue, management, risk and competition. However, if you're confident in both CEO Elon Musk's vision for the company's future, Tesla could be a worthwhile investment.
Tips for Picking a Financial Advisor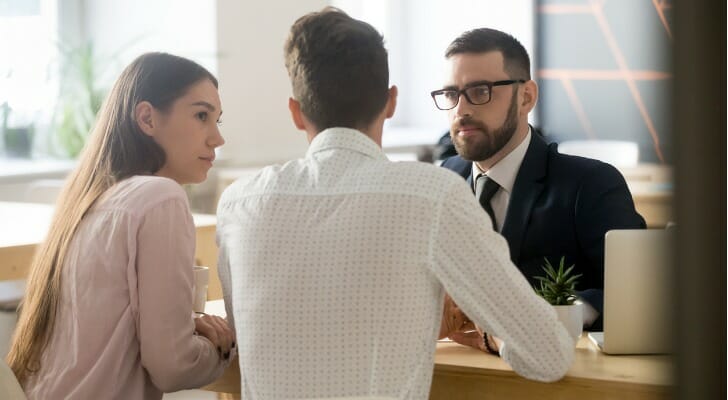 If you're looking to enhance your investment portfolio with the help of a financial advisor, it's important you choose the right one. Whether it's investment strategies or portfolio organization, financial advisors can be instrumental in helping you reach your savings goals. Consider our questions to ask a financial advisor before you make a final decision.
SmartAsset's financial advisor matching tool can ease the process of finding a financial advisor who's suitable to your financial needs. All you'll need to do is complete a short questionnaire, and you'll be paired with up to three local matches in your area.
Photo credit: ©iStock.com/jetcityimage , Yahoo Finance, ©iStock.com/fizkes