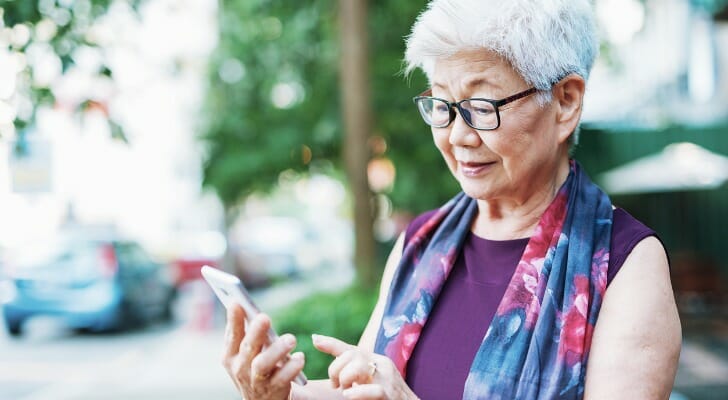 E*TRADE arguably ushered in the modern era of online finance. Although far from the only option on the market, it established itself as the brand name for web-based trading in the late '90s and early 2000s. Fidelity, by contrast, has long been one of the biggest players in the world of brick-and-mortar investments. A well-known firm for brokerage and financial advice, it has carried that reputation smoothly into the world of trading platforms. If you're looking for an expert to oversee your investments, consider working with a financial advisor and automate growing your wealth.

E*TRADE vs. Fidelity: Fees
Investing can be a huge expense if you don't understand what you get charged for or what you're doing on an investment platform. There are largely four types of fees to look out for when choosing a trading platform:
Trading Fees: Any fixed charge attached to each trade that you make. This can come in the form of a flat fee or what's known as the "spread." This is when your broker charges you based on the difference, if any, between the buying and the selling price of an asset.
Trading Commissions:This is when a broker will charge you a percentage based on the volume or value of each trade.
Inactivity Fees: Any fees that the broker charges you for not trading, such as for keeping money in a brokerage account.
Non-Trading/Other Fees: Any form of fee for trading on this platform not covered above. For example, a brokerage might charge you for making deposits into your brokerage account, taking money out of it or signing up for additional services.
While historically online trading platforms carried over the brokerage business model of charging trading fees and commissions, this has changed in recent years. Like most trading platforms E*TRADE and Fidelity now offer free trading for all stocks and exchange-traded funds (ETF). Neither service charges inactivity fees, nor do they charge fees for standard services such as moving money in or out of your account.
Both services charge $0.65 per contract to trade options contracts, and both charge $1 per bond to trade bonds. However, for investors who make at least 30 trades per quarter, E*TRADE reduces its options contract price to $0.50 per contract.
E*TRADE charges nothing to trade a series of pre-defined mutual funds on a fee-free list and $20 to trade all others. Fidelity also offers a pre-defined list of fee-free mutual funds and charges $50 per trade for all mutual funds, not on this list. However, readers should note that both services offer extensive fee-free lists, meaning that you will likely be able to find a $0 mutual fund to meet your investment strategy on either platform.
It costs $1.50 to enter a futures contract on E*TRADE, while Fidelity does not offer this service. Margin rates on E*TRADE start at 8.95%, while Fidelity charges 8.325% and up. Both platforms offer broker-assisted trades, with E*TRADE charging $25 per trade for this service and Fidelity charging $33.
E*TRADE vs. Fidelity: Services & Features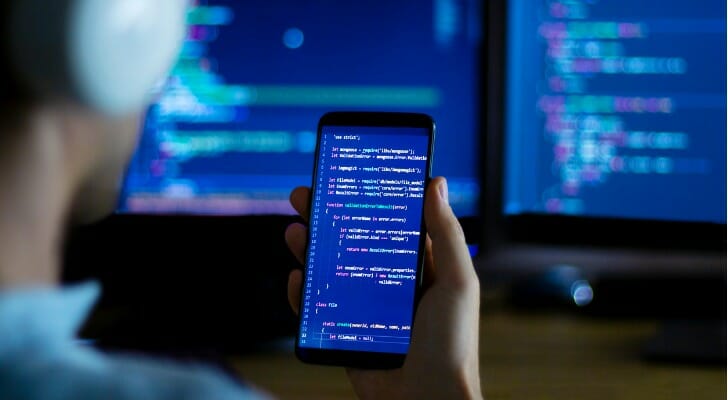 Both Fidelity and E*TRADE are full-service brokerages. This means that you can find most mainstream assets, technical indicators and trading data on both platforms. Perhaps the most significant difference between these two platforms is that Fidelity, at the time of writing, does not offer trading in futures contracts.
Yet it's important to note that, while futures are a very significant asset class, relatively few retail traders will ever actually invest in a futures contract. Futures are complicated, high-risk assets, meaning that unless you are a very sophisticated trader it's unlikely that this difference will matter to your user experience.
Beyond this, both E*TRADE and Fidelity offer a range of domestic stocks, bonds, ETFs, mutual funds and options. Neither support trading in foreign currency markets, however, nor do they have cryptocurrency markets. Both E*TRADE and Fidelity offer a deep set of data and analytical tools.
Users can pull up information going back for the lifetime of an asset for any given set of data (assuming that the data goes back that far), and both platforms allow you to create customizable charts so that you can compare different assets and different data sets.
Both services also offer analytics, with articles and information that gives you a sense of the state of the market. Fidelity's analysis and research are generally considered to be of a higher quality than E*TRADE's, and its platform offers a higher volume of analytical reports.
Finally, E*TRADE offers what is known as "paper trading." This is a tool that allows you to simulate trades in your portfolio, letting you see how different investments would affect your overall position. Used well this can be a highly valuable tool for a savvy investor. It is not available on Fidelity's platform.
Fidelity offers its entire trading platform through a single brand, accessible by both the company's website and its app. E*TRADE has launched two different brands that traders can choose from. The core brand, simply known as E*TRADE, is for the mainstream market and has tools designed around retail investors, as opposed to institutional investors.
For sophisticated investors, E*TRADE has also launched Power E*TRADE. The latter platform offers a greater degree of customization, as well as more live data and other services geared toward extremely experienced, if not professional, investors. Both of E*TRADE's platforms are available through a website and app.
E*TRADE vs. Fidelity: Online and Mobile Experience
Both E*TRADE and Fidelity offer very well-designed products.
With E*TRADE, customers can choose from four different options (the website and app interfaces of E*TRADE and Power E*TRADE, respectively). The retail investor will want to choose E*TRADE's core brand, as its Power version has a degree of depth and complexity that will quickly lose all but the highly experienced investors or the sophisticated investor.
E*TRADE carries on its original purpose of introducing laypeople to investment. Its interface gives you quick and easy access to your portfolio and financial position, as well as the key trading tools you'll need. However, even the core brand of E*TRADE has some learning curve.
E*TRADE's layout does little to hide the true complexity of modern investing, and a newcomer to the field might find the user interface confusing at first. This is not a deal breaker, and it will take only a little bit of time and patience to learn E*TRADE's system, but it may seem daunting.
Investors with even moderate experience in investment portfolio management should not find this a problem.
For newcomers to investing, Fidelity offers a better platform from a pure ease-of-use standpoint. The platform feels particularly more natural in its app form, where E*TRADE's system feels like the transition from a web page to the app that it is. Fidelity's trading platform makes it easy to find the assets you want, and the basic options of buying, selling and price information are available at a glance. Additional information is available through tabs and further options, which users can navigate to as they learn the system.
However, this ease of use does come at some cost. Experienced traders may find Fidelity's app more limited than E*TRADE's depth, and will find that Fidelity offers less opportunity for customization. Finally, both companies shine from a customer service standpoint. E*TRADE and Fidelity both offer telephone, live chat and e-mail support, giving you ample ways to contact the brokerage if you have questions about your money.
E*TRADE vs. Fidelity: Who Should Use It?
First of all, there is no wrong answer here. Both E*TRADE and Fidelity offer full-service, high-powered platforms which will serve the needs of almost any individual investor. However, there is a small, but very real, difference between these two services.
E*TRADE is the better choice for experienced investors looking for a trading platform that can keep up with increasingly complex trades. It has a depth of information that slightly outpaces Fidelity's offerings, and its Power E*TRADE platform is specifically designed for people who may even make their living as traders (particularly day traders and others looking for at-the-moment information). The ability to trade futures contracts might really matter to sophisticated traders, and the somewhat denser interface will not slow down someone experienced in this field.
Fidelity, on the other hand, is the right choice for new or more casual investors. Unless you're very active with your money you will not miss the differences between E*TRADE and Fidelity's data sets and tools. Moreover, Fidelity's more streamlined interface will make newer investors feel more comfortable using this platform. Casual investors won't miss the absence of futures contracts, an asset that should be traded only by highly experienced investors, and the analysis offered by Fidelity will be particularly useful to people looking to better understand the markets.
That said, once again, there are no wrong answers when choosing between Fidelity and E*TRADE. You'll do well with either one.
The Bottom Line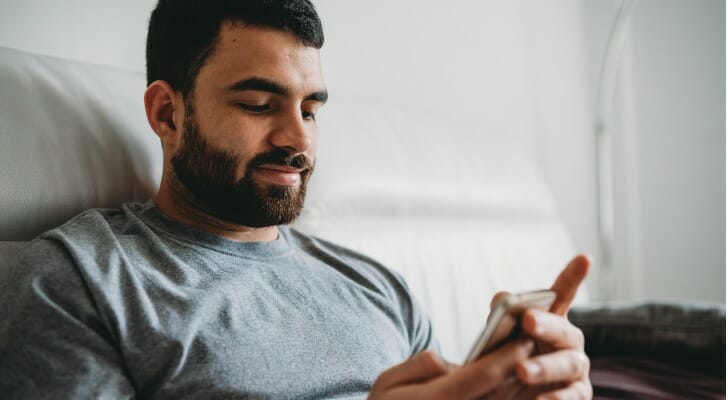 No matter which of these services you choose, you'll get a well-designed trading platform with the power of a full-service brokerage behind it. More sophisticated investors will probably like the range of options offered by E*TRADE, while more casual investors may prefer the somewhat more intuitive design of Fidelity. Ultimately, the right choice will depend on your own needs and level of comfort using the services.
Tips for Investing
No matter what platform you use, all investing should start with a carefully thought-out financial plan and corresponding investment strategy. Consider talking to a financial advisor for expert help in both areas. Finding a financial advisor doesn't have to be hard. SmartAsset's matching tool matches you with up to three vetted financial advisors who serve your area, and you can interview your advisor matches at no cost to decide which one is right for you. If you're ready to find an advisor who can help you achieve your financial goals, get started now.
Photo credit: ©iStock.com/Drazen_, ©iStock.com/monstArrr_, ©iStock.com/FilippoBacci