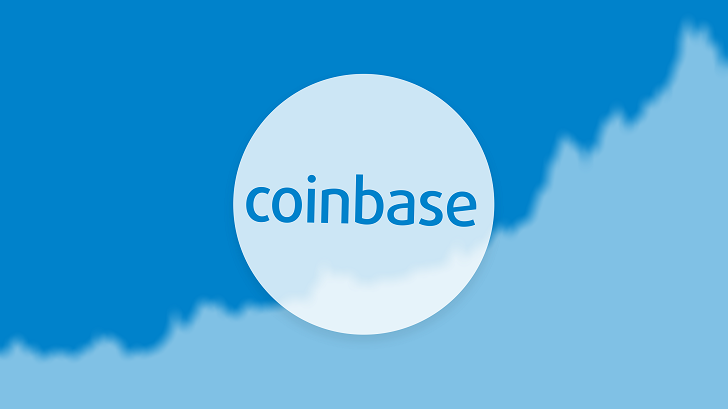 Coinbase made news in April 2021 as the first major cryptocurrency platform to go public on the U.S. stock market. But this watershed moment does not overshadow the role that it has played as a cryptocurrency trading platform and brokerage for almost a decade. Founded in 2012, Coinbase offers a wide variety of cryptocurrency-based services, including cryptocurrency investing, cryptocurrency trading and even custodial accounts for institutional cryptocurrency investors. The company also has a cryptocurrency wallet and its own USD-backed stablecoin called USD Coin (ticker: USDC). A local financial advisor can help you assess whether cryptocurrency is a good investment for your portfolio.
Services and Features: What Does Coinbase Offer?
Coinbase is a comprehensive trading platform that offers a variety of cryptocurrency investing services. These range from online trading to a digital wallet and even a dollar-backed stablecoin. The company allows users to invest in and trade around 50 cryptocurrencies, and it plans to add more in the near future:
Cryptocurrencies Available Through Coinbase
– Aave (AAVE)
– Algorand (ALGO)
– Ankr (ANKR)
– Cosmos (ATOM)
– Balancer (BAL)
– Band Protocol (BAND)
– Basic Attention Token (BAT)
– Bitcoin Cash (BCH)
– Bancor Network Token (BNT)
– Bitcoin (BTC)
– Cardano (ADA)
– Celo (CGLD)
– Compound (COMP)
– Civic (CVC)
– Curve DAO Token (CRV)
– Dai (DAI)
– Dash (DASH)
– districtOx (DNT)
– Enjin Coin (ENJ)
– EOS (EOS)
– Ethereum Classic (ETC)
– Ethereum (ETH)
– Filecoin (FIL)
– The Graph (GRT)
– Kyber Network (KNC)
– Chainlink (LINK)
– Loopring (LRC)
– Litecoin (LTC)
– Decentraland (MANA)
– Maker (MKR)
– NKN (NKN)
– Numeraire (NMR)
– NuCypher (NU)
– OMG Network (OMG)
– Orchid (OXT)
– Polygon (MATIC)
– Ren (REN)
– Augur (REP)
– Skale (SKL)
– Storj (STORJ)
– SushiSwap (SUSHI)
– Synthetix (SNX)
– USD Coin (USDC)
– Universal Market Access (UMA)
– Uniswap (UNI)
– Wrapped Bitcoin (WBTC)
– Stellar Lumens (XLM)
– Tezos (XTZ)
– Yearn.finance (YFI)
– Zcash (ZEC)
– 0x (ZRX)
– 1inch (1INCH)
Trading Platform
Trading cryptocurrency on Coinbase is easy, which makes the platform a popular choice for beginners. You can use the platform on your computer or your mobile device. Once you log in to your account, you can see your balance and its performance. You can access Coinbase in every U.S. state except for Hawaii.
While you can use Coinbase's trading platform for free, you'll have access to even more functionality if you opt for Coinbase Pro. Coinbase Pro gives users the ability to look at detailed charts and research materials before placing market orders, limit orders, stop orders and margin transactions. Market orders are submitted by entering how much of any cryptocurrency you'd like to buy and then clicking the submit button. You can fund your account with existing cryptocurrency, or link to your bank account. You can also wire money into your account.
To open an account with Coinbase, you need to provide certain information. This includes your name, address and Social Security number. You'll also have to go through certain identity-verification steps like you would with any other brokerage account.
Security
Blockchain-based technology is designed to be secure and un-hackable. However, it's always a good idea to be vigilant when choosing a cryptocurrency trading platform to use. Because of the fully online nature of crypto, keeping your tokens safe is top priority.
Each Coinbase account uses two-factor authentication and biometric fingerprint data to secure accounts. As additional security measures, data is stored offline and accounts are also insured if Coinbase itself gets hacked.
Pricing: How Much Does Coinbase Cost?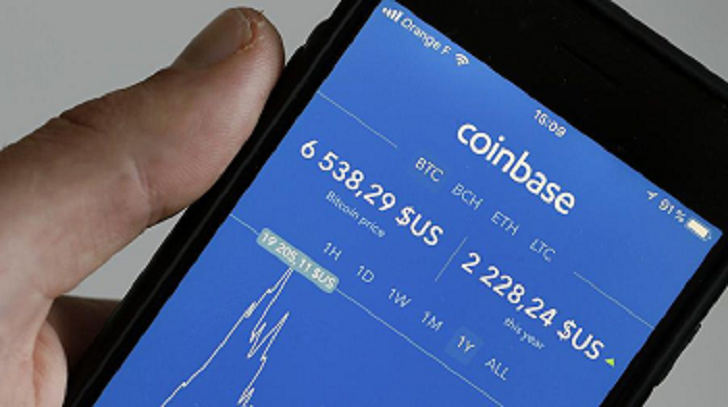 Coinbase's fee structure can be a bit confusing, especially if you don't pay for the Coinbase Pro platform. Using the regular Coinbase platform can also be more expensive, so it's worthwhile to consider paying up for Coinbase Pro.
The regular Coinbase platform charges a fee of roughly 0.5% of the spread (the difference between the bid price and the ask price) on cryptocurrency sales and purchases. This exact fee can fluctuate based on market conditions. The platform also charges a separate fee based upon the purchase type and amount. This fee is the greater of two numbers, either a fixed dollar value or a variable percent.
Coinbase Standard Trading Fees
Total Trade Amount
Fee Rate
$0 – $10
$0.99
$10.01 – $25
$1.49
$25.01 – $50
$1.99
$50.01 – $200
$2.99
Here are the fees for U.S. users based on payment method as well:
Coinbase Payment/Deposit Method Fees
Payment/Deposit Method
Fee Rate
Payment by U.S. bank account or Coinbase USD wallet
1.49%
Payment by debit card
3.99%
Payout by instant card withdrawal
up to 1.5% ($0.55 minimum)
Deposit by ACH transfer
Free
Deposit by wire transfer
$10 ($25 outgoing)
To determine how much you'll owe Coinbase for a transaction, you take the higher of the two amounts, depending on how you choose to fund your transaction and how much the transaction is. You pay this amount, along with the spread.
Coinbase Pro Fees
If you choose to upgrade to Coinbase Pro, your account will be subject to an entirely different fee schedule. For this, Coinbase charges a fixed percentage depending on whether you are a trade taker or a trade maker.
Coinbase Pro Trading Fees
Price Tier
Taker Fee
Maker Fee
$0 – $10K
0.50%
0.50%
$10K – $50K
0.35%
0.35%
$50K – $100K
0.25%
0.15%
$100K – $1MM
0.20%
0.10%
$1MM – $10MM
0.18%
0.08%
$10MM – $50MM
0.15%
0.05%
$50MM – $100MM
0.10%
0.00%
$100MM – $300MM
0.07%
0.00%
$300MM – $500MM
0.05%
0.00%
$500MM+
0.04%
0.00%
As you can see in the table above, big trades will still cost you. However, the pricing structure is straightforward and you're less likely to be stuck with huge charges. Note that a Coinbase Pro account is free to open, has no trade or balance limits and has are no inactivity fees or other hidden costs. For a comparison, the regular Coinbase platform has a trade minimum of $2 and a maximum of $25,000 per day.
Effectiveness: How Well Does Coinbase Work?
Coinbase is one of the premier cryptocurrency trading platforms on the market today. It is ideal for both beginners and experts, and it's quite easy to use. The platform offers users extensively detailed charts and other market research tools, though you don't have to use them if you're new to crypto investing.
Coinbase also stands out above other more typical brokerages, as its wide variety of cryptocurrency options rivals many of its competitors. For comparison, Robinhood or eToro offer much weaker access to trading various types of cryptocurrencies.
Bottom Line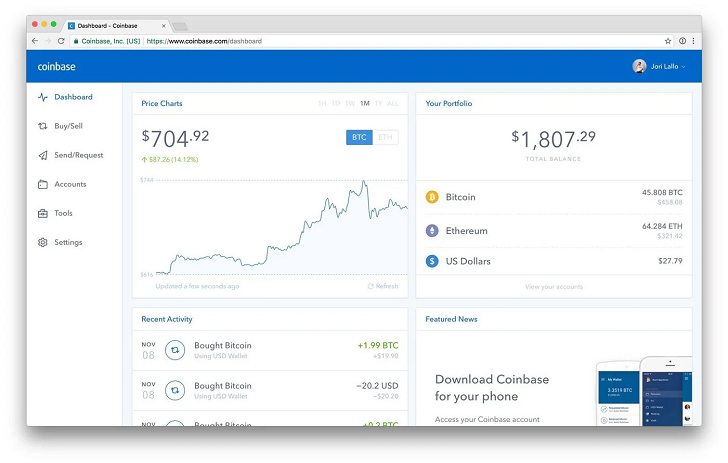 Coinbase is a popular cryptocurrency trading platform, and for good reason. It includes digital wallets, market analysis tools and a variety of other features. It also has one of the best selections of cryptocurrencies currently available on the market.
While the regular version of the platform has a confusing fee schedule that may leave you paying more, its also free to open a Coinbase Pro account. Doing this will unlock access to a significantly more straightforward fee schedule. Given its recent IPO, Coinbase is likely to be a major player in the cryptocurrency space for quite some time.
Tips for Investing
Cryptocurrency investing can be confusing, especially if your portfolio doesn't currently hold any crypto. A financial advisor can help you with this, as well as your other investments. Luckily, finding the right financial advisor doesn't have to be hard. SmartAsset's free tool matches you with up to three financial advisors in your area in five minutes. Get started now.
If you're incorporating cryptocurrency into your investment portfolio, SmartAsset's free investment calculator will help you figure out how much your investment could end up being worth.
Photo credit: TechCrunch, Forbes, Decrypt