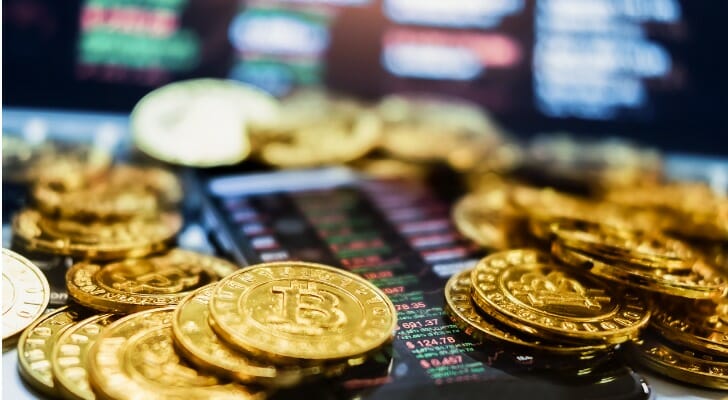 Although cryptocurrency has only been around for a short time, it has expanded into a wide, convoluted universe that can be difficult to understand for the uninitiated. But with Bitcoin and other cryptocurrencies seeing wild fluctuations in price, there's an opportunity for big gains, if you can stomach the risk. Digital platforms like Coinbase and Robinhood have made it significantly easier for people to invest in popular cryptocurrencies like Bitcoin. However, the process is still slightly more complex than acquiring a traditional currency. A financial advisor can help you create a financial plan to help you reach your crypto investment goals.

What Is Cryptocurrency?
There are thousands of different cryptocurrencies available today, and it can be tricky to nail them all down with a single definition. Broadly speaking, though, a cryptocurrency is a digital currency that is encrypted and often decentralized. Bitcoin, the first and most recognizable cryptocurrency by far, is based on blockchain technology, a permanent, decentralized ledger system.
While Bitcoin is the most popular and most valuable cryptocurrency out there, it's led to the creation of thousands of alternatives, or altcoins. There are different kinds of altcoins. Some are close variations of Bitcoin, like Bitcoin Cash or Bitcoin Diamond. Others focus on privacy, like Monero and ZCash. Some are named after Greek Gods (Apollo Currency), reptiles (Komodo) or even internet memes (Dogecoin). It's a weird, wild world.
Most people only have interest in holding on to Bitcoin or another popular currency, Ethereum. Still, there are some speculators who attempt to buy low and sell high on more obscure cryptocurrencies. The hope is to get rich quick by getting in early on the next Bitcoin.
Regardless of what currency you invest in, the common denominator is volatility. Any cryptocurrency has value only as long as people perceive it to have value. While this is technically true of any currency, it's more pertinent with cryptocurrencies because they aren't backed by a government or a precious metal (like gold), as most currencies are. This makes it a much riskier investment, as many investors and speculators have learned the hard way.
What About NFTs?
Because NFTs, which is short for non-fungible tokens, have value they are sometimes thought of as a type of cryptocurrency. Though both NFTs and cryptocurrencies are digital assets that are traded using blockchain technology, they should not be confused. The term "non-fungible" is significant because it denotes assets that have no trading equivalent; each NFT is one of a kind and has a unique value. That's what distinguishes them from cryptocurrencies, which are fungible, meaning one person's Bitcoin is worth as much as another person's Bitcoin.
NFTs can be digital messages, audio files, virtual real estate, images, videos and real-world assets that have been tokenized. Some of the most notable examples of NFTs that have recently sold for millions include Jack Dorsey's first tweet and a digital art collage of images from artist Beeple.
How to Invest in Cryptocurrency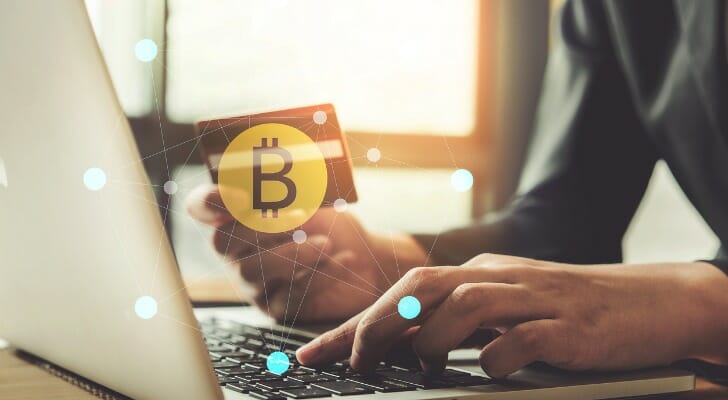 In simple terms, you need a place to buy it and a place to put it. The most popular place to purchase cryptocurrency are cryptocurrency exchanges.
There are several different exchanges to choose from, with the most popular being Coinbase, GDAx and Bitfinex. These exchanges allow you purchase currencies like Bitcoin and Ethereum with a debit card. With most popular currencies, including Bitcoin, you can buy fractions of a coin, so you don't need to invest thousands of dollars to get in the game.
If you're interested in purchasing altcoins, odds are you'll need some Bitcoin or Ethereum to make that purchase. As a general rule, you can't buy altcoins with fiat currency (that's how crypto enthusiasts refer to paper money, like dollars or euros). But that may change in the future.
Exchanges make money by charging fees for conducting transactions, but there are other websites you can visit to interact directly with other users who are looking to sell cryptocurrencies. LocalBitcoins is one popular example. The process will likely be more drawn out than with an exchange, and there is the added risk of dealing directly with a stranger whose currency you can't verify. If you're new to cryptocurrency, you'll likely want to use an exchange.
One other option that's becoming more prevalent is the Bitcoin ATM — there were more than 50,000 U.S. locations in April 2022. You can use them to purchase Bitcoin and send it to your wallet.
How to Store Your Cryptocurrency
When we say "send it to your wallet," we don't mean you put your Bitcoin into an actual wallet. To store your currency, you need a cryptocurrency wallet, which is necessary to securely store the code that makes up your cryptocurrency portfolio. You can have either a software wallet or a hardware wallet. Software wallets are necessary to enable active trading, as they make accessing your currency much easier. If you sign up for a Coinbase account, you automatically receive a Coinbase software wallet.
Hardware wallets are physical devices — they look a bit like USB drives — and they are more secure than software ones. You can use them for currency that you don't expect needing frequent or easy access to. Think of a software wallet like a checking account, whereas the hardware wallet is more like your savings account.
Should You Invest in Cryptocurrency?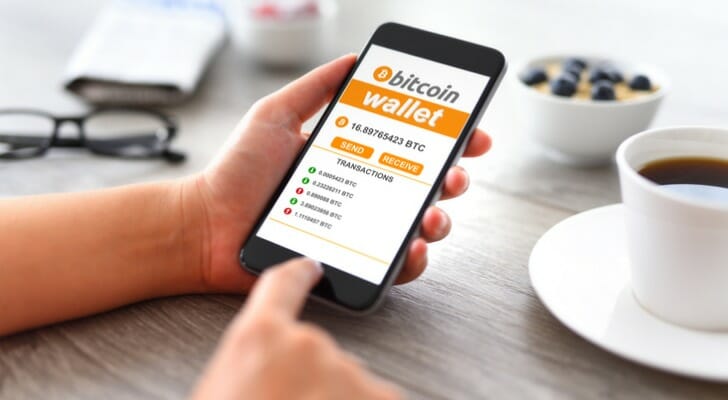 The cryptocurrency fervor soared after the value of Bitcoin rose above $30,000 in January 2021. And within three months, it more than doubled to $64,642.40. This is almost 19 times higher than its valuation in early 2019 ($3,500) and almost four times as high as its previous 2017 peak ($17,000). But after Nov. 7, 2021, when it reached $65,466.84, things turned south. By April 22, 2022, Bitcoin closed at $39,508.61. On Aug. 15, 2022, it had tumbled to $24,015.17 – a low not seen since December 2020.
So like any other investment, you should weigh the potential gains against your own risk tolerance. If you tend to be more risk averse with your investments and you're looking to build wealth over decades, cryptocurrencies probably aren't for you. No one can accurately predict what will happen to the market for cryptocurrencies. Yes, that's technically true for all investments. But other markets — say, the stock market — grow much more consistently, with significantly less volatility. Indeed, it may be misleading to even call it "investing" to buy Bitcoin. It would be more accurate to refer to it as speculation.
Still, if you're willing to take a risk and you believe the current Bitcoin price is poised for a rally then by all means give it a try. Bitcoin has now been around for 10 years — longer than many expected it would last. A future with Bitcoin as some sort of worldwide reserve currency seems increasingly unlikely day by day, especially given the Federal Reserve's interest in a digital dollar. But it's not necessarily unreasonable to expect that it will retain some value for the foreseeable future. The same can't be said for some of the more obscure altcoins, though.
The most important thing, as with any potential investment, is to have a clear idea of the risks you're taking. You shouldn't put yourself in a situation where your financial health is dependent on the success of cryptocurrencies. However, if you're well aware of the risks and you want to give it a shot anyway, you may get lucky.
Tips for Investing Responsibly
Investing in cryptocurrencies can be an intriguing prospect for a portion of your portfolio, but you should make sure to diversify your investments with other holdings. A financial advisor could advise you on asset allocation and help you create an investment plan. Finding a qualified financial advisor doesn't have to be hard. SmartAsset's free tool matches you with up to three financial advisors who serve your area, and you can interview your advisor matches at no cost to decide which one is right for you. If you're ready to find an advisor who can help you achieve your financial goals, get started now.
How much you invest depends on how much risk you are willing to take, and how long your time horizon is. Our asset allocation calculator will help you align your investing strategy with your risk tolerance.
Photo credit: ©iStock.com/Jiraprong Manustrong, ©iStock.com/Worawee Meepian, ©iStock.com/hocus-focus, ©CoinMarketCap via Yahoo Finance