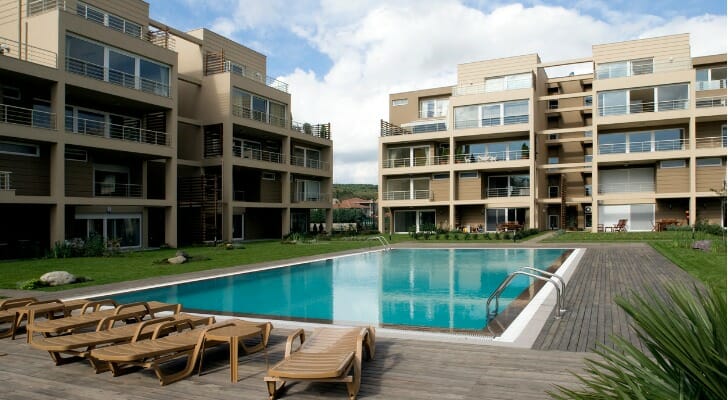 If you're looking for a source of income and capital appreciation, you may want to consider buying an apartment complex. An apartment complex is generally categorized as a residential property with five or more units. Compared to single-family residences, duplexes, triplexes and fourplexes, apartments offer investors appealing advantages. There are also, however, some additional complications. Understanding these differences can help you decide if buying an apartment complex is right for you.
Do you have questions about investing in real estate? Speak with a financial advisor today.
How to Buy an Apartment Complex
Before you actually buy an apartment complex, the first step is to decide what kind you're looking for. They are often classified into four types, including:
Class A buildings are usually 10 years old or less and have amenities such as pools and fitness centers.
Class B buildings are under 20 years old and have fewer amenities but are in good condition.
Class C buildings may be up to 30 years old, have few or no amenities and could stand renovation.
Class D buildings are often older, subsidized housing units in lower-income areas without amenities and needing repairs.
Investors can look for available properties by driving around or checking online listings. Many choose to work with a real estate broker, commercial property broker or business broker who knows the area. Among factors to assess are the property's location, number of units in the complex, general condition and amenities.
Financials are of paramount importance when assessing investing in rental properties. The rent roll is the first thing to look at. This lists current rent amounts for each unit, number of beds and baths in each unit, names of tenants, terms of each lease and security deposit amounts.
Occupancy rates are another key financial metric. These show how much of the time the complex is occupied with rent-paying tenants. Also look at the overall costs for maintenance and operations. A typical figure is 40% of the income from rent and other sources.
What Are the Advantages of Buying an Apartment Complex?
Apartment complexes tend to be significantly more costly than smaller multi-family properties. However, they actually help to reduce risk while increasing potential for profit. Because they have many units, owners of apartment buildings don't need to worry as much about the risk of vacancy. Unlike a single-family rental house, when one tenant moves out, the owner still has income from the other occupied units to cover expenses.
Economies of scale mean that maintenance costs are lower per unit. Costs for a new roof, for instance, are spread over all the units in the building. Apartment owners can generate additional income by charging for extra amenities. These can include laundry facilities, vending machines, parking spaces and upgrades. Owners of rental properties also receive certain tax deductions.
When an investor goes to a lender for financing, the approval is based more on the property's financial characteristics than the borrower's finances. Lenders are more concerned about whether the income from the property will cover the payments than the borrower's credit score.
The value of the property, to a large extent, comes from the rental income. That means the owner can potentially increase the value of the property by raising rents.
What Are the Drawbacks of Buying an Apartment Complex?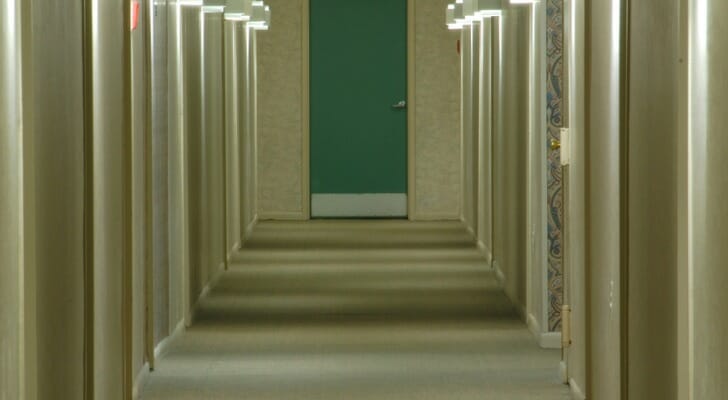 Compared to single-family rental properties, apartment tenants are more likely to move often. They are also less likely to take good care of the property. These differences mean higher overall costs for vacancies and maintenance.
Managing an apartment complex with many units can be challenging. The job often goes to a property management company or an on-site manager employee. Either way, management may be more expensive than doing it yourself.
Apartment buildings take longer to sell in the event an investor wants to exit. Because they are less liquid, an investor who buys an apartment building should have other liquid assets available in case of need.
Digging Deeper Into Potential Apartment Complex Purchases
Once you identify a property that looks promising, it's time to do some due diligence. This should include:
Seller motivation. Ask the seller why he or she is selling. Difficulty turning a profit is a negative answer.
Copies of leases. You'll need actual copies of all leases to know for sure the rent amounts, deposits and terms.
Tax returns. Looking at the owner's tax returns will give you more comfort about the veracity of his or her statements about income and expenses.
Inspections. Personally inspect every unit. Also arrange for a professional inspector to do the same.
Appraisal. It's not a bad idea to have a professional appraiser value the property before you make a firm offer.
How to Finance the Purchase of an Apartment Complex
Financing an apartment complex is different from financing a single-family home. You'll typically need 30% down. And approval will be based more on whether financial projections show the property can support the loan payments than on your credit history.
Sources for apartment financing include commercial banks, seller financing and private loans. Apartment loans may be for terms of several years to 30 years. They may be fixed or adjustable-rate and may have prepayment penalties.
Non-recourse loans won't allow the creditor to seize the borrower's personal property in the event of a default. Recourse loans are less costly but riskier to the borrower. Either may be available for an apartment complex.
Because of the deals' size and complexity, investors are generally accompanied by their real estate attorneys when closing on an apartment complex. Most investors set up a limited liability company to own the complex and protect their personal assets from lawsuits or debts incurred by the property.
Bottom Line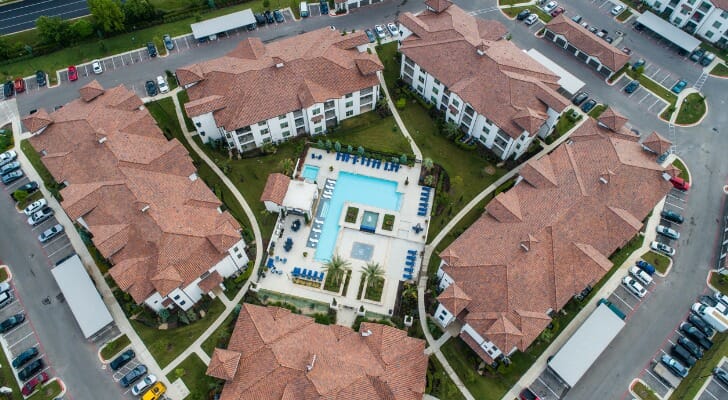 Apartment complexes offer some attractive advantages compared to single-family and smaller multi-family real estate investments. Apartment buildings tend to cost more and take longer to find and buy than smaller properties. They are often more difficult to manage and harder to sell. But they can also provide more income with less risk.
Tips on Real Estate Investing
Consider talking to a financial advisor about investing in an apartment complex before you actually do it. Finding a qualified financial advisor doesn't have to be hard. SmartAsset's free tool matches you with up to three financial advisors who serve your area, and you can interview your advisor matches at no cost to decide which one is right for you. If you're ready to find an advisor who can help you achieve your financial goals, get started now.
If you want to figure out how much you will owe in property taxes, SmartAsset's free calculator could help you get an estimate.
If after buying an apartment complex you want to explore refinancing the loan you have on the property, check out this guide to refinancing.
Photo credit: ©iStock.com/emreogan, ©iStock.com/GiovanniVincenti, ©iStock.com/RoschetzkyIstockPhoto