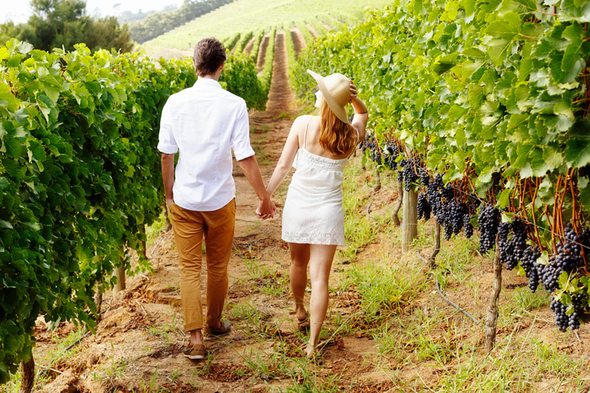 Is a wine-soaked vacation on your bucket list? Ours too. If you're on a budget or short on vacation days, the good news is you don't have to head all the way to France or Italy to visit wine country. There are premier wine destinations right here in America. For the wine lovers who want to enjoy a refreshing glass of chardonnay or syrah stateside, we ranked the country's best wine destinations. Cheers!
This is the second annual study of America's best wine destinations. Read the 2016 study here.
Study Specifics
SmartAsset found the best wine destinations in America by ranking 103 counties with at least five wineries. We looked at the same five factors that we included in the 2016 edition of our study, such as the total number of wineries in each county and the concentration of local wineries.
Two of our factors come from the list of the 101 best American wineries in 2016 created by The Daily Meal. Specifically, we used their results to find the total number of top-ranking wineries in each county and the highest-ranking winery in each county. We also checked the average price of an Airbnb rental in each wine county. For more information on how we conducted our analysis, read the methodology and data section below.
Key Findings
Check out California. Most of the counties that rank in the top 10 are located in the Golden State. But since California is home to famous wineries in places like Napa Valley and Sonoma County, that probably comes as no surprise.
See what the Northeast has to offer. Much like we found in the 2016 edition of our analysis, a handful of New York counties ranked in the top 25. This time, Fairfield, a county in Connecticut, also made the list.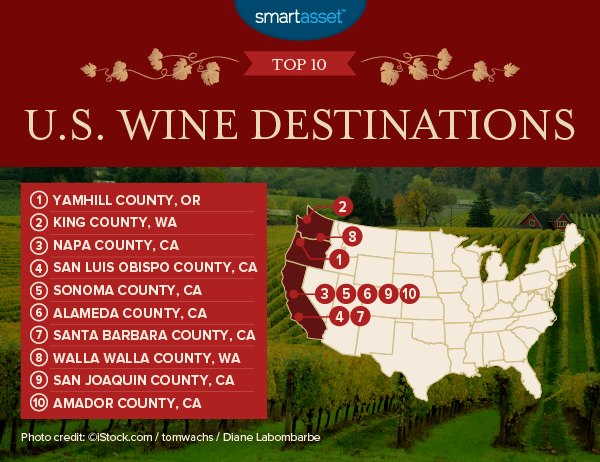 1. Yamhill County, Oregon
For the second consecutive year, Yamhill County ranks as the best wine destination in America. There are more than 80 local wineries in Yamhill County, or one for every 8.4 square miles. Seven of them rank as some of the best wineries in the country, according to The Daily Meal. Domaine Drouhin Oregon – which took the ninth spot on their list – ranks as the top destination in Yamhill County for wine lovers.
2. King County, Washington
King County ranks as the second-best wine county in the nation, up from fifth place in last year's study. It has more than 60 wineries (or about one winery every 32 square miles) and over a dozen of them have opened in recent years.
If you've never ventured out to King County, you may want to plan a trip to the Andrew Will Winery on Vashon Island. It produces roughly 4,500 cases of wine each year and is known for making red wines like sangiovese. Best of all, if you and your friends need to spend the night, you won't need to shell out a ton of money. The average nightly rate for a full apartment in King County, Washington is around $146 on Airbnb. Want to spend smartly on your trip? Check out the best rewards credit cards (but remember to always use plastic responsibly).
3. Napa County, California
Napa Valley is one of the most popular destinations in the world for wine enthusiasts. The region has the highest concentration of wineries in our analysis, with more than 300 different wineries and one every 2.2 square miles. Chardonnay and cabernet sauvignon are the most widely grown grape varieties in the area.
4. San Luis Obispo County, California
San Luis Obispo County has more than 100 wineries. That means it has the third-highest number of wineries in our study. One place that every traveler might want to visit is the Tablas Creek Vineyard, which The Daily Meal ranked as the second-best winery in 2016 and the best American winery in 2015.
Many of the wineries in SLO County are only 15 to 20 minutes away from each other, by car. Even if you only have a couple of days carved out for wine tours, you can cover a lot of ground in a short amount of time. An overnight stay in an Airbnb apartment may cost around $246, so you'll need to make room for that expense in your vacation budget.
5. Sonoma County, California
Sonoma Valley is located just north of San Francisco. It has one of the highest concentrations of wineries in our study, with one every 6 square miles. Some of the most popular places to visit include Littorai Wines and Banshee, a tasting room that has only been around since 2009.
6. Alameda County, California
Visiting wineries in Napa and Sonoma Counties can be expensive. If you're looking for an affordable alternative, you may want to check out Alameda County. Renting out a full apartment on Airbnb would only cost about $181 per night, on average.
There are at least 40 wineries in Alameda County. If you're not sure where to start, Broc Cellars could be a good place to check out. The urban winery only uses grapes that are grown in an organic or eco-friendly manner.
7. Santa Barbara County, California
Santa Barbara County is home to the Au Bon Climat Winery, which ranks third in The Daily Meal's list of the best wineries in 2016. Ten other local wineries were recognized as great places to visit, including Sandhi Wines and Jaffurs Wine Cellars, which specializes in wines such as syrah, viognier and grenache blanc.
In total, Santa Barbara County has more than 70 wineries. Various microclimates – among other factors – allow wine grape growers to produce dozens of varieties. If you can save enough to retire there, the area could be a great place to settle down long term.
8. Walla Walla County, Washington
Since its formation in 1854, Walla Walla County has had an economy centered around agriculture. Some of its farms have received recognition on a global scale, including the Snake River Vineyard, the world's biggest Concord grape vineyard. Walla Walla County has more than 50 wineries, with one every 21.5 square miles.
9. San Joaquin County, California
Its long summer days make the San Joaquin Valley the perfect place to grow all sorts of crops, including wine grapes. In fact, it was once referred to as the "food basket of the world." According to the U.S. Census Bureau, there are at least 35 wineries in the area. The Bokisch Vineyards in Lodi, California is one of the top 100 wineries in the nation.
10. Amador County, California
In 2016, Amador County took the No. 31 spot on our list. This year, it managed to rank in the top 10. Census Bureau data reveals that at least a couple of wineries have opened in recent years. Now there is one winery every 33 square miles. Moreover, two of the county's wineries have been identified as some of the best producers of wine in America. One is the Vino Noceto Winery, which is known for its sangiovese.

Data & Methodology
To find the best wine destinations in America, SmartAsset considered any U.S. county with at least five wineries. Ultimately, we ranked 103 counties across the following five metrics:
Total wineries. This data comes from the U.S. Census Bureau's 2014 County Business Patterns database. It does not account for any wineries added in 2015 or 2016.
Square miles per winery. This metric looks at the concentration of local wineries. It's based on the total area of each county divided by the total number of wineries. A lower number reflects a higher concentration.
Number of top 100 wineries. This factor is based on data from The Daily Meal's ranking of the best wineries in 2016.
Highest-ranked winery. This metric looks at the top-ranking winery, according to The Daily Meal.
Average nightly Airbnb rate. This factor looks at the average price of renting a full apartment on Airbnb in each county (for no specific length of time) as of February 6, 2017.
After ranking each county according to each of our factors, we averaged our rankings, giving half-weight to the Airbnb nightly rate and full weight to the other four metrics. Then we gave each county a raw score between 0 and 100. The highest-ranking wine destination scored a 100.
Update: Worried about budgeting for more than just a vacation to a winery? SmartAsset has you covered. So many people reached out to us looking for long-term financial planning help, we started our own matching service to help you find a financial advisor. The SmartAdvisor matching tool can help you find a person to work with to meet your needs. First you'll answer a series of questions about your situation and your goals. Then the program will narrow down your options to three fiduciaries who suit your needs. You can then read their profiles to learn more about them, interview them on the phone or in person and choose who to work with in the future. This allows you to find a good fit while the program does much of the hard work for you.
Nick Wallace completed the data analysis for this study.
Questions about our study? Contact us at press@smartasset.com
Photo credit: ©iStock.com/RapidEye