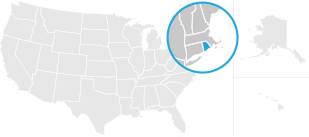 Overview of Rhode Island Taxes
Rhode Island has a progressive state income tax. Both the state income and sales tax are near the national average. The average property tax payment in Rhode Island is the 10th highest in the country. The state does tax Social Security benefits. Retired? Use our Retirement Income Tax Calculator.
Enter your financial details to calculate your taxes
Household Income

Dismiss

Location

Dismiss
Advanced

401(k) Contribution

Dismiss

IRA Contribution

Dismiss

Dismiss

Number of Personal Exemptions

Dismiss
Your Income Taxes Breakdown
Tax

Type

Marginal
Tax Rate
Effective
Tax Rate
2018
Taxes*
Federal

FICA

State
Local
Total Income Taxes
Income After Taxes

Retirement Contributions

Take-Home Pay
* These are the taxes owed for the 2018 - 2019 filing season.
Changes to Your Federal Income
Taxes Under the 2018 Tax Reform
Your

marginal federal income tax rate

Your

effective federal income tax rate

Your federal income taxes
Total Estimated 2018 Tax Burden

Total Estimated Tax Burden

$

Percent of income to taxes =

%

$
Our Tax Expert

Jennifer Mansfield, CPA Tax

Jennifer Mansfield, CPA, JD/LLM-Tax, is a Certified Public Accountant with more than 30 years of experience providing tax advice. SmartAsset's tax expert has a degree in Accounting and Business/Management from the University of Wyoming, as well as both a Masters in Tax Laws and a Juris Doctorate from Georgetown University Law Center. Jennifer has mostly worked in public accounting firms, including Ernst & Young and Deloitte. She is passionate about helping provide people and businesses with valuable accounting and tax advice to allow them to prosper financially. Jennifer lives in Arizona and was recently named to the Greater Tucson Leadership Program.

...read more
Save more with these rates that beat the National Average
​If you could change one thing about ​this page what would it be?​
Thank you for your answer! Your feedback is very important to us.
We are working hard to improve our product and could use your help!
We pay $30 for 30 minutes on the phone to hear your thoughts on what we can do better.
Please enter your email if you'd like to be contacted to help.
| | | | |
| --- | --- | --- | --- |
| | | | |
| Please enter your name | Please enter a valid email | | |
Taxes in Rhode Island
Rhode Island State Tax Quick Facts
Income tax: 3.75% - 5.99%
Sales tax: 7%
Property tax: 1.66% average effective rate
Gas tax: 34 cents per gallon of regular gasoline and diesel
Like most other states in the Northeast, Rhode Island has both a statewide income tax and a sales tax. The income tax is progressive tax with rates ranging from 3.75% up to 5.99%. The highest marginal rate applies to taxpayers earning more than $142,150 in 2018. Those rates are near the national averages for state income taxes; the same is true of the state's sales tax, which is 7%. Property taxes in the Ocean State are a different story. The average homeowner there pays just over $4,000 per year in property taxes, the 10th highest average annual property tax payment of any U.S. state.
A financial advisor in Rhode Island can help you understand how taxes fit into your overall financial goals. Financial advisors can also help with investing and financial plans, including retirement, homeownership, insurance and more, to make sure you are preparing for the future.
Rhode Island Income Taxes
The Rhode Island state income tax is based on three tax brackets, with lower income earners paying lower rates. The table below shows the income tax rates in Rhode Island for all filing statuses.
Income Tax Brackets
All Filers
Rhode Island Taxable Income
Rate
$0 - $62,550
3.75%
$62,550 - $142,150
4.75%
$142,150+
5.99%
Those rates do not apply to total (or gross) income but rather to Rhode Island taxable Income, which is often substantially smaller because it incorporates adjustments and deductions. Rhode Island taxable income is calculated based off of federal adjusted gross income (AGI). Net modifications are subtracted (or added) to federal AGI to reach modified AGI.
Modifications, which can be found on Rhode Island Schedule M, consist of additions and subtractions. These are typically of income sources that that are not taxed on the federal level but are taxed in Rhode Island. Additions include income from state or local debt obligations for places outside of Rhode Island. Subtractions include debt from U.S. government obligations, contributions to 529 college savings plans (up to $500 or $1,000 for joint filers), exemptions of profits or gains for writers and artists and modifications for performance-based compensation under the Rhode Island Jobs Growth Act (which exempts up to 50% of bonuses).
Note that Social Security income cannot be subtracted. In fact, Rhode Island is one of six states that tax Social Security benefits at the same level as the federal government. You can look into online tax software to help you with filing taxes.
Rhode Island Deductions, Exemptions and Credits
Once you have calculated modified AGI, next subtract deductions and exemptions to arrive at taxable income. Itemized deductions are not allowed in Rhode Island, but the standard deduction in the state is $8,525 for single filers and married persons filing separately; $17,050 for joint filers and qualifying widowers; and $12,800 for heads of household. The personal exemption is equal to $4,000, which can be claimed for every dependent (including yourself and your spouse) listed on your federal tax return.
Note that the standard deduction and personal exemption are phased out for taxpayers with over $199,000 in modified AGI. The deduction and exemption decrease in steps until they reach $0 for taxpayers with a modified AGI of $221,800 or higher.
Taxpayers in Rhode Island can also claim the credit for child and dependent care expenses, as well as the earned income credit. These are both equal to 25% of the respective federal credits.
Rhode Island Sales Tax
The sales tax rate in Rhode Island is 7%. There are no local (city or county) sales taxes, so that rate is the same everywhere in the state. The tax applies to the sale, lease or rental of most goods and a number of services in the state.
Important exemptions to the tax include non-prepared food (i.e. groceries), clothing, prescription drugs and medical equipment such as wheelchairs and prosthetic devices. No sales tax is collected on these items.
On the other hand, some products and services face additional taxes. Hotel and motel rentals are subject to an additional 6% tax (for a total tax of 13%). Restaurants, bars and other eating or drinking establishments face an additional 1% tax. The state also collects excise taxes on a number of products, as described in the sections below.
Rhode Island Property Tax
Want to buy a beach house on Narragansett Bay or a condo in Providence? Keep in mind the Rhode Island property taxes you'll need to pay, which are among the highest in the U.S. The statewide average effective property tax rate - that is, property taxes as a percentage of home value - is 1.66%. This is the 10th-highest in the U.S. The average homeowner pays more than $4,000 per year in property taxes in Rhode Island. But for those still interested in buying a home or vacation property in Rhode Island, take a look at our mortgage rates guide for everything you need to know about getting a mortgage in the Ocean State.
Rhode Island Estate Tax
The estate tax in Rhode Island applies to gross estates of $1,537,656 or more for deaths occurring after January 1, 2018. Estates above those exemptions are taxed at rates ranging from 0.8% to 16%. Rates increase by 0.8% in regular increments. The top rate of 16% applies to gross estates that are at least $10.04 million above the applicable exemption.
Rhode Island Gas Tax
According to the American Petroleum Institute, the Ocean State has the 16th-highest gas tax in the country. The excise tax is equal to 33 cents per gallon with an additional cent in taxes, bringing the total tax to 34 cents per gallon. That would add up to $170 per year for someone who drives 12,500 miles in a car that averages 25 miles per gallon.
Rhode Island Alcohol Tax
In 2013, Rhode Island repealed sales taxes on liquor and wine in order to keep prices in line with other states in the region. The sales tax still applies to beer, and excise taxes are still collected on all types of alcohol. The excise tax on liquor is $5.40 per gallon, or $1.08 per fifth. The excise tax on wine is $1.40 per gallon, or about 28 cents per bottle.
Rhode Island Cigarette Tax
Rhode Island's tax on cigarettes is the fourth highest in the U.S. The tax is $4.25 per pack of 20, which is 21.25 cents per cigarette.
The official name of Rhode Island is: State of Rhode Island and Providence Plantations. That is the longest state name.
Rhode Island is the smallest state by area. Its land area is just 1,045 square miles.
Aquidneck Island is the largest of Rhode Island's 35 islands. It has a population of about 60,000.
Calculate Your Income Taxes in These Other States
Places with the Lowest Tax Burden

Are you curious how your tax burden stacks up against others in your state? SmartAsset's interactive map highlights the counties with the lowest tax burden. Scroll over any county in the state to learn about taxes in that specific area.

Methodology

Where you live can have a big impact on both which types of taxes you have to pay each year and how much money you spend on them. SmartAsset calculated the amount of money a specific person would pay in income, sales, property and fuel taxes in each county in the country and ranked the lowest to highest tax burden.

To better compare income tax burdens across counties, we used the national median household income. We then applied relevant deductions and exemptions before calculating federal, state and local income taxes.

In order to determine sales tax burden we estimated that 35% of take-home (after-tax) pay is spent on taxable goods. We multiplied the average sales tax rate for a county by the household income less income tax. This product is then multiplied by 35% to estimate the sales tax paid.

For property taxes, we compared the median property taxes paid in each county.

For fuel taxes, we first distributed statewide vehicle miles traveled down to the county level using the number of vehicles in each county. We then calculated the total number of licensed drivers within each county. The countywide miles were then distributed amongst the licensed drivers in the county, which gave us the miles driven per licensed driver. Using the nationwide average fuel economy, we calculated the average gallons of gas used per driver in each county and multiplied that by the fuel tax.

We then added the dollar amount for income, sales, property and fuel taxes to calculate a total tax burden. Finally, we created the Tax Burden Index in order to show how each county in the country compares to the county with the lowest tax burden (that is the county with a Tax Burden Index of 100).

Sources: US Census Bureau 2017 American Community Survey, Government Sources, Avalara, American Petroleum Institute, GasBuddy, UMTRI, Federal Highway Administration, SmartAsset