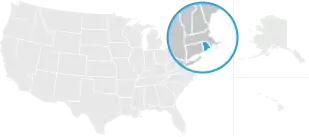 Overview of Rhode Island Mortgages
Known for its parks, museums and beach towns, Rhode Island is a small state that offers residents big colonial charm. Historical mortgage rates for Rhode Island are usually lower than the national average, though there are some outliers. The state's county-level conforming loan and FHA limits are all uniform, though the latter are above the nationwide minimum.
National Mortgage Rates
Source: Freddie Mac Primary Mortgage Market Survey, SmartAsset Research
Details
Purchase or Refinance
Select Purchase or Refinance
Dismiss
Location
Enter your location
Dismiss
Target Home Value
Enter target home value
Dismiss
Down Payment
Enter down payment
Dismiss
Current Home Value
Enter current home value
Dismiss
Current Mortgage Balance
Current Mortgage Balance
Enter current mortgage balance
Dismiss
Credit Rating
Select Your Credit Rating
Dismiss
Share Your Feedback
How would you rate your experience using SmartAsset's financial advisor matching service so far?
What is the most important reason for that score? (optional)
Please limit your response to 150 characters or less.
Thank you for your answer! Your feedback is very important to us.
Historical Mortgage Rates in Rhode Island
Rhode Island Mortgage Rates Quick Facts
Median Home Value: $348,100(U.S. Census Bureau)
Loan Funding Rate: 60.48% (CFPB)
Homeownership Rate: 62.8% (St. Louis Fed)
Median Monthly Homeownership Costs: $1,952 (U.S. Census Bureau)
Beautiful beaches and coastlines, delicious seafood, and even an island get away in Block Island; Rhode Island is a paradise nestled away in New England. It is also one of the smallest states in the country based on population, and it's the smallest state in terms of land area. While the Ocean State might induce images of million-dollar Newport estates, the housing market is more accessible than you might think. Rhode Island mortgage rates are generally lower than nationwide marks.
A financial advisor in Rhode Island can help you plan for the homebuying process. Financial advisors can also help with investing and financial plans, including tax, retirement and estate planning, to make sure you are preparing for the future.
Rhode Island Historic Mortgage Rates*
| Year | Rhode Island Rate | U.S. Rate |
| --- | --- | --- |
| 2000 | 8.08 | 7.86 |
| 2001 | 6.91 | 6.94 |
| 2002 | 6.49 | 6.44 |
| 2003 | 5.81 | 5.67 |
| 2004 | 5.56 | 5.68 |
| 2005 | 5.70 | 5.85 |
| 2006 | 6.31 | 6.54 |
| 2007 | 6.33 | 6.42 |
| 2008 | 6.06 | 6.06 |
| 2009 | 4.94 | 5.05 |
| 2010 | 4.62 | 4.81 |
| 2011 | 4.41 | 4.56 |
| 2012 | 3.76 | 3.65 |
| 2013 | 3.79 | 3.84 |
| 2014 | 4.03 | 4.13 |
| 2015 | 3.78 | 3.88 |
| 2016 | 3.60 | 3.73 |
| 2017 | 3.92 | 4.03 |
| 2018 | 4.32 | 4.56 |
*The FHFA stopped reporting new data in 2018.
Rhode Island Mortgages Overview
From the sailing town of Newport to Brown University in Providence, Rhode Island embodies New England culture. For prospective homebuyers, the conforming loan limit for every Rhode Island county is $726,200, the baseline limit. The FHA limit for each county is $661,250, which is higher than the standard $472,030 limit.
Conforming and FHA Loan Limits by County
| County | Conforming Limit | FHA Limit |
| --- | --- | --- |
| Bristol | $726,200 | $661,250 |
| Kent | $726,200 | $661,250 |
| Newport | $726,200 | $661,250 |
| Providence | $726,200 | $661,250 |
| Washington | $726,200 | $661,250 |
Rhode Island buyers will receive a deed of trust in lieu of a mortgage. A lender who issues a deed of trust is not required to get a court order to foreclose on a home. It is important that an owner is aware of this distinction. This means that if an owner in Rhode Island falls behind on mortgage payments and their lender decides to foreclosure on the home, the lender can simply hire a third party to auction the home, and can bypass the expense and time of going to court.
Sellers in Rhode Island are required to disclose certain details about their properties. These include length of occupancy, sewage, electrical, heating and any defects with the home's structure, all outlined on the Rhode Island Real Estate Sales Disclosure Form. The purpose of these disclosures is to protect buyers, but a home inspection is still the best way to feel confident in a property purchase.
30-Year Fixed Mortgage Rates in Rhode Island
A 30-year fixed-rate mortgage is the most common home loan option for buyers who plan to stay in their home for a long time. As its name implies, a fixed-rate mortgage is one which has an interest rate that remains the same for the duration of the loan. In other words, your monthly payments will stay the same for the entire 30 years you have to pay off the loan (unless you decide to refinance). You can also consider a 15-year fixed-rate mortgage. Since you are paying off the same amount of money in half the time, your monthly payments will be higher, but you will pay less interest over the life of the loan.
The average Rhode Island rate for a fixed 30-year mortgage is 5.78% (Zillow, Jan. 2023).
Rhode Island Jumbo Loan Rates
There are conforming loan limits in each state to help set a limit for lenders to determine risk. If a home loan is more expensive than that limit, it is considered riskier for the lender as more money is at stake. Home loans that exceed the conforming loan limit in a particular county are known as "jumbo loans."
Every county in Rhode Island has a conforming loan limit of $726,200. If you are considering a home loan that is bigger than that anywhere in the state, you will have a jumbo loan. Be aware that jumbo loans come with higher interest rates to offset the added risk. Jumbo loan rates in Rhode Island are, however, currently higher than fixed rates.
The average 30-year fixed jumbo loan rate in Rhode Island is 6.43% (Zillow, Jan. 2023).
Rhode Island ARM Loan Rates
Another option for buyers is an adjustable-rate mortgage (ARM). Unlike fixed-rate mortgages, an ARM has an interest rate that "adjusts" or changes over the life of the loan. Typically an ARM will offer a lower introductory rate for a set period between one and 10 years. Once that initial period has ended, the interest rate can increase or decrease, though it usually rises.
The interest rate is capped at a certain level specified in the loan's terms, however. In other words, you are aware going in exactly how high the interest rate can get. Before deciding on an ARM, it is crucial that you check the interest rate cap and make sure that it's something that you can afford to pay. Oddly enough, ARM rates are now higher than both jumbo rates and fixed rates.
The average rate for a 5/1 ARM in Rhode Island is 5.56% (Zillow, Jan. 2023).
Rhode Island Mortgage Resources
If you need assistance buying a home in the Ocean State, there are resources available to help get you there. Rhode Island Housing offers opportunities to help buyers build the foundation they want for their families:
FirstHomes offers low, fixed-rate mortgages for first-time homebuyers. It also provides a tax credit of up to $2,000 for the life of the loan.
Beyond FirstHomes is a suite of mortgages to give Rhode Island options for more affordable loans and refinancing. The loan options require as little as 3% down and gets rid of mortgage insurance requirements. The refinancing loan option offers up to 97% on the appraised home value.
LastingHomes program helps Rhode Island homeowners continue to live in and maintain their current homes. It offers options like home equity loans, home repair loans and LeadSafe Home Loans to help pay off existing loans, make home repairs and reduce lead hazards.
Available Resources
| Resource | Problem or Issue | Who Qualifies |
| --- | --- | --- |
| Rhode Island Housing | Offers funding for down payment assistance, low interest rate mortgage loans, refinancing and home repair loans. | Eligible first-time and repeat homebuyers and homeowners who need housing assistance. |
| USDA Rural Development - Single family loans | Offers payment assistance to increase an applicant's repayment ability. | Applicants must be without decent, safe and sanitary housing; Be unable to obtain a loan from other resources on terms and conditions that can reasonably be expected to meet; Agree to occupy the property as your primary residence; Have the legal capacity to incur a loan obligation; Meet citizenship or eligible noncitizen requirements; Not be suspended or debarred from participation in federal programs. |
Rhode Island is eligible for the United States Department of Agriculture Rural Development program. The USDA offers nationwide programs that provide aid for safe, affordable housing in rural communities. Loans and grants are available for people looking to purchase a new home or repair their current home.
Rhode Island Mortgage Taxes
Before you buy a house in Rhode Island, be aware that there are taxes on real estate transfers. There is a realty conveyance tax of $2.30 per $500, which sellers typically cover, unless both parties come to a separate agreement.
One perk of homeownership is that owners are allowed to deduct the mortgage interest they pay throughout the year from their taxable income when they file federal income taxes.
Rhode Island Mortgage Refinance
If you're looking to refinance in Rhode Island, a great resource is the High Loan-to-Value Refinance Option from Fannie Mae. These are basically the replacements for the Home Affordable Refinance Program (HARP), which has been unavailable since the end of 2018.
Alternatively, you can shop around and compare rates from other lenders to find the most competitive offer.
See Mortgage Rates in These Other States