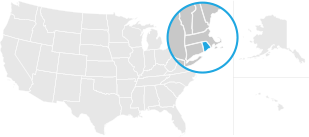 Overview of Rhode Island Mortgages
Known for its parks, museums and beach towns, Rhode Island is a small state that offers residents big colonial charm. Historical mortgage rates for Rhode Island are usually lower than the national average, though there are a few outliers. The state counties' conforming loan limits and FHA limits are all at $426,650.
Today's Mortgage Rates in Rhode Island

| Product | Today | Last Week | Change |
| --- | --- | --- | --- |
National Mortgage Rates
Source: Freddie Mac Primary Mortgage Market Survey, SmartAsset Research
Details
Purchase or Refinance
Select Purchase or Refinance
Dismiss
Location
Enter your location
Dismiss
Target Home Value
Enter target home value
Dismiss
Down Payment
Enter down payment
Dismiss
Current Home Value
Enter current home value
Dismiss
Current Mortgage Balance
Current Mortgage Balance
Enter current mortgage balance
Dismiss
Credit Rating
Select Your Credit Rating
Dismiss
Update your information here.
OK
Get the right rate and loan for your needs

Our Home Loan Experts can help you today.

$0 Down VA Loan for Veterans

Find out if you qualify for this powerful homebuying benefit. Get a quote today!
​If you could change one thing about ​this page what would it be?​
Thank you for your answer! Your feedback is very important to us.
We are working hard to improve our product and could use your help!
We pay $30 for 30 minutes on the phone to hear your thoughts on what we can do better.
Please enter your email if you'd like to be contacted to help.
| | | | |
| --- | --- | --- | --- |
| | | | |
| Please enter your name | Please enter a valid email | | |
Photo Credit: ©iStock.com/Thom Hartwick

Rhode Island Mortgage Rates Quick Facts

Average Home Value: $236,800 (zillow.com)
Loan Funding Rate: 64%
Average Mortgage Rate: 4%
Homeownership Rate: 58.9% (St. Louis Fed)
Average Annual Mortgage Payment: $10,853
Historical Mortgage Rates in Rhode Island
Rhode Island mortgage rates are generally lower than the national average. The Rhode Island rates for 2016 are following that trend.
<!—- Chart 1 — Historic Mortgage Rate Chart -—>
Rhode Island Historic Mortgage Rates
| | | |
| --- | --- | --- |
| Year | Rhode Island Rate | U.S. Rate |
| 1982 | 14.37 | 14.73 |
| 1983 | 11.51 | 12.26 |
| 1984 | 12.06 | 11.99 |
| 1985 | 11.35 | 11.17 |
| 1986 | 9.92 | 9.79 |
| 1987 | 8.93 | 8.95 |
| 1988 | 9.11 | 8.98 |
| 1989 | 10.17 | 9.81 |
| 1990 | 9.58 | 9.74 |
| 1991 | 8.70 | 9.07 |
| 1992 | 8.04 | 7.83 |
| 1993 | 7.11 | 6.93 |
| 1994 | 7.62 | 7.31 |
| 1995 | 7.93 | 7.69 |
| 1996 | 7.67 | 7.58 |
| 1997 | 7.50 | 7.52 |
| 1998 | 6.96 | 6.97 |
| 1999 | 7.22 | 7.14 |
| 2000 | 8.08 | 7.86 |
| 2001 | 6.91 | 6.94 |
| 2002 | 6.49 | 6.44 |
| 2003 | 5.81 | 5.67 |
| 2004 | 5.56 | 5.68 |
| 2005 | 5.70 | 5.85 |
| 2006 | 6.31 | 6.54 |
| 2007 | 6.33 | 6.42 |
| 2008 | 6.06 | 6.06 |
| 2009 | 4.94 | 5.05 |
| 2010 | 4.62 | 4.81 |
| 2011 | 4.41 | 4.56 |
| 2012 | 3.76 | 3.65 |
| 2013 | 3.79 | 3.84 |
| 2014 | 4.03 | 4.13 |
| 2015 | 3.78 | 3.88 |
Rhode Island Mortgages Overview
From the sailing town of Newport to Brown University in Providence, Rhode Island embodies New England culture. At $239,050, Rhode Island home prices are in line with the nation's average. The average U.S. home sells for $236,450, according to Zillow.
<!—- Chart 2 Mortgage Rates for Single-Family Homes, Townhouse, Condos -—>
Rhode Island Mortgage Rates
Single-Family Homes
Percentage of Homes
92.10%
Average Property Value
$140,686.55
Condominiums
Percentage of Homes
7.40%
Average Property Value
$105,264.60
PUD Homes
Percentage of Homes
0.40%
Average Property Value
$129,992.15
Townhomes
Percentage of Homes
0.10%
Average Property Value
$81,139.63
The conforming and FHA loan limits for every Rhode Island county are at $426,650. This is higher than most parts of the country where the standard conforming loan limit is $417,000 and the FHA loan limit is $271,050.
<!—- Chart 3 — ConformingFHA Loan Limits -—>
Conforming and FHA Loan Limits by County
| | | |
| --- | --- | --- |
| County | Conforming Limit | FHA Limit |
| Bristol | $426,650 | $426,650 |
| Kent | $426,650 | $426,650 |
| Newport | $426,650 | $426,650 |
| Providence | $426,650 | $426,650 |
| Washington | $426,650 | $426,650 |
Rhode Island buyers will receive a "deed of trust" in lieu of a mortgage. A lender who issues a deed of trust is not required to get a court order to foreclose on a home. It is important that an owner is aware of this distinction. This means that if an owner in Rhode Island falls behind on mortgage payments and their lender decides to foreclosure on the home, the lender can simply hire a third party to auction the home, and can bypass the expense and time of going to court.
Sellers in Rhode Island are required to disclose certain details about their properties. These include length of occupancy, sewage, electrical, heating and any defects with the home's structure, all outlined on the Rhode Island Real Estate Sales Disclosure Form. The purpose of these disclosures is to protect buyers, but a home inspection is still the best way to feel confident in a property purchase.
30-Year Fixed Mortgage Rates in Rhode Island
A 30-year fixed-rate mortgage is the most common home loan option for buyers who plan to stay in their home for a long time. As its name implies, a fixed-rate mortgage is one which has an interest rate that remains the same for the duration of the loan. In other words, your monthly payments will stay the same for the entire 30 years you have to pay off the loan (unless you decide to refinance). You can also consider a 15-year fixed-rate mortgage. Since you are paying off the same amount of money in half the time, your monthly payments will be higher, but you will pay less interest over the life of the loan.
The average Rhode Island mortgage rate for fixed-rate 30-year mortgages is 3.85%.
Rhode Island Jumbo Loan Rates
There are conforming loan limits in each state to help set a limit for lenders to determine risk. If a home loan is more expensive than that limit, it is considered riskier for the lender as more money is at stake. Home loans that exceed the conforming loan limit in a particular county are known as "jumbo loans."
Every county in Rhode Island has a conforming loan limit of $426,650. If you are considering a home loan that is bigger than that anywhere in the state, you will have a jumbo loan. Be aware that jumbo loans come with higher interest rates to offset the added risk.
The average jumbo loan rate in Rhode Island is 3.95%.
Rhode Island ARM Loan Rates
Another option for buyers is an adjustable-rate mortgage (ARM). Unlike fixed-rate mortgages, an ARM has an interest rate that "adjusts" or changes over the life of the loan. Typically an ARM will offer a lower introductory rate for a set period between one and 10 years. Once that initial period has ended, the interest rate can increase or decrease, though it usually rises.
The interest rate is capped at a certain level specified in the loan's terms, however. In other words, you are aware going in exactly how high the interest rate can get. Before deciding on an ARM, it is crucial that you check the interest rate cap and make sure that it's something that you can afford to pay.
The average rate for an ARM in Rhode Island is 3.15%.
Rhode Island Mortgage Resources
If you need assistance buying a home in the Ocean State, there are resources available to get you there.
Rhode Island Housing offers opportunities to help buyers build the foundation they want for their families.
Renewed Homes Program offers up to $20,000 for buyers who invest in a foreclosed home or other eligible property. The property needs to be in one of the targeted communities in the state. This program is available for first-time homebuyers who fit income limits.
FirstHomes offers low, fixed-rate mortgages for first-time buyers. It also provides a tax credit of up to $2,000 for the life of the loan.
Beyond FirstHomes is a suite of mortgages to give Rhode Island options for more affordable loans and refinancing. The loan options require as little as 3% down and gets rid of mortgage insurance requirements. The refinancing loan option offers up to 97% on the appraised home value.
LastingHomes program helps Rhode Island homeowners continue to live in and maintain their current homes. It offers options like home equity loans, home repair loans and LeadSafe Home Loans to help pay off existing loans, make home repairs and reduce lead hazards.
<!—- Chart 4 — Available Resources —->
Available Resources
| | | | |
| --- | --- | --- | --- |
| Resource | Problem or Issue | Who Qualifies | Website |
| Rhode Island Housing | Offers funding for down payment assistance, low interest rate mortgage loans, refinancing and home repair loans. | Eligible first-time and repeat homebuyers and homeowners who need housing assistance. | http://loans.rhodeislandhousing.org/ |
| USDA Rural Development - Single family loans | Offers payment assistance to increase an applicant's repayment ability. | Applicants must be without decent, safe and sanitary housing; Be unable to obtain a loan from other resources on terms and conditions that can reasonably be expected to meet; Agree to occupy the property as your primary residence; Have the legal capacity to incur a loan obligation; Meet citizenship or eligible noncitizen requirements; Not be suspended or debarred from participation in federal programs. | http://www.rd.usda.gov/programs-services/all-programs/single-family-housing-programs |
| Home Affordable Refinance Program | Refinancing. | Single family homes and condos that fit within lending loan limits. | http://www.harp.gov/ |
Rhode Island is eligible for the United States Department of Agriculture Rural Development program. The USDA offers nationwide programs that provide aid for safe, affordable housing in rural communities. Loans and grants are available for people looking to purchase a new home or repair their current home.
Rhode Island Mortgage Taxes
Before you buy a house in Rhode Island, be aware that there are taxes on real estate transfers. There is a realty conveyance tax of $2.00/$500, which sellers typically cover, unless both parties come to a different agreement.
One perk of homeownership is that owners are allowed to deduct the mortgage interest they pay throughout the year from their taxable income when they file federal income taxes.
Rhode Island Mortgage Refinance
If you're looking to refinance in Rhode Island, one great resource is the state Home Affordable Refinance Program. Buyers who qualify will have access to interest and principal payment reductions and low closing costs. The Rhode Island HARP accepts single family homes and condos.
You can also check with the Rhode Island Housing Beyond FirstHomes refinancing program.
If you don't qualify for HARP or a similar program, you can work with the lender who issued your original mortgage and come up with a new plan that works better for your current situation. Alternatively you can shop around and compare rates from other lenders to find the most competitive offer.
<!—- Charts HTML Mortgage Rates — Insert Data and copy and paste into proper place —->
See Mortgage Rates in These Other States
Best Places To Get A Mortgage
SmartAsset's interactive mortgage map highlights the best counties in the country (and in each state) for securing a mortgage. Hover over counties and states to see data points for each region, or use the map's tabs to view the top counties for each of the factors driving our analysis.
Methodology For many people buying a house means securing a mortgage. To determine the best places in the country to get a mortgage we looked at four factors: overall borrowing costs, ease of securing a mortgage, cheap property taxes and cheap annual mortgage payments.
To calculate the overall borrowing costs, we looked at the expected costs over the first five years of a $200,000 mortgage with a 20% down payment, including closing costs. We calculated the ease of getting a mortgage as the ratio of mortgage applications to actual mortgage originations (secured mortgages) in each county. We based annual mortgage payments on the annual principal and interest payments for a $200,000 loan in that location, using average mortgage rates in each county.
Finally, we ranked locations based on these four factors, and then averaged those rankings, giving equal weight to each factor. The areas with the lowest average rankings are the best places to get a mortgage.
Sources: Mortgage Bankers Association, US Census Bureau 2015 5-Year American Community Survey, Informa, Bankrate, government websites, SmartAsset